The ultimate guide to camping on the Great Wall of China. Everything you need to know to plan one a night on the Great Wall, including transportation, the hiking route, and where to camp.
When I tell people that I've camped on the Great Wall of China, they don't believe me at first. They ask, "how on earth did you manage to do that!?". Before my trip to China, I didn't know it was possible to camp on the Great Wall either.
After meeting another backpacker at my hostel in Beijing and learning about how he did it, I managed to successfully do it myself. In this post, I'll explain exactly how you can camp on the Great Wall at the Jiankou-Mutianyu section.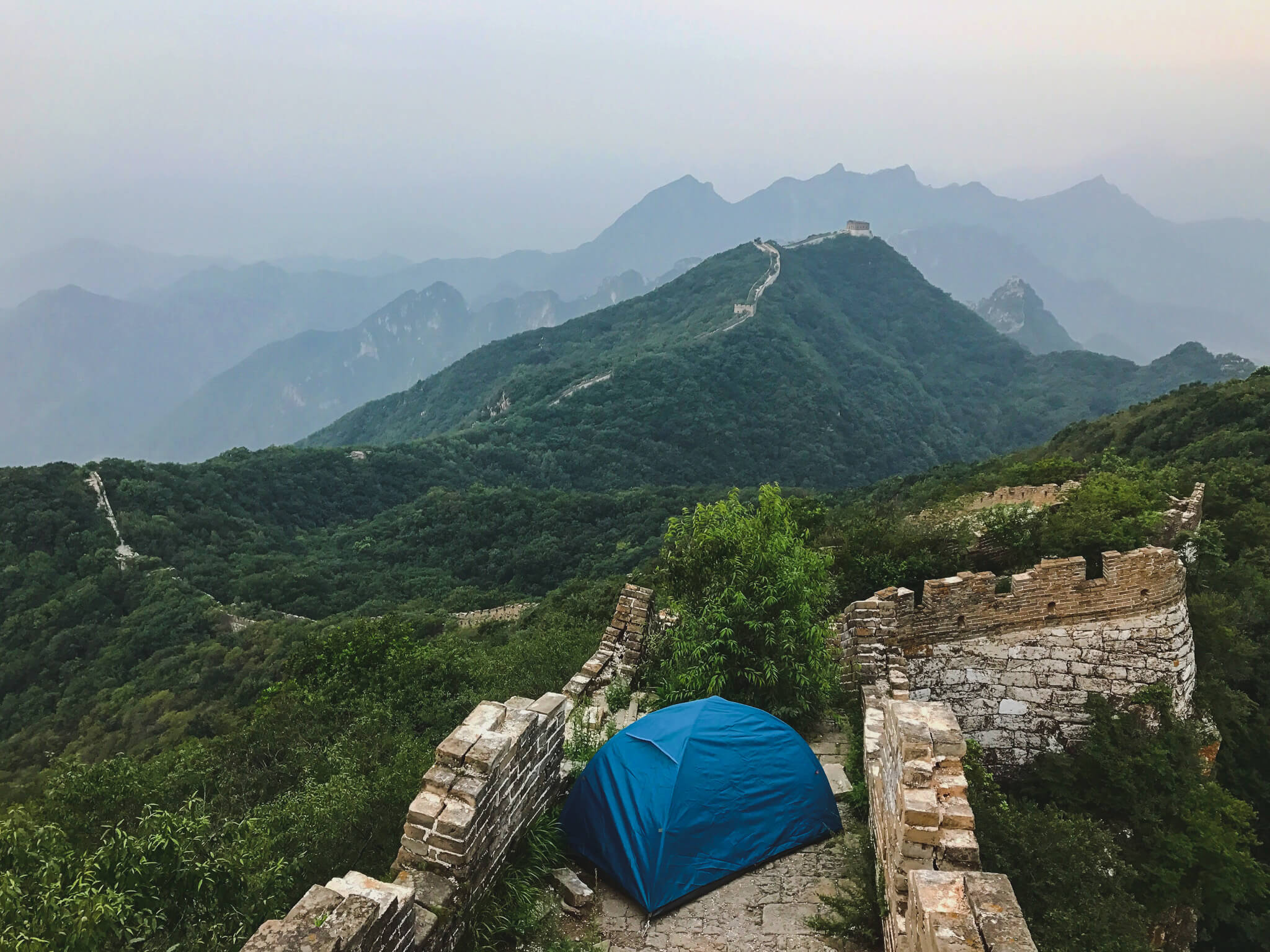 Jiankou-Mutianyu Great Wall Hike
To sleep on the Great Wall you need to visit an unrestored section that's safe enough to hike on, and the Jiankou – Mutianyu section is perfect for this.
You'll start at Jiankou, a wild, untouched, and overgrown section. About 8 kilometres from Jiankou is the restored Mutianyu section of the wall. This hike is done by travellers fairly frequently with hiking companies in Beijing, but it's rare for people to spend the night.
If you plan on hiking/camping on the Great Wall, please be respectful and follow leave no trace principles. By doing this, you help keep the Great Wall in good condition for future visitors.
Sleeping on the Great Wall of China isn't exactly legal, so be respectful and leave it in the same condition that you found it (or even help clean it up if you find trash!).
Here's a map of the Jiankou Great Wall route: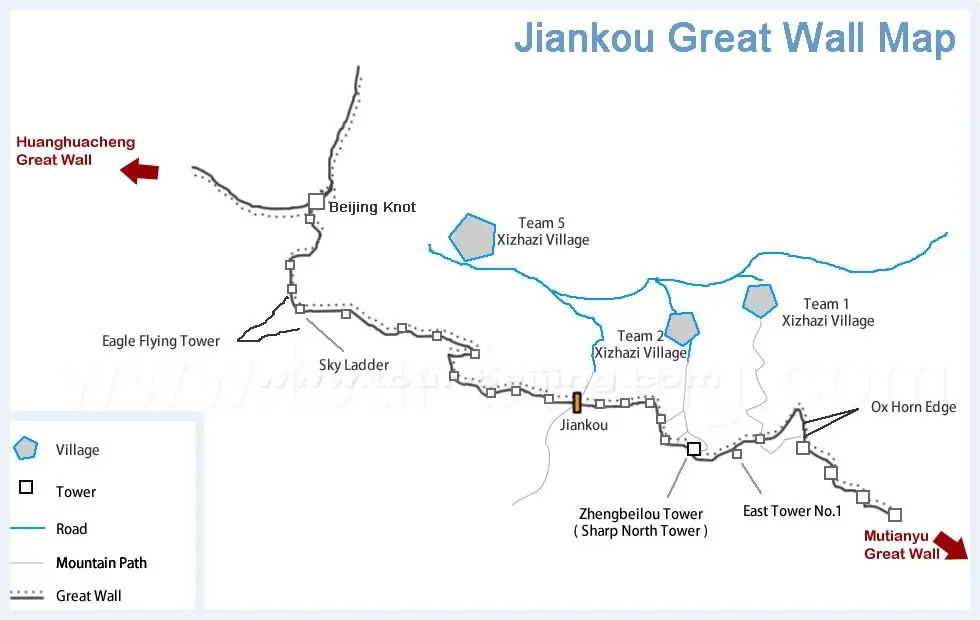 The map is probably a bit confusing, so let me explain. Coming from Beijing, your starting point will be the Team 2 Xizhazi Village location.
Travel Insurance for Hiking on the Great Wall
No matter where you go, you should always have travel insurance – China is no exception.
I personally use and recommend World Nomads. It's designed for adventurous travellers with cover for overseas medical, evacuation, baggage and a range of adventure sports and activities (this is important if you plan on hiking the Great Wall of China!).
Where to Stay in Beijing
You'll be starting and ending your Great Wall camping trip from Beijing, so you'll want a nice place to stay while there.
I recommend the Leo Hostel – it's located right downtown and has a nice common area to hang out in. It's also very close to a metro stop, which is useful for getting to Dongzhimen Outer Bus Station quickly (see why below).
How to get to Xizhazi Village
Probably the most difficult part of this whole ordeal is actually getting to the trail-head. It'll likely take you 3 hours or so.
In Beijing, take the subway to the Dongzhimen Outer Bus Station and take bus 916 to Huairou (stop Qing Chun Lu Bei Kou). This will take around two hours and cost 12 RMB.
To get to Xizhazi from the Yujiayuan stop, you can either take local bus H25 at 11:30 or 16:30 or take a Didi Taxi (approximately 80 RMB).
I chose to take a taxi because I didn't want to wait for the bus, and was able to get one for around 100 RMB. Via the bus or Taxi, the ride to Xizhazi takes about 1 hour. In the village, locals will point you to the mountain path trailhead.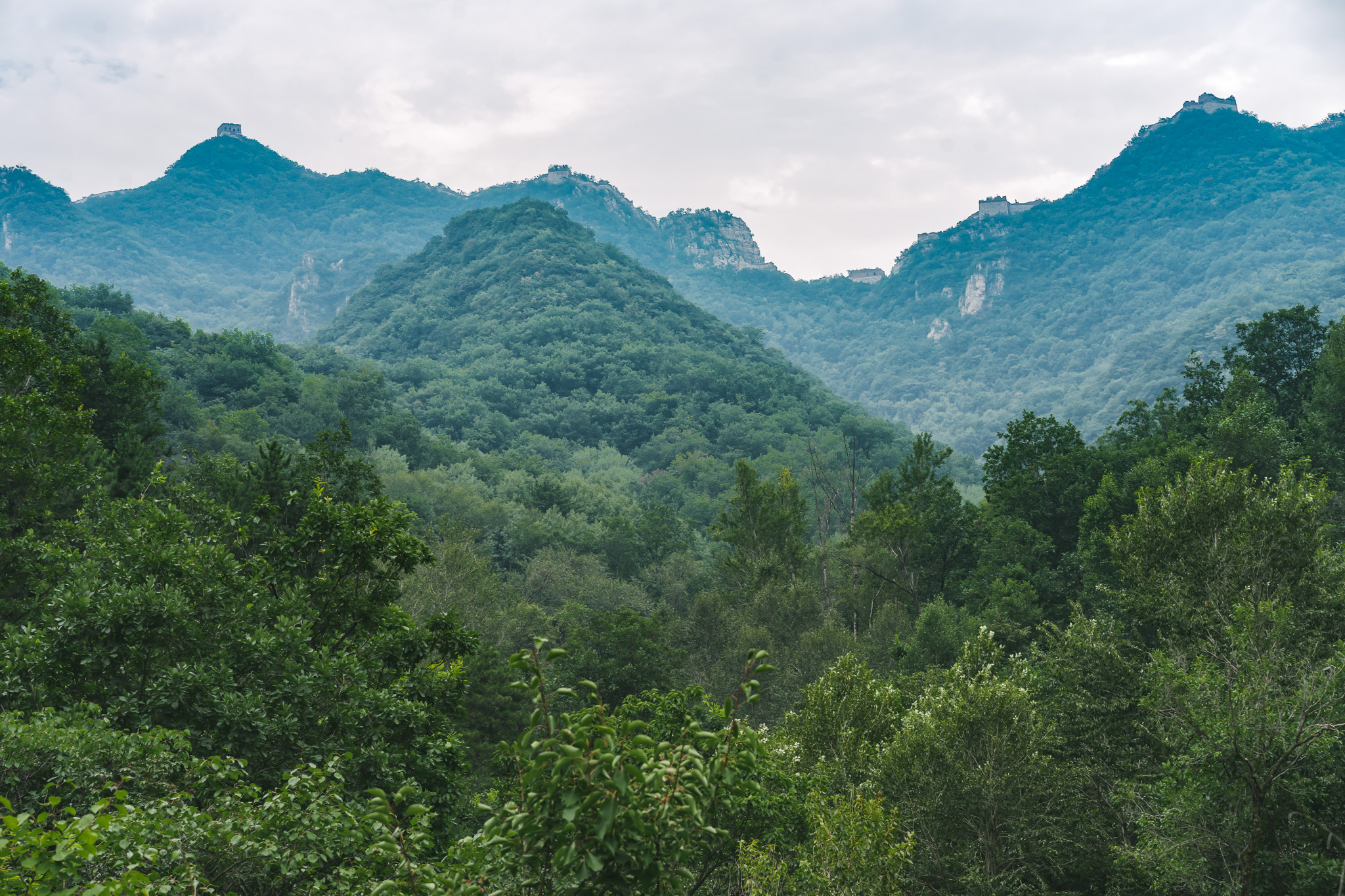 Hiking the Jiankou Great Wall
The mountain path takes an hour or so and brings you right to the Zhengbeilou Tower. This tower has a ladder to climb up on the wall, and there's often a local charging a 5 RMB ($1) fee to use it. From the Zhengbeilou Tower, head east towards Mutianyu.
Overall, the hike should be pretty straightforward. As long as you follow the wall, it's pretty hard to get lost. After you spend the night, it's just a few more kilometres to the restored Mutianyu section where you'll be able to descend.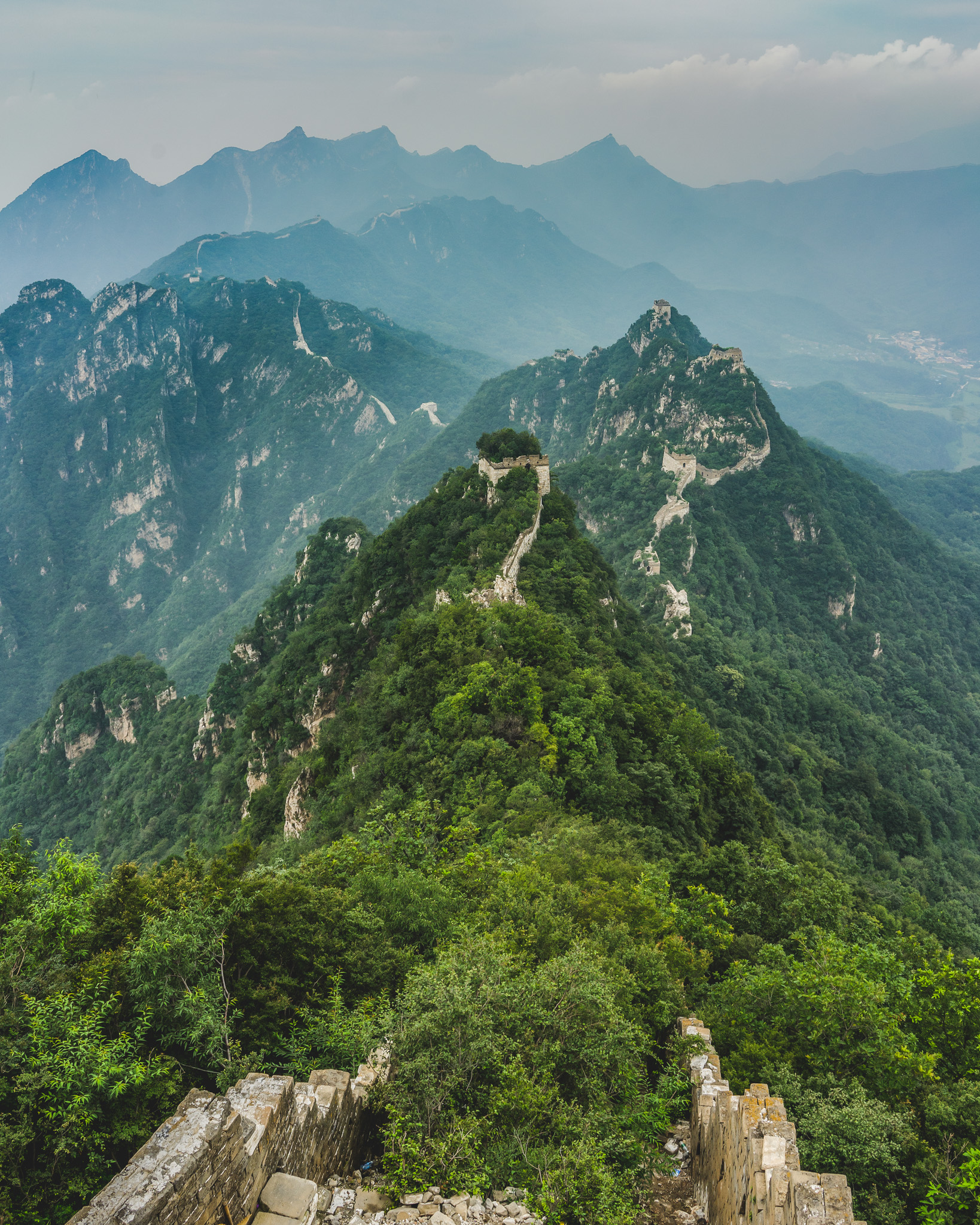 Camping on the Jiankou Great Wall
Camping anywhere on the unrestored Jiankou section is likely fine, but I'd recommend moving away from the Zhengbeilou Tower (so the locals don't bother you).
I made my way to the Ox Horn Ridge, the highest point on the route. The views from on the Ox Horn are incredible, so I highly recommend camping up here. The ascent/descent from the ridge is quite steep and is on smooth rock, so if it's raining or icy you might want to avoid going up. There's a bypass path (marked on the map) that you can take instead.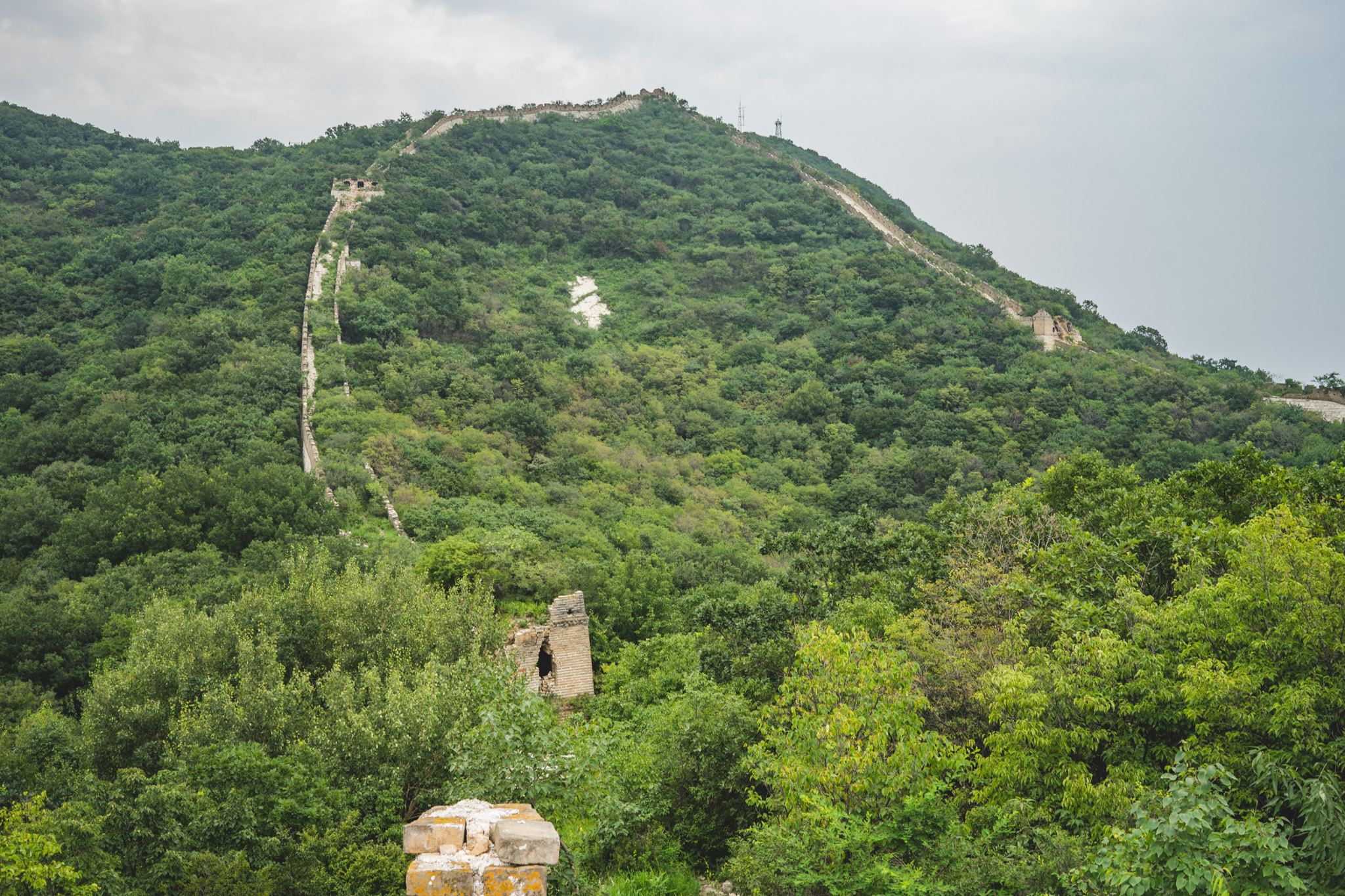 Getting to Beijing from Mutianyu
Heading back to Beijing is much more straightforward. After finishing off your morning hike to the Mutianyu section of the wall, you can follow the paths down to the entrance area (or take the slide if you don't mind paying a few extra RMB).
If you arrive at the Mutianyu entrance area early in the morning, there might not be any buses heading back to Beijing yet. In that case, there are a few basic places to eat here and pass the time – although the food will be a bit pricey by Chinese standards.
Later in the morning, buses that can take you back to Beijing will arrive. The drive back will take only about 1.5 to 2 hours and should cost 30 RMB, quite a bit faster than getting to the original trail-head at Xizhazi Village.
Great Wall of China Camping Tips
If you don't have any camping gear with you, check out Decathlon in Beijing. They've got decent quality gear for low prices. I purchased the tent I slept in for around 100 RMB.
Bring warm clothes. I underestimated what the temperatures would be up high on the wall (it was 40 degrees in Beijing).
Finding flat parts of the wall to set up camp on can be rather difficult, so keep an eye out as you hike.
Be a bit careful as you leave the main entrance at Mutianyu. There was a security guard at around 8 AM when I got there, but he just waved me by and didn't seem to care. But he did seem confused as to how I was arriving there when the Mutianyu Great Wall hadn't even opened yet.
Bring all the food and water that you'll need. There isn't really anywhere to fill up water bottles after you've started hiking.
Let me know if you go ahead and decide to camp on the wall! I'd love to hear about your experience.
Also, check out my backpacker's guide to travelling in China for everything you need to know to plan your trip to China!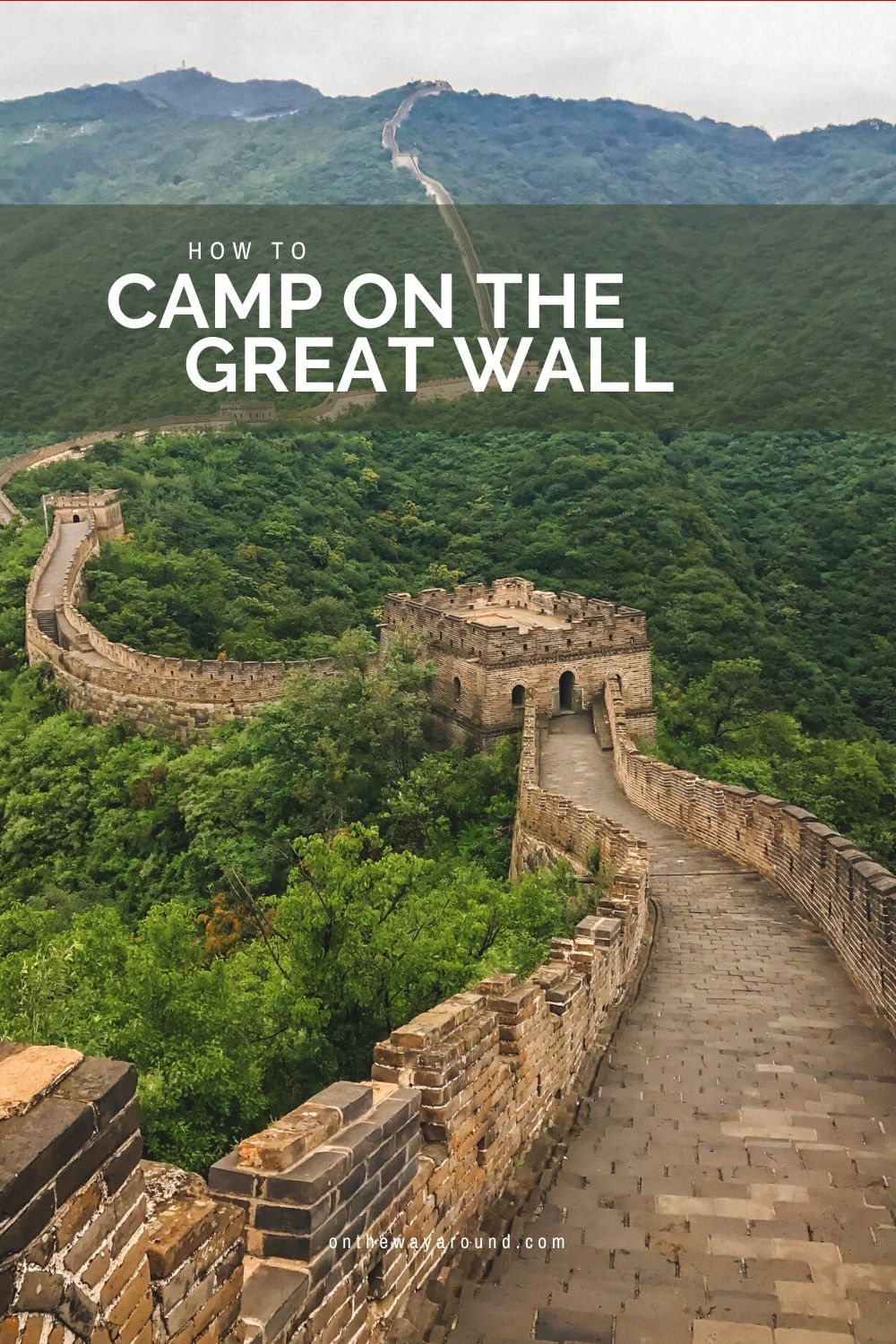 Yay transparency! There are affiliate links in this guide. If you book or buy something using my links, I'll make a bit of money at no extra cost to you.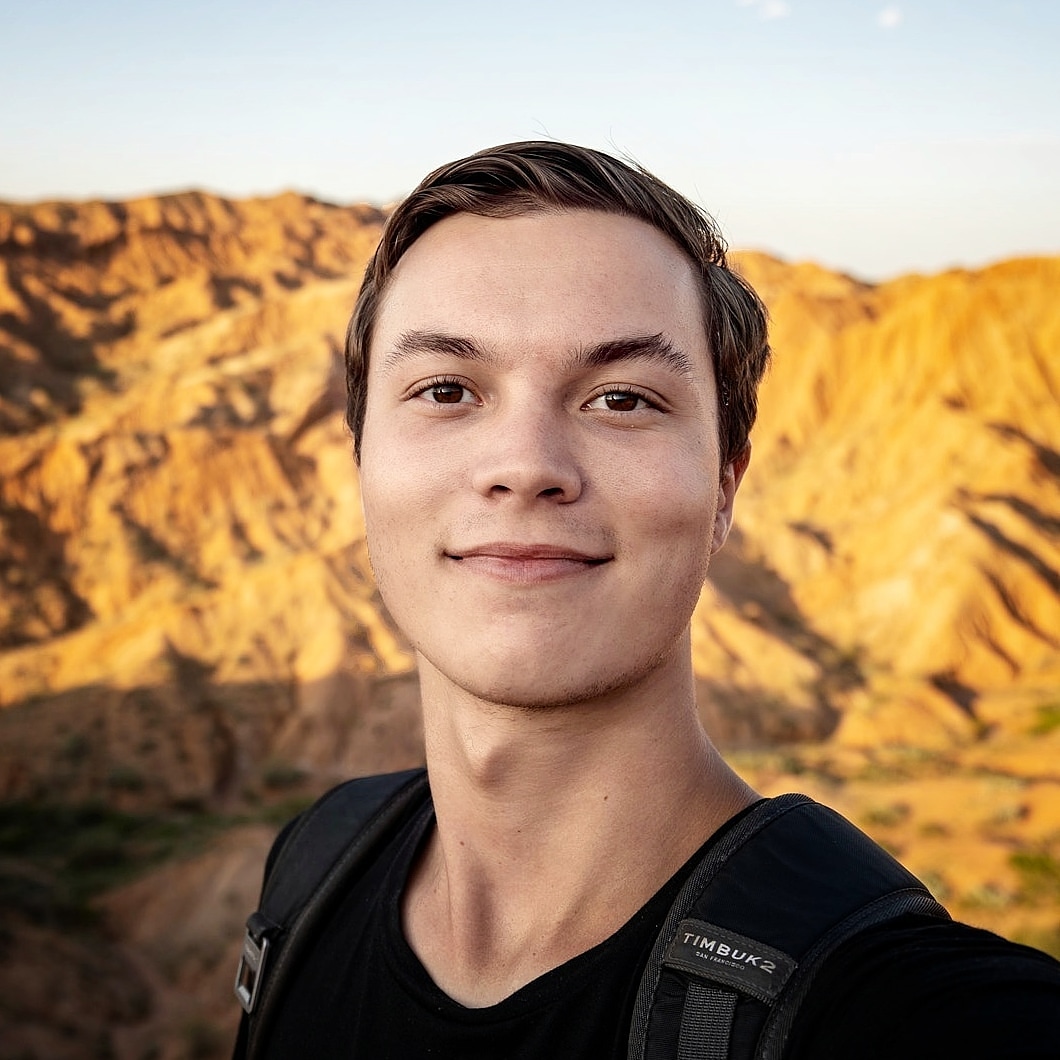 21-year old Canadian dude who loves to visit off-the-beaten-path places, climb tall mountains, and try delicious foods.