You've probably already seen photos of Edge of the World near Riyadh. It's one of the most famous sights in Saudi Arabia, and for good reason.
Watching the sunset from atop these massive cliffs towering above an endless desert was one of my favourite experiences during my 2.5 weeks travelling around Saudi Arabia.
Located only 90-kilometres outside of Riyadh, the place is perfect for a day-trip or an overnight camping trip from the city.
There is some confusing info out there on the internet about how to visit the Edge of the World, so in this comprehensive guide I'll clear everything up for you. Let's get right into it!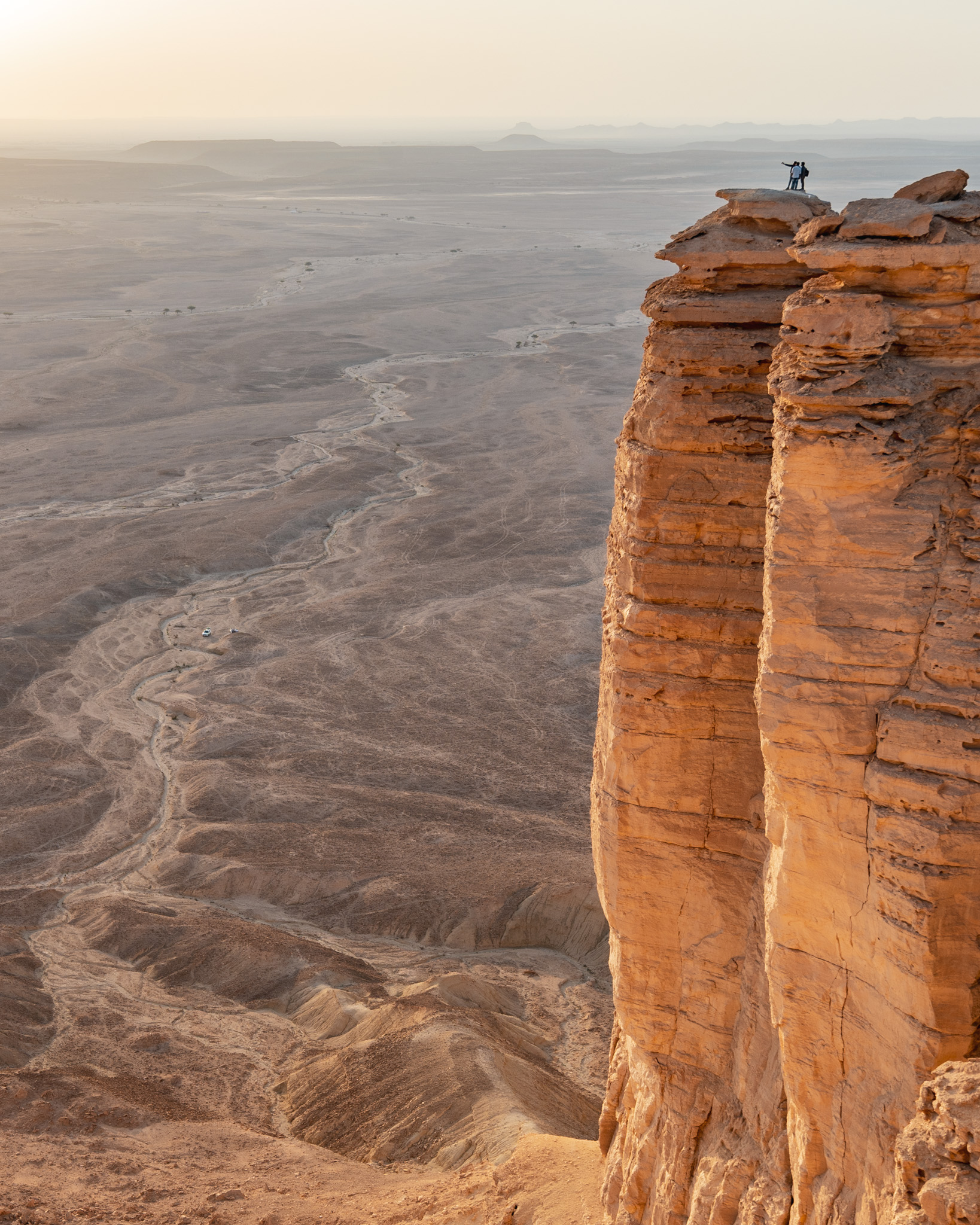 How to get to the Edge of the World
Figuring out how to get to the Edge of the World is by far the most challenging part of visiting it. There is no public transportation out here, so your only options to visit are by driving yourself, hitchhiking, or joining a tour group.
Self-driving is by far the most convenient option if you're able to rent a car.
Self-driving
There are two different routes that you can take to the Edge of the World, but both require that you first get to near the town of Al Uyaynah العيينة just outside of the city.
Acacia Valley Route
The first route passes through the Acacia Valley to reach the Edge of the World. There is a turnoff marked on Google Maps as "Access to EOW" at the start of this route. There is a brief section of well-paved road, and then you'll reach another turnoff next to a dam.
The turnoff is typically blocked by a gate that is reportedly only open on Fridays and Saturdays, meaning that you can only visit the Edge of the World via this route on those days. I went on a Friday afternoon and there were quite a few people passing through the gate (many to go camping in the Acacia Valley).
When the gate is open, pass through it to enter the Acacia Valley. Continue following tracks (and the "road" on Google Maps) for about 45 minutes until you reach the end.
There are a number of sections where the track turns into soft gravel, and keeping up momentum here so that you don't get stuck is very important. If you stop, you might not be able to get moving again.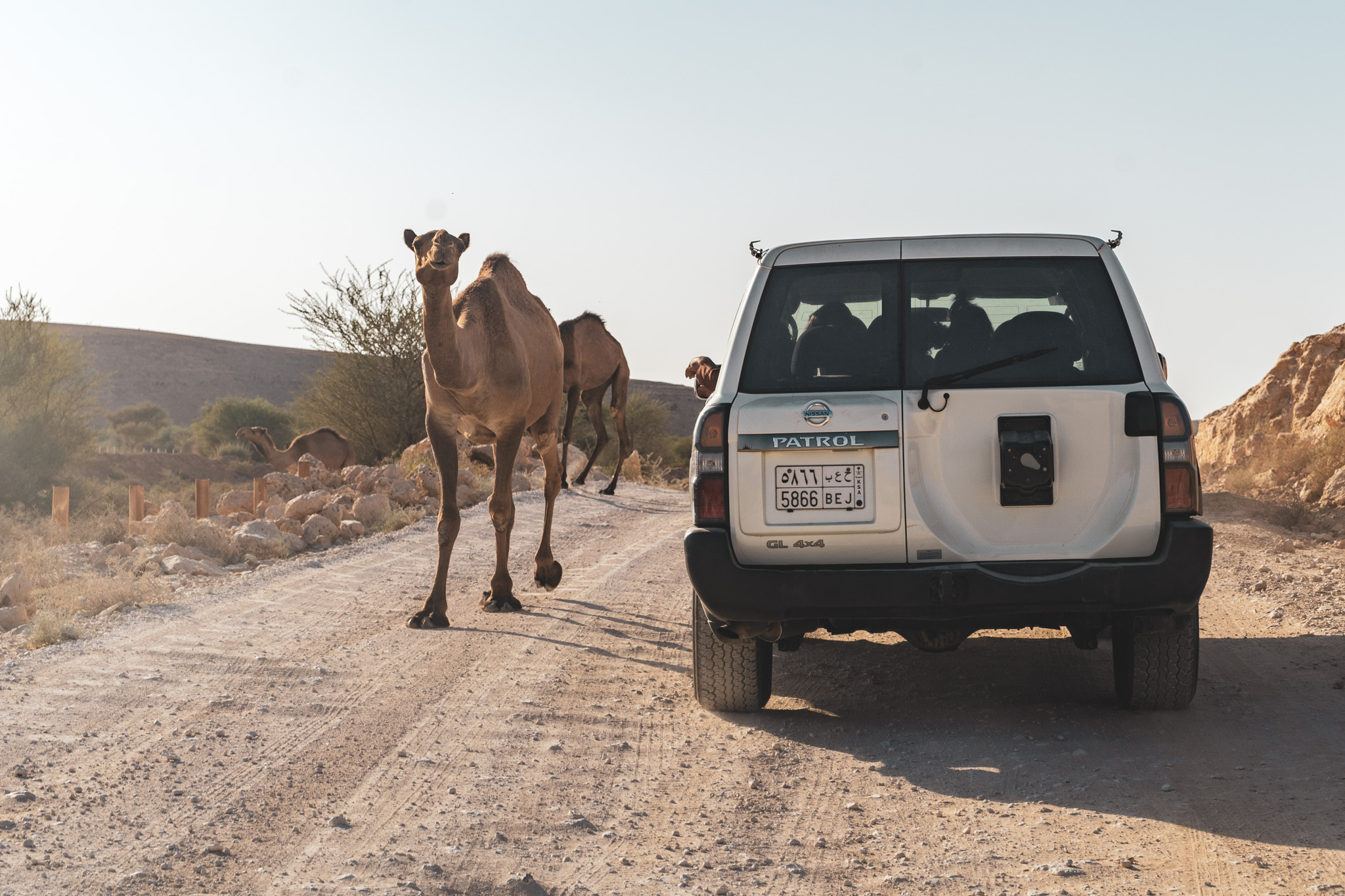 Sadus Dam Route
This is a more northern route that apparently has less loose sand on it, making it easier for 2wd vehicles (I can't confirm this though, let me know if you've driven it!).
It begins from the Sadus Dam which is marked on Google Maps and continues directly to the Edge of the World.
From what I know, there is no gate at the entrance to this route so it should be useable on any day of the week.
Edge of the World Map
Here is a map that I've put together with the two routes and major points of interest along each of them.
Hitchhiking
It is technically possible to hitchhike to the Edge of the World on a Friday, but it won't be easy.
You should start around noon, and make your way to the "Access to EOW" location on Google Maps. From there, you'll notice quite a few large jeeps and SUVs going by. These are all locals heading into the Acacia Valley to camp or visit the Edge of the World – ask them for a lift.
Getting out will be challenging unless you leave with whoever drove you in. Be sure to bring plenty of water and food in case you get stuck.
Park rangers do a round of the Acacia Valley shortly after sunset, so get their attention if you need help.
Remember to check out my complete Saudi Arabia Travel Guide for more help planning your trip!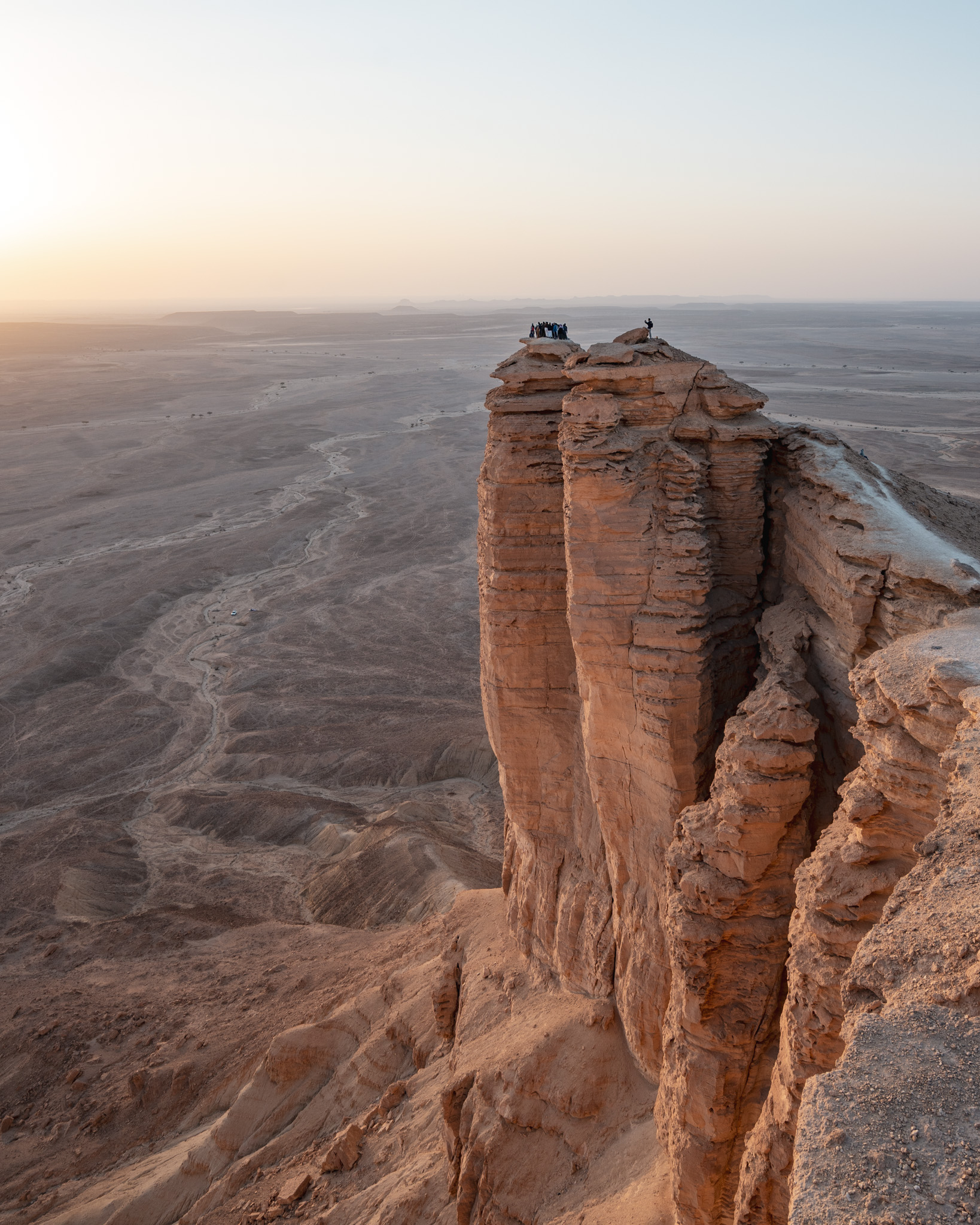 Things to do at the Edge of the World
The best thing to do at the Edge of the world is to hang out and enjoy the epic views!
When you get there, follow the footpaths around for some incredible and dramatic scenery. You can even climb onto the famous "pillar" that you'll see in a lot of photos from here.
Hiking
It's possible to hike down to the bottom of the cliffs if you follow the path from the main parking area. Depending on your fitness, I would guess that this is roughly a 2-hour round-trip. Bring plenty of water, as there is absolutely nothing down there!
You can also hike along the top of the cliffs for more unique views. It's easy to get away from the small number of other people here.
Camping
The Acacia Valley is PERFECT for camping! It's a valley, so there isn't too much wind, there are trees and plenty of nice spots to set up camp.
Camping here is allowed, although you may get a visit from a park ranger shortly after sunset asking if everything is ok.
If you camp here, remember to follow leave no trace principles!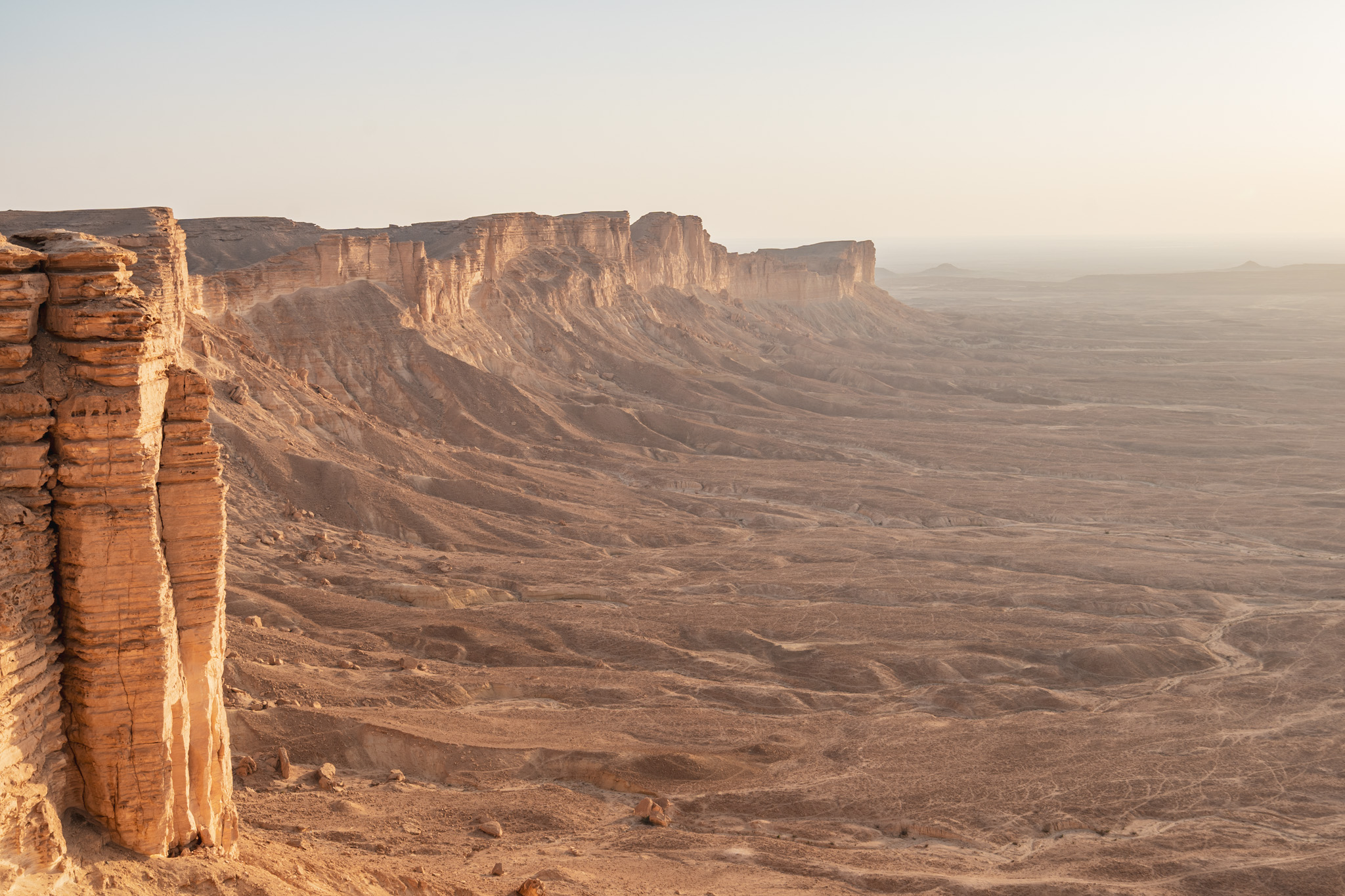 When to visit the Edge of the World
The Edge of the World can be visited year-round, but winter is definitely the best time to visit.
Summer temperatures can reach above 50°C, meaning that hiking is impossible, and even standing around the shade-less viewpoints will feel like you're in an oven.
Autumn and spring should be bearable as long as you don't visit in the middle of the day.
In winter, temperatures are very comfortable (around 20°C during the day) and can even get a bit chilly at night. This weather is perfect for camping!
What time of day?
I recommend arriving at the Edge of the World an hour or two before sunset. The light at this time of day is amazing, it turns the pale cliffs into a gorgeous orange colour. You'll have trouble putting down your camera.
Mid-day is also okay, but you won't have quite as dramatic light on the cliffs.
I'm not so sure about sunrise – I think that the cliffs will be in a shadow for a while until the sun gets high enough, so I don't know if I'd bother waking up early for this place.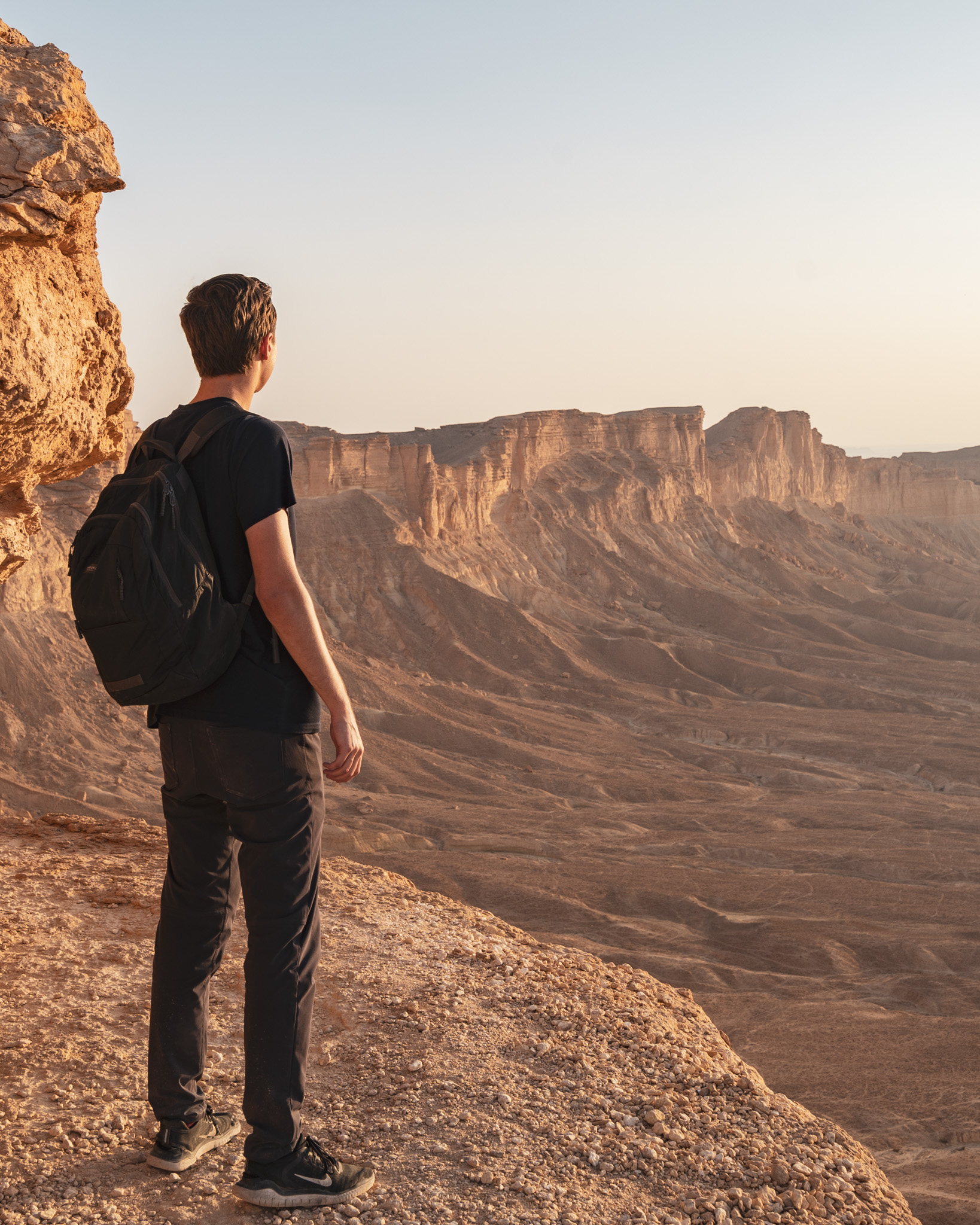 Edge of the World Safety
I felt that I should add this section, as I saw some dangerous stuff going on during my visit.
Most of the dangerous things I witnessed revolved around people posing for photos at the edge of the massive cliffs and slipping while climbing down rocks.
To stay safe at the Edge of the World, please don't stand right at the edge of the cliff. Your photos will still look good if you stand a few feet away from it.
Wear proper footwear, and mind your step. There's a lot of loose rock here and people wearing sandals were often slipping (and falling onto other people). This is very dangerous, and I had to start walking away from people as I didn't want someone falling on top of me.
Just be careful – someone has fallen to their death here before.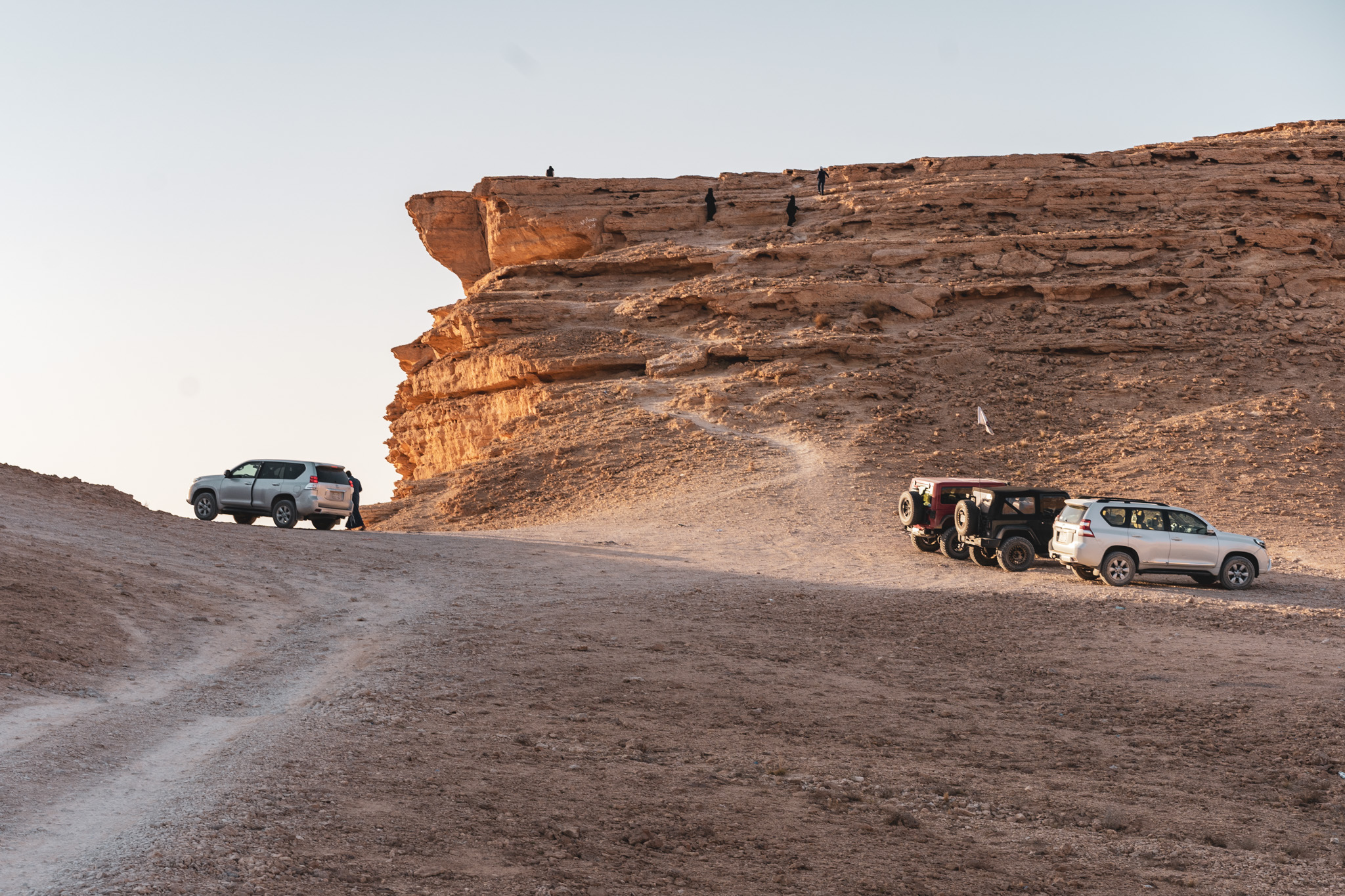 Edge of the World Tours
There are a few different tour operators that operate trips to the Edge of the World, but I'd only use them as a last resort. They tend to charge more money than it would cost for you to rent a car and go at your own pace.
Here are some of the companies I looked into that offer tours:
Edge of the World FAQ
These were a few of the things I was wondering when I was planning my visit to the Edge of the World:
Is there cell reception at the Edge of the World?
There is reportedly some 2G STC reception at the Edge of the World, but with my Zain SIM card, I only got the odd signal from the valley below the cliffs. Don't count on being able to do any internet browsing while here.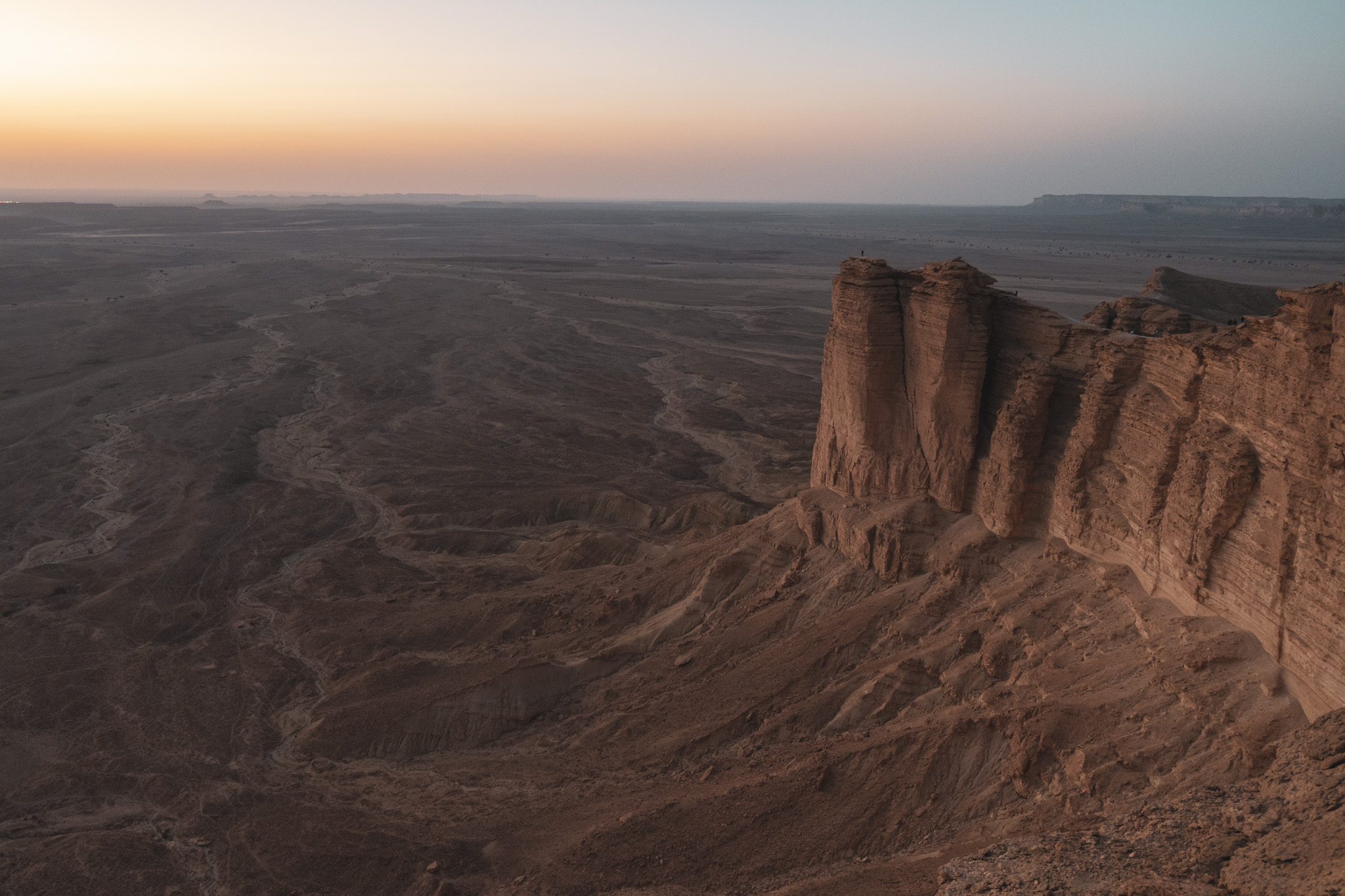 Do you need a 4-wd to get to the Edge of the World?
No, you don't need a 4-wd vehicle to get there, but it will certainly make your life a lot easier.
I did the drive in a tiny Hyundai Accent via the Acacia Valley route, and it was quite difficult at some points. I had to be very careful with my momentum so that I didn't get stuck in the gravel, and at certain points, there were large bumps that probably weren't good for the vehicle.
Even a 2-wd SUV would fare much better, the low bottom of my car was what really caused me issues.
If you attempt this drive with a 2-wd, don't blame me if you do get stuck!
It is a good idea to drive with at least one other vehicle if you can, in case one of you gets stuck.
Water/food places nearby?
I'd recommend bringing plenty of food and water from Riyadh. There isn't much in the small towns en route, and after you've left the paved road there is no way to get any more water or food.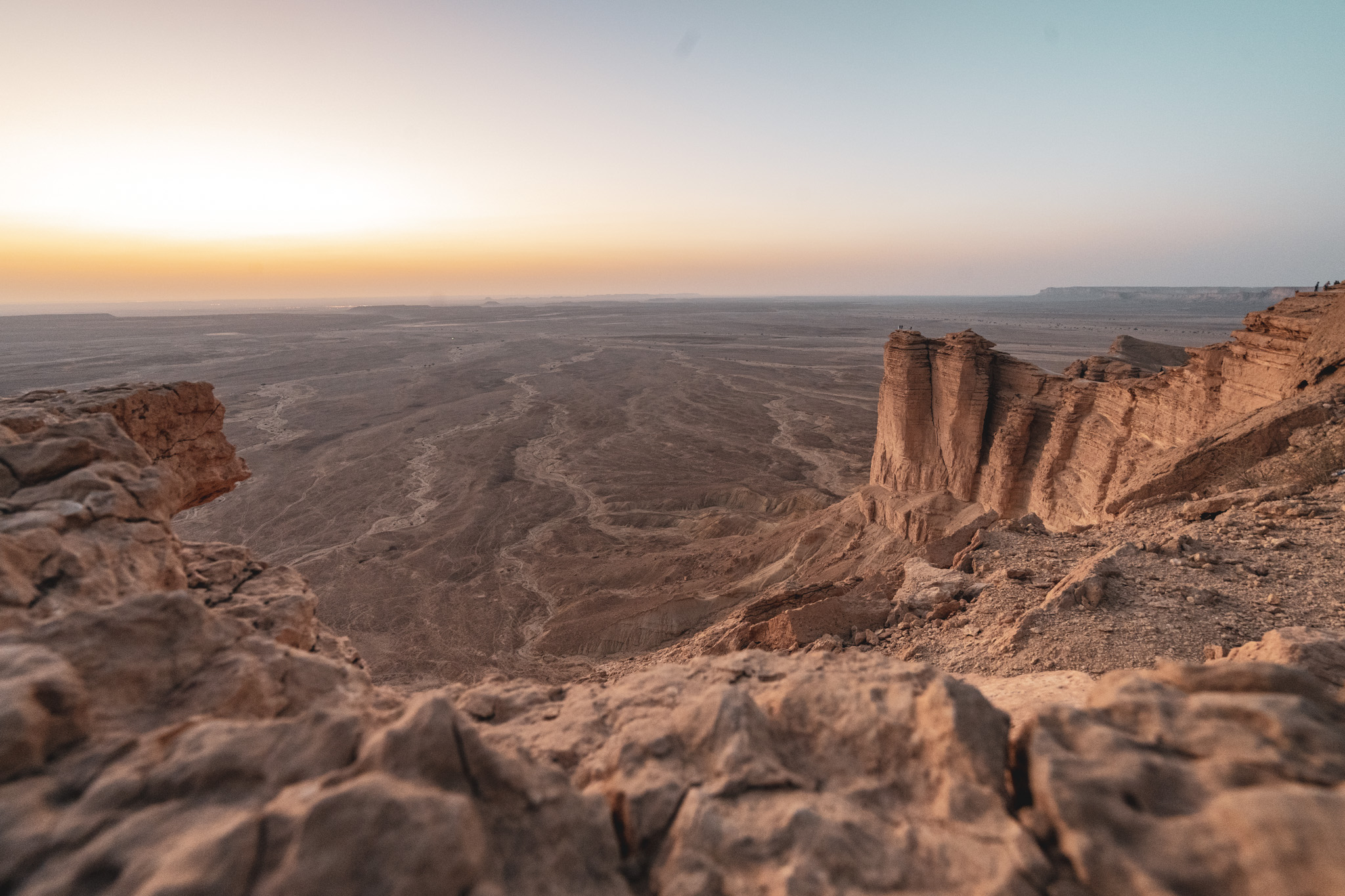 Wrap-up
I hope this post has helped you plan your trip to the Edge of the World! Let me know how it goes, and be sure to comment with any questions that you may have. I'll be keeping this article as up-to-date as possible.
Looking for more Saudi Arabia content? Check out my other posts:
Safe travels!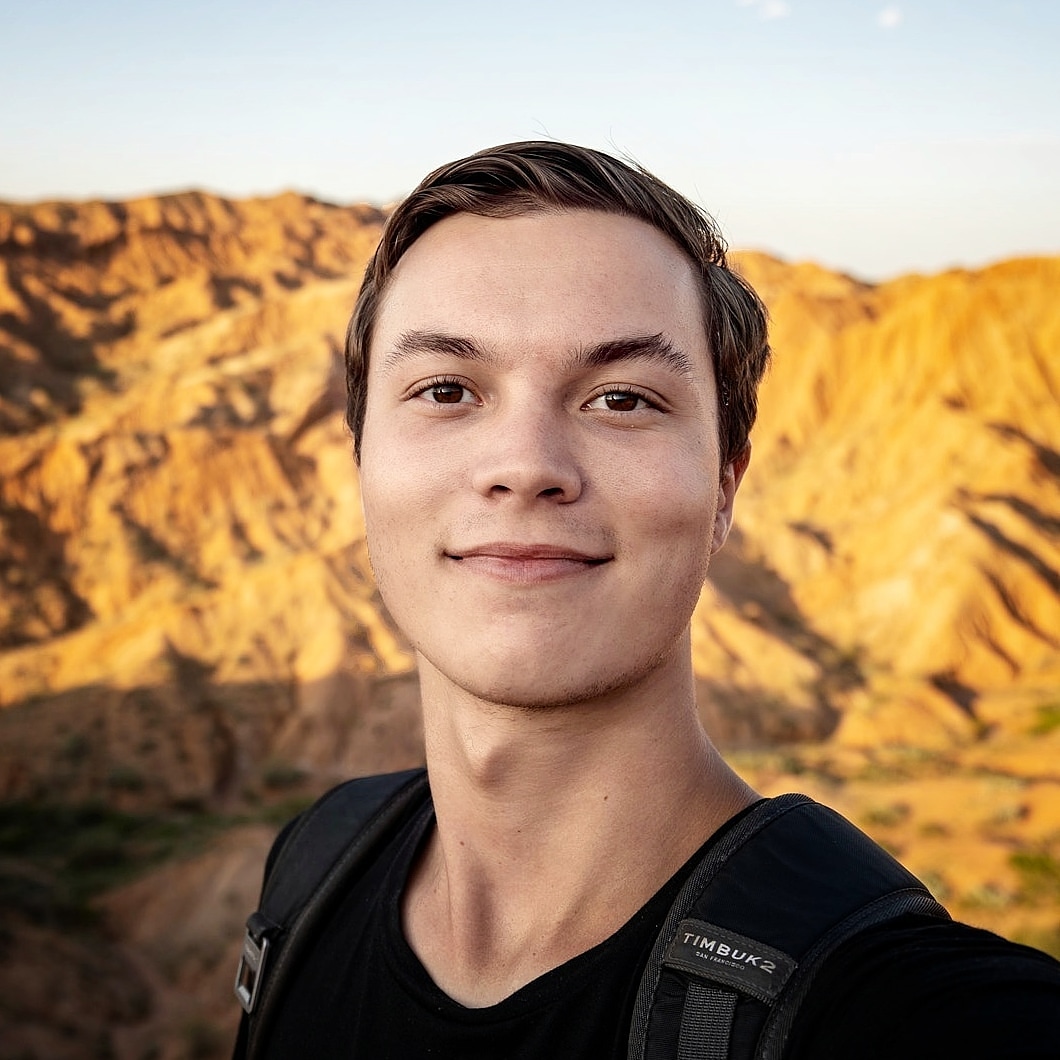 21-year old Canadian dude who loves to visit off-the-beaten-path places, climb tall mountains, and try delicious foods.