Complete guide to backpacking in Saudi Arabia. Where to go, how to get around, safety, and visa requirements are all covered in this comprehensive post.
The Kingdom of Saudi Arabia is a destination that's allured travellers for decades.
Saudi Arabia has long been off-limits to foreign travellers. Tourist visas simply didn't exist – there was basically no hope of a visit to the mysterious nation.
As of September 2019, that has changed. The government has introduced a new tourist e-visa scheme, making it easy to get a visa and visit the Kingdom independently.
I was one of the first travellers to visit Saudi Arabia with the new tourist visa, in November 2019. I spent over two weeks independently solo travelling all over the country, from the sand dunes of the center to the monkey filled mountains in the south.
Before you visit Saudi Arabia
Why visit Saudi Arabia?
I mean, how often do you get a chance to visit a country that's been closed off to tourists for so long?
So much of Saudi Arabia is just waiting to be discovered by tourists. Most bedouin camps, mountain villages and sandy beaches have likely never seen a foreign tourist.
Saudis are extremely hospitable and are eager to show their culture, food, and nature to visitors. Meeting locals is always a great part of travel, but Saudis things to another level!
Saudi Arabia is very geographically diverse. During your trip, you'll have the opportunity to see green mountains, beautiful beaches, endless cliffs, and red sand dunes.
Arabia is waiting for you – be one of the first to visit.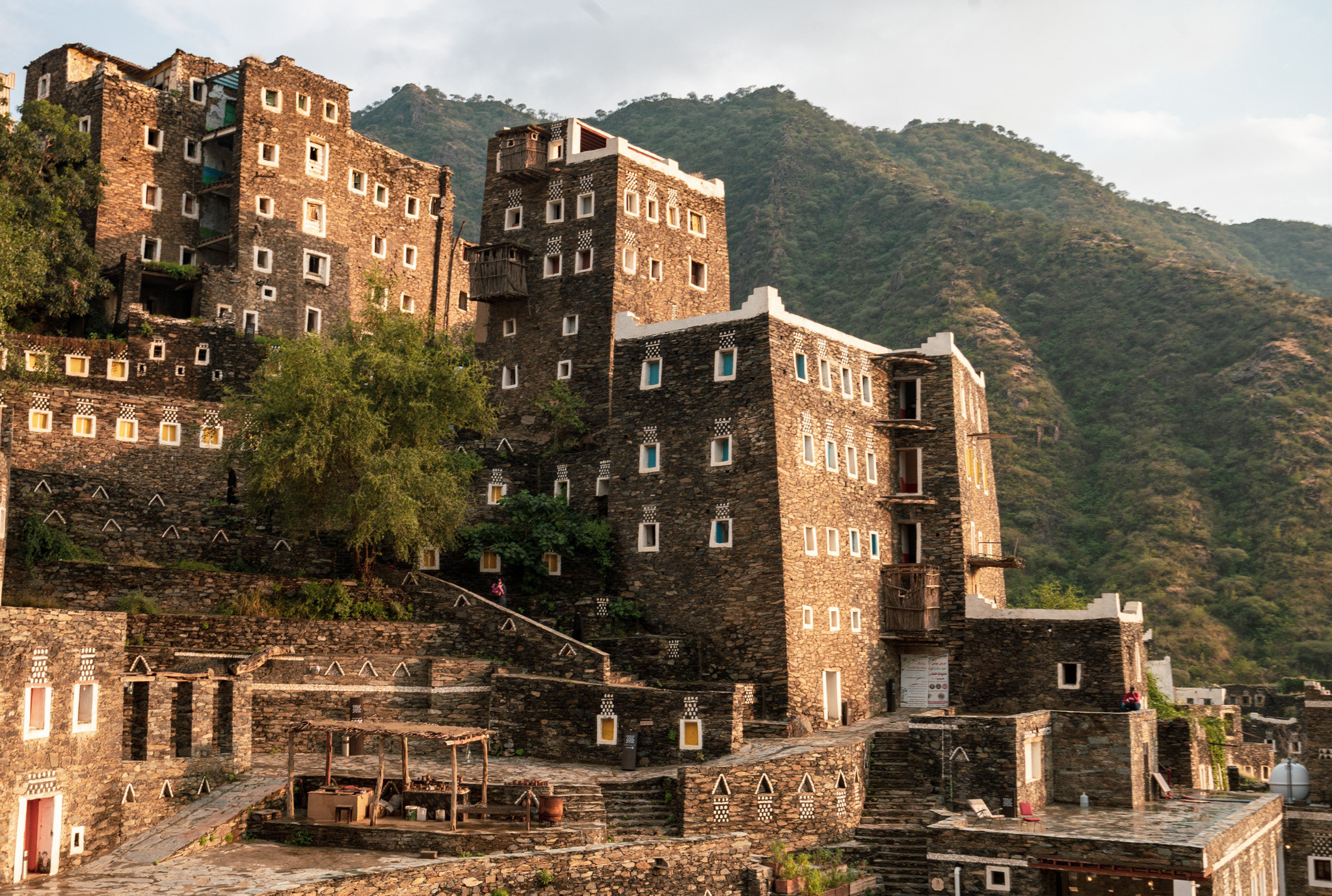 Is Saudi Arabia safe?
Saudi Arabia is a pretty safe country.
Petty theft isn't much of an issue. As tourists are a very new thing in Saudi, there aren't any pickpockets in popular tourist spots. I left my backpack unattended in a couple of cafes and restaurants while I went to the washroom – that's how safe I felt.
Many governments state that you should avoid travel to the areas near the Yemeni border (Abha, Jazan, Najran) due to the ongoing war. These warnings are overblown. The situation on the Saudi side of the border is business as usual, you'd never know how close you are to the border.
Travel Insurance for Saudi Arabia
No matter where you go, you should always have travel insurance – Saudi Arabia is no exception. Even though Saudi Arabia is safe, accidents can still happen.
I personally use and recommend World Nomads. It's designed for adventurous travellers with cover for overseas medical, evacuation, baggage and a range of adventure sports and activities (important if you plan on doing any camel riding or dune bashing while in Saudi Arabia).
Communication in Saudi Arabia
Like in other Arab countries, Arabic is the most common language spoken in Saudi Arabia. Due to a large number of workers from countries like Pakistan, India, and the Philippines, you'll hear Urdu, Hindi, and Tagalog spoken in certain areas.
Luckily for us travellers, many people in Saudi Arabia can speak some English – especially workers from India or the Philippines. In the large cities like Riyadh and Jeddah, you'll frequently hear English being spoken by plenty of people.
Restaurant menus are usually in Arabic and English making it easy to order whatever you want.
When you get out into the more rural parts of the country, English is less common. I'd recommend downloading Arabic on Google Translate for offline usage just in case you need it.
To make things easy, why not pick up an Arabic phrasebook before your visit?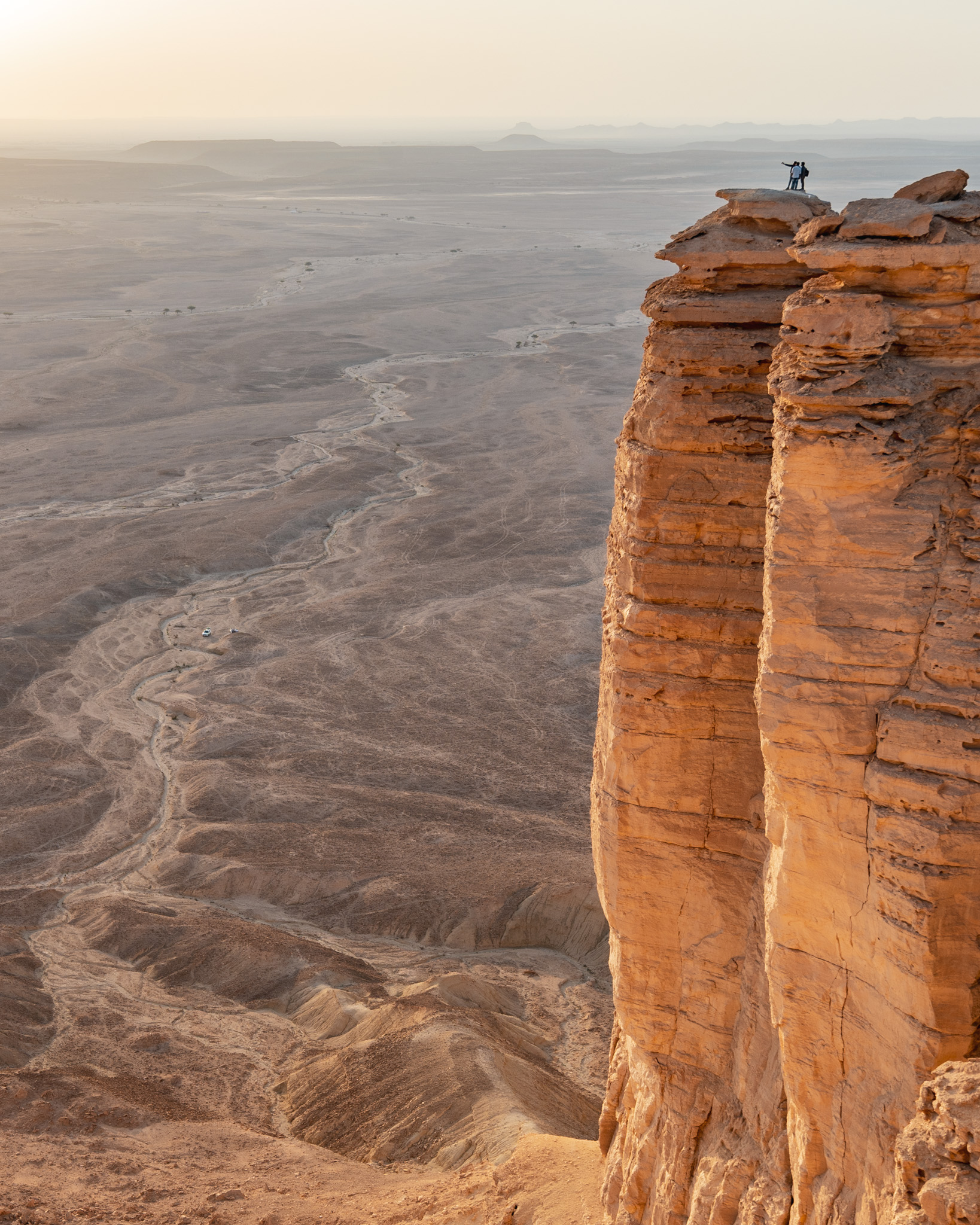 Money in Saudi Arabia
The official currency of Saudi Arabia is the Saudi Arabian Riyal (SAR).
The Riyal is pegged to the US Dollar at a rate of 3.75 SAR = 1 USD.
Getting cash is easy – there are ATMs everywhere and they almost all accept international Visa or MasterCard. I had zero issues withdrawing cash using an ATM.
Credit cards are also widely accepted in Saudi Arabia, especially in more urban areas. Terminals are all equipped with contactless support, so you can just tap or use Google Pay (or Apple Pay… if you swing that way).
While the USD to SAR rate shouldn't change, you can always check the latest rate at XE.com.
VPN for Saudi Arabia
You might not have realized this (I didn't before my visit), but certain websites aren't accessible from within Saudi Arabia without the use of a Virtual Private Network (VPN).
Here are a few examples of websites that are inaccessible from within Saudi Arabia:
Pornography
Sites that disagree with the regime (Qatar based Al Jazeera is a big one)
Gambling
Drug-related sites
While most of those topics are likely of little interest to the average Saudi Arabia traveller, there have been cases where the government blocked certain Wikipedia pages or WhatsApp Voice Calling.
It's also a good idea to use a VPN no matter what when you're in a place where your internet traffic can be monitored.
The best VPN for travelling in Saudi Arabia right now is NordVPN.
I've used a bunch of different VPNs while travelling in even more restricted places like China, and had by far the best experience with NordVPN. They offer a 30-day money-back guarantee, 24/7 customer support, and high-speed servers that are reliable and consistent.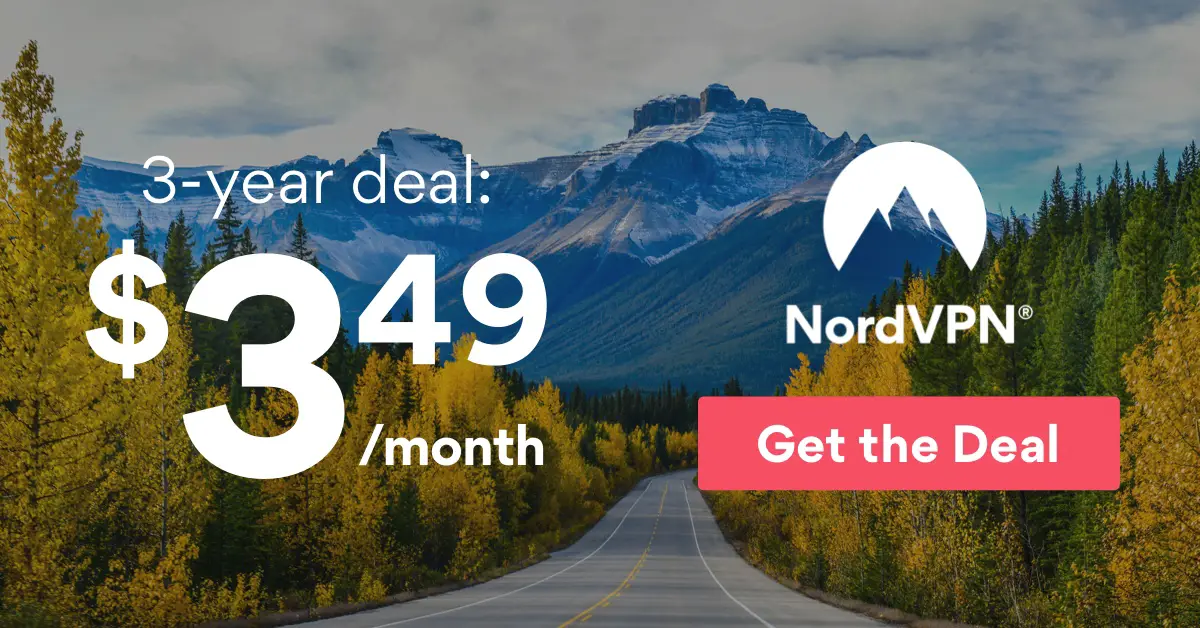 Getting to Saudi Arabia
Before your trip to Saudi Arabia, you need to be sure that you have a valid visa and decide if you'll enter the country by air or land.
Visa Requirements for Saudi Arabia
If you're from one of the 49 lucky countries, then you're eligible to apply an e-visa to visit Saudi Arabia.
The countries that are currently eligible for the e-visa are the following:
North America – Canada, United States
Europe – Switzerland, Ireland, Liechtenstein, Lithuania, Monaco, Andorra, Russia, Malta, Montenegro, San Marino, Ukraine, United Kingdom, Portugal, Poland, Austria, Belgium, Bulgaria, Romania, Slovakia, Croatia, Cyprus, Czech Republic, Spain, Sweden, Denmark, Estonia, Finland, Norway, Luxembourg, France, Germany, Greece, Slovenia, Netherlands, Hungary, Iceland, Italy, Latvia
Asia – Brunei, Japan, Singapore, Malaysia, South Korea, Kazakhstan, China (including Hong Kong, Macao), Taiwan
Oceania – Australia, New Zealand
If you're from one of the above countries, you can apply for an e-visa on the official Saudi Arabia e-visa website.
If your country isn't on the list, don't worry – it's still possible to apply for a tourist visa at your nearest Saudi Arabia Embassy.
For more details on getting a tourist visa, check out my complete Saudi Arabia Tourist Visa Guide.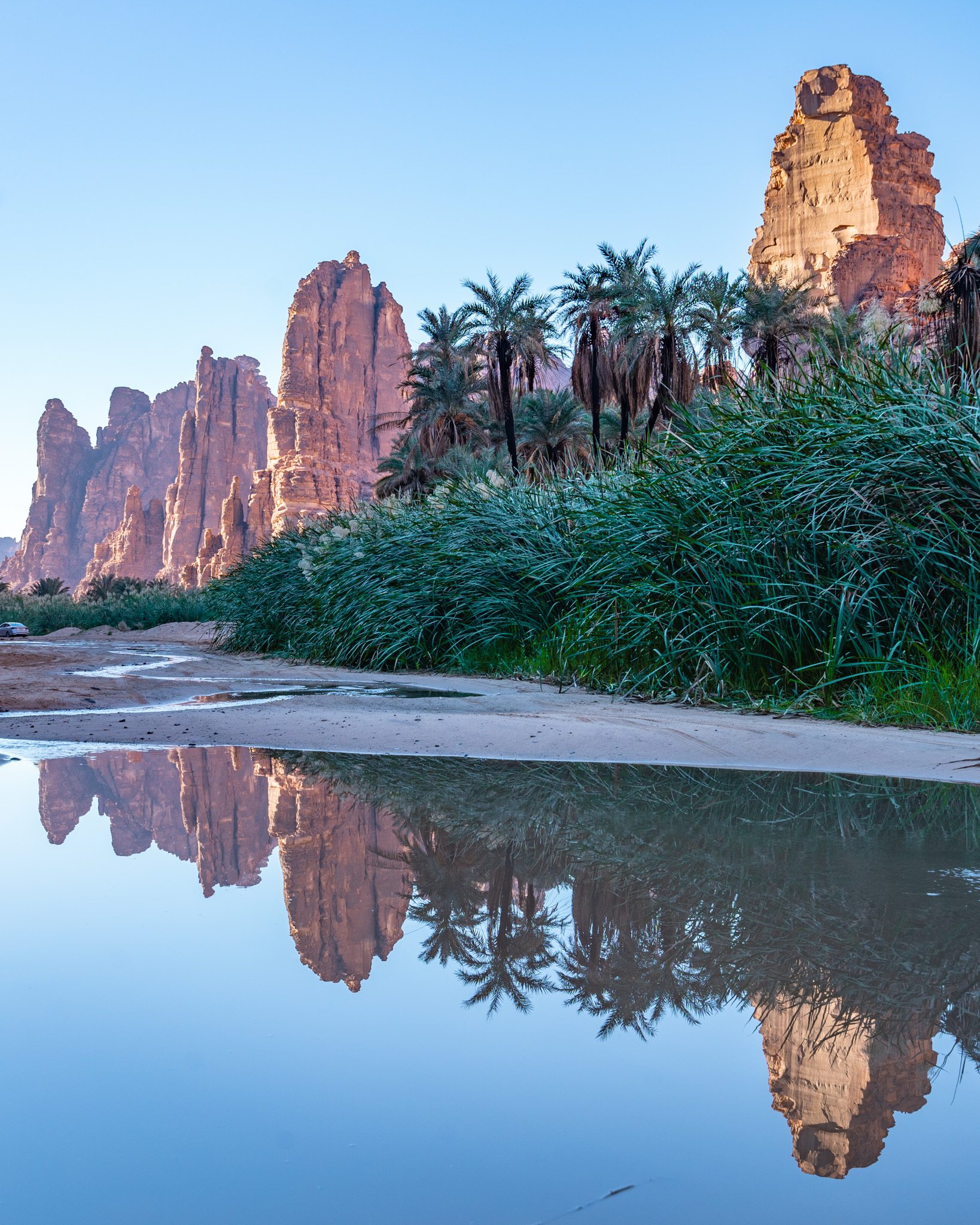 Flying into Saudi Arabia
If you're flying into Saudi Arabia, you'll most likely end up flying into either Riyadh or Jeddah. They have the largest airports and the most international connections.
The flag carrier of Saudi Arabia is called Saudia, and it has direct flights from Riyadh to New York City, Washington DC, London, Paris, Frankfurt, Rome, Istanbul, Guangzhou, Kuala Lumpur, Manila, and a number of other destinations.
There are also direct flights from Jeddah to the above destinations, along with Los Angeles and Johannesburg.
You can also easily get to Saudi Arabia by flying with Emirates and taking a short layover in Dubai.
I recommend using Google Flights to find the cheapest flights to Saudi Arabia.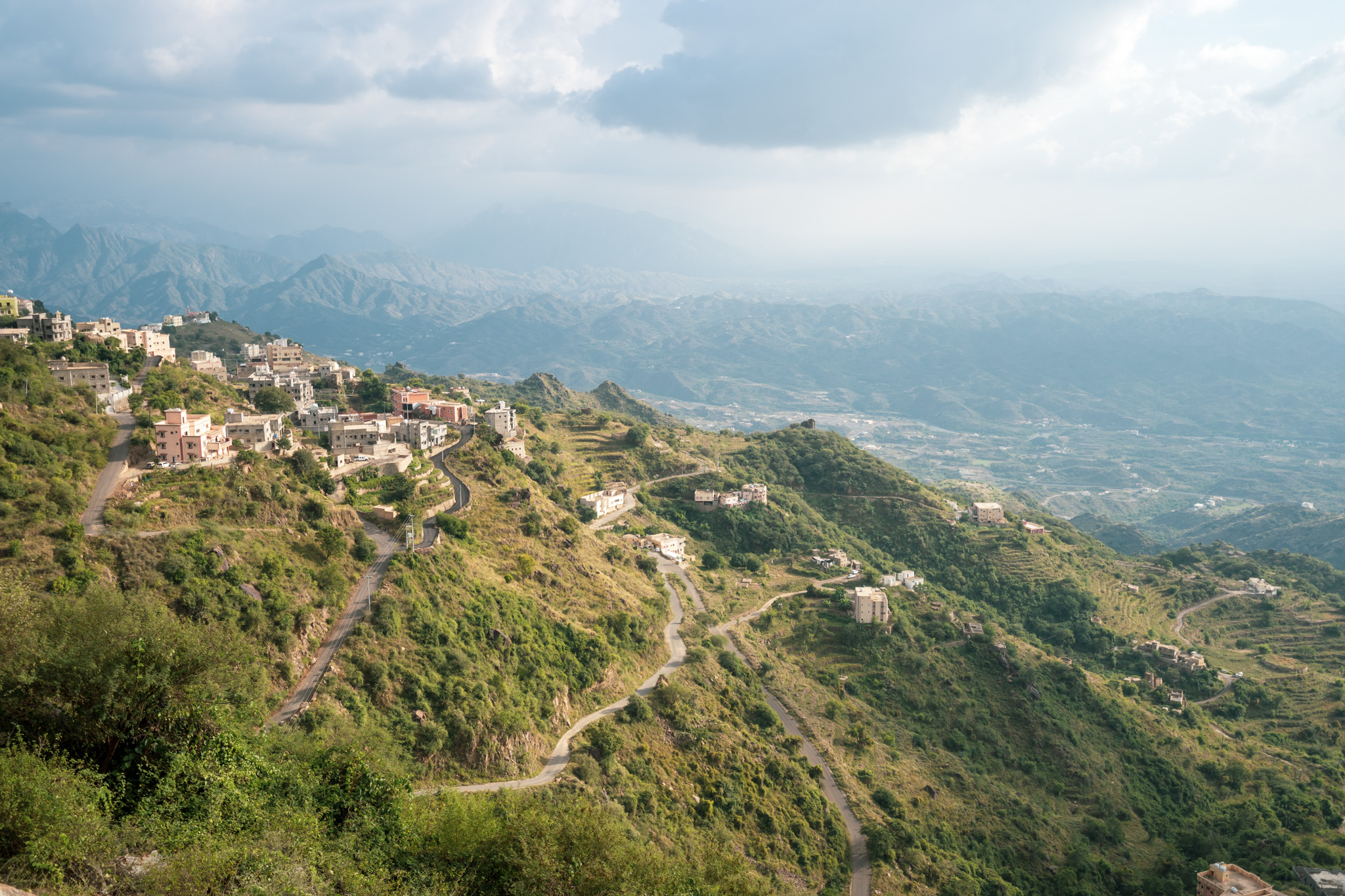 Overland into Saudi Arabia
It's possible to enter Saudi Arabia overland with the new tourist e-visa.
I was told that the following border crossings are open for entry with the e-visa:
King Fahad Land Port (This is the border crossing between Saudi Arabia and Bahrain)
Batha Land Port (This is the border crossing between Saudi Arabia and the United Arab Emirates)
It may also be possible to enter overland from Jordan, Kuwait, or Oman, but I haven't been able to confirm this. Let me know if you were successful!
The border crossing with Qatar is definitely not open for tourists at the moment due to the political situation between Saudi Arabia and Qatar.
Where to visit in Saudi Arabia
Riyadh
Riyadh is the nation's capital and largest city. Its located in the center of the country and is a good place to start your adventure in Saudi Arabia.
The city itself isn't the most interesting place in the world (you'll come to notice this is a common trend with Saudi cities), but it's got some beautiful surroundings including massive cliffs and red sand dunes.
You can see the main sights of Riyadh in a single day, but you should plan for a few days so that you're able to explore the areas surrounding it.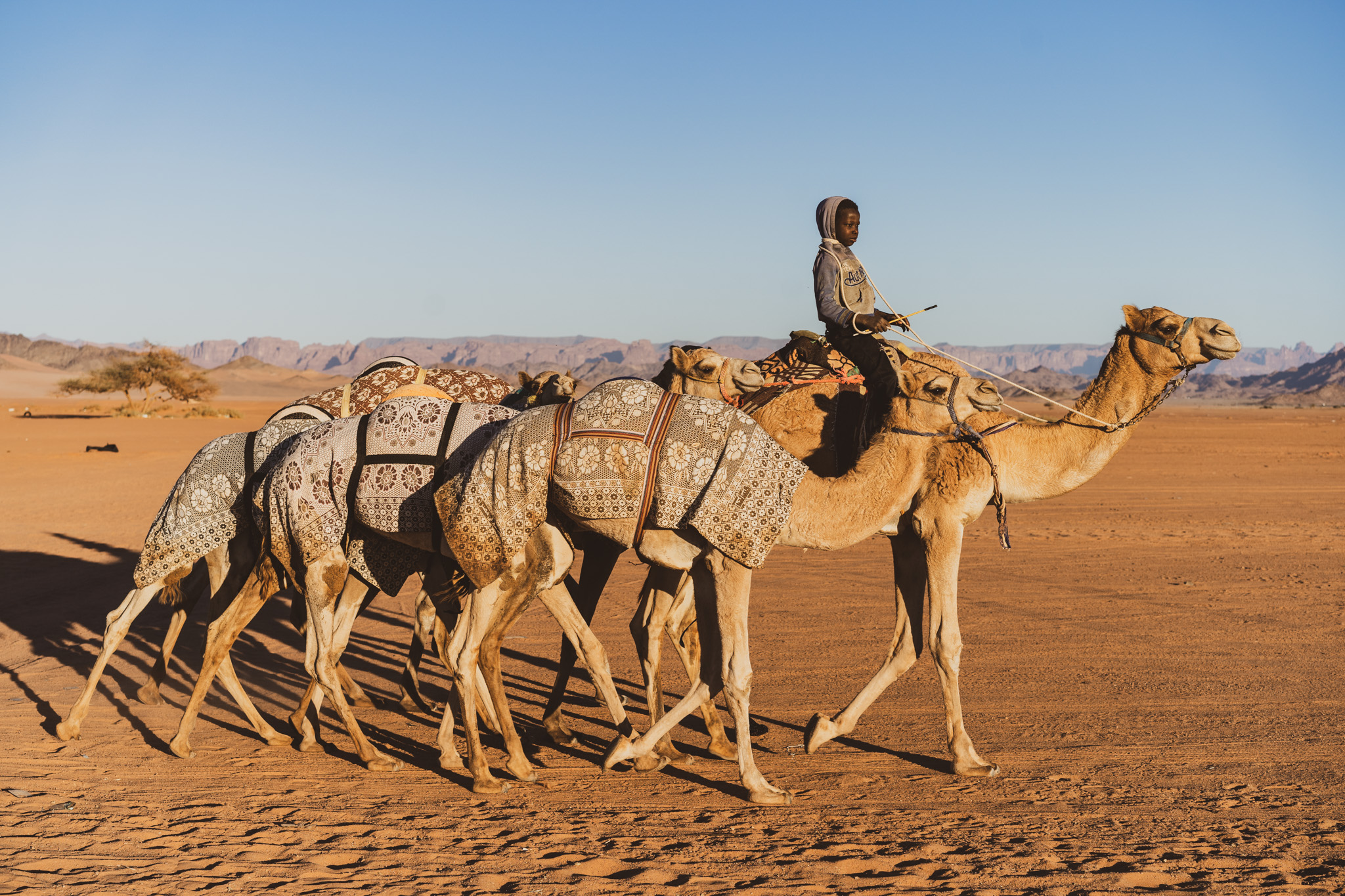 Where to stay in Riyadh
There is accommodation available in Riyadh for all budgets. Like usual in most Saudi cities, the cheapest option is an aparthotel.
Budget
If you're on a budget, I recommend the Al Eairy Apartments. This is where I stayed, and it's an alright option to save money. Rooms aren't perfectly clean, but it could be worse. As it's located in the older area of Riyadh, there are plenty of cheap Indian and Filipino restaurants around.
Check out Al Eairy Apartments prices here
Mid-range
The Riyadh Hilton is a perfect mid-range option for those looking for a comfortable place to stay. It's got multiple restaurants inside, and even has two pools to let you escape from the Saudi heat.
Check out Riyadh Hilton prices here
Splurge
As a business hub, Riyadh has a number of luxury hotels. They definitely aren't cheap, but if you really want to live it up while you're in Saudi Arabia, then why not! The Four Seasons Riyadh looks incredible – it's located inside the Kingdom Tower (that famous bottle opener building), and has all the facilities that you could ever need.
Check out Four Seasons Riyadh prices here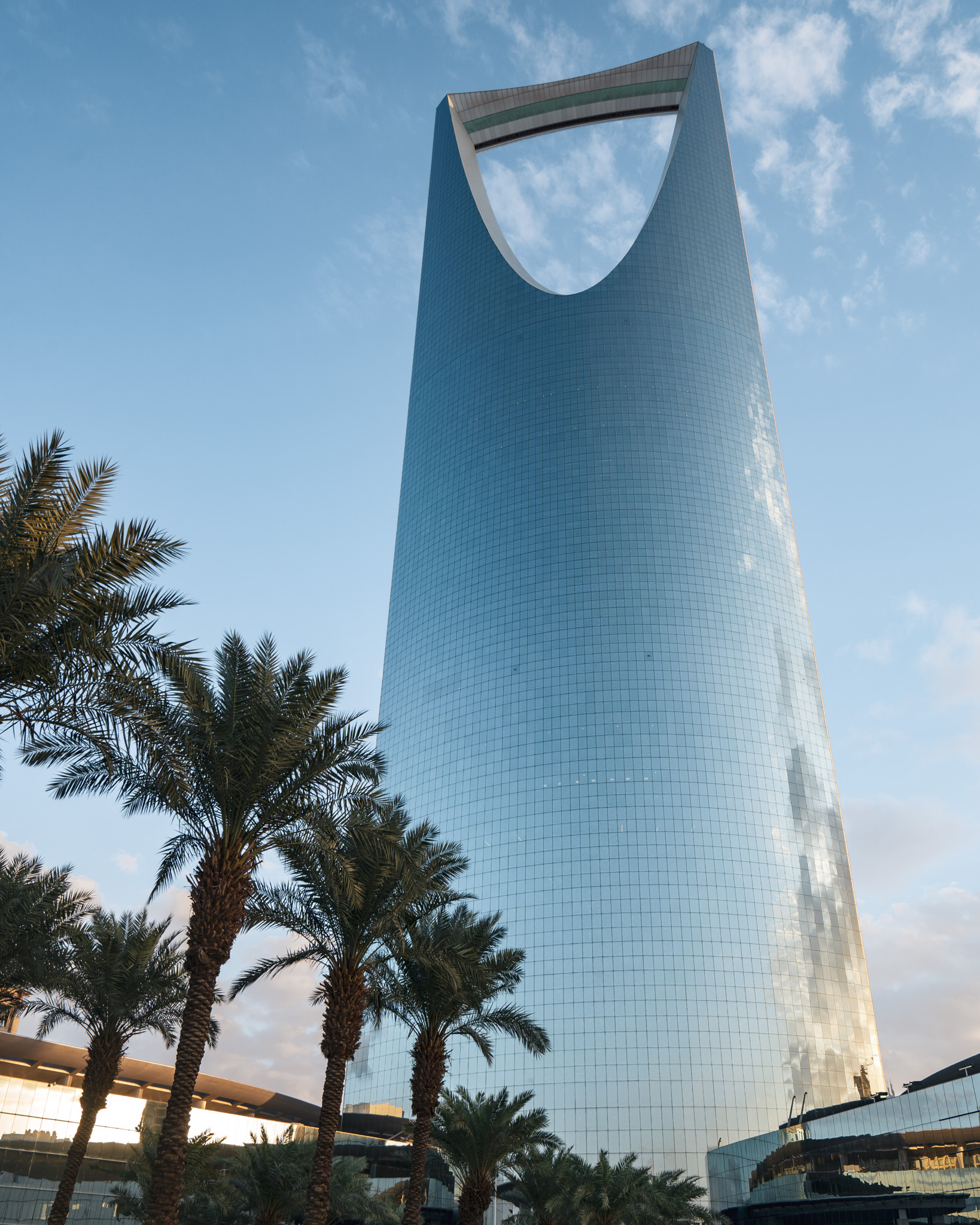 Things to do in Riyadh
In Riyadh, your first stop should be the Kingdom Tower. It's a stunning building, and you can even visit the Sky Bridge on it's 99th floor. Tickets to go up to the Sky Bridge are 60 SAR.
Next, make your way to Riaydh's Old Town and visit the Masmak Fortress. In 1902, the fort was the epicentre of the battle to recapture Riyadh led by Ibn Saud. Inside the fortress, there is a very interesting museum about the Kingdom's history – and entry is free!
After checking out those sights, I'd advise that you get out of the city and check out some of its epic surroundings! Let me tell you about the best places to see around Riyadh.
Edge of the World
The Edge of the World is probably the most photographed landscape in Saudi Arabia – for good reason! It's absolutely stunning, and you definitely shouldn't miss it.
It's located a 2-hour drive from Riyadh, part of which is on a rough off-road trail. You can drive here yourself, but I advise getting a 4 wheel drive vehicle to make things easier.
Try to visit in mid-afternoon and stick around for sunset. The cliffs turn a beautiful orange colour when the sun is setting.
For more info on visiting, check out my detailed Edge of the World Guide!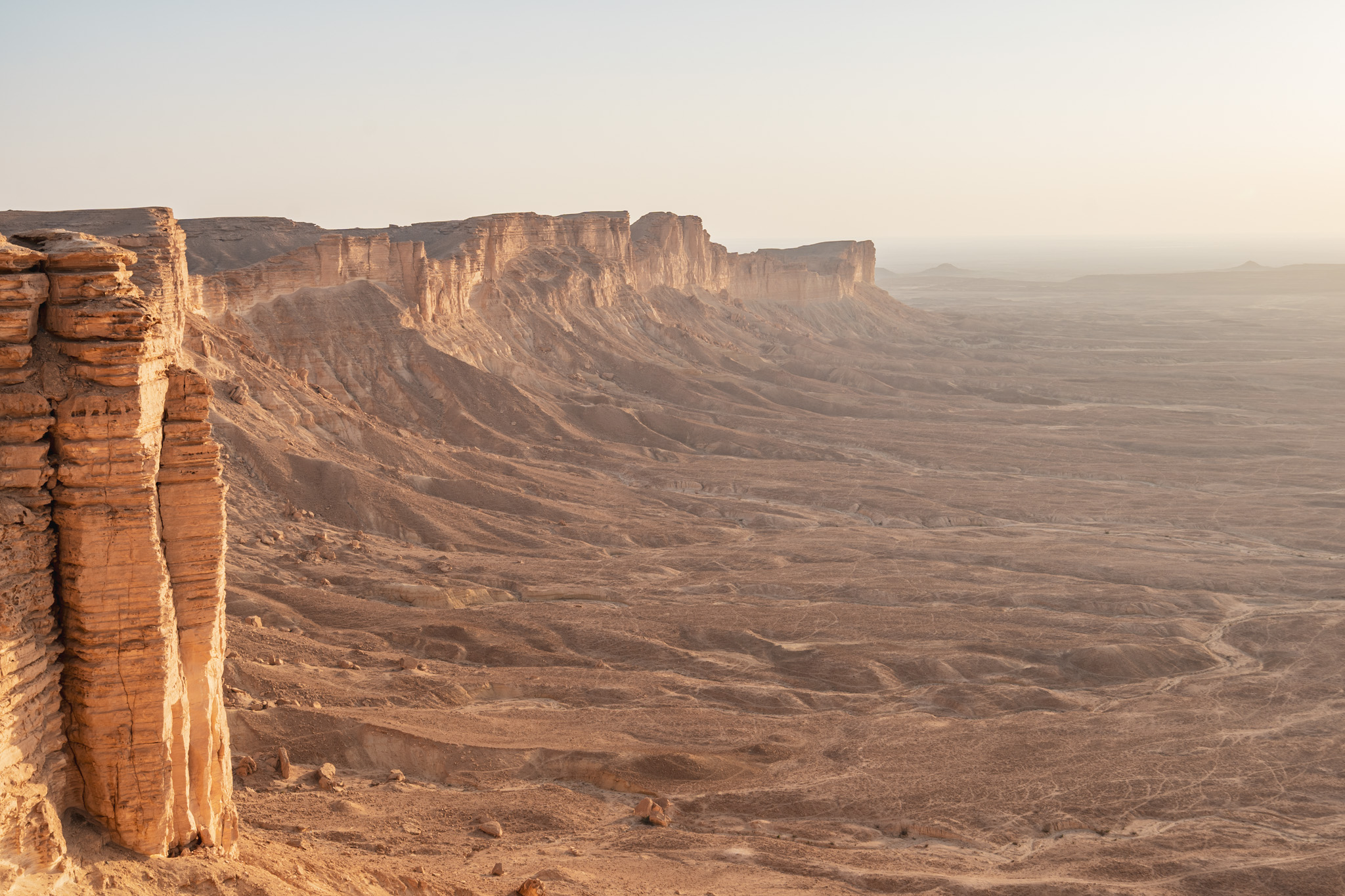 Red Sand Dunes
Sand dunes are a classic Saudi Arabian destination, and there are some pretty cool ones only about 30 minutes outside of Riyadh.
You can easily drive here yourself in any sort of car, or take Uber (although it won't be cheap). This is a popular place for Riyadh locals to visit on weekends, so consider visiting during the week if you'd like a more quiet time.
On the roadside near the dunes, there are a ton of places renting out quadbikes. Rentals are about 100 SAR per hour but may vary depending on the time of year and day of the week.
I ended up finding a secluded section of dunes near a road, parked my car, and then spent a night camping in the dunes. It was great to watch the sunset over the dunes, although it turns out my tent isn't very sand-proof so things got a bit messy.
Here's the location of the sand dunes on Google Maps.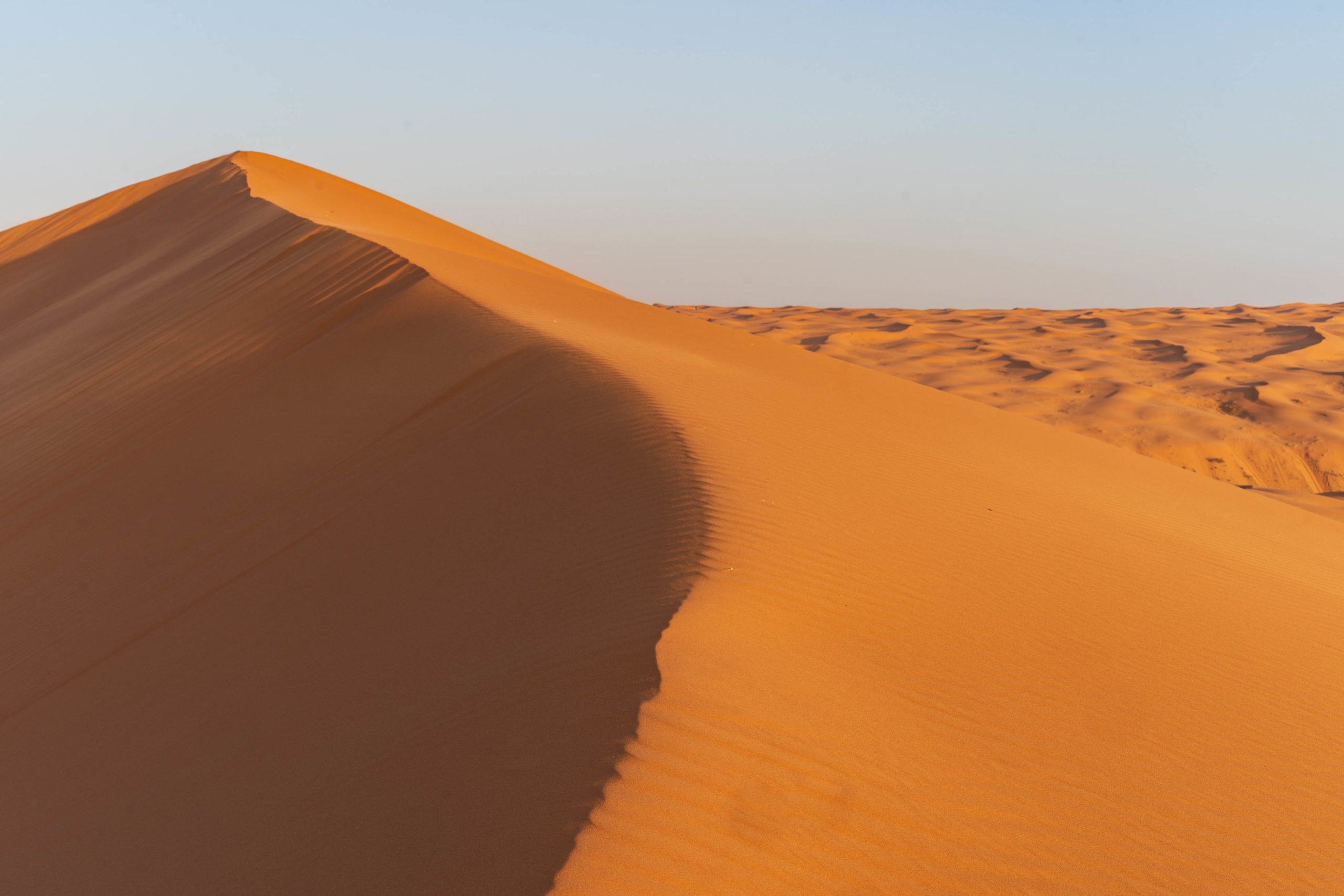 Getting around Riyadh
Riyadh is the most unfriendly city towards pedestrians that I've ever been to. In most of the city (even downtown), there are no sidewalks. Or if there are sidewalks, they randomly end and shove you onto the busy road. There's also often no way to cross busy roads without making a 30-minute detour to the nearest pedestrian bridge.
Because of this, you need a car to get around Riyadh. Uber and Careem both work here, so you can call a taxi to get around (this can get expensive, though). Renting a car is the best option to get around Riyadh, and also lets you visit places nearby such as Edge of the World and the Red Sand Dunes.
There is a large metro system being built, but it won't be opened for another year or so.
From the Airport
There is no public transport from Riyadh Airport to the city – crazy! Your only option is an expensive taxi. With Uber or Careem, taxi prices from the airport to the city are around 70 to 80 SAR. It's almost the same price to rent a car for a day as it is to take a taxi from the airport.
Jeddah
Welcome to Saudi Arabia's most liberal city. Jeddah is a port city, and for centuries has hosted travellers and traders from all over the world.
In Jeddah, it's much more normal to see mixed-gender groups hanging out, and girls who aren't wearing a niqab. It's still extremely conservative here by Western standards, but it feels like a breath of fresh air after travelling elsewhere in Saudi Arabia.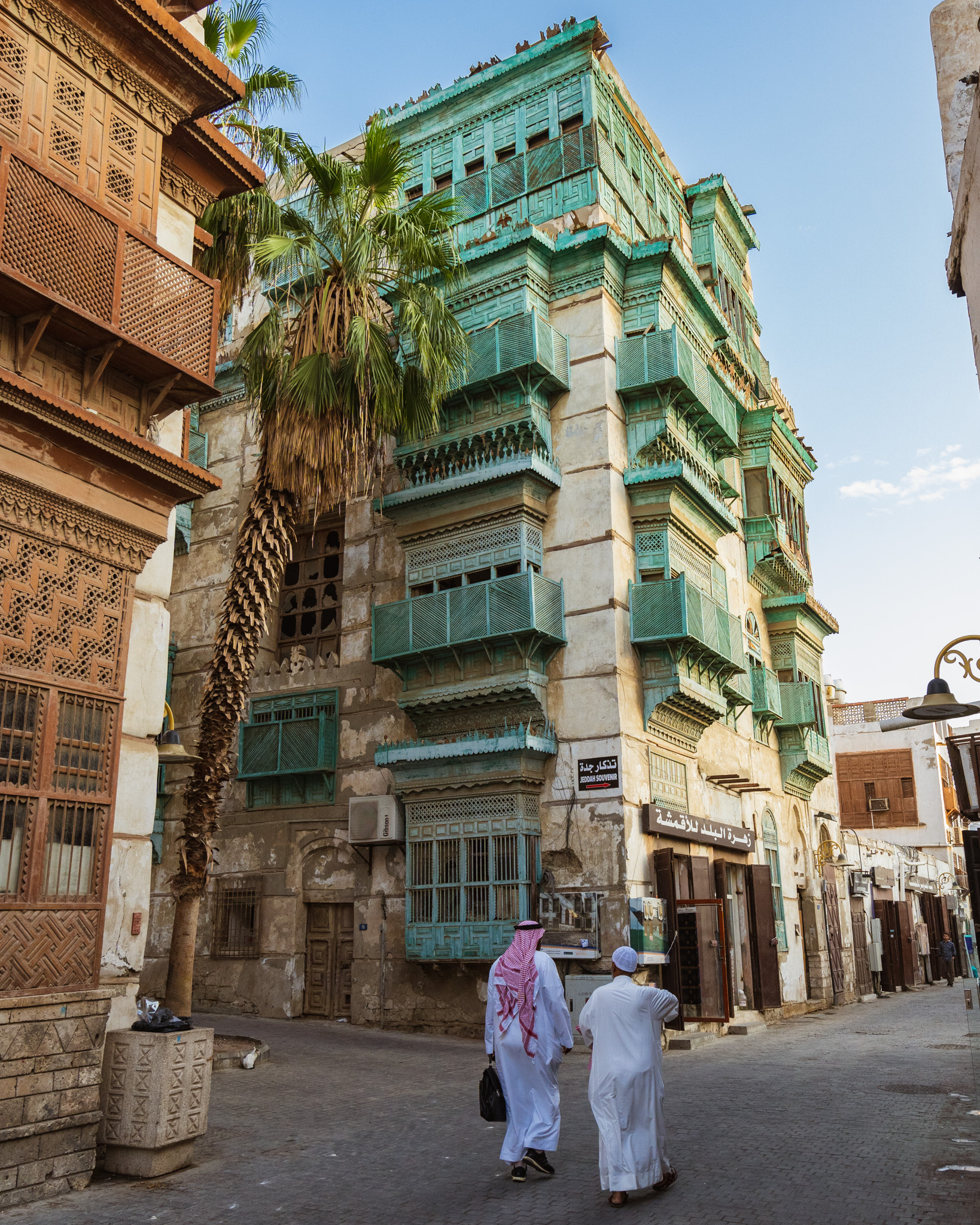 Where to stay in Jeddah
Jeddah is also popular with business travellers, so there's a good range of accommodation available here.
Budget
I stayed at the Praha Hotel while in Jeddah and loved it – the room was spacious and even had a kitchen. The location is pretty good and not too far from the airport.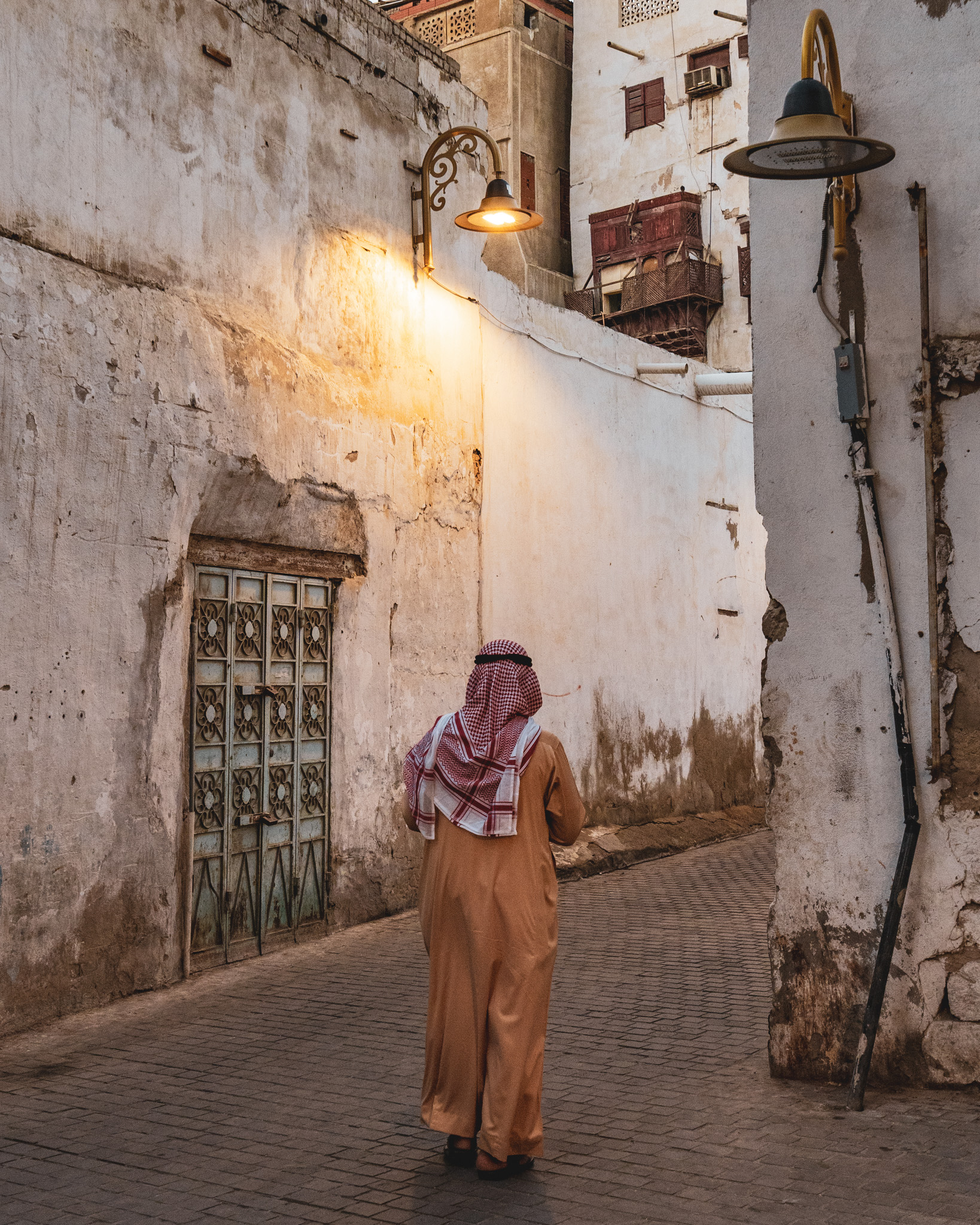 Things to do in Jeddah
In Jeddah, the main thing that you should do is check out its historical Al-Balad district. It was once the center of Jeddah and even had walls surrounding it. The walls were torn down in the 1940s, but plenty of old architecture still remains.
Al-Balad is also one of the more lively places I visited in Saudi Arabia. Due to the heat, most Saudis spent their time indoors, but the market of Al-Balad was bustling with people when I visited. If you want to visit when it's quiet, go in the morning. If you want to see people selling and buying in the market, go around sunset. I'd recommend going at both times if you have the chance!
I'd also recommend checking out the King Fahd's Fountain while you're in Jeddah. It's the world's largest fountain, shooting water over 300 meters into the air. Visit at night to see the fountain it up against the dark sky.
There are also a ton of malls in Jeddah, if you're into that. The largest one is the Red Sea Mall – it's worth checking out!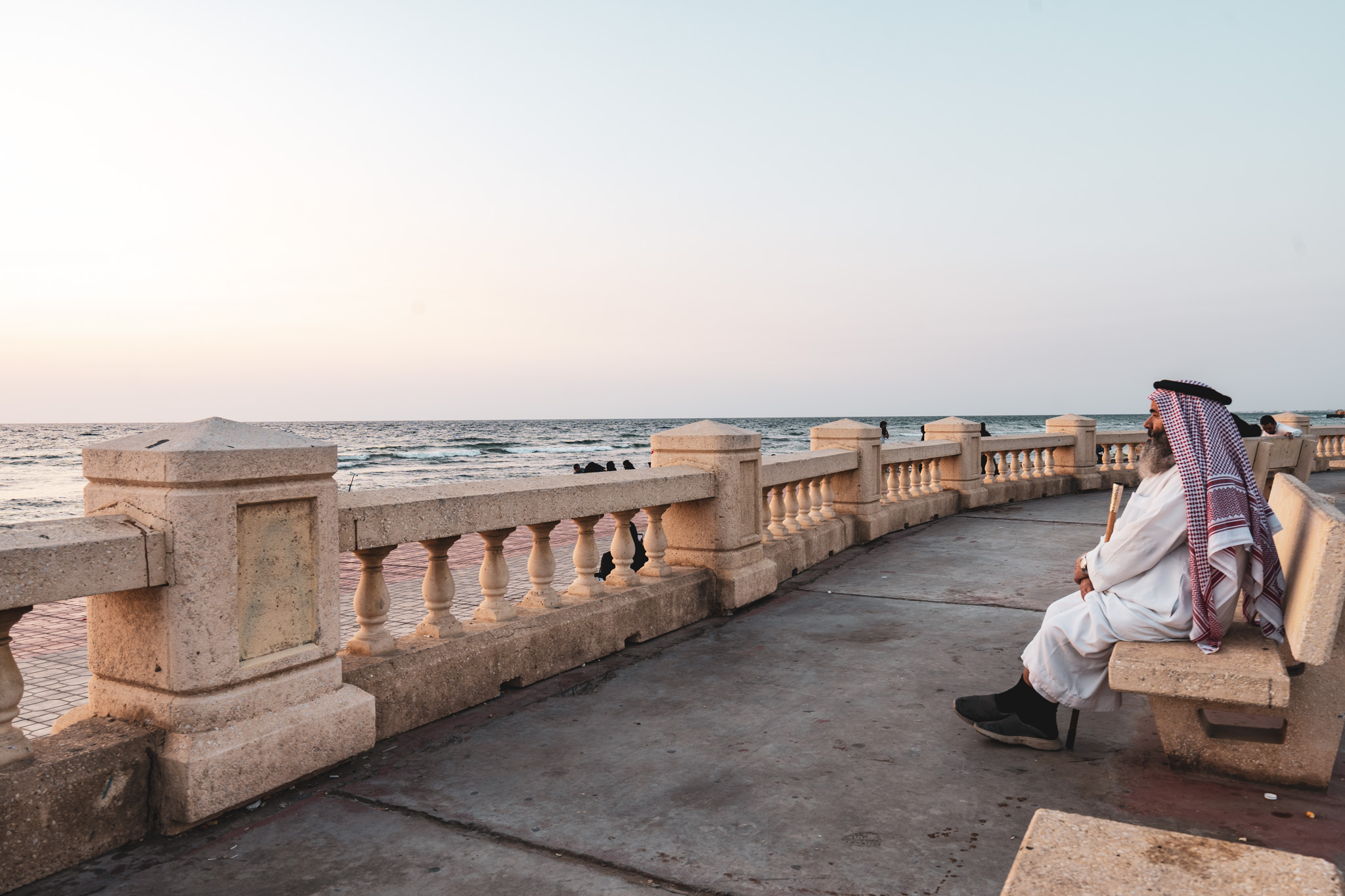 Getting around Jeddah
Like Riyadh, Jeddah isn't a very walkable city. Al-Balad district is walkable, but that's about it.
To get around, you need to either rent a car or use a ridesharing app.
Abha
Abha is the capital of the Asir Region, once an independent kingdom.
The Asir region is a mountainous slice of land in southwest Saudi Arabia. Much of Asir is at elevation, making for a cooler climate than the rest of the country. Saudis often vacation here in the summertime to escape the desert heat.
Abha is the best place to base yourself while you explore the area. It's a reasonably large city that is well connected by air and bus to other parts of Saudi Arabia.
I really enjoyed visiting Abha. I met a local guy named Abdulaziz via Couchsurfing, and he took me around to a number of different sights, showed me his local food, and taught me a lot about life in Saudi Arabia.
Where to stay in Abha
If you're on a budget, the OYO 324 Green House Hotel is a good option. WiFi is included, and the rooms are spacious and clean.
Check out OYO 324 Green House Hotel prices here
For those with a little bit more to spend, consider the The View Suits. It's well-reviewed and rooms include a coffee machine!
Check out The View Suits prices here
Things to do in Abha
Most of the popular sights in the Asir region are located just outside of Abha.
Rijal Alma is one of the most famous places in Saudi Arabia, and a must-see place if you make it to Abha. Once upon a time, this fortress town was where Asiri tribes defeated a 50,000-strong Ottoman army, winning independence for the region.
Travel Tip – Visit Rijal Alma at just before sunset – the light reflects beautifully on the stone buildings 🙂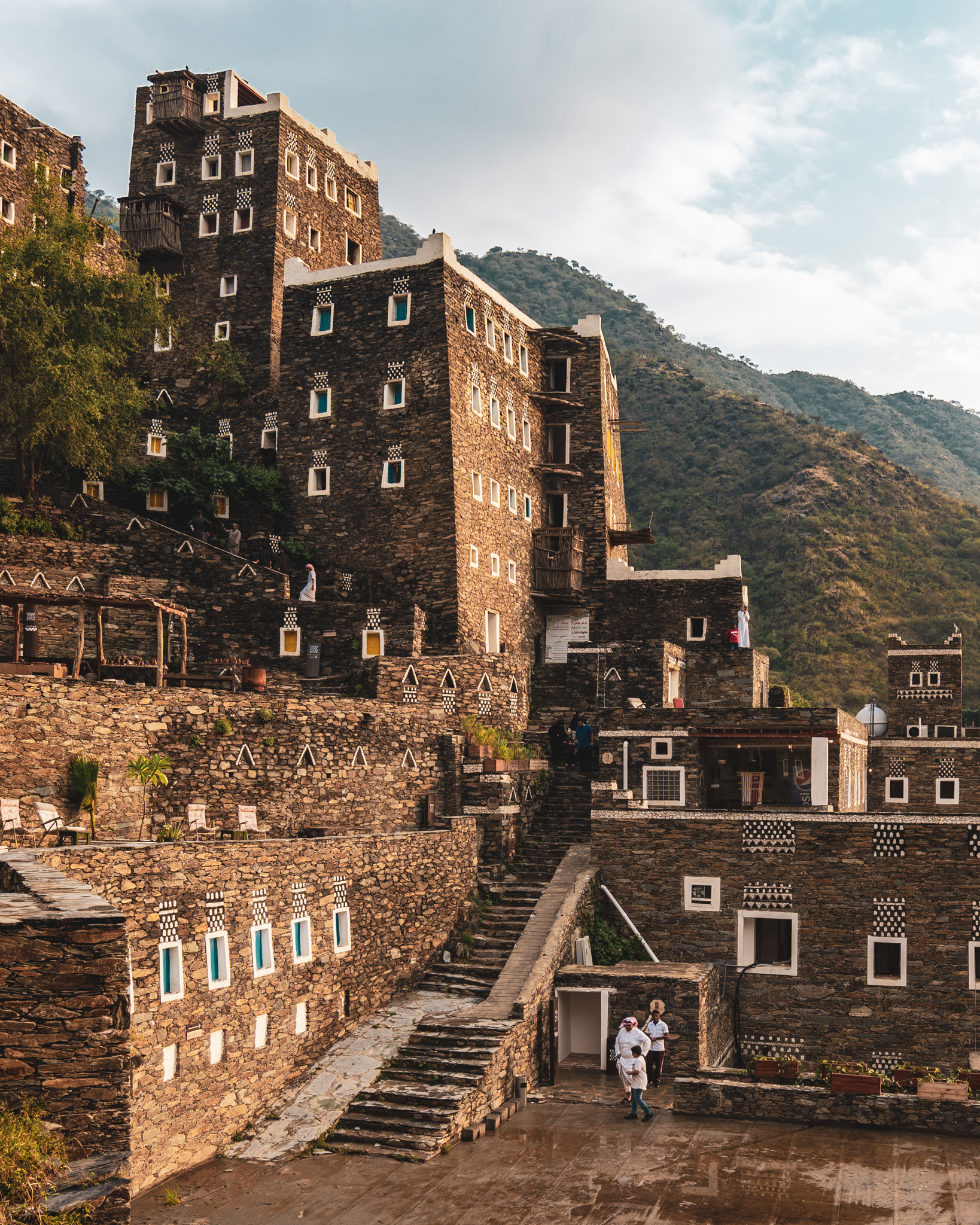 Another place you need to see near Abha is Jabal Sawda. It's the highest peak in Saudi Arabia, rising to 3,133 meters above sea level. There are even monkeys roaming around up here!
To get to Rijal Alma and Jabal Sawda, you need a car. There is a cable car between Jabal Sawda and Rijal Alma, but it's only open during the summer months when Saudi tourists are visiting Abha.
Jazan Region
When I stepped off the plane in Jazan, I was instantly blasted with a wave of heat and humidity. I remember asking myself – "if this is winter, then how dang hot does it get in summer?!".
Jazan is Saudi Arabia's southernmost city and lies on the coast of the Red Sea directly across from Eritrea. It's known for its Yemeni-like culture and hot-as-balls weather.
Jazan itself isn't the most exciting city – it's more of a base to explore the surrounding areas. Two places near Jazan that you can't miss are Fayfa and the Farasan Islands.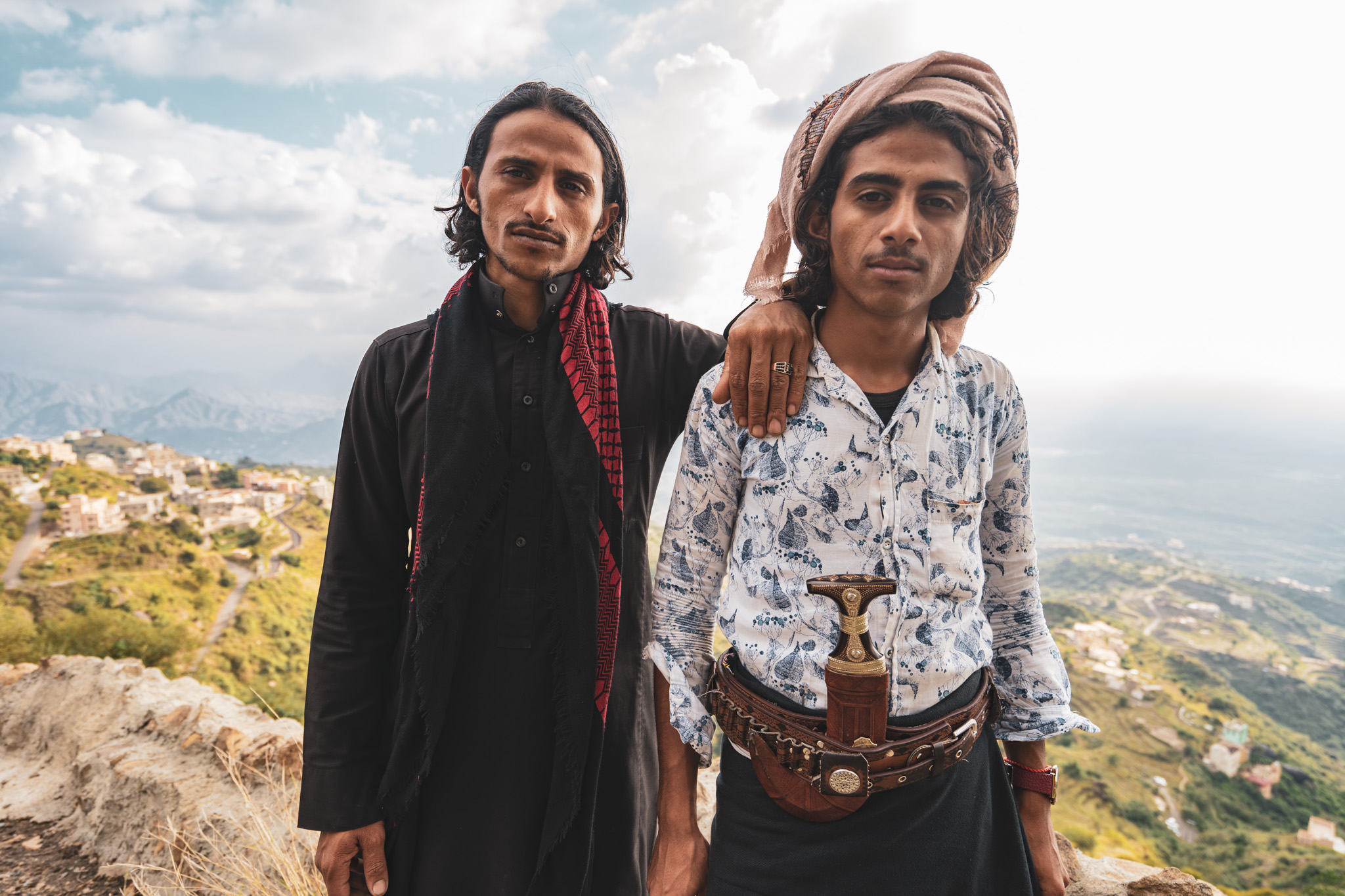 Fayfa
Fayfa is a mountain village about a hundred kilometers away from Jazan. In Fayfa, locals can be seen wearing traditional flower hats and carrying daggers at their waists. The mountains around Fayfa are full of old terraces used for agriculture.
To get to Fayfa, you'll need to rent a car or visit with a local who has one. The drive takes about two hours from Jazan, and is on paved road the entire way. As you begin to climb up into the mountains, the road can get pretty steep and there are a lot of hairpin turns – take it slow!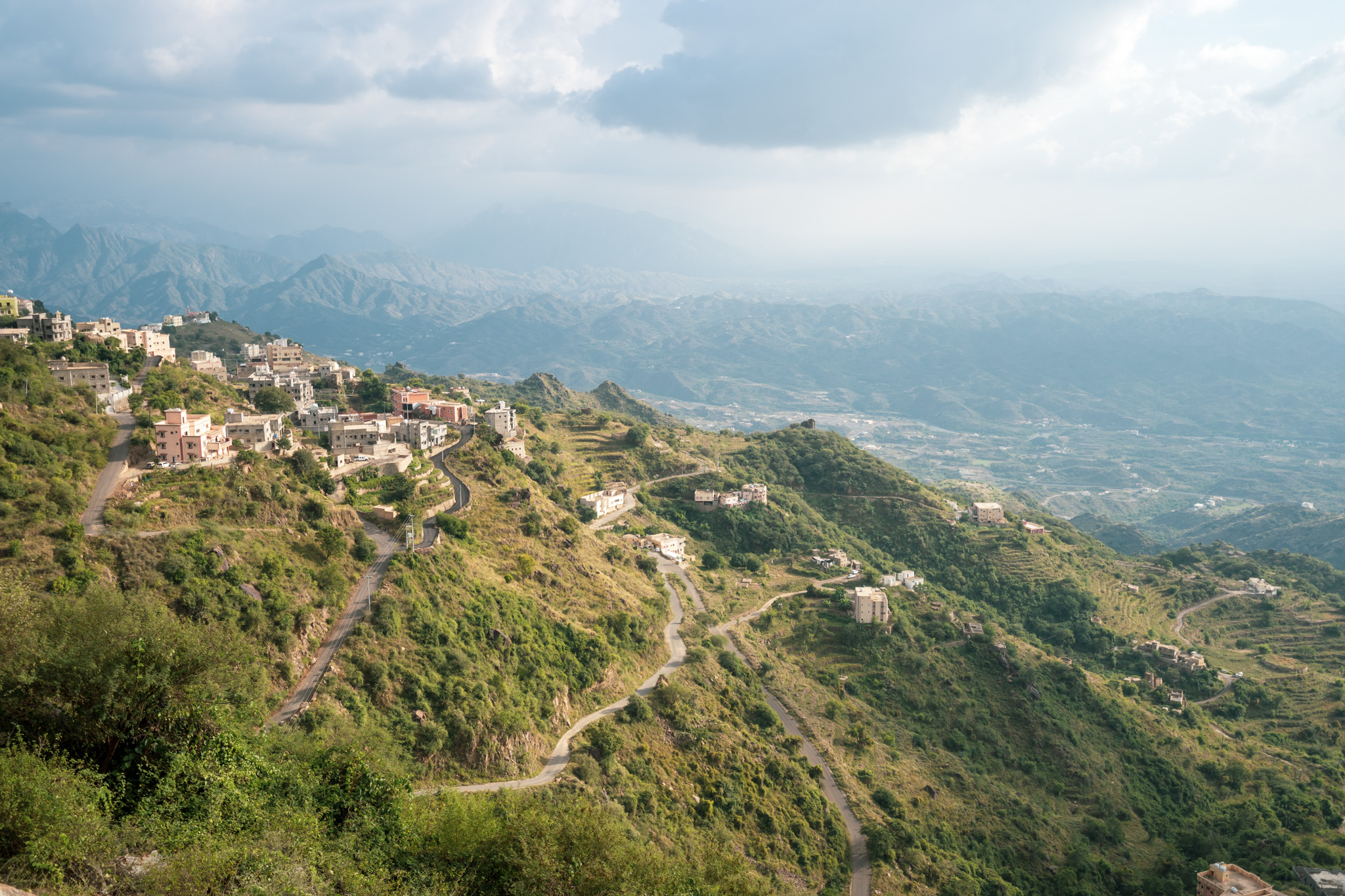 Farasan Islands
If you make it all the way down to Jazan, you can't miss the Farasan Islands. Located about 40 kilometers off the coast of Jazan, the islands are a beautiful archipelago home to amazing beaches, undiscovered reefs, and unique wildlife.
Farasan can easily be visited as a day-trip from Jazan, but it's also possible to spend a few days there if you really want to take it all in.
For more details on how to visit, check out my Farasan Islands guide.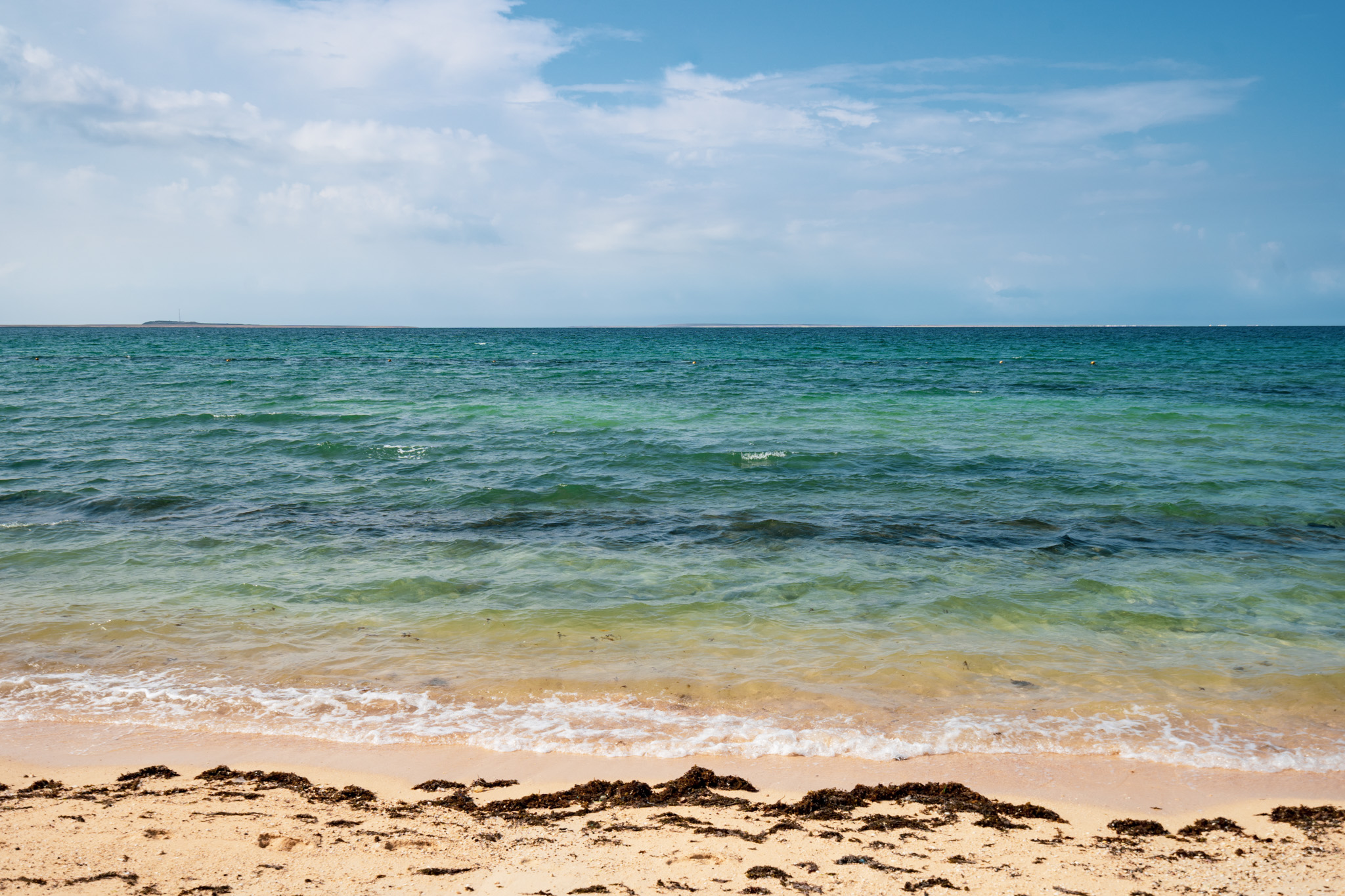 Where to stay in Jazan
The best decent budget option I was able to find in Jazan is the Al Safa Hotel Suites. WiFi is included, and the hotel is in a good location.
Check out Al Safa Hotel Suites prices here
Tabuk Province
The Tabuk Province was probably my favourite part of Saudi Arabia.
It's only really feasible to explore by renting a car, but if you do, you'll get to see epic wadis, shipwrecks, endless deserts, and more.
I seriously can't recommend this region enough. I kinda stumbled upon it by looking at Google Maps, and then checked out more photos and decided that I had to go there.
I'm going to write an entire post on my Tabuk Region Itinerary and share some recommendations, but for now, I'll leave you with a few must-see places near Tabuk.
Wadi Al-Disah
Al-Disah is one of the prettiest places I've ever been to, and I wish I could've spent longer. The entire drive to the Al-Disah is gorgeous – I probably stopped to take photos about twenty times.
Try to see this place at sunset for the best photos. You could also camp here and watch a beautiful sunrise if you've got the time.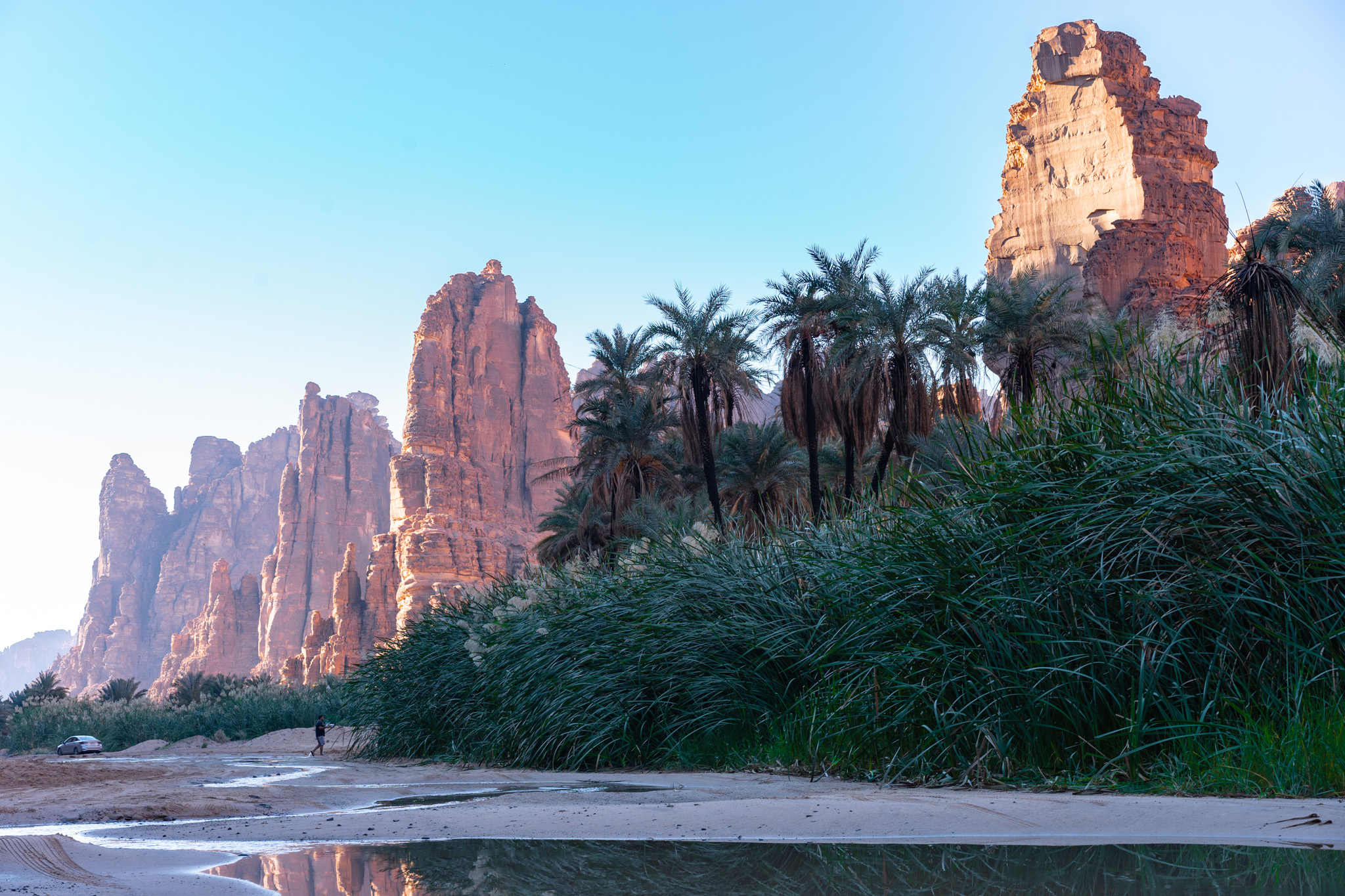 Georgios G Shipwreck
Yep! There's a shipwreck near Tabuk. It's located on the coastline of the Gulf of Aqaba, meaning that you can see Egypt just across the water!
The drive here from Tabuk (via a small town called Haql) is beautiful. After leaving the city limits of Tabuk, the landscape turns to sandy desert with unique rock formations sticking out. After a few hours, you'll arrive at the shipwreck.
Spend a little time here taking in your gorgeous surroundings. Hell, you could even camp here if you want to!
Want to visit the shipwreck? Here's it's location on Google Maps.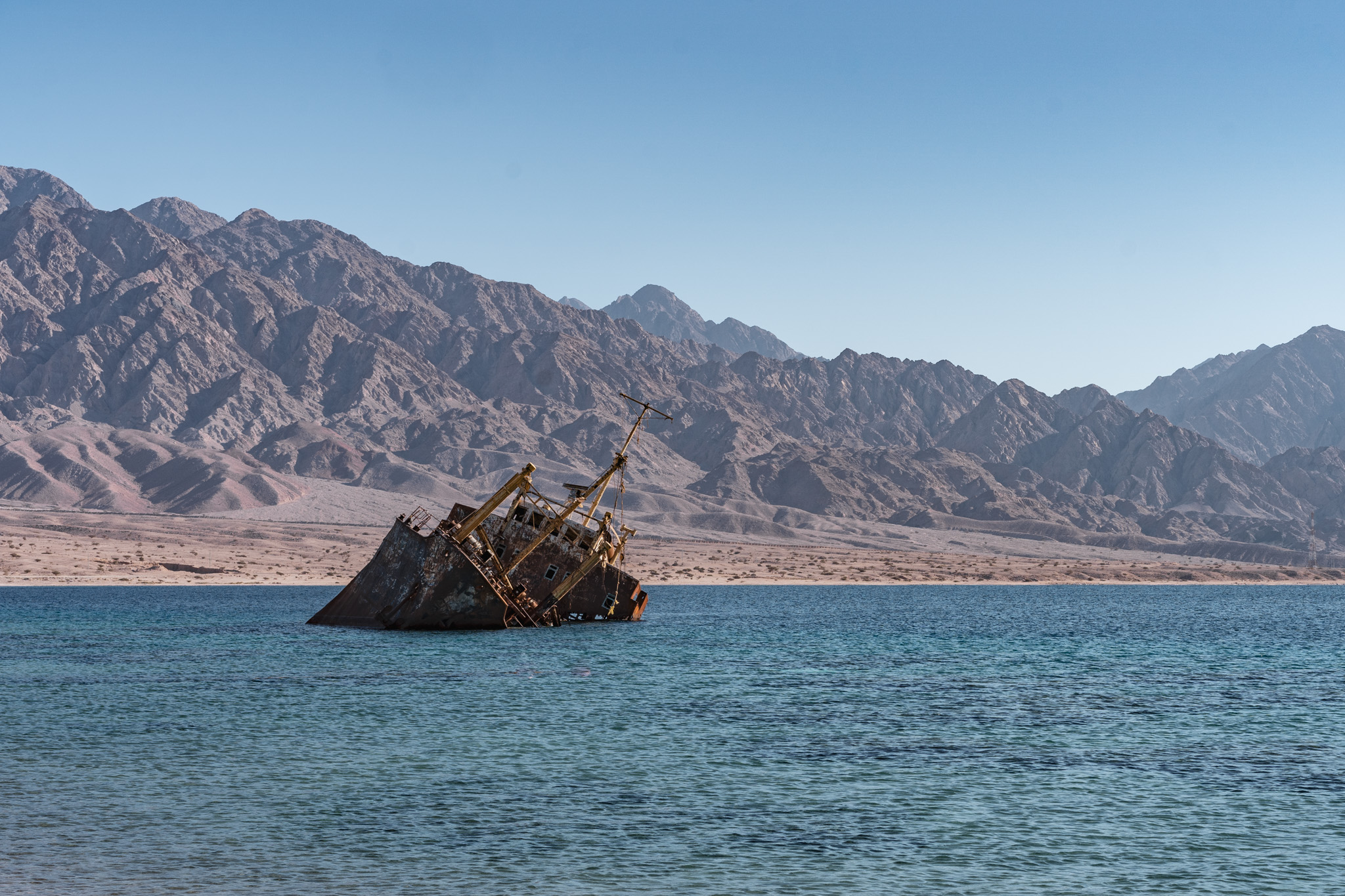 Getting around Saudi Arabia
Saudi Arabia is a giant country, and getting around it can be a bit of a challenge. Let's go over the different transportation options that a traveller has to get around the country.
Domestic flights in Saudi Arabia
Domestic flights are cheap and fast in Saudi Arabia, making them a great way to get around the country.
In many cases, a flight on a budget carrier between two cities is actually cheaper than taking the bus. I took a number of domestic flights while I was in Saudi Arabia – they helped me save time and money.
Saudia operates a number of domestic flights but is usually the most expensive option. Budget carriers such as Flynas and flyadeal offer the best prices but will charge more for food and extra baggage.
Here are a few sample prices for domestic flights around the Kingdom:
Jeddah – Riyadh: 145 SAR ($39), 1.5 hours
Riyadh – Jazan: 160 SAR ($43), 2 hours
Jeddah – Abha: 100 SAR ($27), 1 hour
Jeddah – Tabuk: 130 SAR ($35), 1.5 hours
Riyadh – Damman: 73 SAR ($20), 1 hour
As you can see, flights are a pretty affordable way to travel around Saudi Arabia.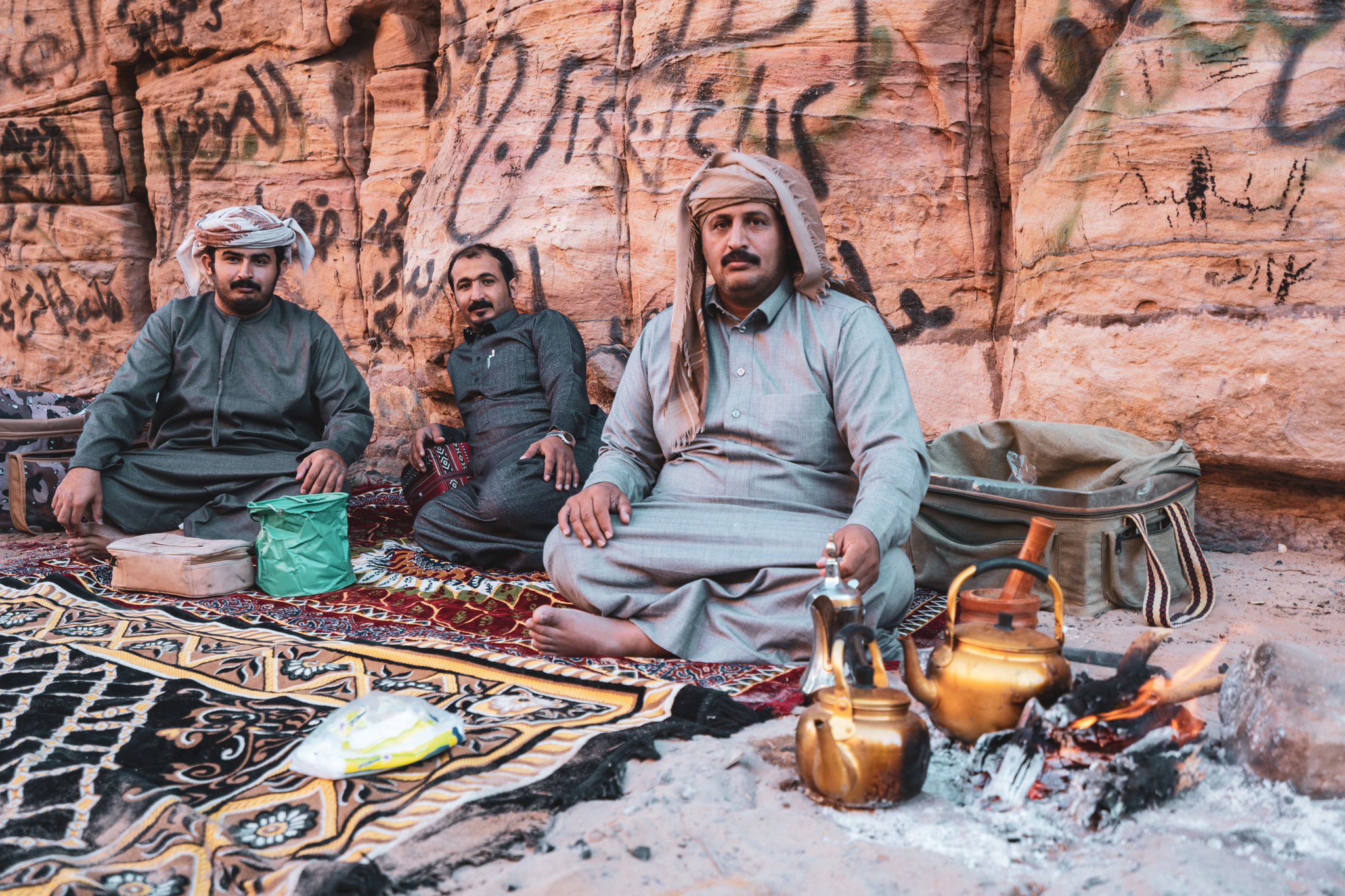 Buses in Saudi Arabia
There is a decent network of intercity buses operating in Saudi Arabia. Most buses are run by the state-owned SAPTCO and are both comfortable and reliable.
The main downside to bus travel in Saudi Arabia is that it's often more expensive than a cheap flight. Distances between cities can be very large, so flying is a good way to save money and time.
Certain routes do make sense, however.
Here are routes that I think are most useful to travellers:
Jazan – Abha: 58 SAR ($15), 4 hours
Jeddah – Taif: 47 SAR ($12), 3 hours
Trains in Saudi Arabia
Saudi Arabia currently has three different train lines,  operated by two different state-owned companies.
The existing train lines in Saudi Arabia are:
Riyadh – Dammam (Stops in Al Hofuf and Abqaiq)
Riyadh – Jauf (Stops in Majmaah, Qassim, and Hail)
Mecca – Medina (Stops in Jeddah, Jeddah Airport, and King Abdullah Economic City) (Muslims Only)
Riyadh to Dammam and the high-speed line from Mecca to Medina are operated Saudi Railways Organization, Riyadh to Jauf is operated by Saudi Railway Company.
Tickets can be booked on the websites that I linked above (Mecca to Medina is bookable on this website)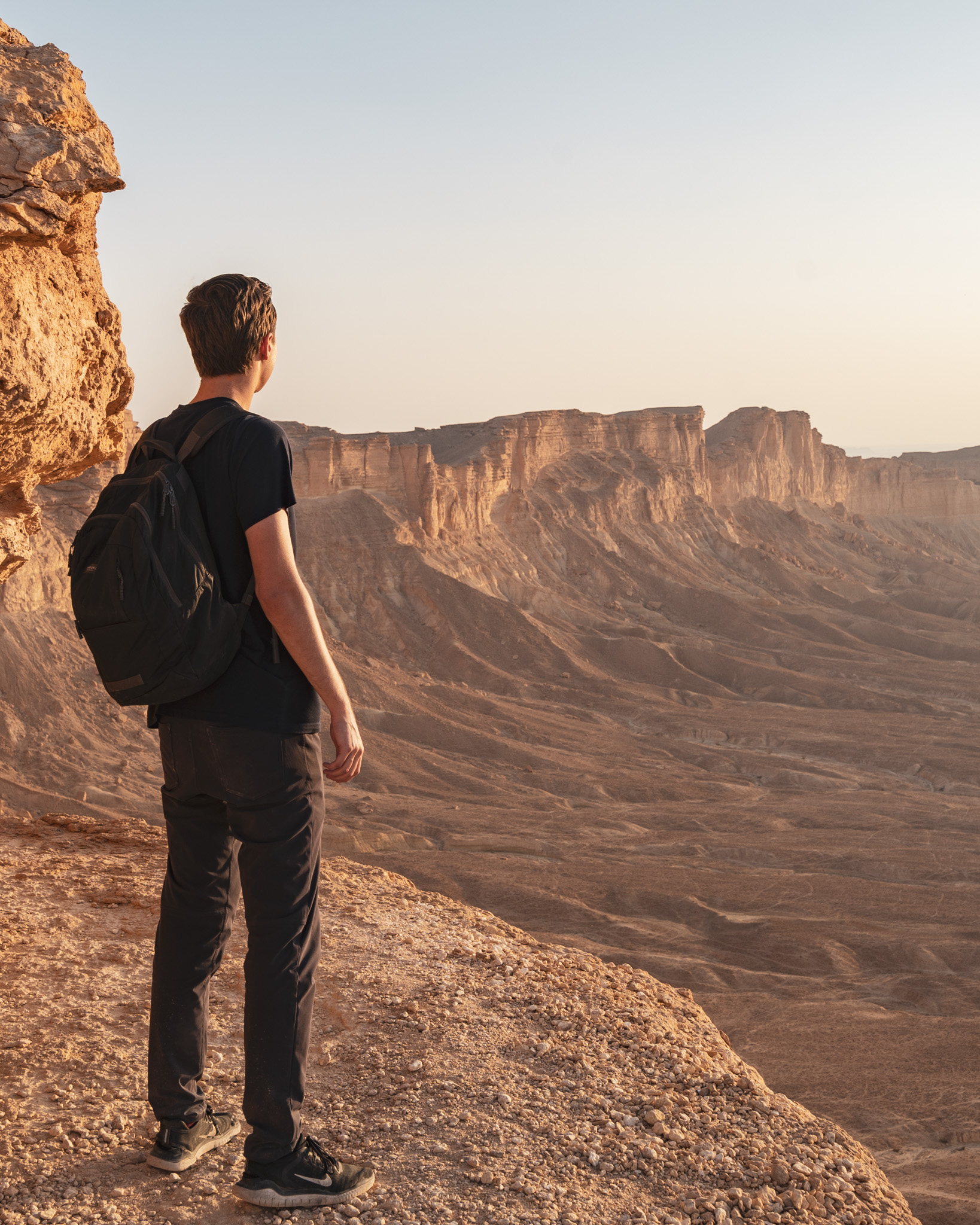 Self-driving in Saudi Arabia
Renting a car and driving around yourself is the best way to see Saudi Arabia, in my opinion.
Most sights are inaccessible without a car, and public transportation within cities is basically non-existent. When you rent a car, you're able to visit wherever you want at your own pace.
Gas in Saudi Arabia is very cheap (1.5 SAR/L during my visit), and car rental prices are quite reasonable – typically around 100 to 120 SAR per day for a basic automatic vehicle.
Saudi Car Rental Requirements
If you plan on driving in Saudi Arabia, you should get an International Driving Permit (IDP). Most rental companies require that you have this, and won't rent to you with your normal driver's license (even if it's in English).
My visit to Saudi Arabia was a bit unplanned, so I didn't have an IDP. Luckily, I was able to rent a car from Avis and Budget with my normal Canadian license, but they charge more than other companies.
One thing to watch out for when renting a car is the mileage limit. Most companies have a 200 km/day limit, and after that charge per kilometre. In a country as big as Saudi Arabia, 200 kilometers is nothing. The only rental company I know that offers an unlimited mileage option is Al-Wefaq Rent A Car for a reasonable 15 SAR per day.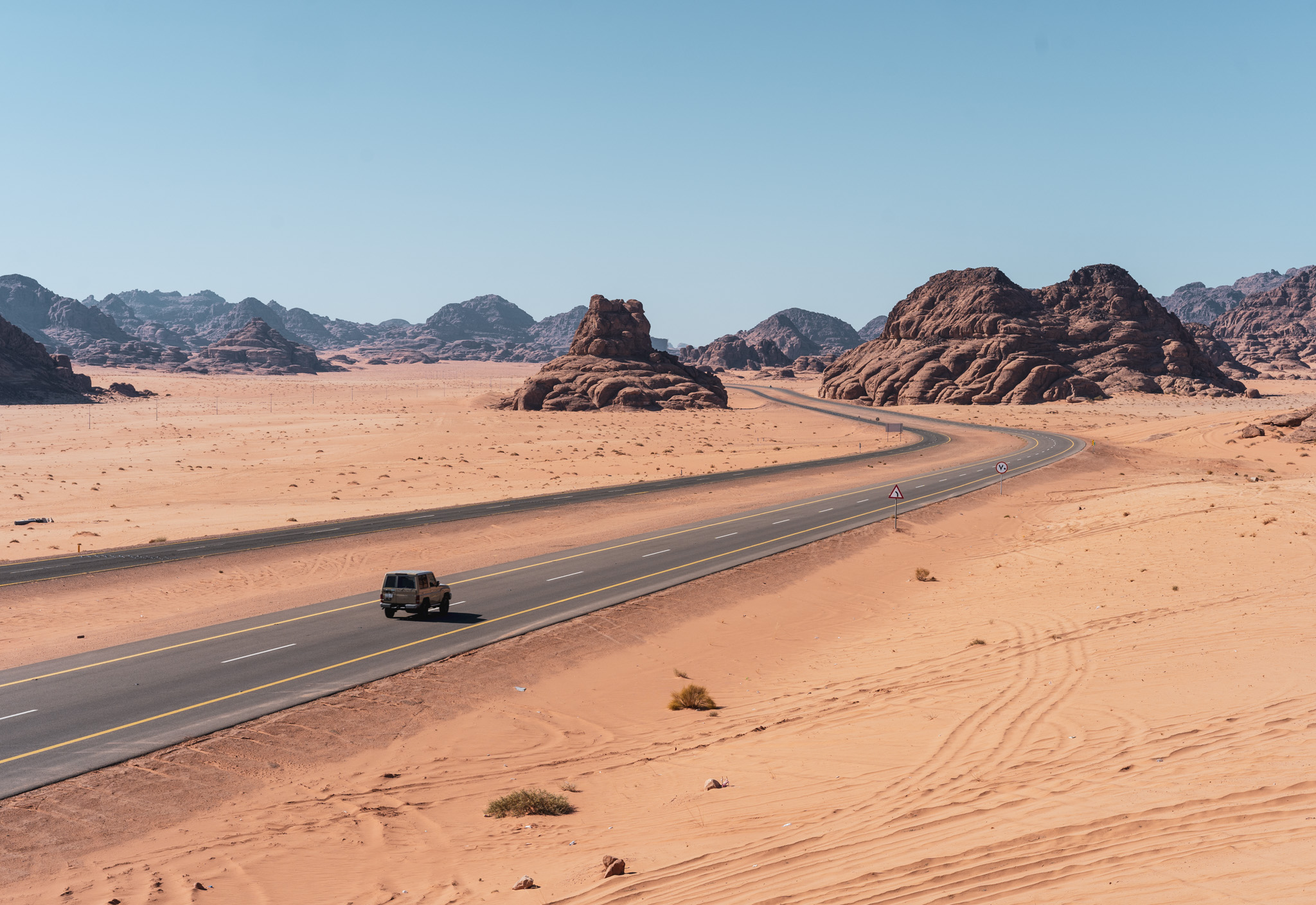 Rules of the road
Saudis are some of the craziest drivers I've ever seen, and the country has a very high accident rate. When driving in Saudi Arabia, you should be very careful and always pay attention to the road. Highway driving is usually pretty straightforward, but driving in big cities like Riyadh and Jeddah is hell (especially during rush hour).
It's not uncommon for people to use the curb to overtake you, or for people to travel at 180 km/h on the highway. It takes some getting used to, but I found after a few hours I was feeling pretty comfortable.
Watch out for invisible speed bumps. They're everywhere and can really take you by surprise.
Oh – watch out for camel crossings too!
Hitchhiking in Saudi Arabia
Hitchhiking is totally possible in Saudi Arabia. The main issue with hitchhiking here is that it is super hot most of the year, so pack a lot of water and have some sun protection.
Saudi drivers are pretty crazy, so do be careful and ask to be let out if you're worried about the way someone is driving. Saudis are very hospitable – when I tried hitchhiking just outside of Abha, the guy who picked me up drove me right to my destination because he was worried about me.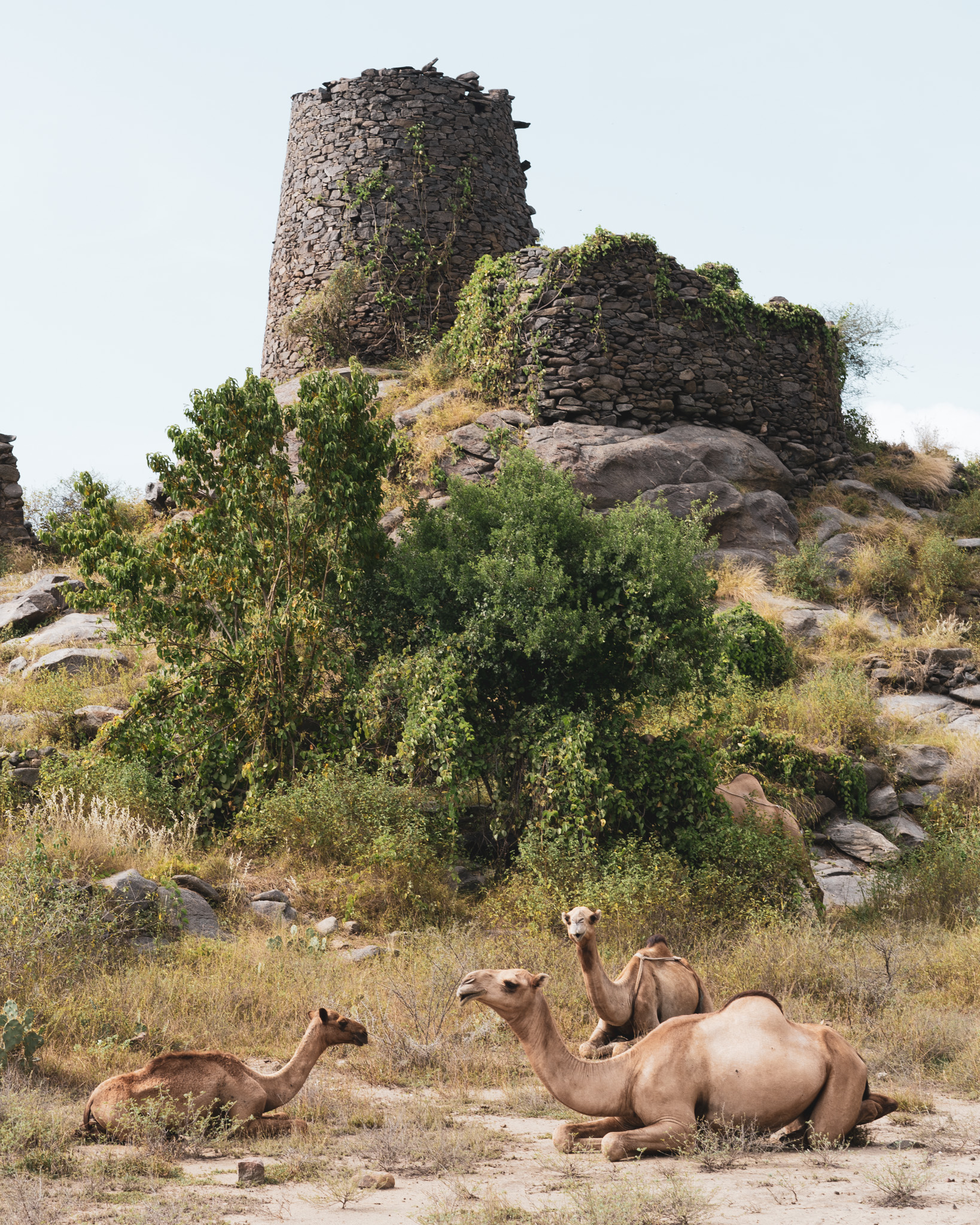 Accommodation in Saudi Arabia
When you travel to Saudi Arabia, you've got a few different options for accommodation.  There aren't any hostels in the country yet, which is a bit of a bummer for those of us on a budget.
Let's go over the other types of places to stay that are available:
Hotels
Hotels are everywhere in Saudi Arabia and there's something for every budget (other than the extreme low-end).
Typically, the cheapest hotels are known as aparthotels. They're basically apartments that are rented out on a per night basis. You can find these on Booking.com, and a basic room will usually be anywhere from 60 to 100 SAR.
There are plenty of mid-range hotels in cities, including chains such as Hilton, Novotel, and Marriot. In the largest cities (Riyadh, Jeddah), there are also luxury hotels available if money isn't a concern.
Airbnb
Airbnb is growing in Saudi Arabia, and the larger cities have some decent options available already. You might be able to find a place that's cheaper than an aparthotel on Airbnb, so definitely check it before making a booking.
There are quite a few ways to find a cheap deal on Airbnb, so play around with the search filters and you'll be able to save some cash! I always recommend checking Airbnb alongside a hotel booking site to find the best deal.
GET $65 CAD OFF YOUR FIRST AIRBNB BOOKING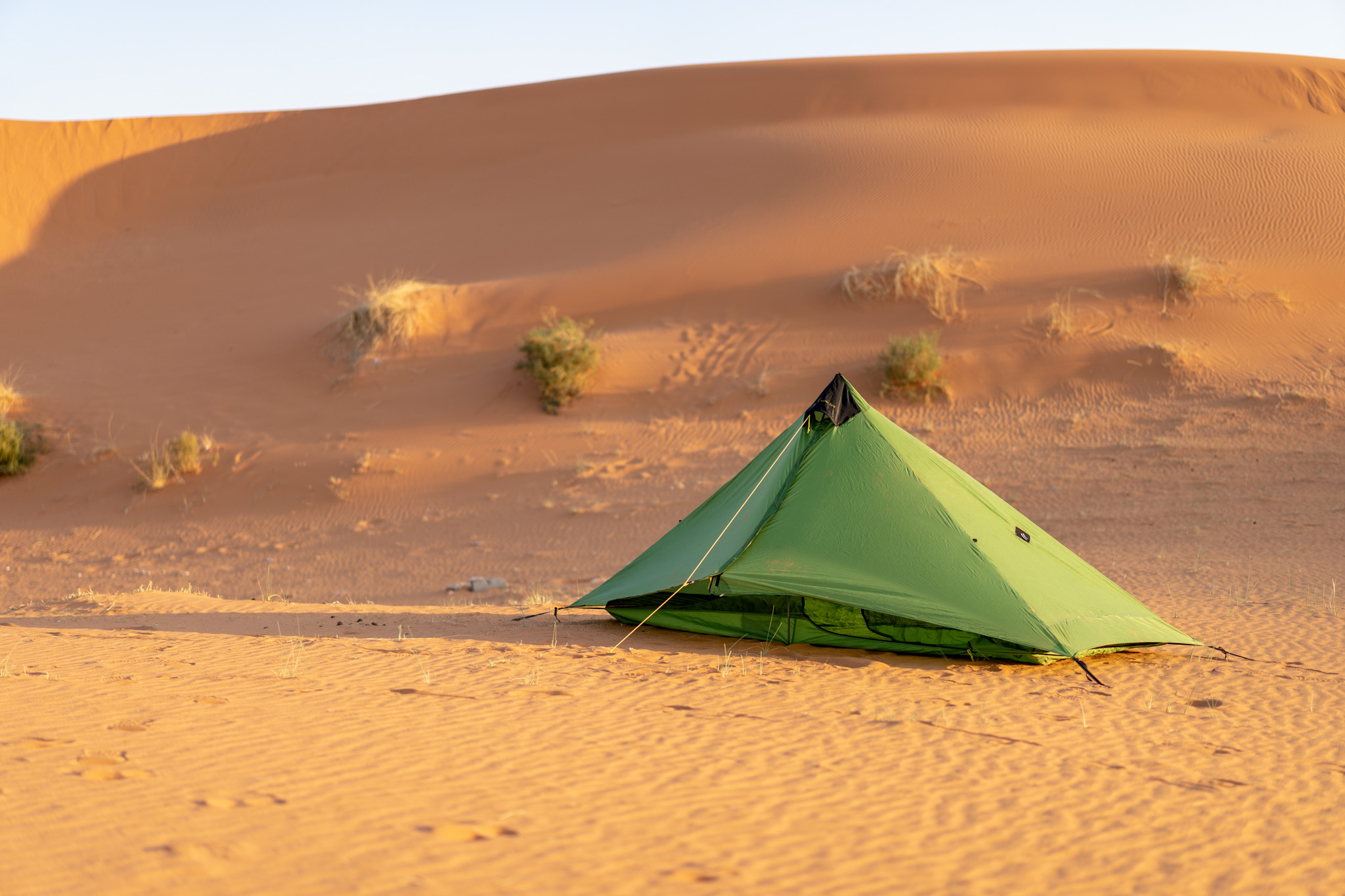 Couchsurfing
Saudi Arabia has a great Couchsurfing community. I stayed with a few different hosts during my trip, and they were all wonderful.
Couchsurfing is a great way to learn more about local culture, especially in a country with such strong traditions as Saudi Arabia.
Camping
I spent a few nights camping (in both a tent and my car) while I travelled around Saudi Arabia.
It's a great way to save money, and I didn't have any issues with people telling me I couldn't camp somewhere (I always found any out-of-sight location).
A friend of mine told me that she had tried to camp a few times, but was always told to move somewhere else. I think the key is to pick a hidden area and only set up camp just before sunset.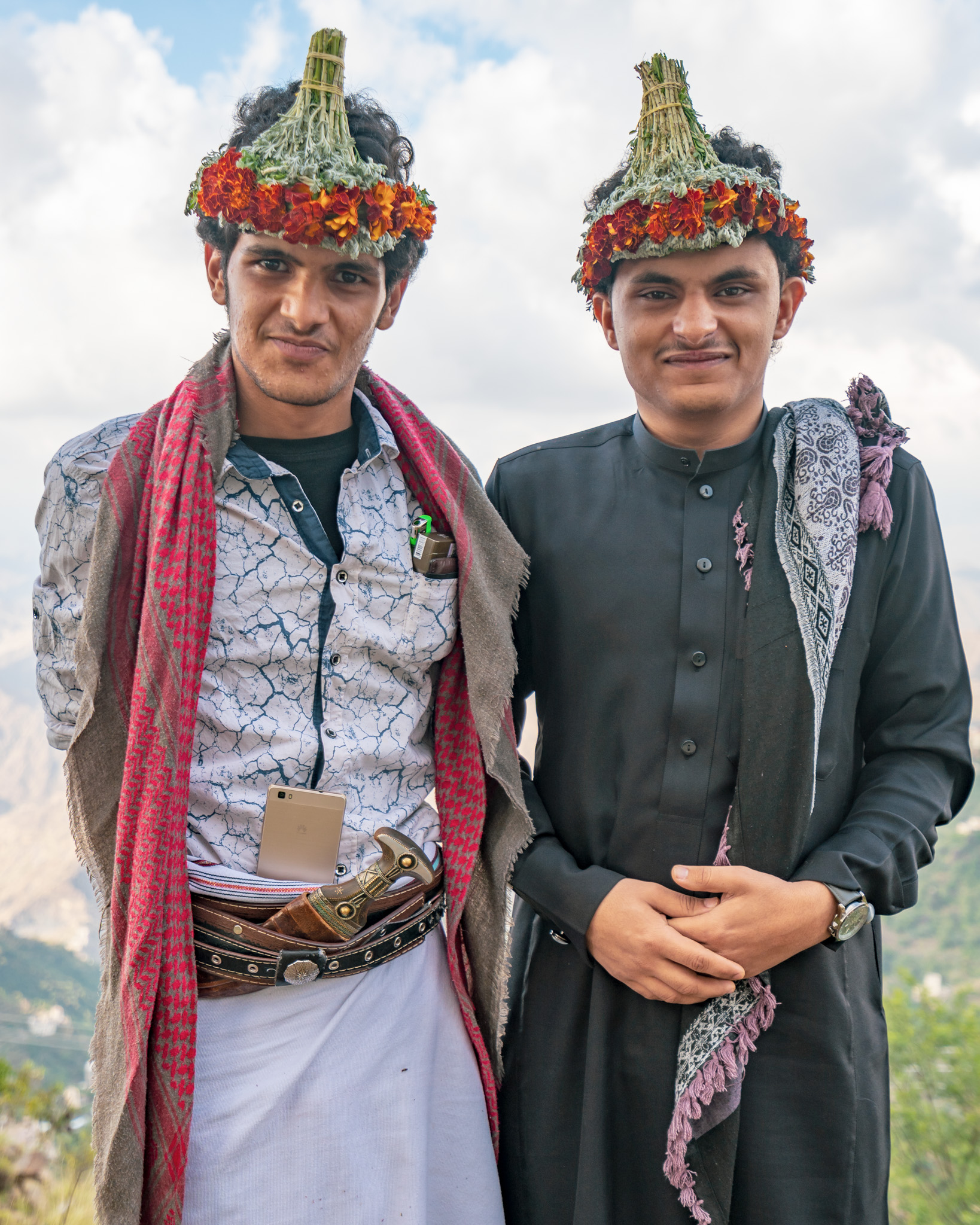 When to visit Saudi Arabia
When most people think of weather in Saudi Arabia, 50+ degree temperatures come to mind. Trying to travel around in that kind of heat really sucks. Luckily, there are times of the year when the Kingdom is blessed with much more bearable temperatures.
Best time to visit Saudi Arabia
Winter is by far the best time to visit Saudi Arabia. Lasting from mid-November until mid-March, wintertime brings comfortable temperatures to most parts of Saudi Arabia.
In Riyadh, expect lows of around 10°C and highs going up to 25°C. In coastal areas such as Jeddah or Jazan, temperatures are a bit higher and the air will be more humid. I visited Jazan in late November, and daytime highs were still around 37°C – I can't imagine what it's like in the summertime.
You won't believe it, but certain mountainous areas in the northern part of the country even receive occasional snowfall in the winter (although the snow doesn't stick around for long).
If it is possible for you, I recommend visiting Saudi Arabia in the winter. It's definitely the most comfortable time of year to travel here.
The worst time to visit Saudi Arabia
Summer is definitely the worst time to visit Saudi Arabia. The entire country will be engulfed by 50°C+ temperatures, and everybody will stay indoors. I really don't recommend visiting at this time of year unless you really have to.
Ramadan is also a bad time to visit Saudi Arabia, as all shops and restaurants will be closed during the daytime.
Spring and autumn are not as comfortable as winter, but they are still better than summer. Try visiting then if you are unable to go in the wintertime.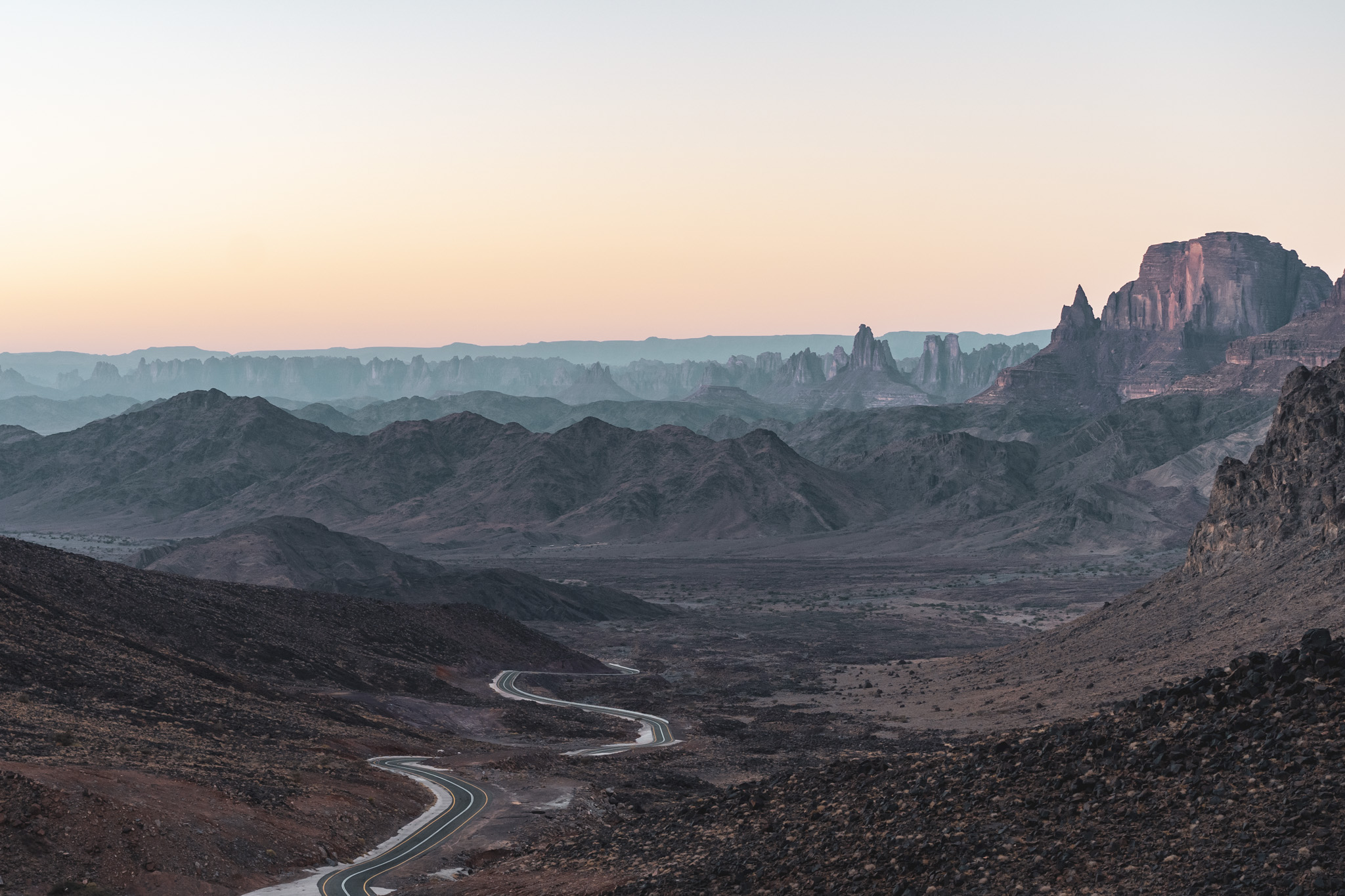 Internet & SIM Cards in Saudi Arabia
The Internet is decent in Saudi Arabia, most hotels and cafes have medium-speed WiFi.
I'd still recommend picking up a SIM card if you're going to be spending some time travelling around. Mobile data isn't that cheap here, but towers are everywhere and you'll almost always have a signal in towns and along major highways.
There are three major telecom companies in Saudi Arabia – STC, Zain, and Mobily.
They all have 4G networks and are even beginning to roll out 5G. STC is the state-owned and most expensive option but also has the widest coverage.
I couldn't find an STC shop near my hotel, so I ended up picking up a Zain SIM. They advertised a decent plan with unlimited social media usage (Instagram, YouTube, etc.) for 140 SAR. I asked to buy this plan, but they told me as a tourist I was only able to buy the new "Visitor Package".
The visitor package that they offered wasn't a very good deal compared to the other offer that I saw. For 99 SAR, you get just 4GB of data. You can then pay for more data if you use it all.
I'd imagine that both STC and Mobily will also introduce this sort of visitor package, which is a bit of a shame.
For the most up-to-date info on SIM cards in Saudi Arabia, check out the Prepaid SIM Wiki.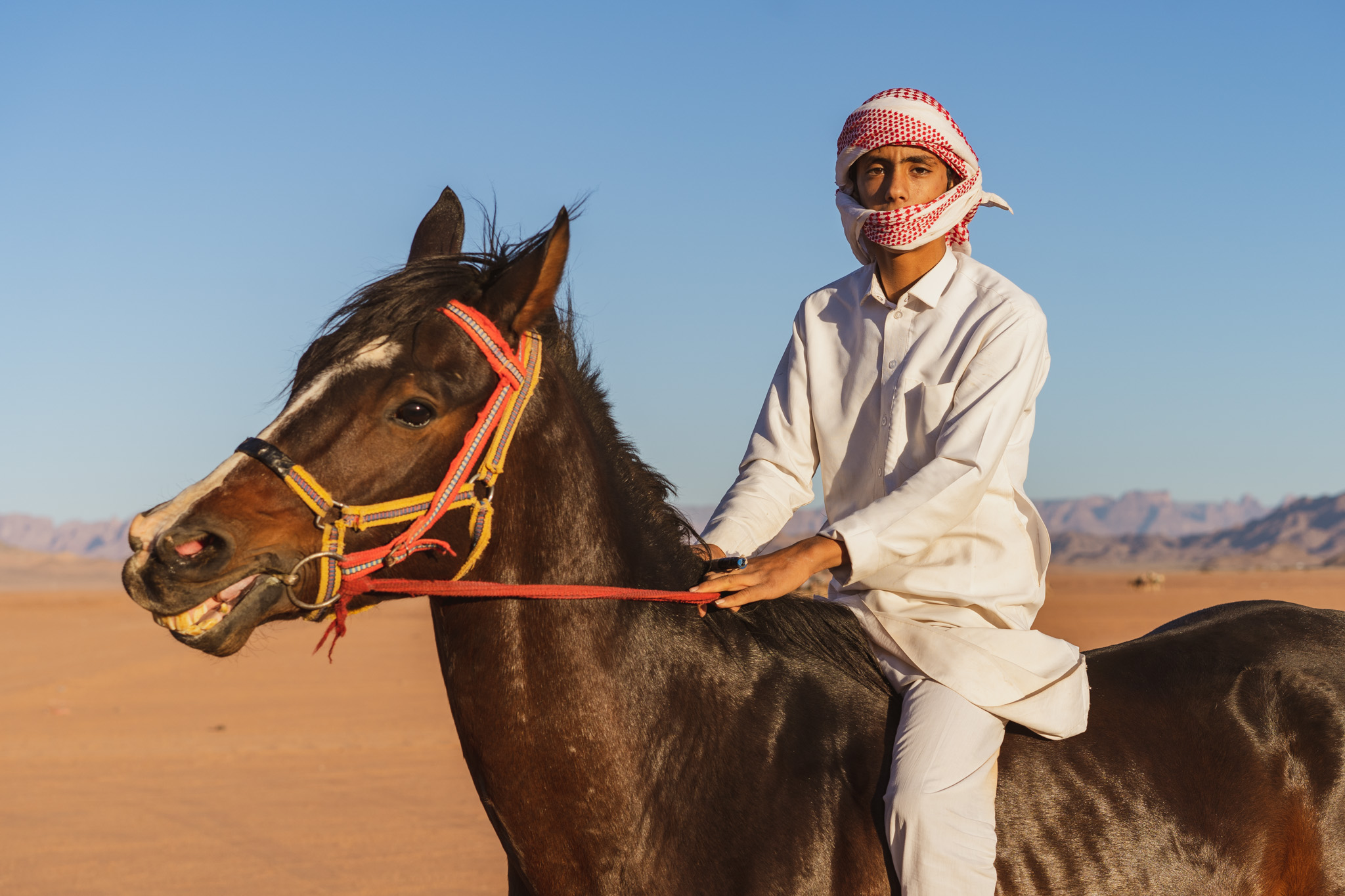 Culture in Saudi Arabia
Saudi Arabia is one of the most religious countries in the world. When visiting, you need to be mindful of this and act appropriately. If you've previously travelled to a Muslim country such as Pakistan or Afghanistan, then Saudi Arabia will be a bit more familiar for you.
But still, Saudi Arabia is even more conservative than both Pakistan and Afghanistan. Here's what you need to know:
What to wear
Men
Men don't need to worry much about what they wear in Saudi Arabia. Pants and a t-shirt are perfectly fine. Shorts are also acceptable in more liberal places such as Jeddah (but you won't be allowed inside malls wearing shorts).
I chose not to wear shorts, as I didn't see any locals wearing them and didn't want to stick out too much.
Most Saudi men wear a traditional white thobe. If you're spending a decent amount of time in the country, you could consider buying one. They're very comfortable in the heat and protect you from the sun quite well.
Women
For the ladies, things are a little bit more restrictive. Almost all women you see in Saudi Arabia will be wearing a black abaya.
While it's not a legal requirement for female travellers to wear one, I'd strongly advise it. If you don't, you'll stick out like crazy. Outside of the urban centers in Jeddah and Riyadh, 99% of women in Saudi Arabia are seen wearing a full niqab.
It's not necessary to cover your head, but covering it will reduce unwanted attention.
Here's some more info on what to wear as a woman in Saudi Arabia to help you prepare.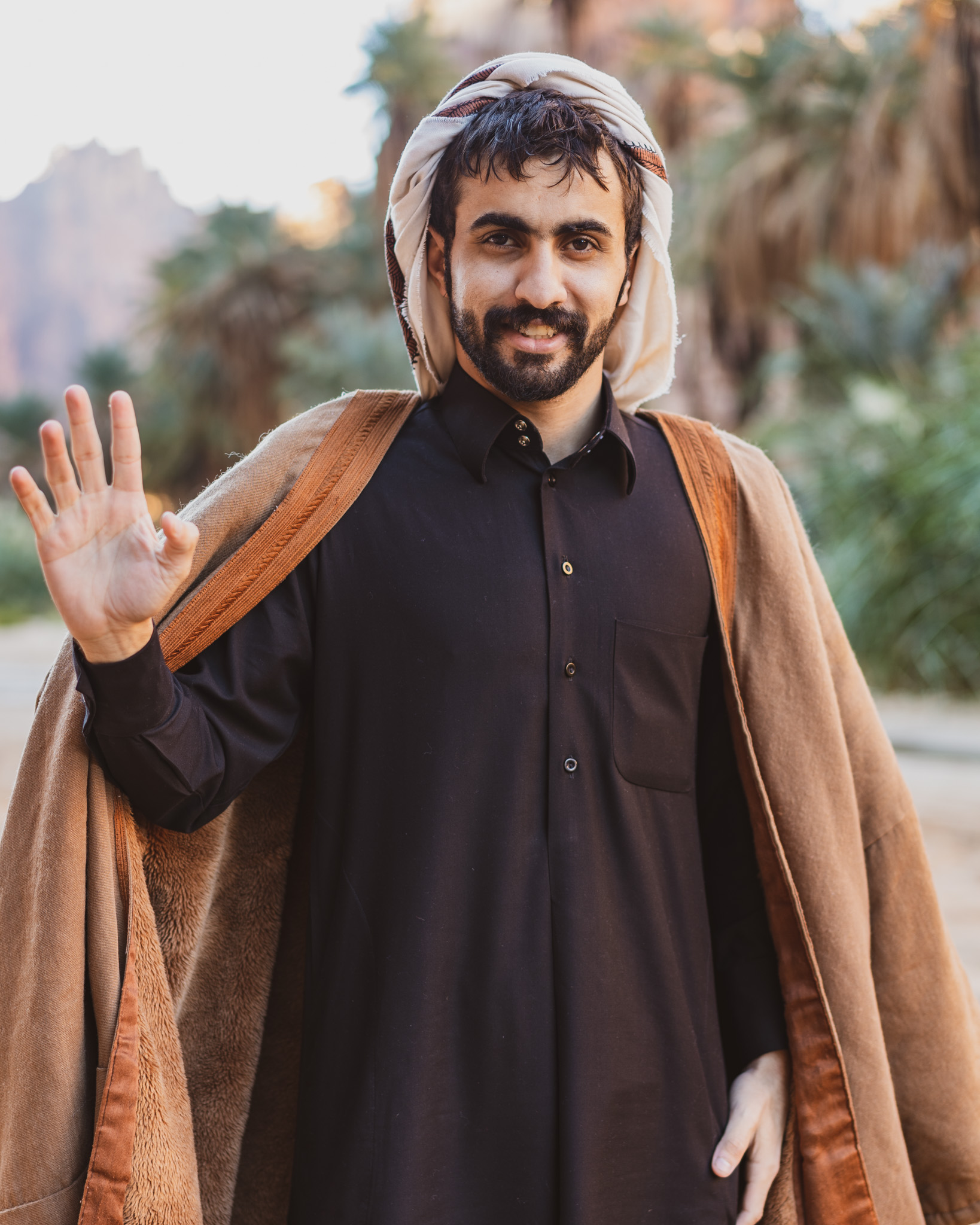 How to act in Saudi Arabia
Here are a few things you should know about behaving properly in Saudi Arabia.
Don't say that you're an atheist
Not believing in God can be considered a form of blasphemy in Saudi Arabia. Even if you're an atheist, it's better to say that you're a Christian or something. People will be perfectly alright with you being a Christian, but being an atheist will raise some eyebrows.
Don't drink alcohol
Alcohol is illegal in Saudi Arabia, and there isn't anywhere that you can buy it (even fancy business hotels don't have it). Like other countries where alcohol is banned (Afghanistan, for example), it's still possible to find it if you know the right people.
I'd advise not messing around with that in Saudi, as the punishments if you are caught can be severe. Stick to the non-alcoholic beer that can be bought in supermarkets!
Don't do drugs
Same as alcohol – drug use comes with high punishments in the Kingdom. Stick away from it during your trip.
No PDA
Don't show any public displays of affection. At best you'll get angry looks from people, and at worst you could end up in jail. PDA even includes things such as holding hands with someone of the opposite sex.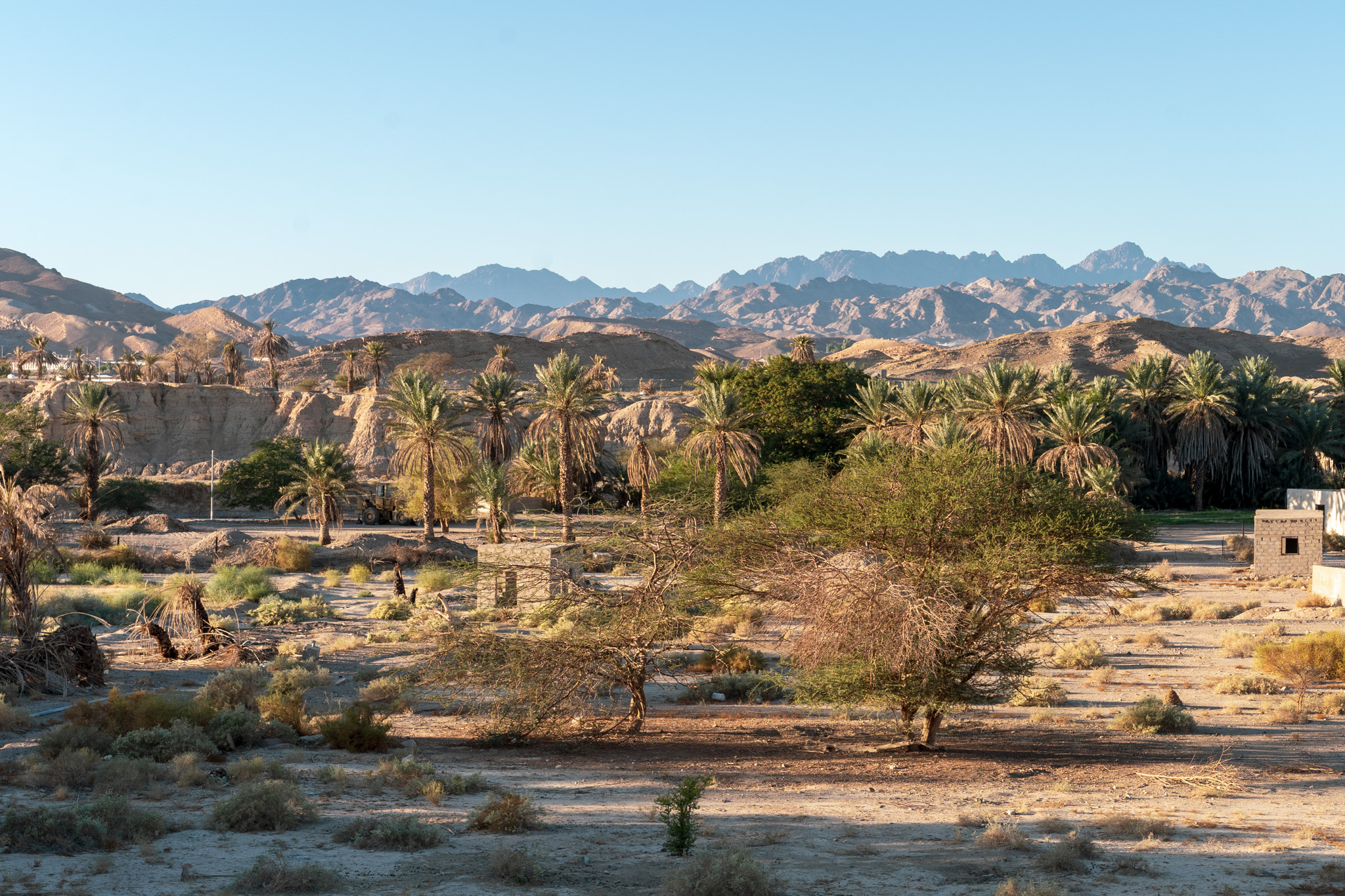 Female Travel
Female travel in Saudi Arabia comes with its own set of challenges. The country has a number of restrictions on women's rights, making it a difficult place to travel for women to travel around.
It'd be a good idea to have a bit of experience travelling in another conservative Muslim country prior to your trip to Saudi Arabia so that you know a bit about what to expect. Saudi Arabia was by far the most conservative country I've ever been to (yes, even more so than Afghanistan and Pakistan), so you do need to do some research on how to act and dress appropriately.
Solo Travel
During my 2.5 weeks in Saudi Arabia, I was travelling solo the entire time (other than when I was with a Couchsurfing host).
Solo travelling in Saudi Arabia is perfectly fine. Locals are eager to talk to you, and the active Couchsurfing community makes it easy to make new friends if you want to.
Hotels often don't have single rooms, so you will be stuck paying the price of a double room. Hopefully, hostels begin to open up and get rid of this issue.
Any trouble I ran into while solo travelling here was usually cost-related. It would've saved me a lot of money if I could have shared hotel and car rental prices with a friend or two.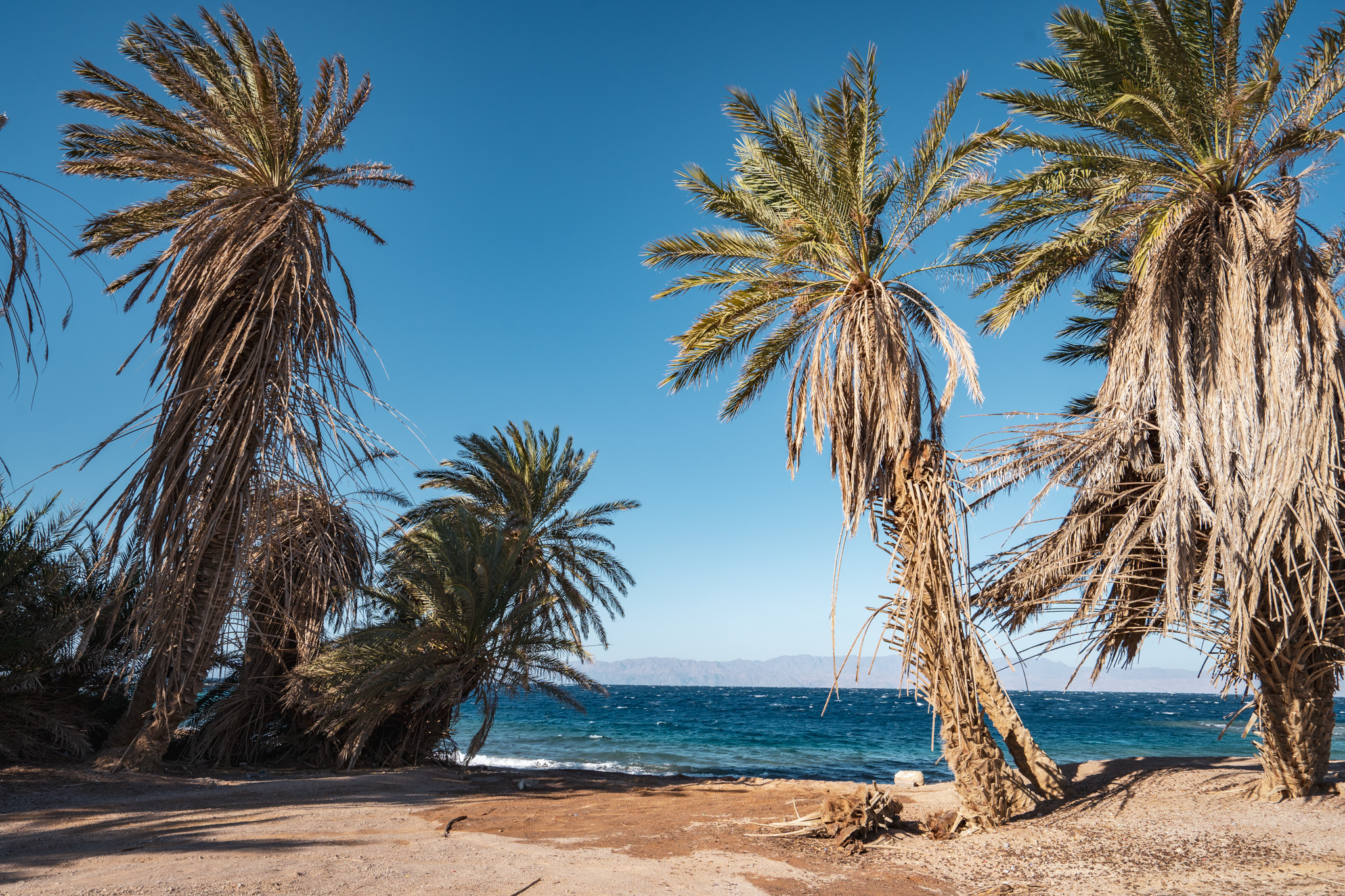 LGBTQ Travel
Saudi Arabia is not a friendly country for LGBTQ travellers.
Homosexuality is illegal in Saudi Arabia, and it is punishable by death.
If you're an LGBTQ traveller, you should keep that to yourself if you do choose to visit Saudi Arabia. Avoid mentioning anything related to it, and if you're with your partner just say you are friends and avoid any sort of PDA.
Ramadan
During the holy month of Ramadan, everything in Saudi Arabia comes to a standstill. Many businesses are closed and no restaurants will be open during the daytime.
This is one of the worst times to visit Saudi Arabia in my opinion. A lot of things won't be possible, and you'll be stuck eating biscuits all day.
The main positive side of Ramadan is the meals at iftar (breaking of the fast). If you have iftar with a Saudi family, it'll be a great experience!
Photography
I didn't have very many issues with photography in Saudi Arabia. Avoid taking photos of any government, military, or police buildings. Ask before taking photos of people. I didn't get much of a chance to photograph any women during my trip, but this is still a sensitive subject so approach it with caution.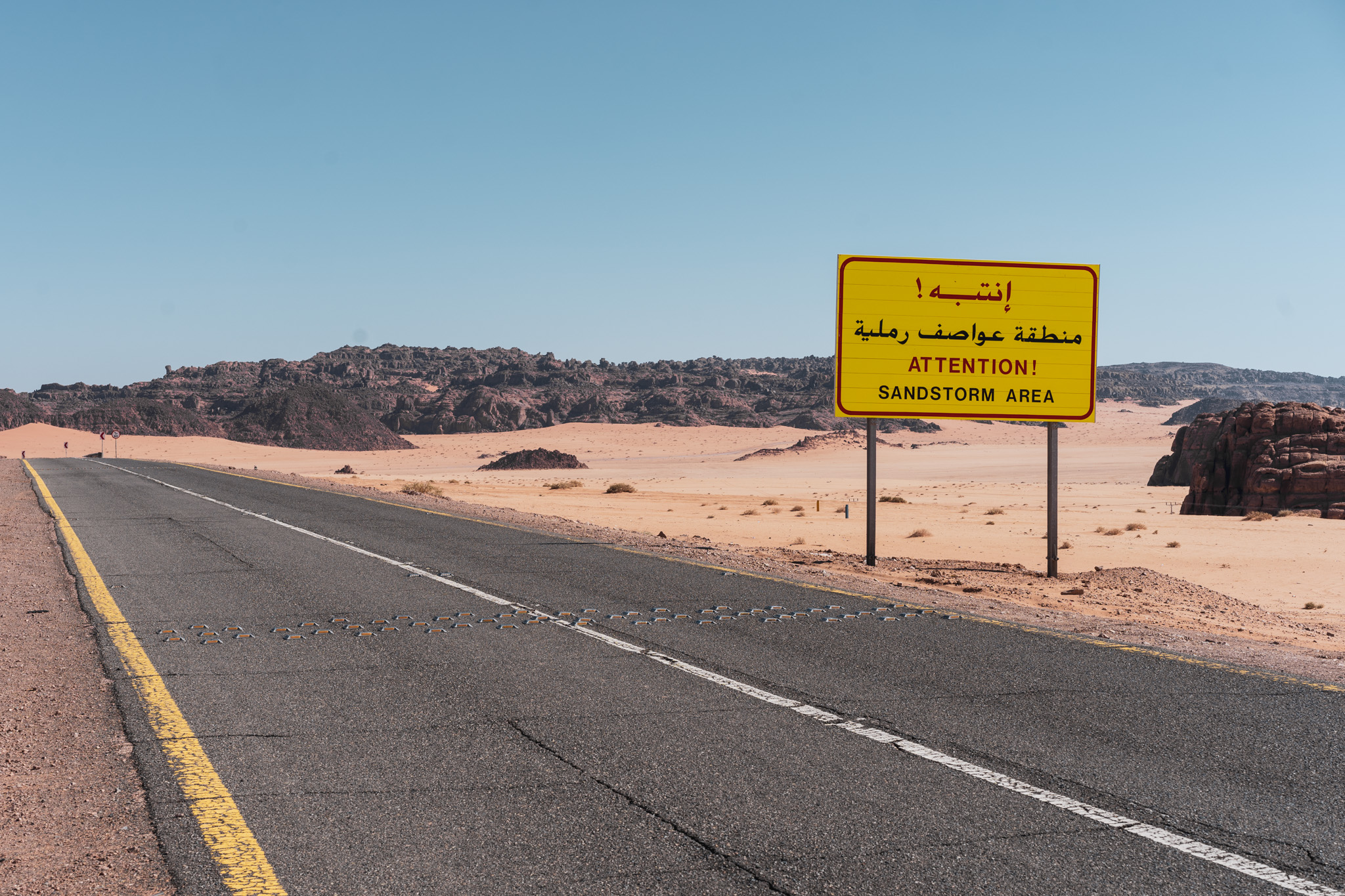 Opening Times
One of the more frustrating things about travelling in Saudi Arabia is the opening times for shops.
There are five daily prayers in Saudi Arabia, and all shops must close for about 30-45 minutes during this time. Yes, this includes gas stations, cafes, McDonald's, and anything else you can think of.  I always felt like getting lunch or coffee just as the call to prayer happened, and had to wait for the next 40-minutes until the restaurant unlocked its doors.
You can Google "Saudi prayer times" when you're in the country to figure out exactly when things will be closed. If you're in a restaurant or cafe, and the call to prayer happens, you'll usually be allowed to stay inside and finish your food – but no new orders will be accepted.
Travel Costs in Saudi Arabia
Like many other gulf countries, Saudi Arabia is a pretty expensive country. There are no backpacker hostels and no affordable tours to tourist sights. Public transport within cities is non-existent, so expensive taxis are the only option. Luckily food can be found for reasonable prices, and many sights don't have entrance fees (yet).
As a rough estimate, budget anywhere from $50 to $70 a day for independent travel in Saudi Arabia.
Sample Prices
Budget Aparthotel – 80 SAR/night
Mid-range Hotel – 200 SAR/night
Car Rental – 120 SAR/day (200km limit)
Gas – 1.5 SAR/litre
Coffee – 10 t0 15 SAR
500ml Water – 1 SAR
Dinner at Indian Restaurant – 25 SAR
SIM Card (4GB) – 99 SAR
4-hour SAPTCO Bus Ride – 58 SAR
Jeddah Airport to City Uber – 40 to 50 SAR
Riyadh Airport to City Uber – 70 to 80 SAR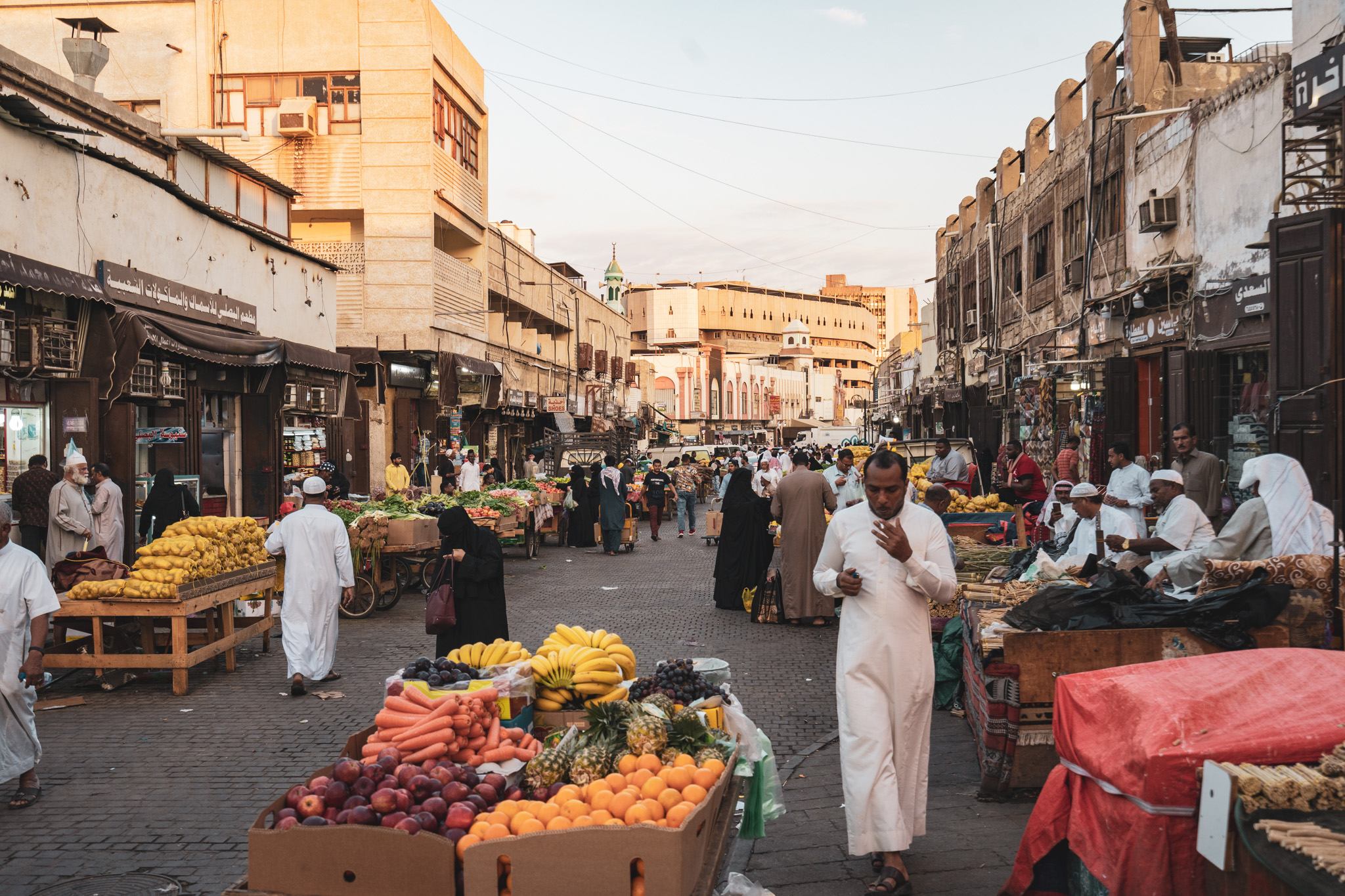 Money-Saving Tips
Here are a few ways you can save some money during your trip to Saudi Arabia.
Travel with a friend or two. This way, you can split costs such as accommodation and car rentals.
Use Couchsurfing! As there aren't any budget hostel options in Saudi Arabia, Couchsurfing is a great way to save money. The scene here is good and full of friendly locals.
Eat at Indian/Pakistani restaurants. These places are frequented by workers from those countries and offer much cheaper food than other restaurants.
Go camping. Accommodation is expensive in Saudi Arabia, so camping will save you a bunch of cash and let you spend more time in nature.
Safety in Saudi Arabia
Crime rates in Saudi Arabia are low, so in that regard, it's a very safe place. Be aware of your belongings, but you don't really need to worry too much about things like pickpocketing right now.
There have been one-off terrorist attacks in the country, but these are very infrequent and no more common than in places like Europe.
Places near the Yemen border are still safe to visit, contrary to what many governments advise. Life in the city of Jazan is no different than normal, even though it's only about 50 kilometers from the Yemen border.
Driving in Saudi Arabia is one of the more dangerous things that most travellers will do. The Kingdom has one of the highest accident death rates in the world, so you need to be extremely careful when driving there.
Follow the strict laws in Saudi Arabia, and you shouldn't have any safety issues as a tourist.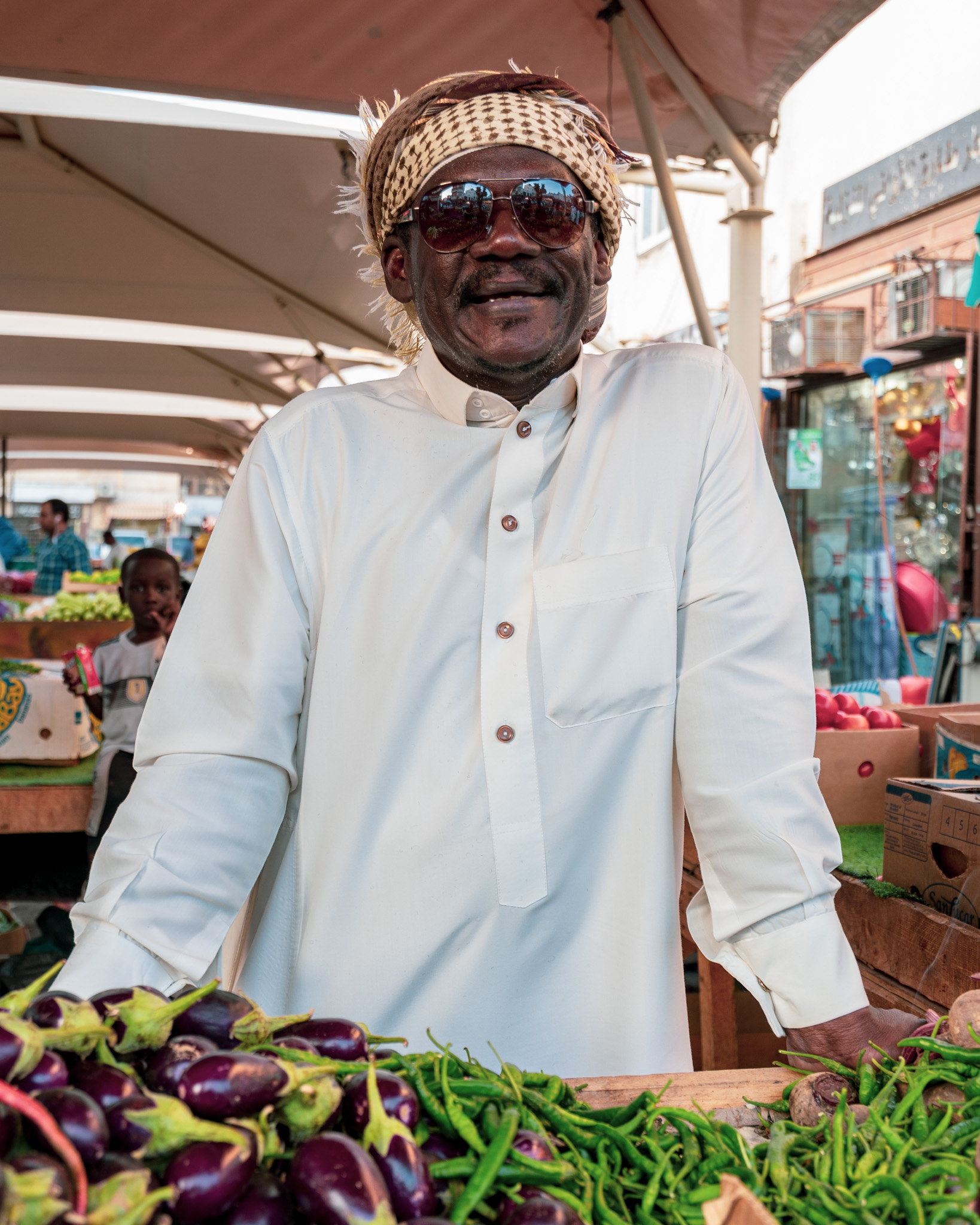 Health in Saudi Arabia
Here is what you need to know to stay healthy during your trip to Saudi Arabia.
Food & Water
I found sanitary conditions in Saudi restaurants to be quite good. I had no stomach issues during my visit, and none of the other travellers I know have had issues either.
Tap water in Saudi Arabia is not drinkable. Stick to bottled or filtered water.
Vaccinations
You likely don't need any new vaccinations for Saudi Arabia if you've travelled before. Check out the CDC guide for more info
Clinics
Healthcare in Saudi Arabia is expensive, so it's important to have travel insurance in case something goes wrong.
I personally use and recommend World Nomads. It's designed for adventurous travellers with cover for overseas medical, evacuation, baggage and a range of adventure sports and activities.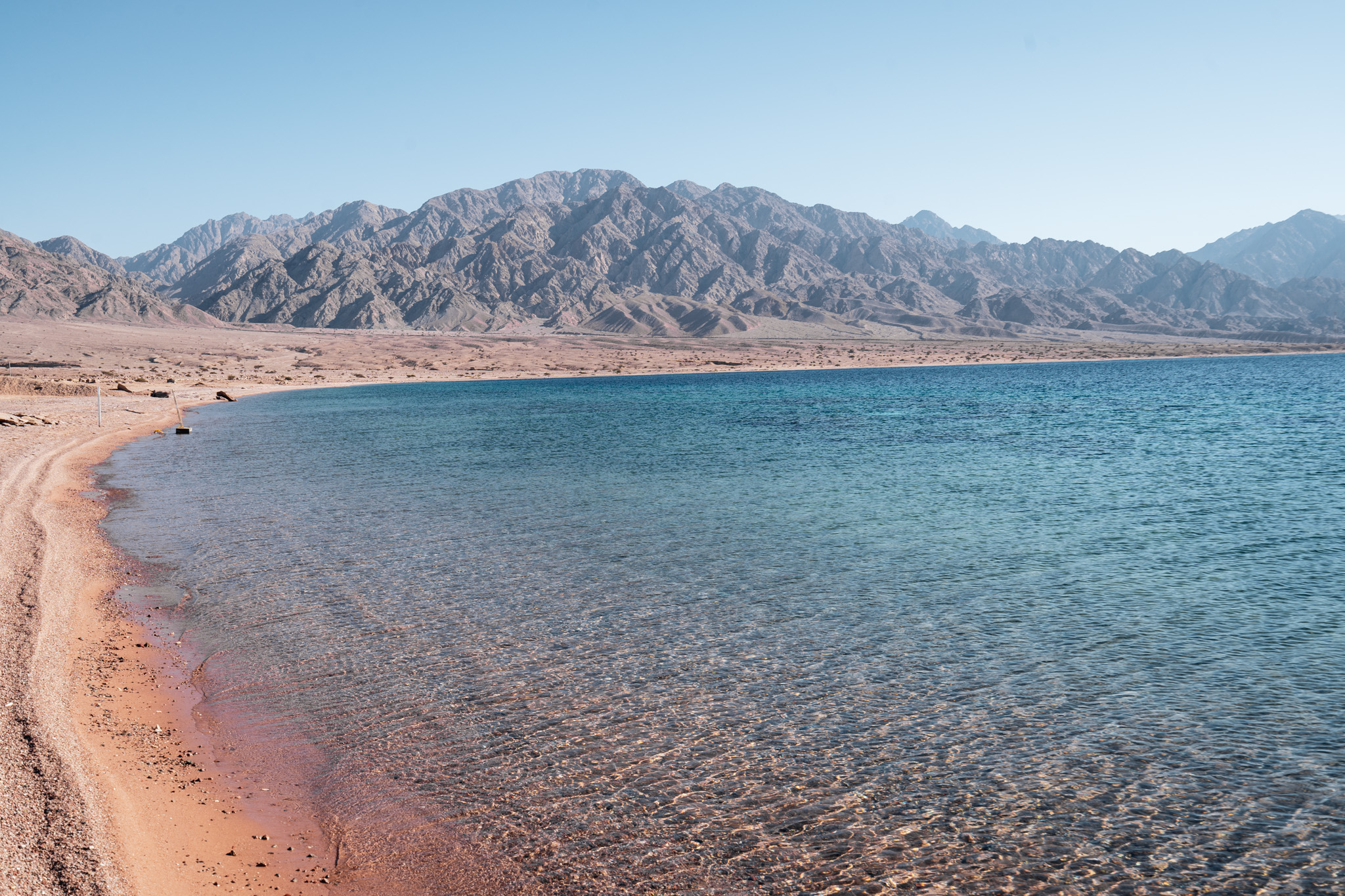 Saudi Arabia Travel Guide Wrap-Up
I hope that this post has helped you plan your trip to Saudi Arabia! It's a fantastic country, and I definitely recommend visiting soon before tourism numbers grow too much.
For more info on visiting Saudi Arabia, check out the other posts I've written about it:
I plan to keep working on more Saudi Arabia content, so subscribe to my email list do be notified of future posts!
Remember to follow me on Instagram for the latest photos and news from my travels!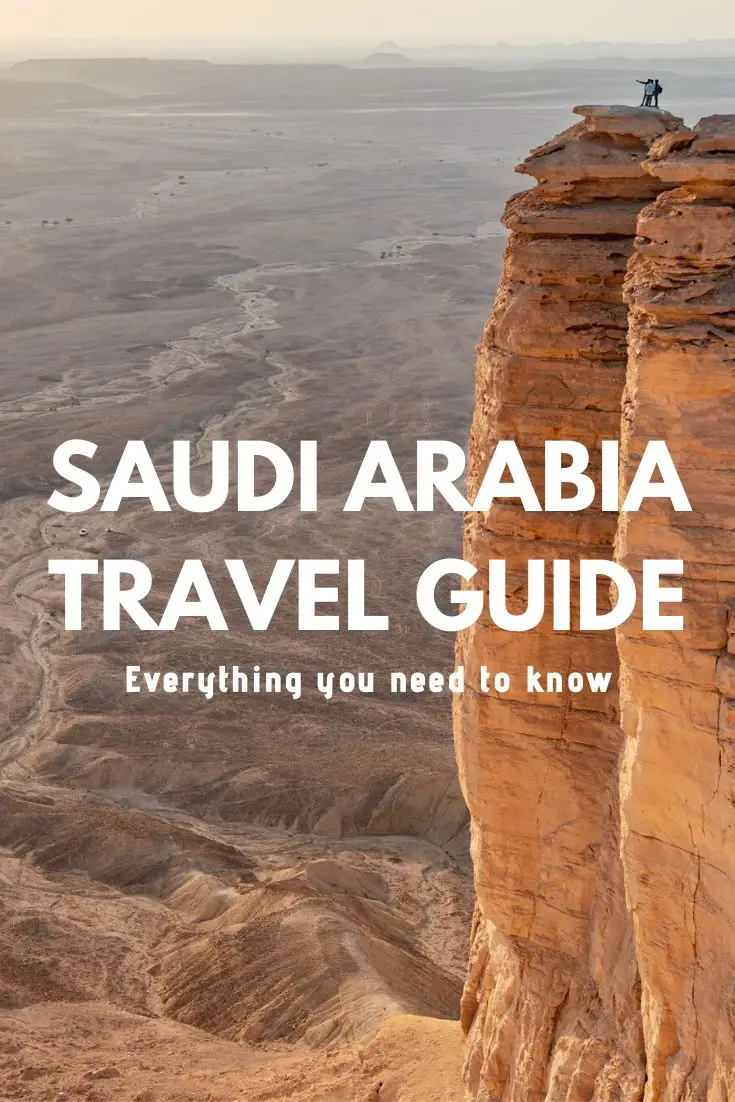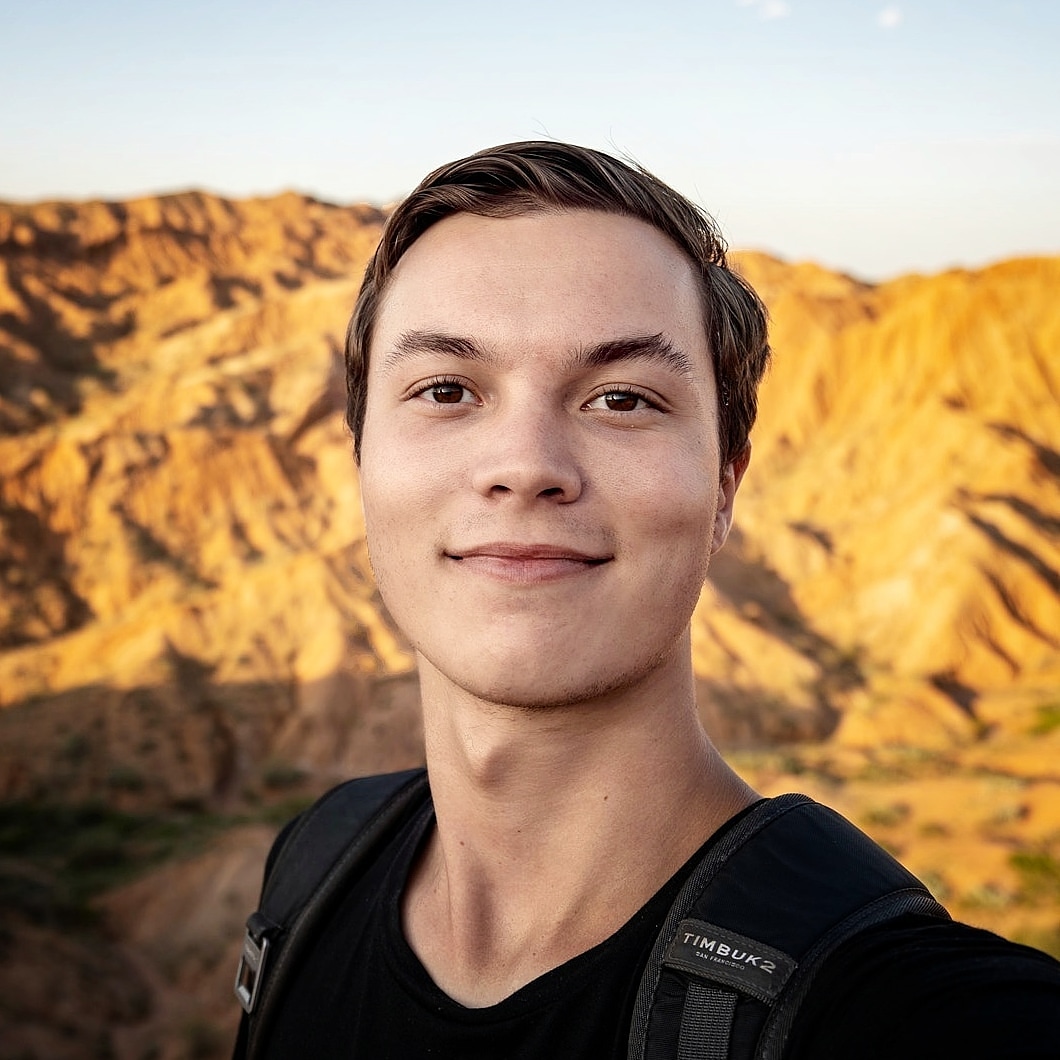 21-year old Canadian dude who loves to visit off-the-beaten-path places, climb tall mountains, and try delicious foods.