The wild and remote Pamir Highway is one of the most epic road trips on our planet.
The Pamir Highway connects Kyrgyzstan and Tajikistan via the high-altitude Pamir Plateau. Most of the highway is at elevations above 3,000 meters, and the mountainous scenery along the way is like nowhere else. It should be on the bucket list of every adventurous backpacker.
This detailed post will explain everything you need to know to plan your Pamir Highway trip. Let's get right into it!
What is the Pamir Highway?
Finding an exact definition of the Pamir Highway is a bit challenging, but the general consensus nowadays is that the Pamir Highway is the stretch of the M41 highway running between Osh, Kyrgyzstan and Dushanbe, Tajikistan.
The M41 is the second-highest highway on Earth, with its high point topping out at 4,655 meters above sea level. While the modern-day paved road was built by the Soviets, the path that the Pamir Highway follows has been used as a trade route along the Silk Road for millennia.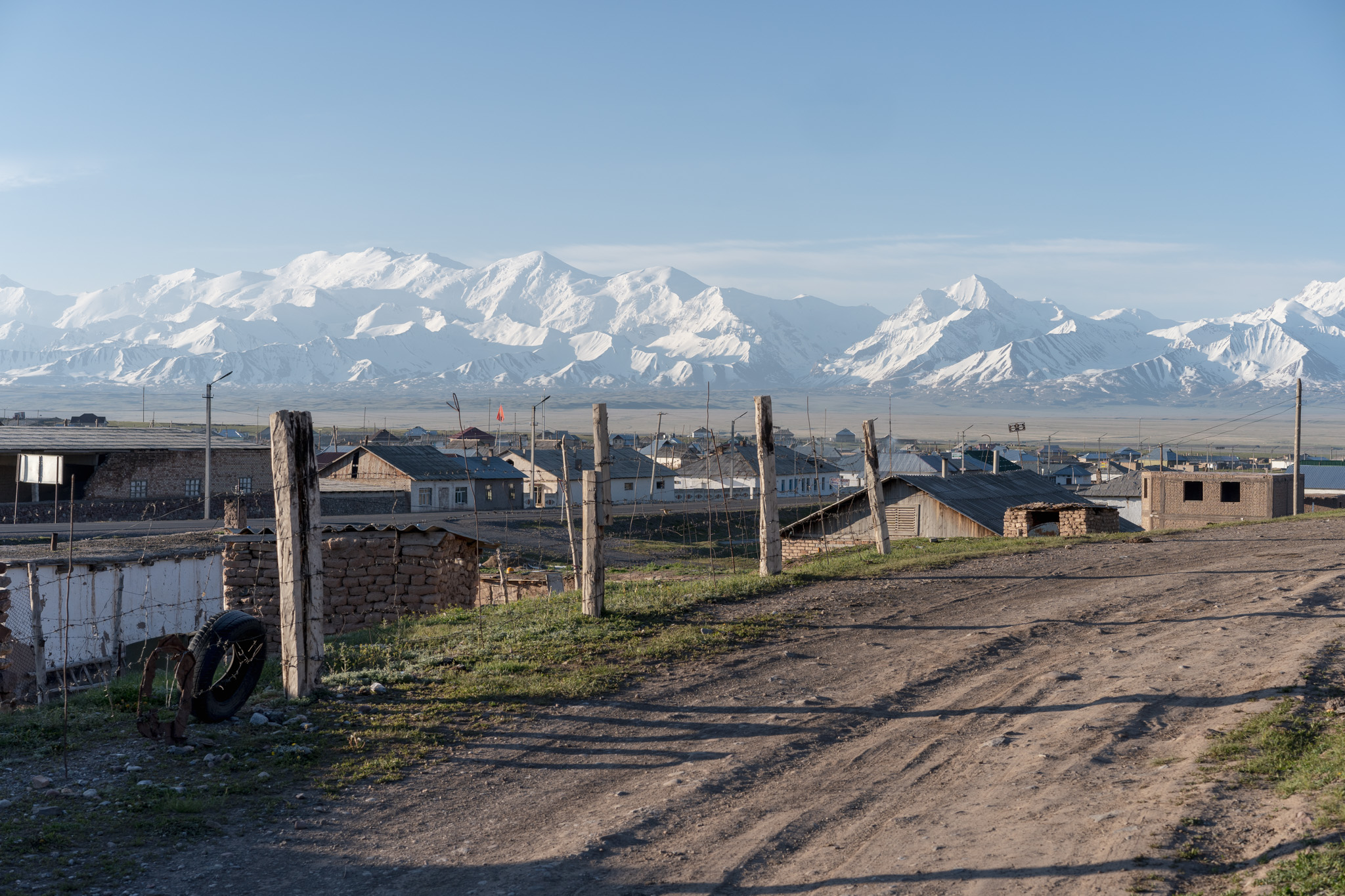 How to travel the Pamir Highway
Deciding how you'll traverse the Pamir Highway is one of the hardest parts of planning a trip.
You've got a couple of different options, depending on what sort of adventure you're looking for. Let's go over them to help you get a better idea:
Hiring a Jeep and Driver
Hiring a Jeep and driver is definitely the most common way that people travel the Pamir Highway. If you find a few people to share the cost with, it is an affordable yet comfortable way to travel.
By hiring your own jeep (as opposed to taking local shared-taxis), you can ask the driver to stop wherever you want for photos, and you can make detours to places that aren't accessible by public transport.
The main downside to hiring a vehicle is that itineraries end up being quite fast-paced, as you need to pay the driver per-day, so any time spent not driving can be expensive. When people hire vehicles, they're typically on the move every single day – not leaving any time for trekking or getting a deeper understanding of life in the Pamir.
If you want to go down this route, you can easily find other travellers to group up with and split the cost of the jeep. I recommend posting on the Caravanistan Forums with your travel dates.
You can also find people to link up with inside of hostels in Osh and Dushanbe. Osh Guesthouse is a popular meeting place in Osh, and the Green House Hostel is your best bet in Dushanbe.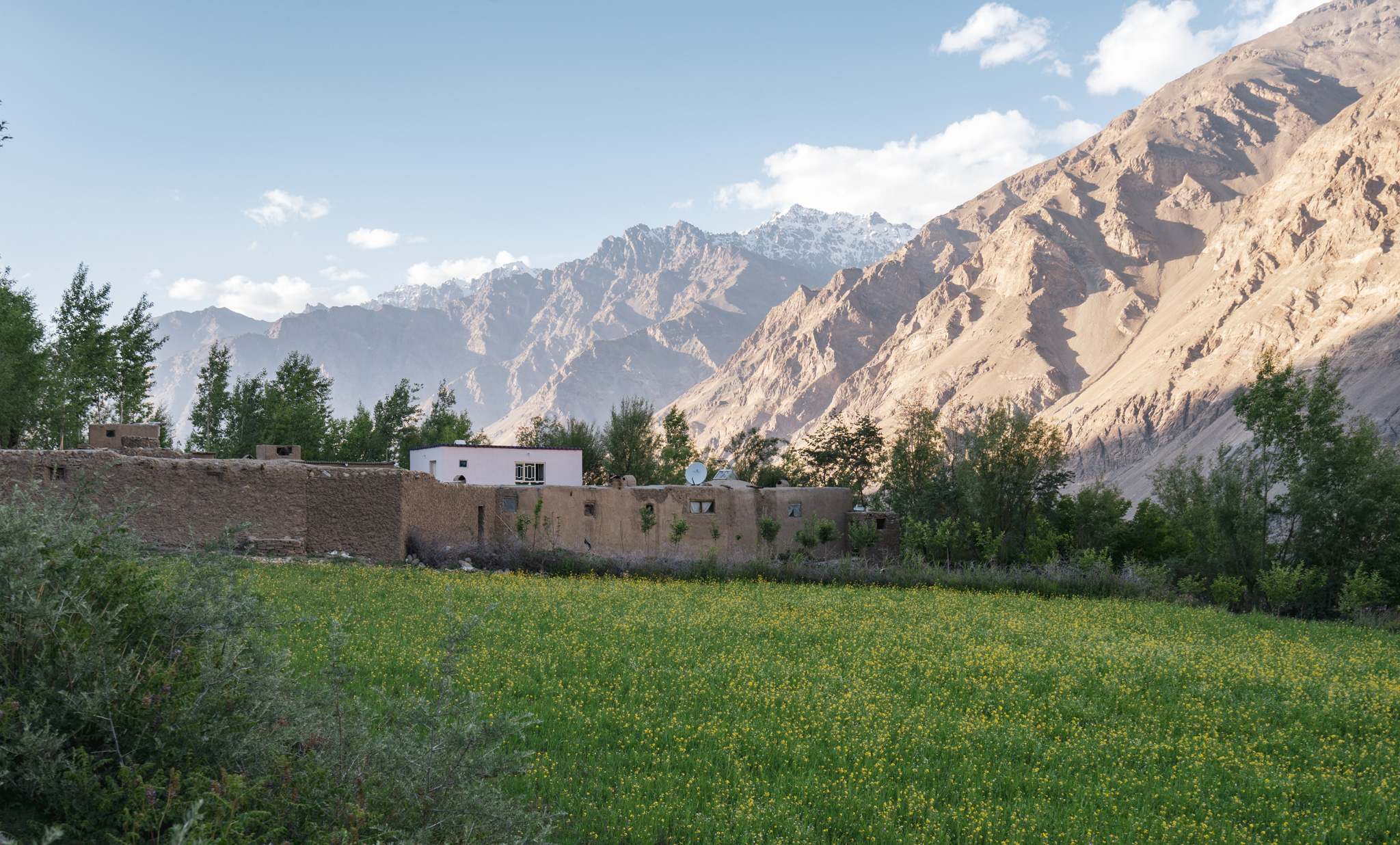 When I travelled the Pamir Highway, I went with this option. By using local transport, you've got a lot more freedom regarding your schedule – although there are some places and photo stops that you might miss out on.
Shared-taxis link all of the major towns in the Pamir, but they often only run once per day and can be a bit difficult to find. If you choose to go the shared-taxi route, you need to be flexible with your schedule.
Shared-taxi tip: Offer the driver a bit extra to sit in the front seat. It's much less cramped, and you'll be able to get nicer views of the incredible scenery you're driving through.
Hitchhiking
Hitchhiking is an option along the Pamir Highway, although only for those who are looking for a true adventure and don't mind waiting around for (possibly) days on end.
Certain portions of the Pamir Highway are more difficult to hitchhike than others. The road from Dushanbe to Khorog has plenty of local traffic, but Khorog to Murghab and Murghab to Sary-Tash is mostly tourist jeeps and Chinese truckers.
It is possible to get a ride with truckers, although you'll need to figure out where they depart town from. Be aware that trucks here drive super slow – you won't be going much faster than 15km/h when climbing up a pass.
Hitchhiking the Pamir Highway is definitely not easy, and you'll need to do quite a bit of research before you attempt it. Hitchwiki is a good place to start.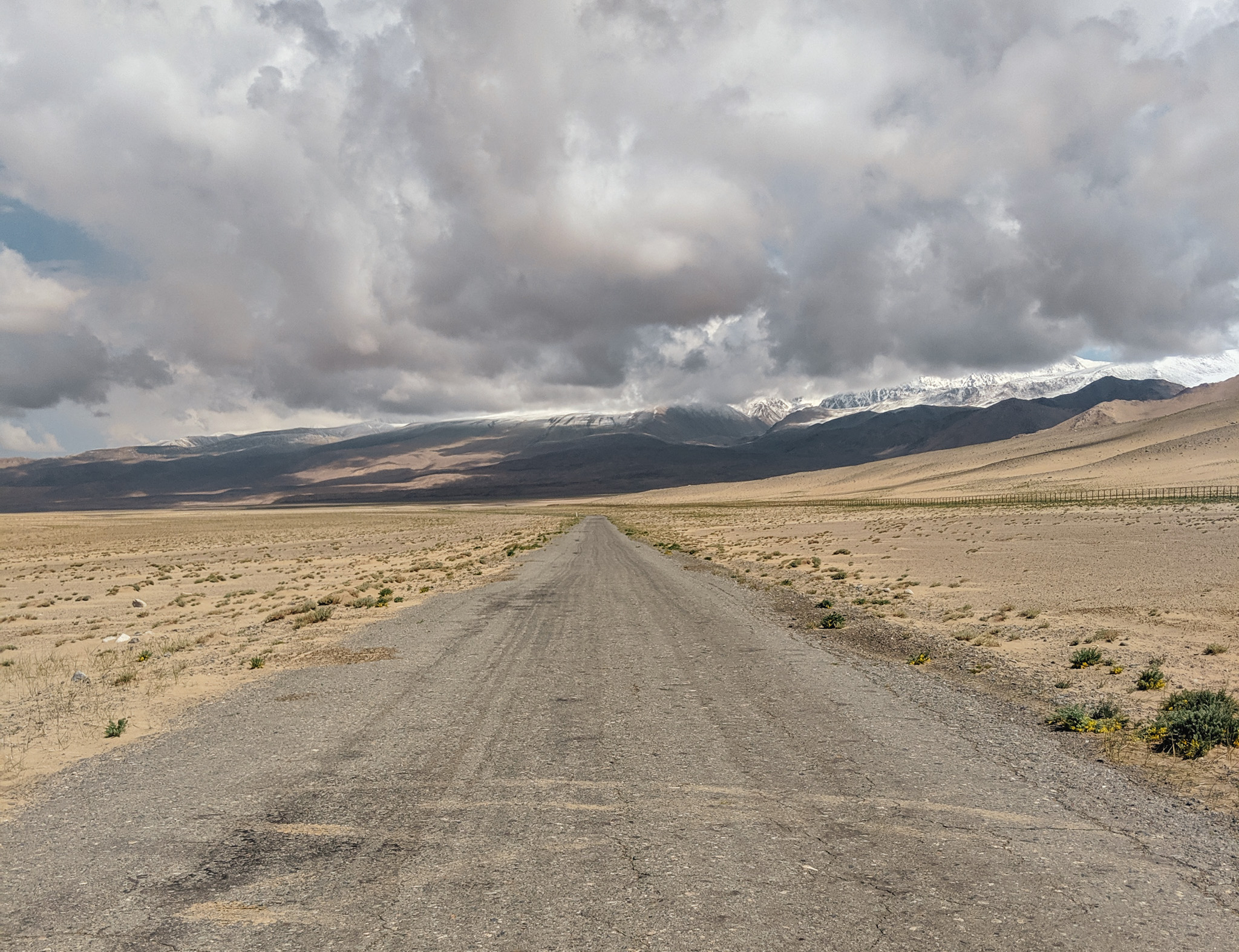 Cycling
Cycling across the Pamir Highway is a bucket-list item for many cyclists around the world. Low amounts of vehicle traffic and insane views make the Pamir Highway an incredible cycling destination.
There's quite a bit of info out there on cycling the Pamir Highway, and I met plenty of cyclists while I was travelling in the Pamir. Be sure to factor in some extra time, as almost every cyclist I met had a story about getting sick and needing to take a few days off.
For more info on this option, check out this wonderful trip report. I'd love to cycle the Pamir Highway at some point, although I definitely need to do some shorter rides and work my way up to it!
Choosing a Route for the Pamir Highway
While there's only one "official" Pamir Highway route following M41, you've actually got quite a few different options regarding the exact route you take.
Popular alternative routes along the Pamir Highway include a detour to the Wakhan Valley (or even Afghanistan's Wakhan Corridor), a side trip to Lenin Peak Base Camp, or a drive up the Bartang Valley.
The route you choose depends on your interests and the amount of time you've got. If you've got as long as you'd like, try to explore as much of the Pamir as possible! I highly recommend checking out the Wakhan Valley and Lenin Peak Base Camp if you have time.
When to visit the Pamir Highway
While the Pamir Highway can be visited year-round, it's best to try to visit in the warmer months so you're not freezing the entire time.
Summer sees the most visitors (July & August), although spring (May & June) and autumn (September & October) are also great times to visit.
In spring, rivers will be roaring as the warm temperatures begin to melt snow that formed on high peaks in the winter. In autumn, the foliage will turn beautiful orange colours making it awesome for photography.
Weather in the mountains is always unpredictable, so even in summer, you should be prepared for cold temperatures.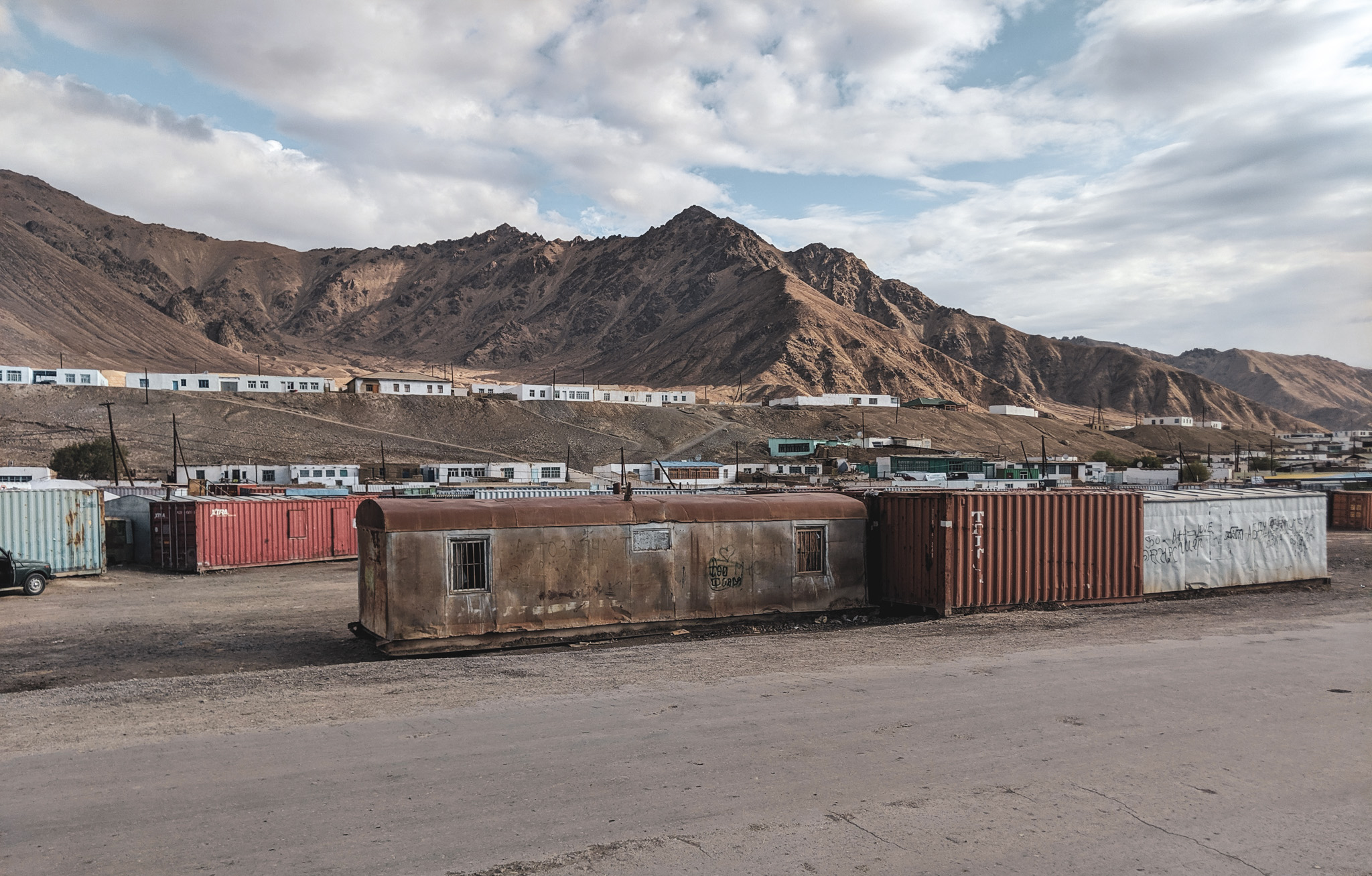 Accommodation
Accommodation along the Pamir Highway is fairly basic, except in Osh, Khorog, and Dushanbe.
In smaller towns such as Sary-Tash, Murghab, and Ishkashim, basic homestays are your best option. These will usually run you between $10 and $15 per night. I loved the homestays I stayed in, the families were always incredibly welcoming and cooked me some delicious food (using the few ingredients that are available in the Pamir).
Here are my recommendations for places to stay in the larger cities:
Osh
TES Guesthouse
TES Guesthouse is one of my favourite hostels in all of Central Asia. I stayed here a total of 4 times during my travels in Kyrgyzstan and loved it every time.
They have both private rooms and dormitories available and serve a delicious buffet-style breakfast. There's even space to pitch your tent if you're on a tight budget.
The front desk is very friendly, and they'll be able to help you arrange your trip along the Pamir Highway.
Check latest TES Guesthouse prices here
Osh Guesthouse
While I haven't stayed at the Osh Guesthouse, I've heard decent things about it.
It comes recommended as the best place to meet other solo-travellers looking to arrange a jeep hire for the Pamir Highway, so if you're looking for travel partners this is the place.
Check the latest Osh Guesthouse prices here
Khorog
LAL Hotel
I stayed at the LAL Hotel for about five days after trekking in the Wakhan Corridor. It's located right in the center of Khorog and has a nice dorm as well as private rooms. It's also got a nice restaurant attached to it. There was also a super cute dog when I was there!
Check the latest LAL Hotel prices here
Pamir Lodge
The first time I visited Khorog I stayed at the Pamir Lodge. It's a nice place, although it's a bit more rustic than LAL Hotel and is located a 20-minute walk from downtown. If you're a cyclist, it's no problem, although I found it a bit annoying to need to walk that far whenever I wanted anything from town.
Dushanbe
Green House Hostel
Green House Hostel is the go-to spot in Dushanbe for people travelling the Pamir Highway. It's a nice large house with a number of dormitories and a decent sized kitchen. I recommend staying here when you're in Dushanbe! They can also help you arrange a group for the Pamir Highway.
Check the latest Green House Hostel prices here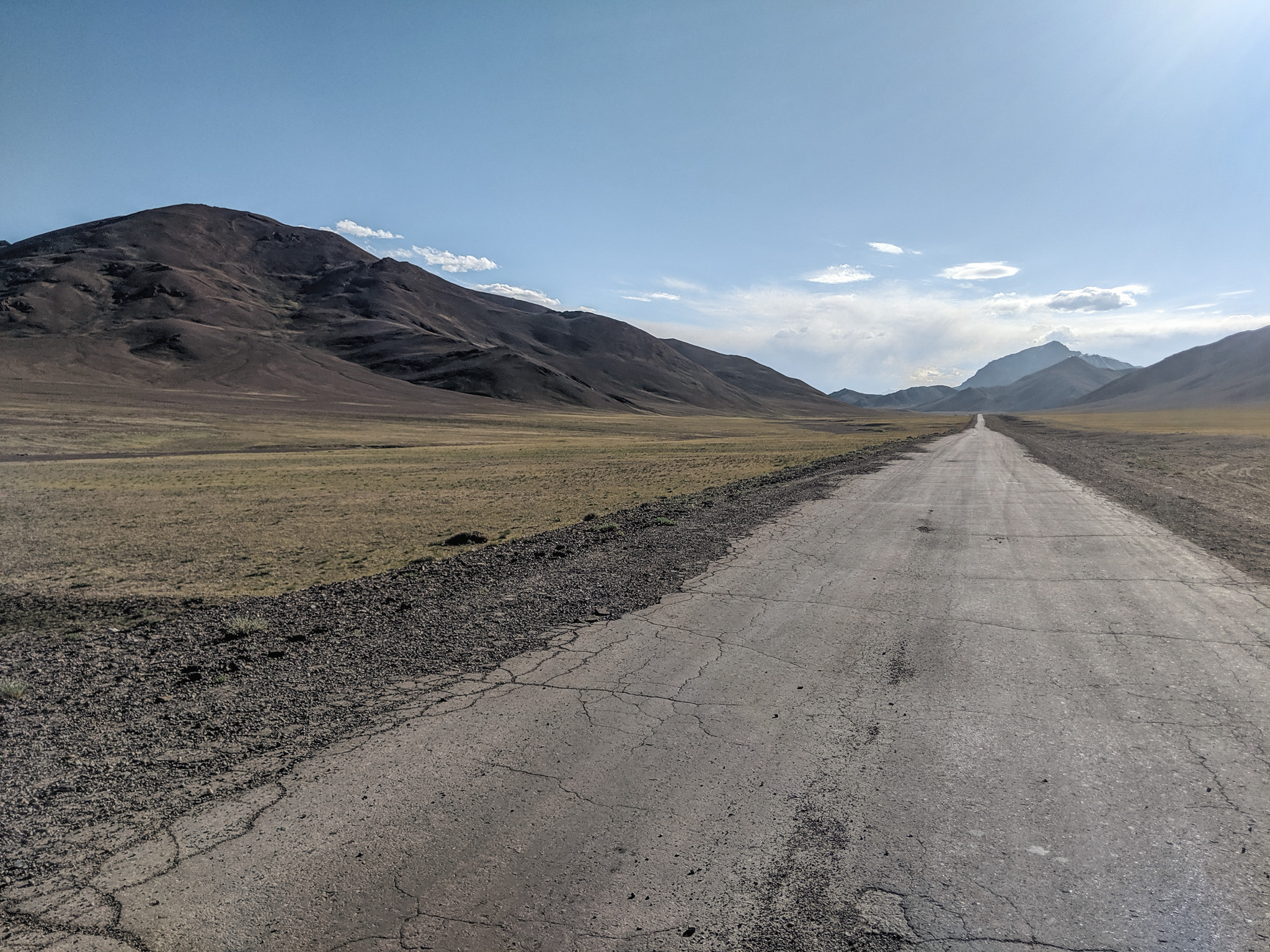 Things to know
Here are a few things that you should know before you travel the Pamir Highway:
Carry some backup USD
It's possible to use your debit card to withdraw local currency from ATMs in Dushanbe, Khorog, and Osh.
However, if you run out of local currency while you're far from an ATM, you can always change USD (and sometimes EUR) to the local currency. Because of this, I recommend keeping some spare US bills with you just in case (make sure they're crisp!).
In Tajikistan, many hotels and drivers will accept USD at the exact rate – they're very used to tourists paying with it.
Prepare for cold weather
While temperatures in Dushanbe and Osh reach above 40°C in the summertime, it's still possible for it to be snowing in the Pamir.
I recommend packing a nice lightweight puffy jacket and some warm socks for cold mornings and evenings.
If you're planning on travelling outside of the summer months, definitely do some weather research and bring plenty of layers.
Sort out permits & visas far in advanced
Almost everyone needs a visa for Tajikistan. You can easily apply for a 60-day Tajikistan e-visa online. The base visa costs $50 USD, although you'll also need to check the box on your visa application to add the GBAO Permit for an extra $20 USD. Without the GBAO Permit, you won't be allowed into the Pamir region of Tajikistan.
You should apply for your Tajikistan e-visa at least a few weeks before your trip.
Kyrgyzstan is much easier, and many developed countries don't even require a visa for visits up to 60 days. See here for more info on Kyrgyzstan's visa requirements.
Internet access pretty bad
Don't plan on getting very much internet access while travelling the Pamir Highway.
Tajikistan has pretty terrible mobile data access (3G maximum), and data isn't very cheap. You can pick up a SIM card in Dushanbe or Khorog – be sure to bring your passport. WiFi isn't common in Tajikistan, even in western-style cafes. Your accommodation will likely have some basic WiFi, though.
In Kyrgyzstan, mobile data and WiFi speeds are incredible, when compared with Tajikistan. You can pick up a SIM card in Osh (I recommend the company "O!"), and have LTE access throughout the entire country. Homestays in small towns tend to always have great WiFi as well.
You'll need to acclimatize
Much of the Pamir Highway is at elevations above 4,000 meters, and it tops out at 4,655 meters when you cross the beautiful Ak-Baital Pass.
You should plan your trip so that you give yourself a bit of time to acclimatize to the high altitude so that you can avoid altitude sickness. For example, heading from Osh (963 m) to Karakul (3,900 m) in a single day will cause problems. Spending a night in Sary-Tash (3,170 m) while on the way to Karakul will help you acclimatize better.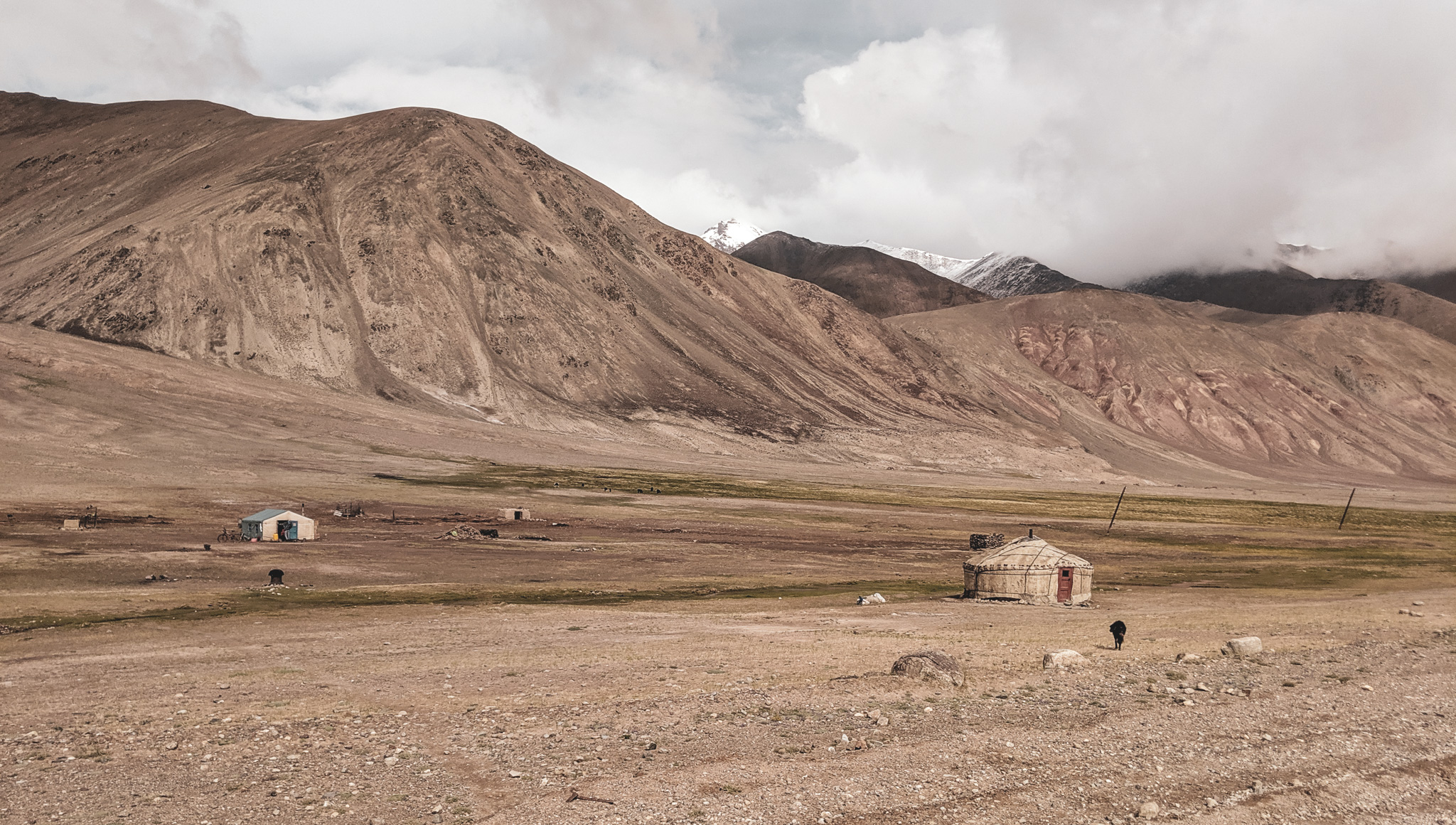 Pamir Highway Travel Costs
Travelling the Pamir Highway tends to cost anywhere from $3o to $50 per day, depending on the form of transportation you choose to take.
In general, Tajikistan is more expensive than Kyrgyzstan. Transportation is expensive in Tajikistan, especially if you've hired a private jeep.
Here are some typical costs:
Accommodation – $7 to 15 per night for a dorm bed or homestay.
Food – Anywhere from $2 to 5 for local meals is typical. Luxuries such as coffee and chocolate are expensive.
Transportation – Dushanbe to Khorog via shared taxi is about $35. A private jeep will cost about $300 per person for a Pamir Highway trip.
Visas – Tajikistan e-visa and the GBAO permit cost $70 in total. Most travellers won't need to pay anything to enter Kyrgyzstan.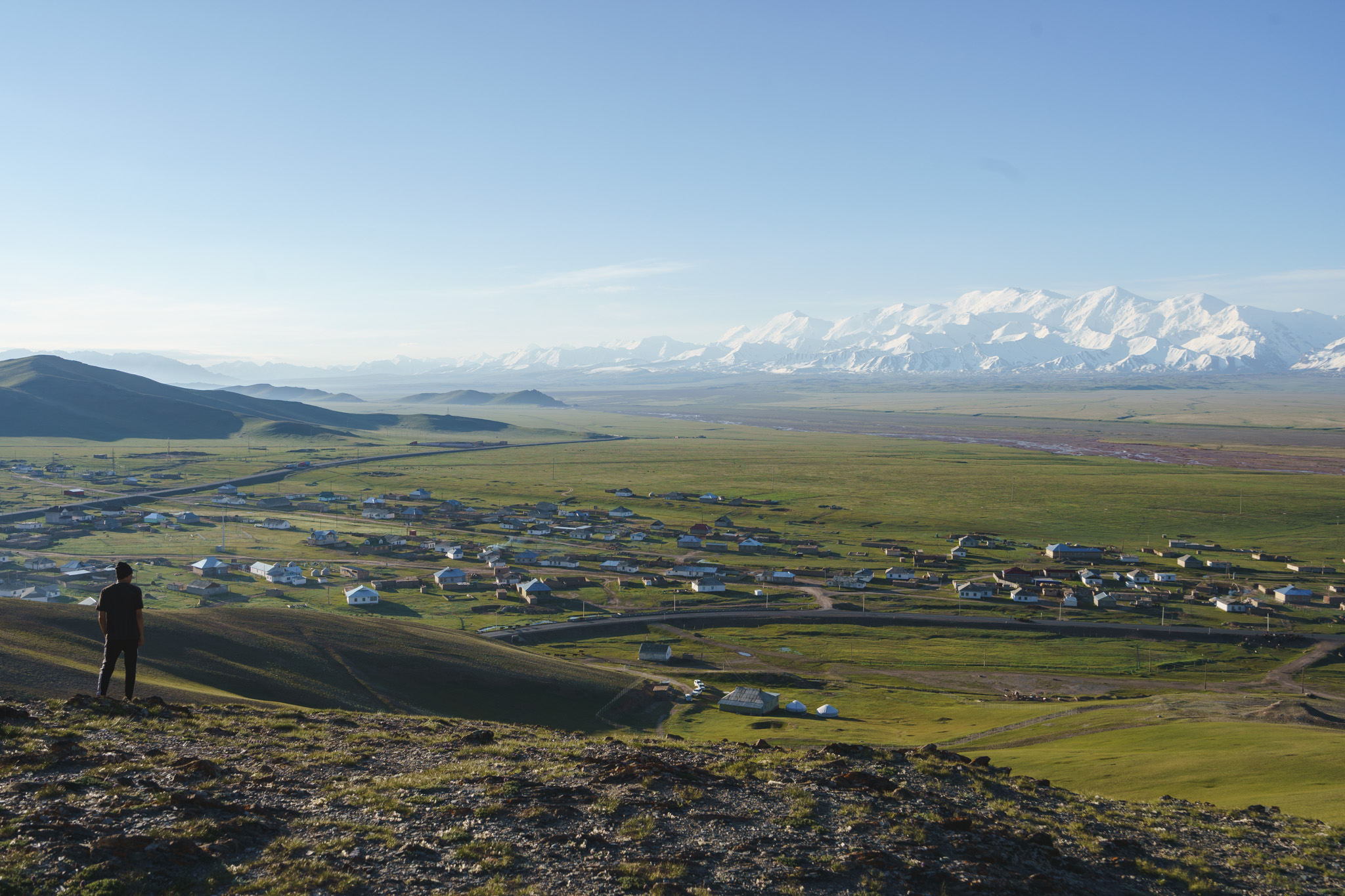 Pamir Highway Safety
Tajikistan and Kyrgyzstan are both very safe countries to travel. Despite bordering Afghanistan, Tajikistan is relatively stable and hasn't seen much violence since it's 1997 Civil War.
In both countries, you should exercise normal precautions, but you don't need to worry about terrorism and all the things that people associate with all countries ending in 'stan. You'll be amazed by the hospitality of people along the Pamir Highway – it's one of the most memorable parts of the trip.
Corruption is less of a problem in Central Asia nowadays, and it's rare to be asked for a bribe. I've spent over half a year in the region and haven't been asked a single time.
Travel Insurance
No matter where you go, you should always have travel insurance – the Pamir Highway is no exception. Even though travelling the Pamir Highway is safe, accidents can still happen.
I personally use and recommend World Nomads. It's designed for adventurous travellers with cover for overseas medical, evacuation, baggage and a range of adventure sports and activities (important if you plan on doing any hikes or other outdoor stuff while in the Pamir).
10-Day Pamir Highway Itinerary
Here's my recommended itinerary for travelling the Pamir Highway. Feel free to make changes to it to better suit your travel preferences!
I've provided the itinerary in the Dushanbe to Osh direction, but it can easily be done in reverse.
Day 1: Dushanbe to Qalai Khumb
The first day of this Pamir Highway itinerary takes you from the Tajik capital of Dushanbe to the small town of Qalai Khumb on the banks of the Panj River.
The drive to Qalai Khumb is beautiful, and you'll even be able to look across the Panj River into Afghanistan.
Driving time: 9 hours
Where to stay in Qalai Khumb: Guesthouse Roma is a good bet. There aren't too many options here, but there are a number of family-run homestays.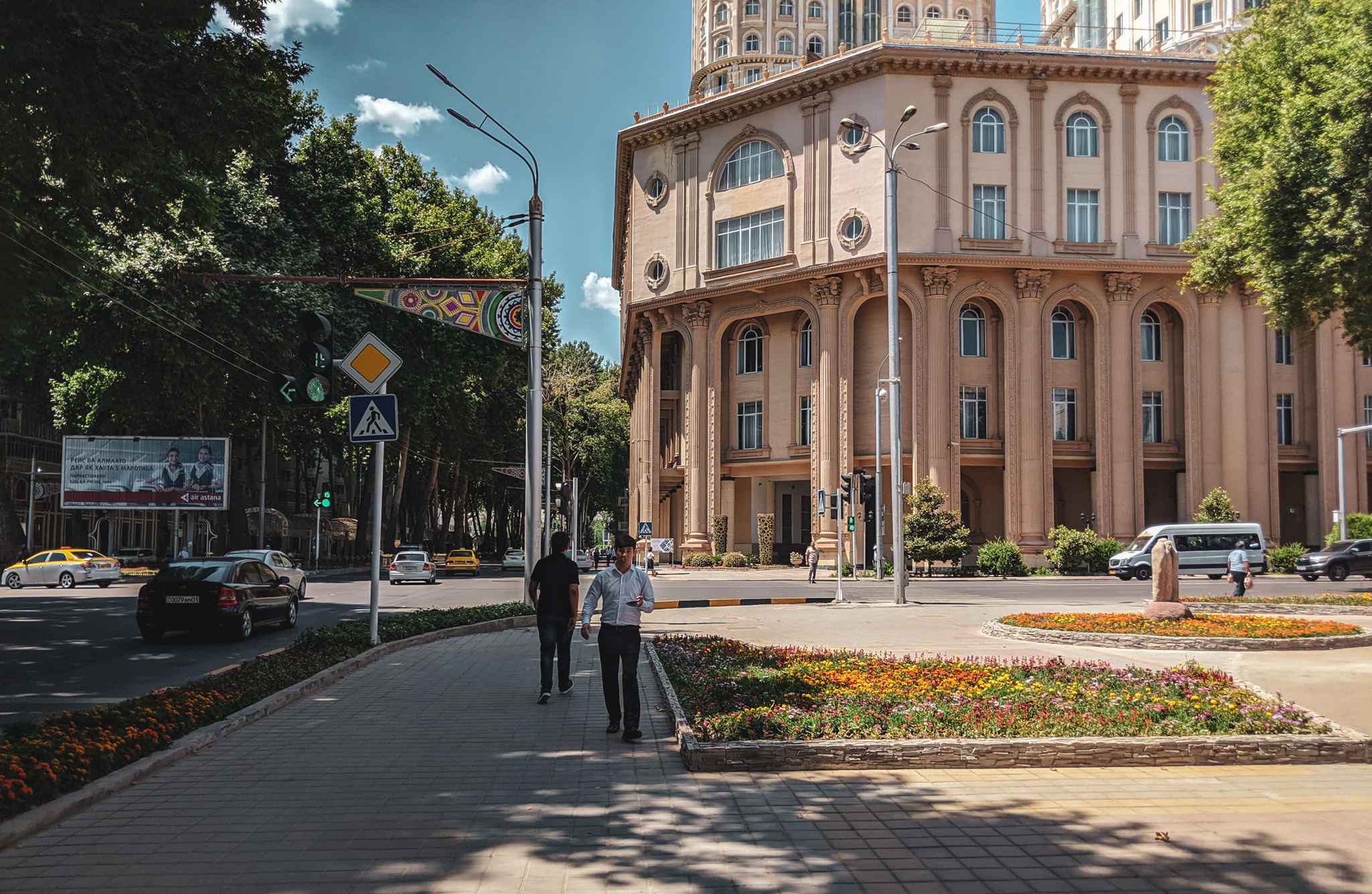 Day 2: Qalai Khumb to Khorog
Qalai Khumb to Khorog is another long drive along the Panj River. Throughout this entire day, you'll be surrounded by towering rocky mountains and see very little vegetation.
Driving time: 8 hours
Where to stay Khorog: I recommend staying at the LAL Hotel in Khorog! It's right in the center of town and has a decent restaurant attached to it.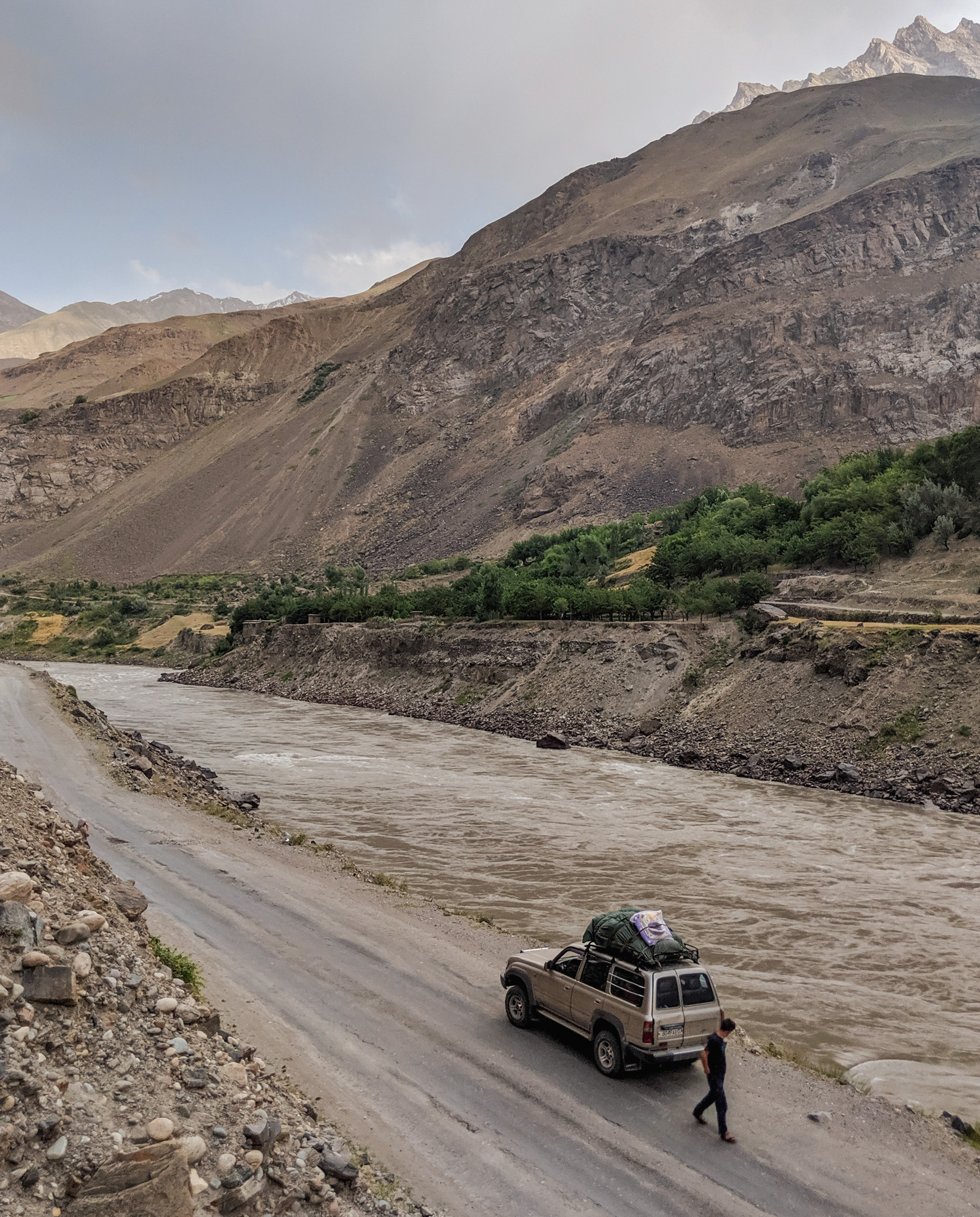 Day 3: Khorog to Ishkashim
Khorog to Ishkashim is a short drive by Pamir Highway standards, taking only three hours. Ishkashim is the largest village in the Wakhan Valley, and when you arrive you'll be in awe at the beauty of the valley and its people.
Driving time: 3 hours
Where to stay in Ishkashim: Ishkashim has a bunch of homestay options. Search around and find one that you like!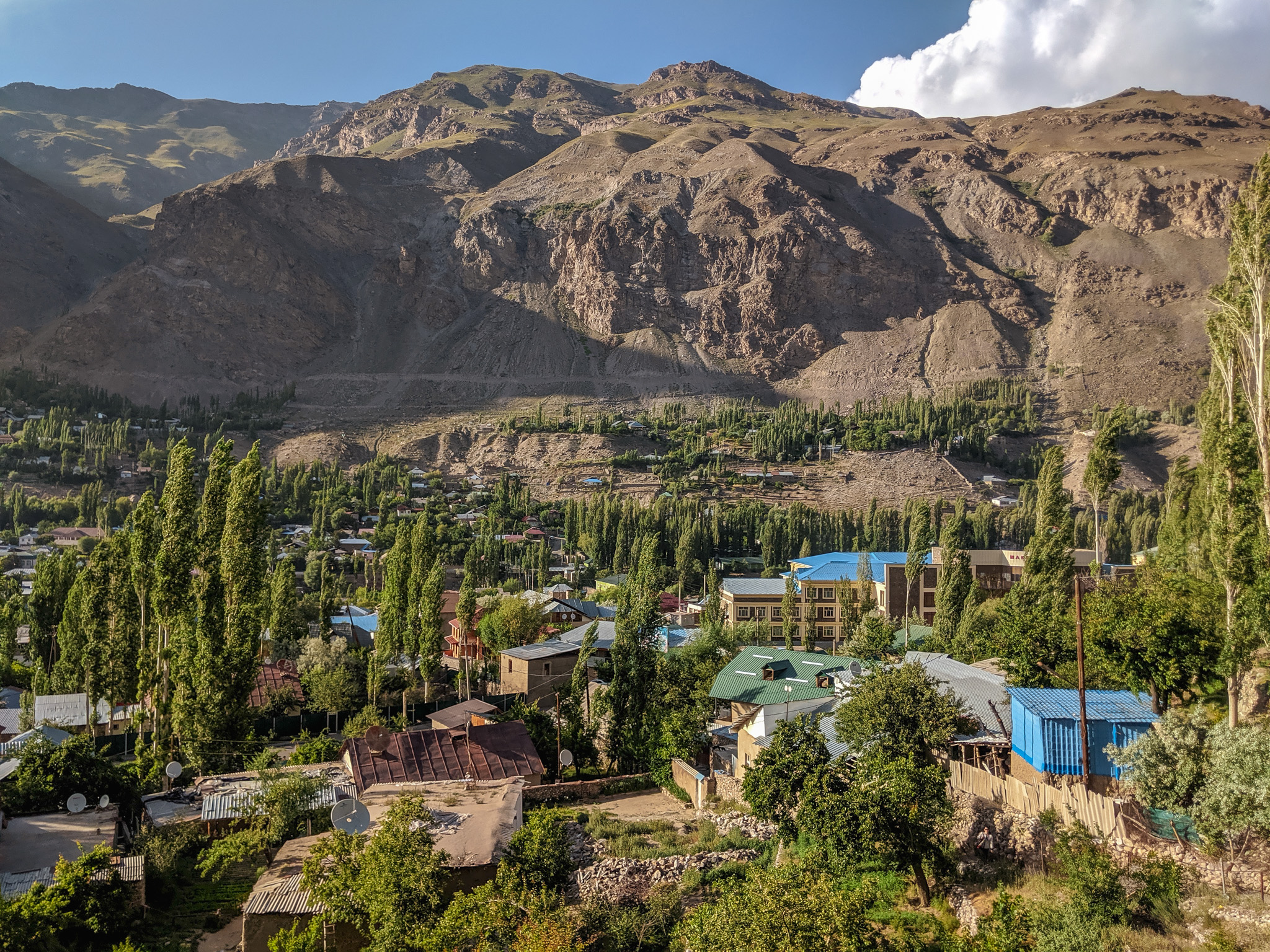 Day 4: Ishkashim to Langar
The journey from Ishkashim to Langar takes you through a bunch of picturesque Wakhi villages. You'll wish that you had more time to stop and stay in every single one of them.
Driving time: 3 hours
Where to stay in Langar: Same as Ishkasim – there are a bunch of homestays here and you'll have no trouble finding a place to stay.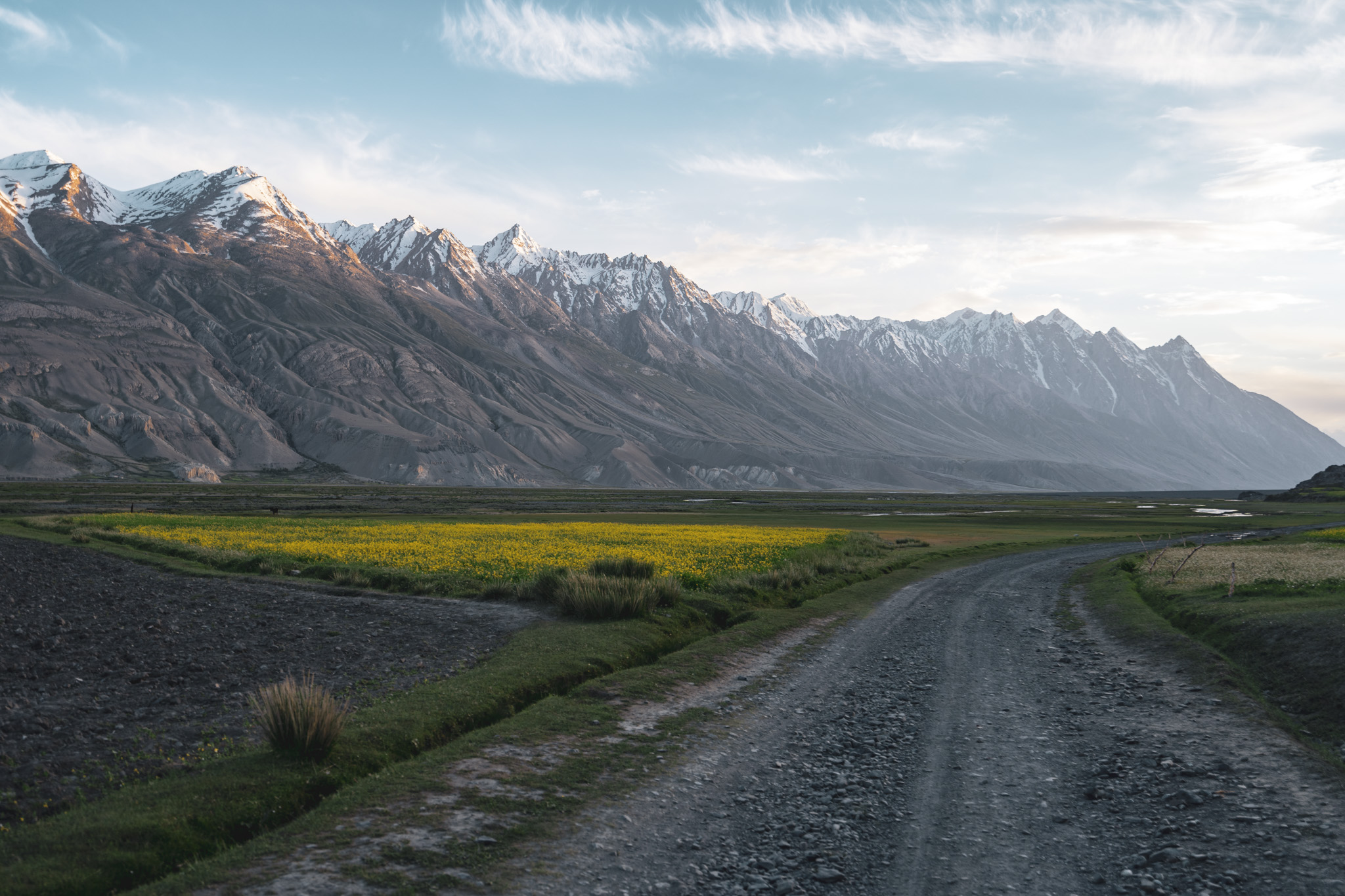 Day 5: Langar to Bulunkul
The journey from Langar to Bulunkul takes you through some pretty remote terrain. There aren't really any villages along the way and there's no public transport on this route (if you're travelling via public transport, you'll need to backtrack to Khorog and catch a lift from there).
Driving time: 6 hours
Where to stay in Bulunkul: There are a couple of family-run homestays in Bulunkul, take your pick! They'll serve you some local fish if it's available.
Day 6: Bulunkul to Murghab
Bulunkul to Murghab is another desolate journey. It'll just be you and the mountains on this day of your Pamir Highway trip.
When you finally arrived in Murghab, you'll be amazed at the fact that there's a town of its size in such an inhospitable place. Murghab is inhabited mainly by Kyrgyz people, rather than the Pamiris you met in Khorog.
Driving time: 3.5 hours
Where to stay Murghab: Hotel Pamir is the most popular option amongst travellers, but you can also find plenty of homestays to stay at to help support a local family.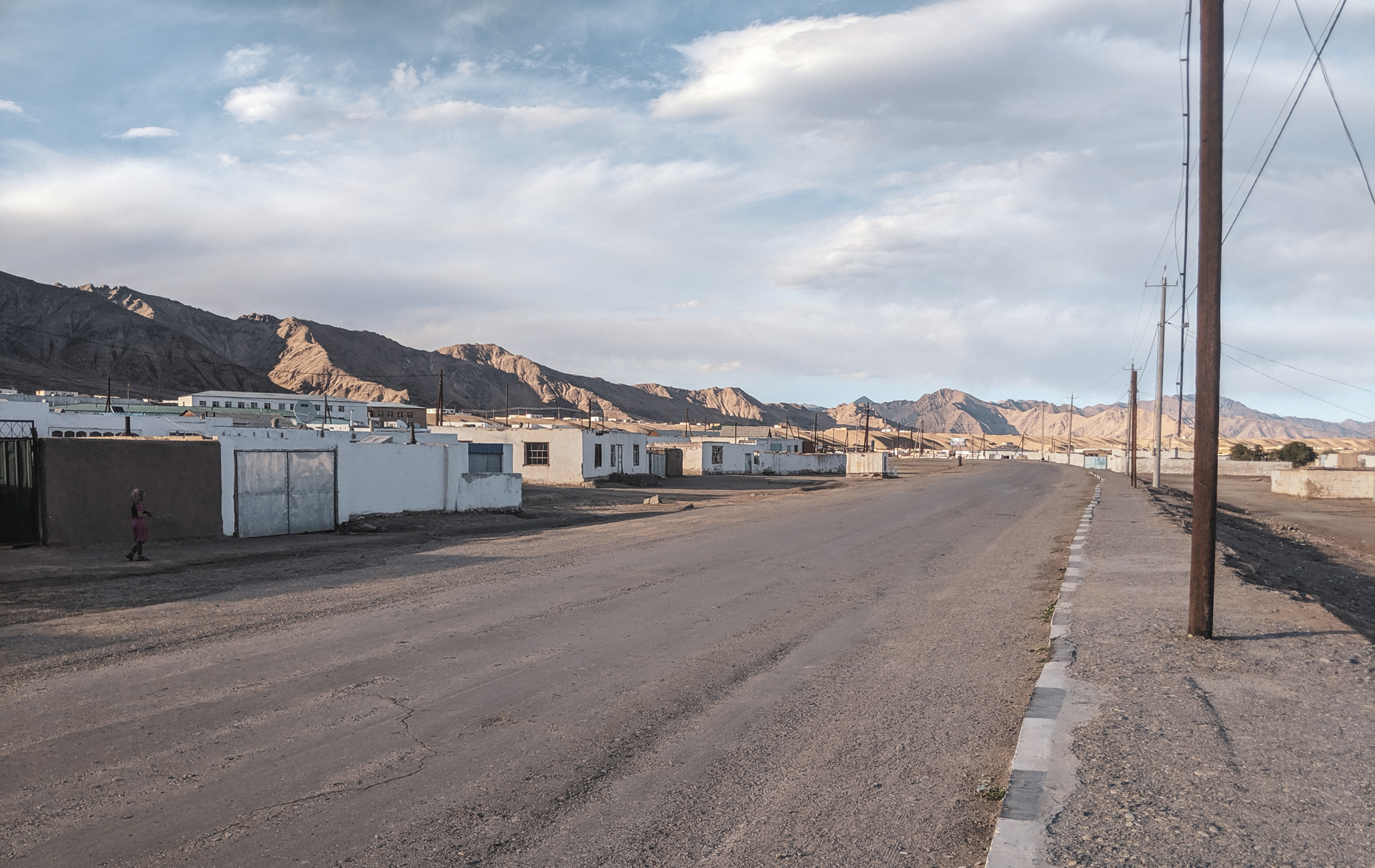 Day 7: Murghab to Karakul
A relatively short drive takes you from Murghab to Karakul. Karakul is an extremely basic settlement on the shore of the beautiful Lake Karakul. The lake is absolutely stunning, and I wish I had spent more time there (next time!).
Driving time: 2.5 hours
Where to stay in Karakul: There are some basic homestays in Karakul, but remember that it's a very remote town. There aren't many luxuries here.
Day 8: Karakul to Sary-Tash
After driving an hour outside of Karakul, you'll reach the Tajikistan-Kyrgyzstan border crossing. It's a relatively straightforward process, and it shouldn't take more than an hour or two to cross provided you've got your visas in order.
The descent from the border down into Sary-Tash is epic. The transition from the dry and arid Pamir to the lush green Alay Valley was one of the coolest things I've ever seen. For the first time in a week, you'll see hundreds of horses and sheep grazing on the land.
Driving time: 3 hours
Where to stay in Sary-Tash: I stayed at "Hotel Tatina" and it was one of my favourite homestays I've ever stayed at. The lady running it was super friendly and cooked some delicious food.
Day 9: Sary-Tash to Lenin Peak Base Camp
Getting to Lenin Peak BC from Sary-Tash is fairly straightforward, although the last hour of driving is off-road. On a sunny day, the views from BC are unreal. I spent over a week in BC when I was climbing Peak Lenin, and sipping on tea while watching avalanches crash down from the high peaks never got old.
Driving time: 2 hours
Where to stay at Lenin Peak Base Camp: There are a bunch of climbing companies operating camps here (I used Central Asia Travel). Contact them in advance to arrange a place to stay. If you have your own tent, it's also possible to camp.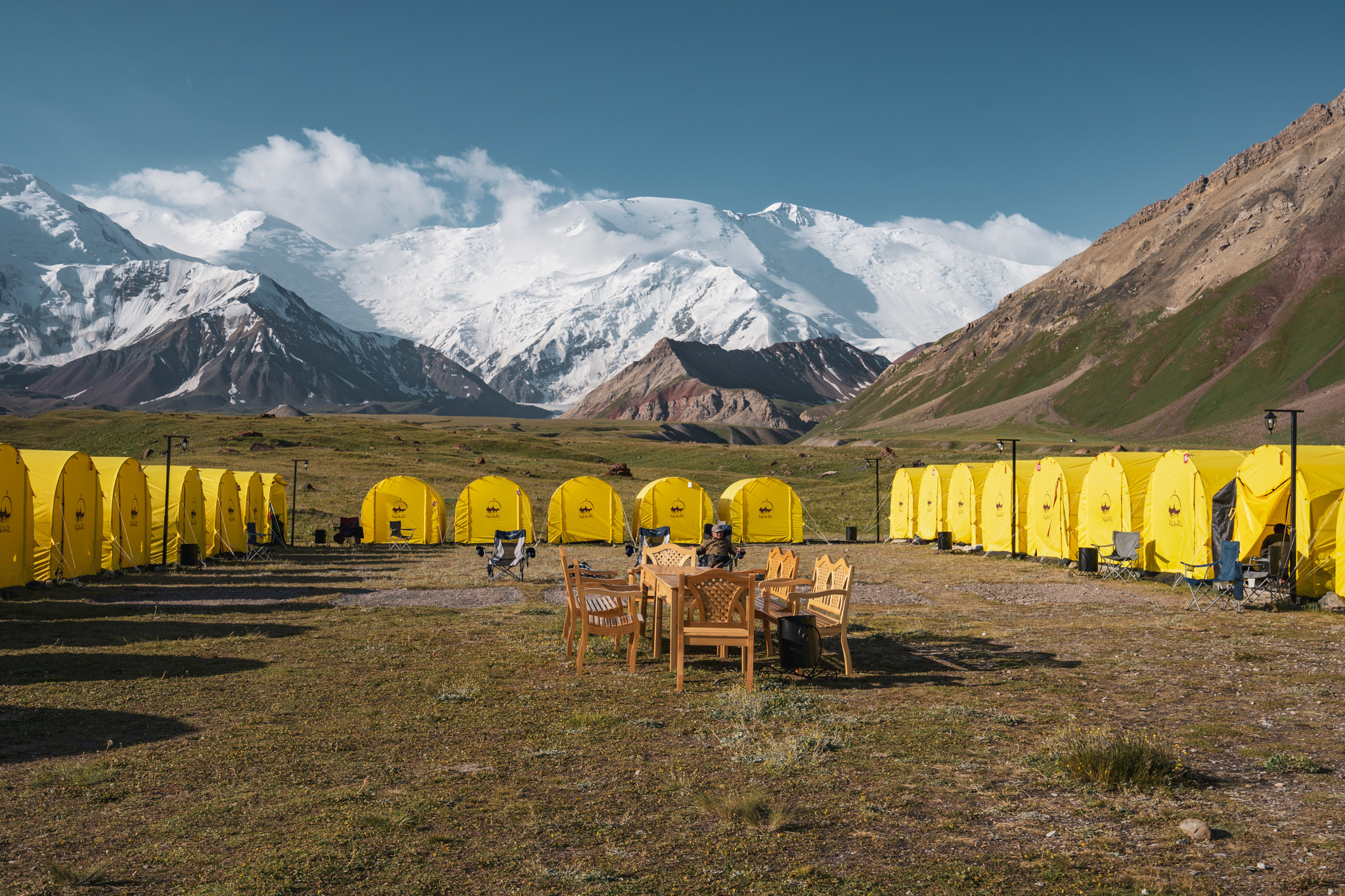 Day 10: Lenin Peak Base Camp to Osh
Today's the day that you finally get back to thicker air and warmer weather. The drive down to Osh is stunning – you'll be looking out the window the entire time.
When you arrive in Osh, you'll probably want a good coffee and food after experiencing the food in the Pamir. Check out Borsok – I ended up there almost every day I was in Osh.
Driving time: 5 hours
Where to stay Osh: I always stay at the TES Guesthouse when I'm in Osh – they've got a delicious breakfast and clean facilities.
Pamir Highway Wrap-Up
I hope that this post has helped you plan your Pamir Highway adventure! It's a trip of a lifetime – trust me that it is totally worth it.
If you've got any questions, feel free to ask me in the comments below and I'll get back to you as soon as possible.
Be sure to check out some of my other Central Asia posts to help you plan your trip: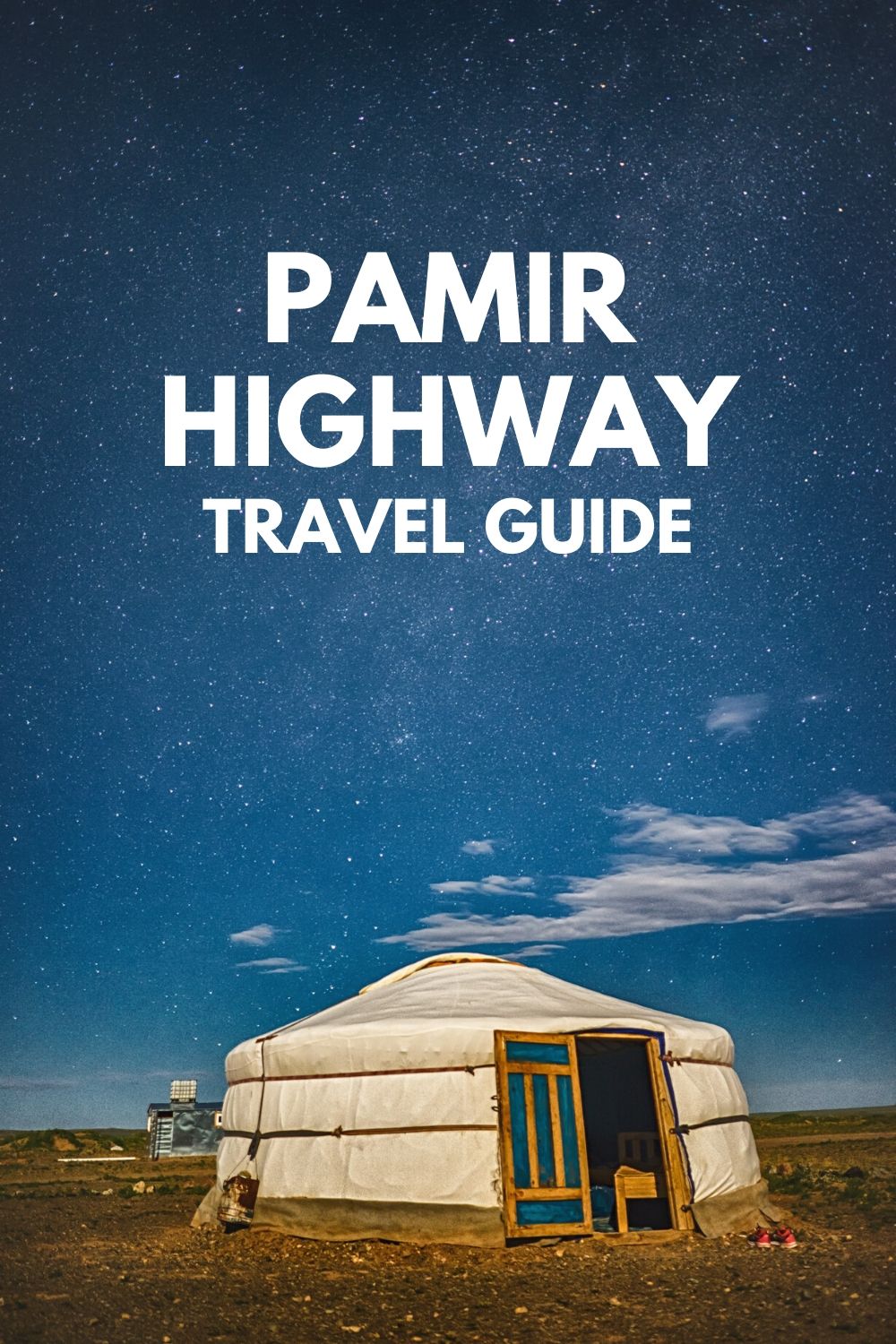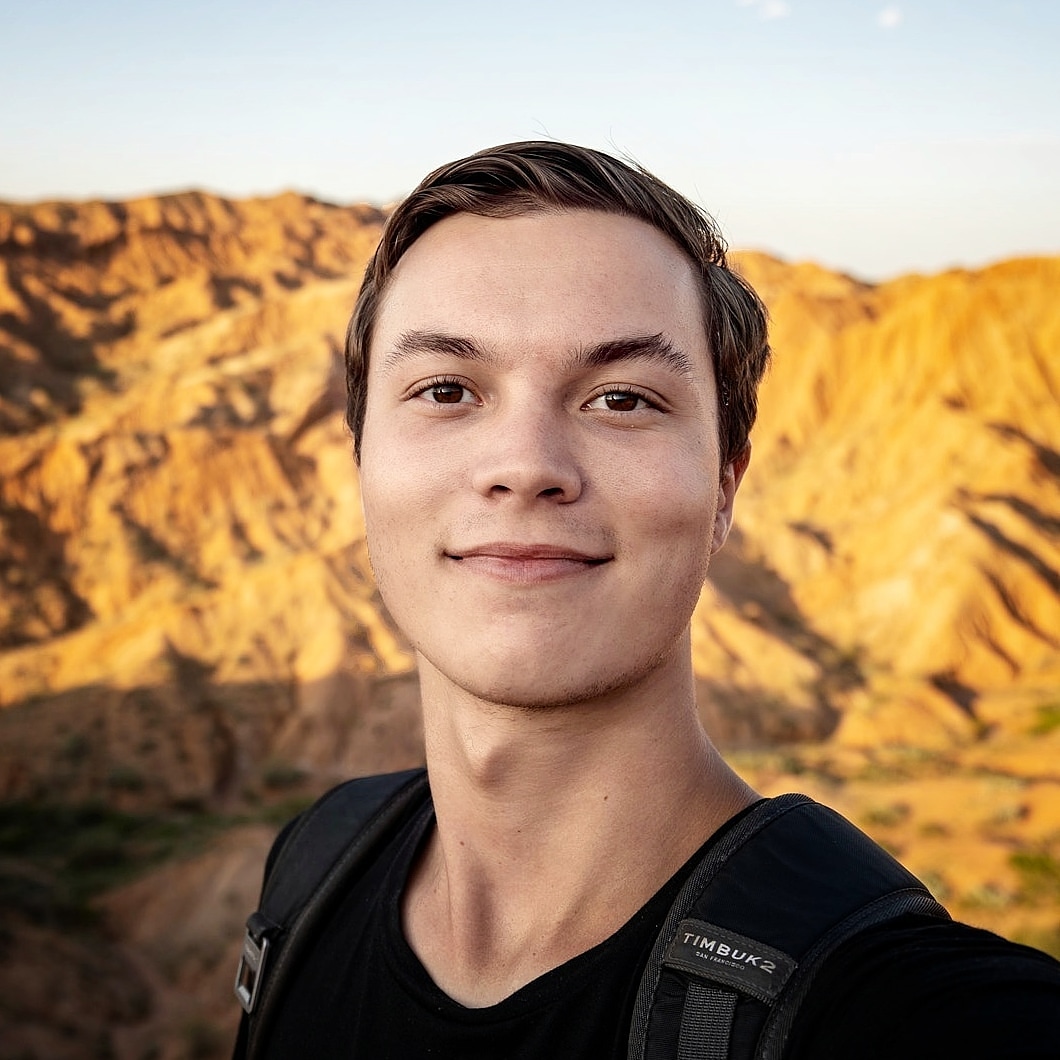 21-year old Canadian dude who loves to visit off-the-beaten-path places, climb tall mountains, and try delicious foods.