Thinking about travelling the Silk Road? You're in for the adventure of a lifetime. This in-depth post will tell you everything you need to know to plan your trip.
From the windswept steppe of Kazakhstan to the mighty Pamir Mountains and to the oasis towns of Uzbekistan, the Silk Road has it all. For thousands of years, travellers and traders made the treacherous journey along the Silk Road, across vast deserts and over high mountain passes.
Nowadays, it's rather easy to see the countries of the Silk Road for yourself. Visa issues have basically disappeared and there is now plenty of infrastructure to accommodate tourists.
I've spent over 6 months travelling around the Central Asian Silk Road countries, and have learned a ton about the region.
What is the Silk Road?
1 – The Silk Road wasn't just one route: The Silk Road was a vast network of trade routes that connected Europe to Asia. The most well-known route is the one from China to Turkey, via Central Asia and Iran. Other routes travelled to Arabia, India, and Southeast Asia.
2 – This post will focus on the Central Asian Silk Road: Most travellers who plan a trip to the Silk Road visit the Central Asian 'stans and China. While places such as Iran and Turkey are also technically on the Silk Road, that's not usually the first thing that comes to mind when people visit them.
3 – Where does it start? Where does it end?: People typically consider Xi'an in China to be the starting point, and Istanbul in Turkey to be the endpoint of the Silk Road.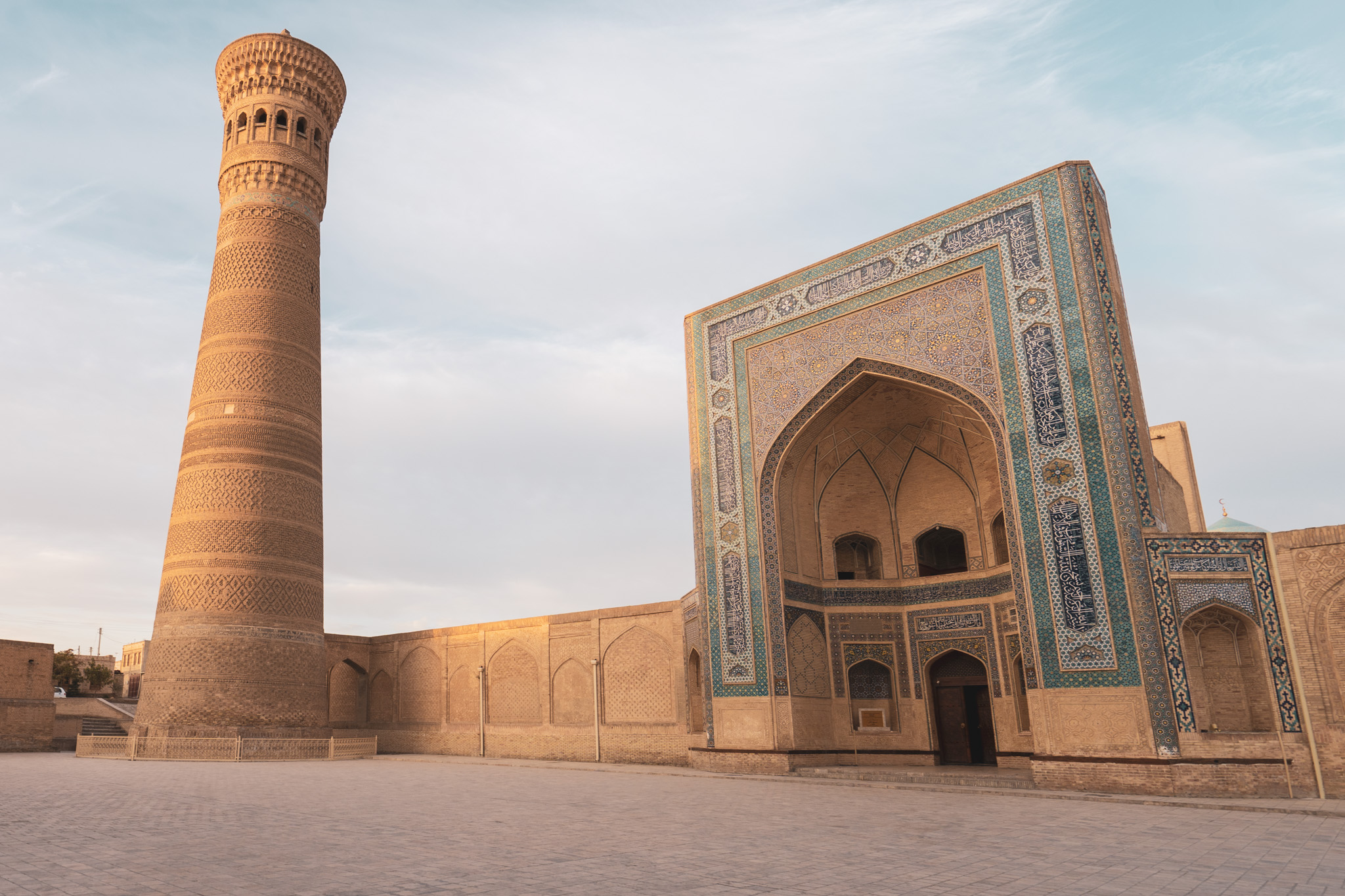 Where to visit along the Silk Road
4 – There are 7 different countries that make up the Central Asian Silk Road: China, Kyrgyzstan, Kazakhstan, Uzbekistan, Tajikistan, Turkmenistan, and northern Afghanistan are the countries that most consider being part of the Central Asian Silk Road.
Let's go over the highlights of each of them below:
China
5 – History, nature, and delicious food: China has an incredibly long history, and it's Silk Road corridor from Xi'an to Kashgar is no exception. Travelling along the Chinese Silk Road is an incredible experience. You'll get to visit the Terracotta Warriors in Xi'an, taste some delicious noodles in Lanzhou, visit the famous Mogao Caves in Dunhuang, and check out the famous flaming cliffs of Turpan.
6 – Kashgar, China's westernmost city: Closer to Baghdad than Beijing, Kashgar is an oasis city far from the rest of China. It's inhabited by ethnic Uyghur people, and has always been an extremely important location on the Silk Road. When you visit Kashgar, you'll be able to roam around its old city, visit animal markets, and take a road trip down the Karakorum Highway to the Pakistani border.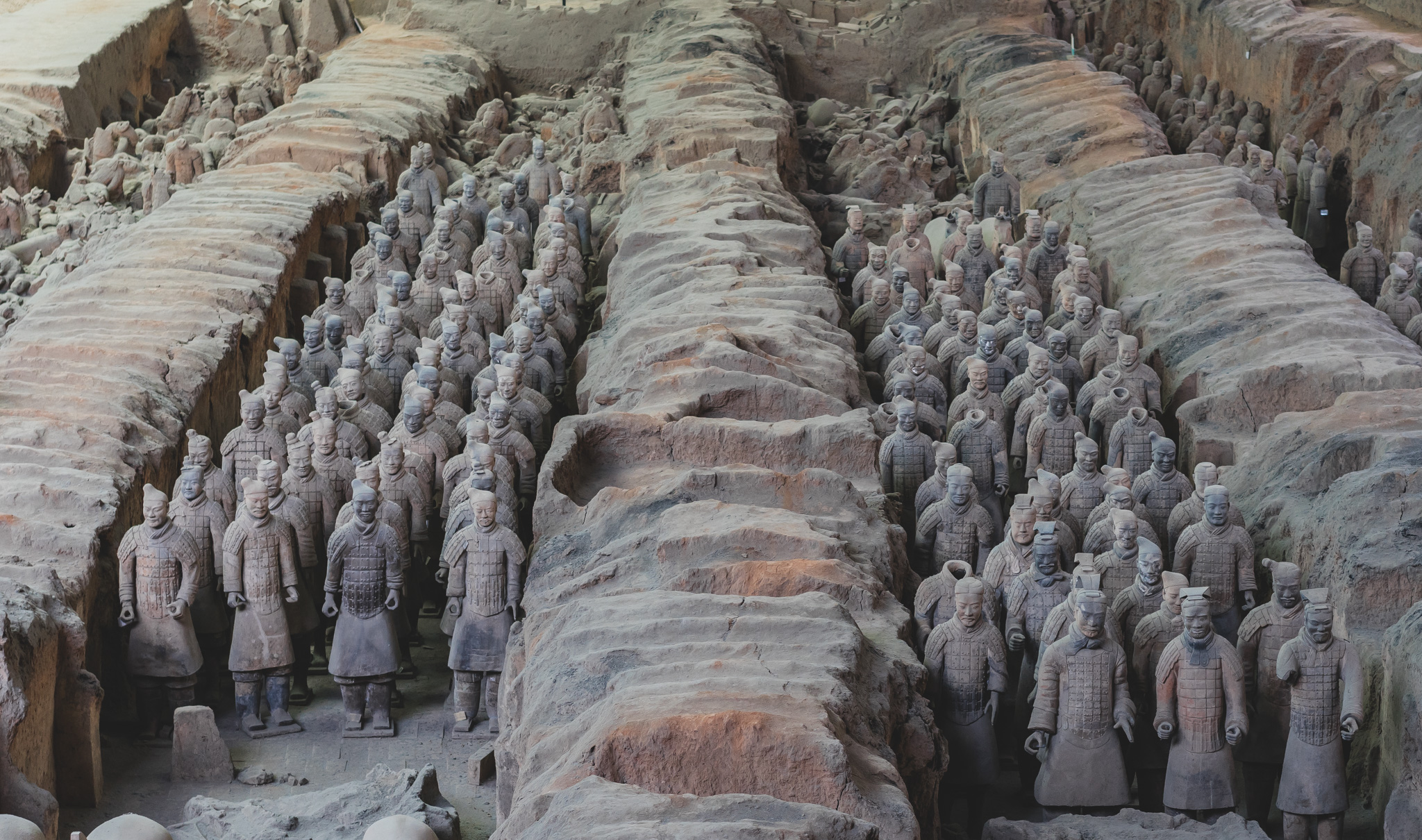 Kyrgyzstan
7 – Kyrgyzstan is a paradise for trekkers and nature lovers: Kyrgyzstan is without a doubt the most naturally beautiful Central Asian country. While small in area, it boasts a number of different landscapes. One of my personal favourites is the Alay Valley in the southern part of the country.
There are countless different treks that you can do while in Kyrgyzstan, and there is pretty good information floating around online about the best ones. The Ala-Kul trek is one of the most popular ones, although if you want to get really off the beaten path, treks such as the Heights of Alay will be right up your alley.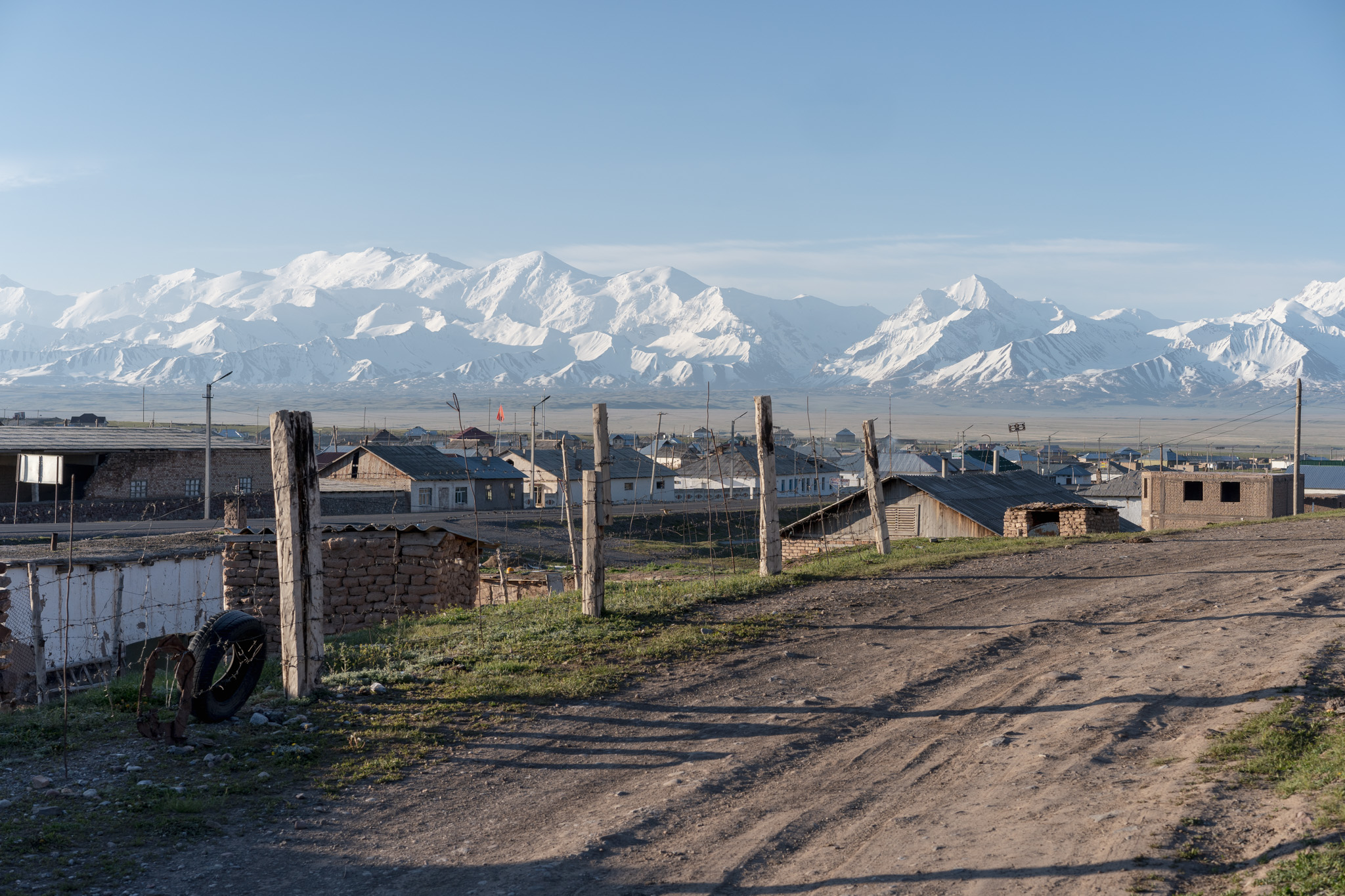 8 – Mountaineers will be right at home: Some of the most accessible 7,000-meter peaks in the world are located in Kyrgyzstan, and there are a number of agencies that assist experienced climbers in making attempts on these giant mountains.
I personally attempted to climb Lenin Peak when I was in Kyrgyzstan, it was one of the most challenging things I've ever done but was incredibly beautiful.
9 – There are nice beaches in Kyrgyzstan: You probably wouldn't expect to have a nice beach day with a mountain backdrop while you're in Central Asia, but the massive Issy-Kul in Kyrgystan gives you this opportunity! There are a bunch of towns along the shores of Issy-Kul with great little beach resorts.
This lake is actually a popular summer destination among tourists from Russia and other parts of Central Asia!
Check out my backpacker's guide to Kyrgyzstan for more info on this amazing country!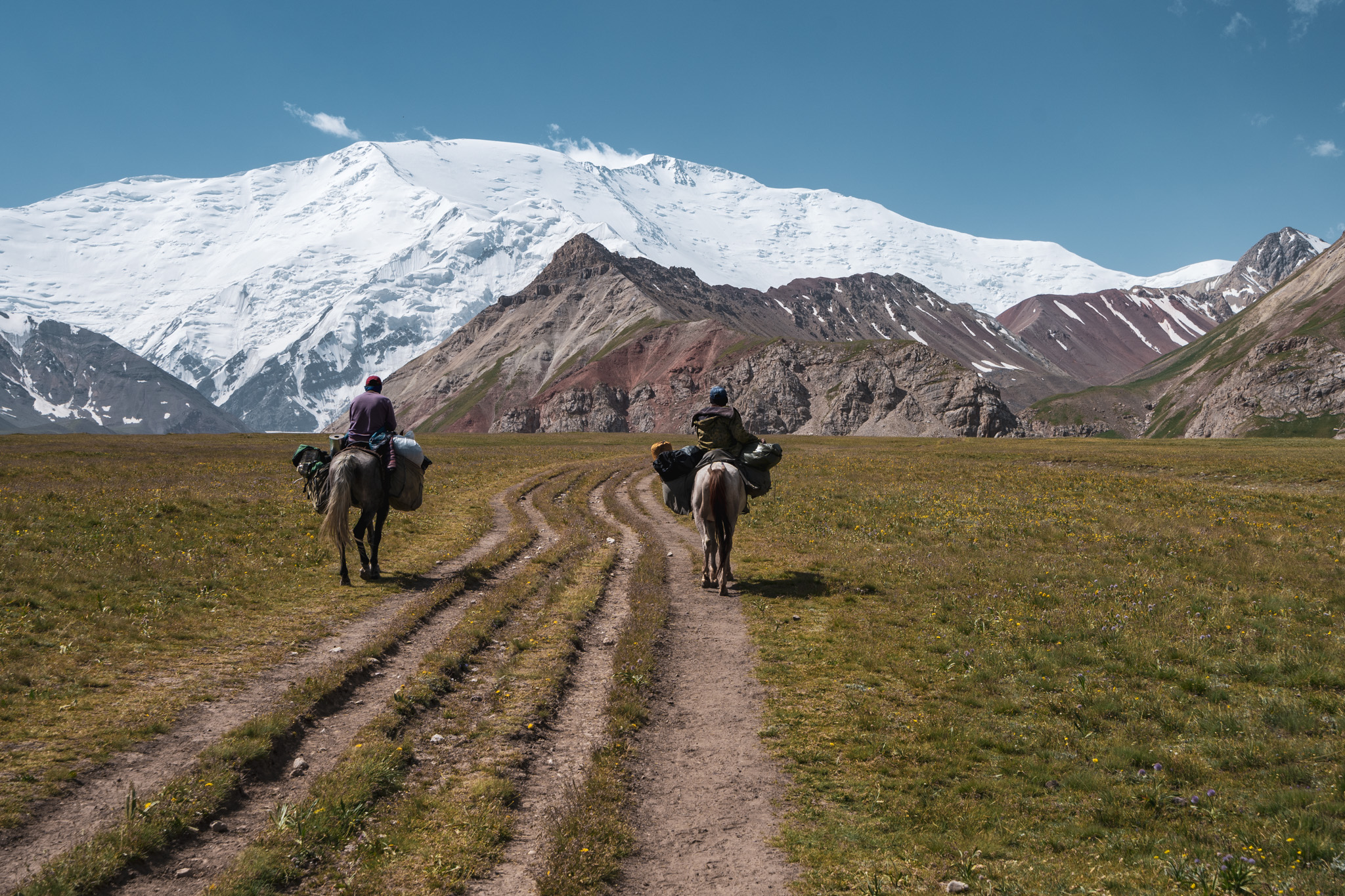 Kazakhstan
10 – Vast steppes and gorgeous mountains: While most of Kazakhstan is an empty steppe, there are some large mountains located in the Almaty and Altai regions of the country. The mountains in the Almaty region are super accessible (just a short bus ride from the city), and there are plenty of hiking and camping opportunities here.
11 – Almaty is the most European-like city in Central Asia: When you arrive in Almaty, you'll notice immediately how European it feels. Everything from the architecture, cuisines, and way that people dress is quite a bit different than most of Central Asia. It's a wonderful city to spend some relaxation time in after being in rural areas for a while. I ended up loving it so much I stayed in the city for almost two months!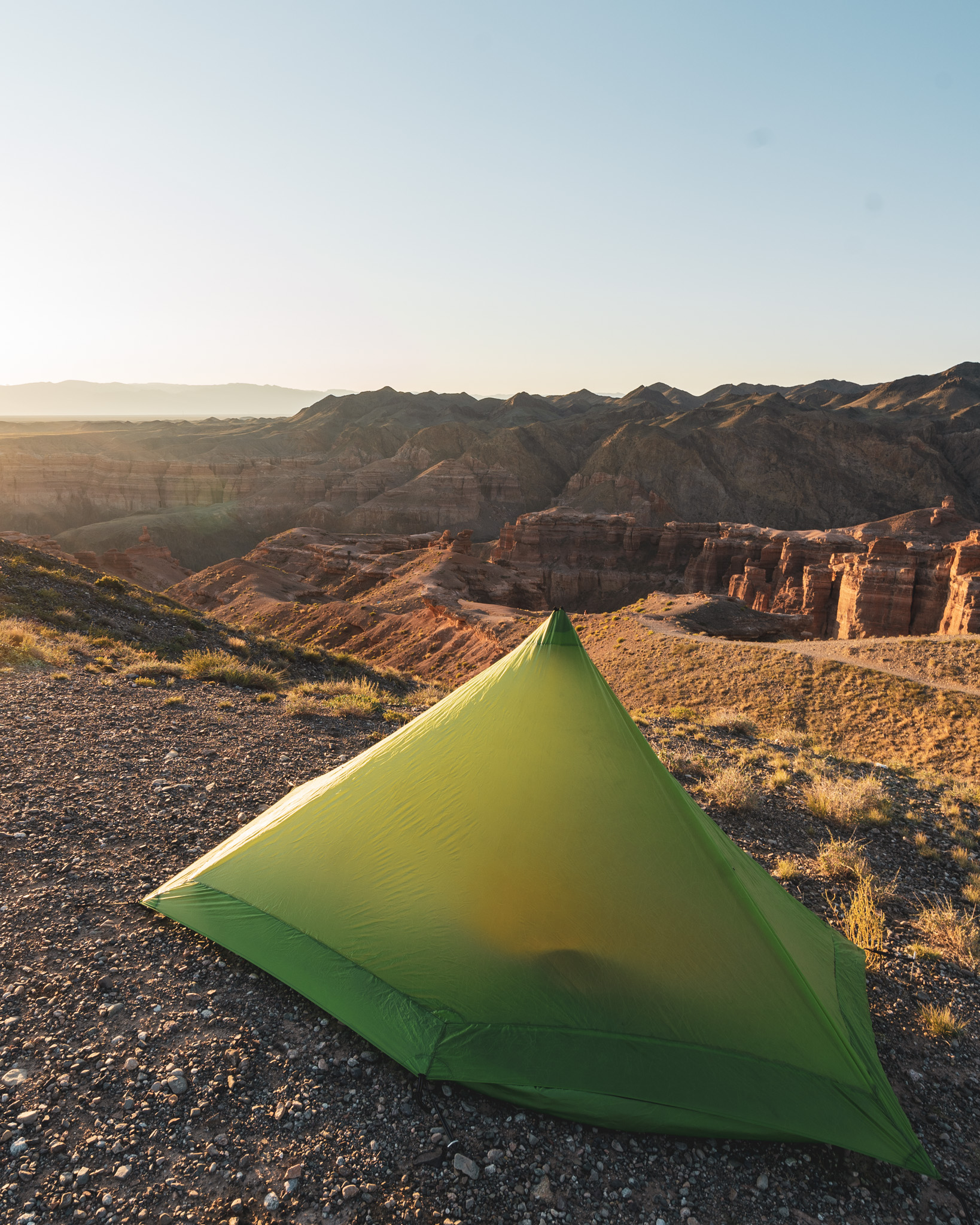 Uzbekistan
12 – If you like history, Uzbekistan is for you: Out of all the Central Asian 'stans, Uzbekistan has by far the best-preserved historical sights. The old cities of Bukhara and Khiva feel like living museums – you can wander around their endless alleys all day. Samarkand has the famous Registan and Gur-e-Amir (Mausoleum of Timur) which are two incredible sights that you can't miss while travelling the Silk Road.
13 – The Aral Sea, one of man's greatest mistakes: The Aral Sea was once a thriving sea in Uzbekistan, surrounded by fishing towns supporting tens of thousands of people. The Soviet Union decided to redirect the waters of the Aral Sea to use it as irrigation for cotton fields. Over time, this has lead to the Aral Sea almost completely drying up. Nowadays, one can visit the depressing former fishing town of Moynak to gain more insight into how the disaster affected people on the ground.
14 – Tashkent, the Soviet capital of Central Asia: Tashkent was the Soviet capital of Central Asia, and definitely still gives off those kinda vibes. The city is made up of giant 8-lane roads, large European looking buildings, and has plenty of monuments to look at if you're bored.
For more info on travel in Uzbekistan, be sure to check out my detailed 2-week Uzbekistan itienerary!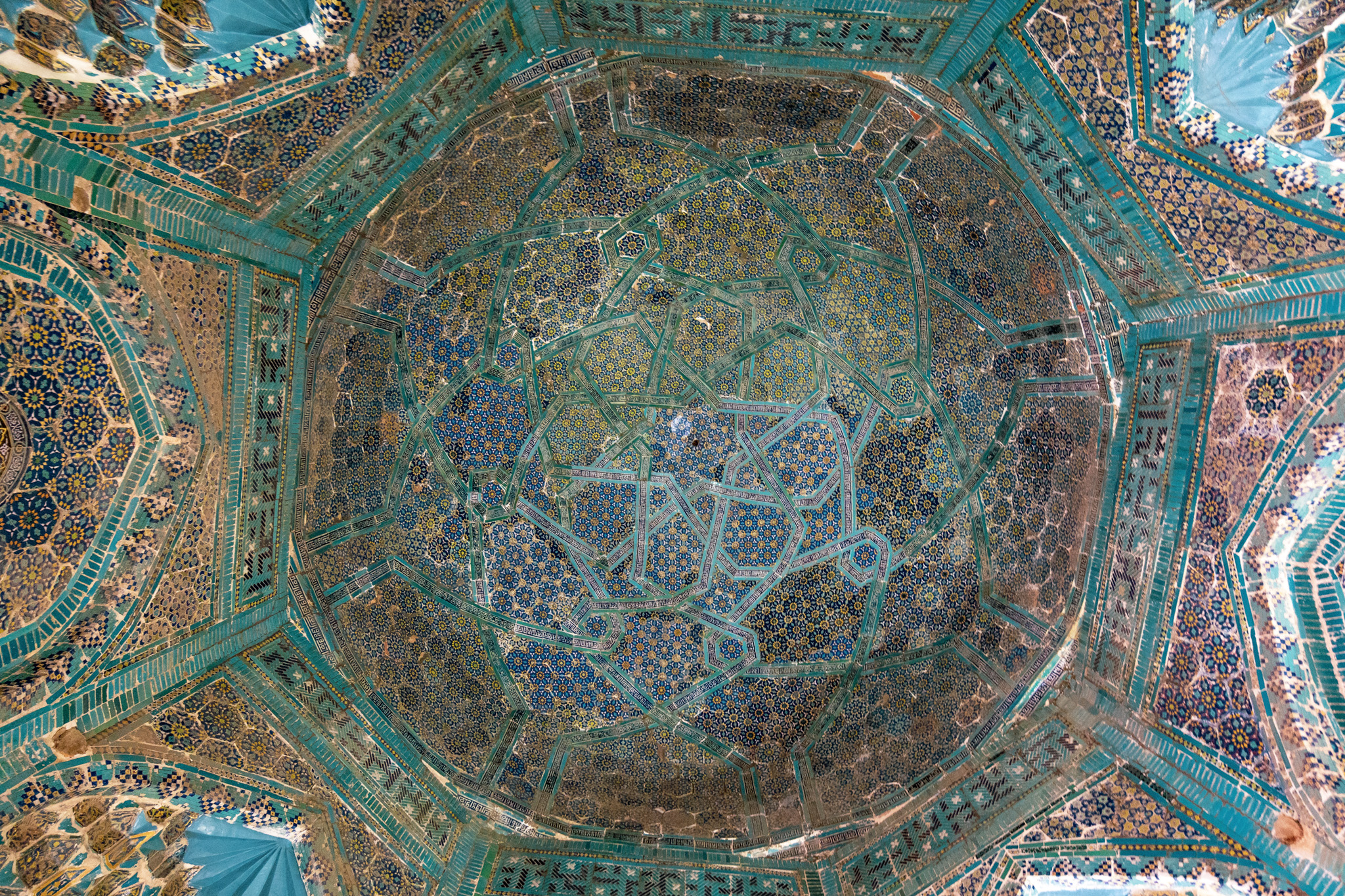 Ceilings in Samarkand, Uzbekistan
Tajikistan
15 – World's greatest road trip: Tajikistan is home to the Pamir Highway, arguably the world's greatest road trip. The Pamir Highway travels through Tajikistan's mountainous Pamir Region near the border with Afghanistan. When travelling on the highway, you'll drive over epic 4,500 meter passes, descend into gorgeous valleys, and meet some of the most hospitable people on Earth.
16 – Undiscovered, yet ready to explore: Tajikistan often gets overshadowed by neighbouring Uzbekistan and Kyrgyzstan, but it's so unique and beautiful it'd be a shame to miss it. There are plenty of regions of Tajikistan that see almost no tourists (the Bartang Valley, parts of the Fann Mountains, the Eastern Pamir). Tajiks are very friendly and the Persian influence on their culture is very unique from the rest of Central Asia.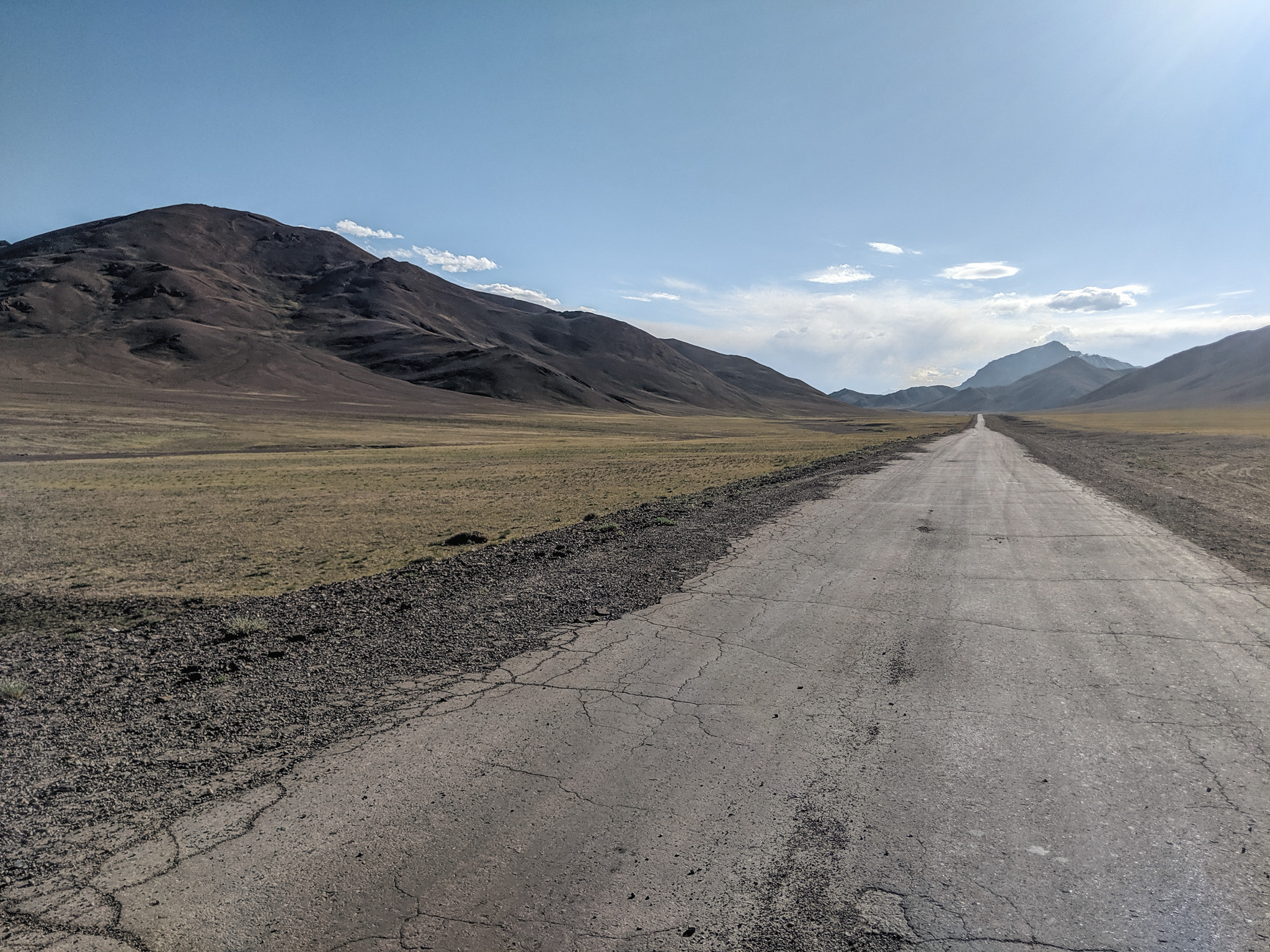 Turkmenistan
17 – The North Korea of the Silk Road: Turkmenistan is a very closed off country, and is often touted as the North Korea of Central Asia. Tourist visas are impossible to get without visiting on a guided tour, making the country pretty off-limits for most backpackers.
Afghanistan (Wakhan Corridor)
18 – Marco Polo's route to China: During his travels along the Silk Road, Marco Polo passed through the Wakhan Corridor and Little Pamir to enter China via the Wakhjir Pass (4,923 m). This is one of the most remote and treacherous trade routes around, but locals have no choice but to use it.
19 – One of the most untouched places on the planet: Visiting Afghanistan's Wakhan Corridor is like a trip back in time. Much of the region still doesn't have any electricity and internet access is-non existent. This place isn't for everyone, but experienced travellers will remember it for the rest of their lives.
For more info on visiting, check out my detailed guide to Afghanistan's Wakhan Corridor.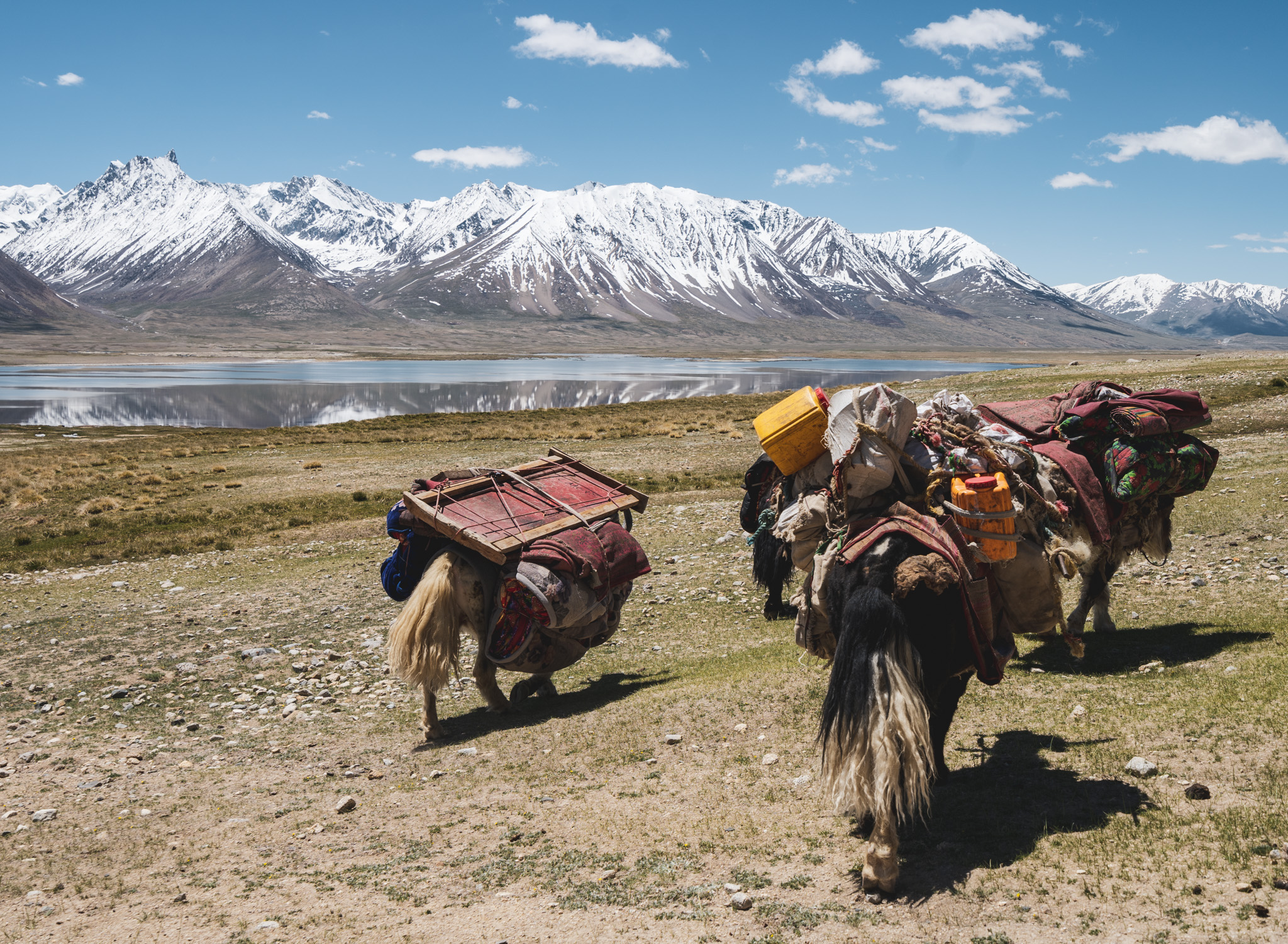 Silk Road Travel Routes
So now that you know a little bit about the countries that lie along the Silk Road, what is the best way to travel through them?
Let's go over a few classic Silk Road travel itineraries.
20 – China to Central Asia – the classic Silk Road route: If you want to follow the classic route that traders would've taken towards Europe, begin your journey in Xi'an and start heading west. You should stop in Lanzhou, Dunhuang, Zhangye, Turpan, Urumqi, and Kashgar before crossing the Irkeshtam Pass into Kyrgyzstan.
When you're in Kyrgyzstan, you've got a few options. You could head south to Tajikistan along the Pamir Highway, or go north to Bishkek (Kyrgyzstan's Capital) before crossing to Almaty for a little taste of Europe in Central Asia. From either Tajikistan or Kazakhstan, cross the border into Uzbekistan and check out the famous oasis cities of Bukhara and Khiva.
You can end your trip after Uzbekistan, or consider applying for a Turkmenistan transit visa to continue onto Iran if you've got even more time.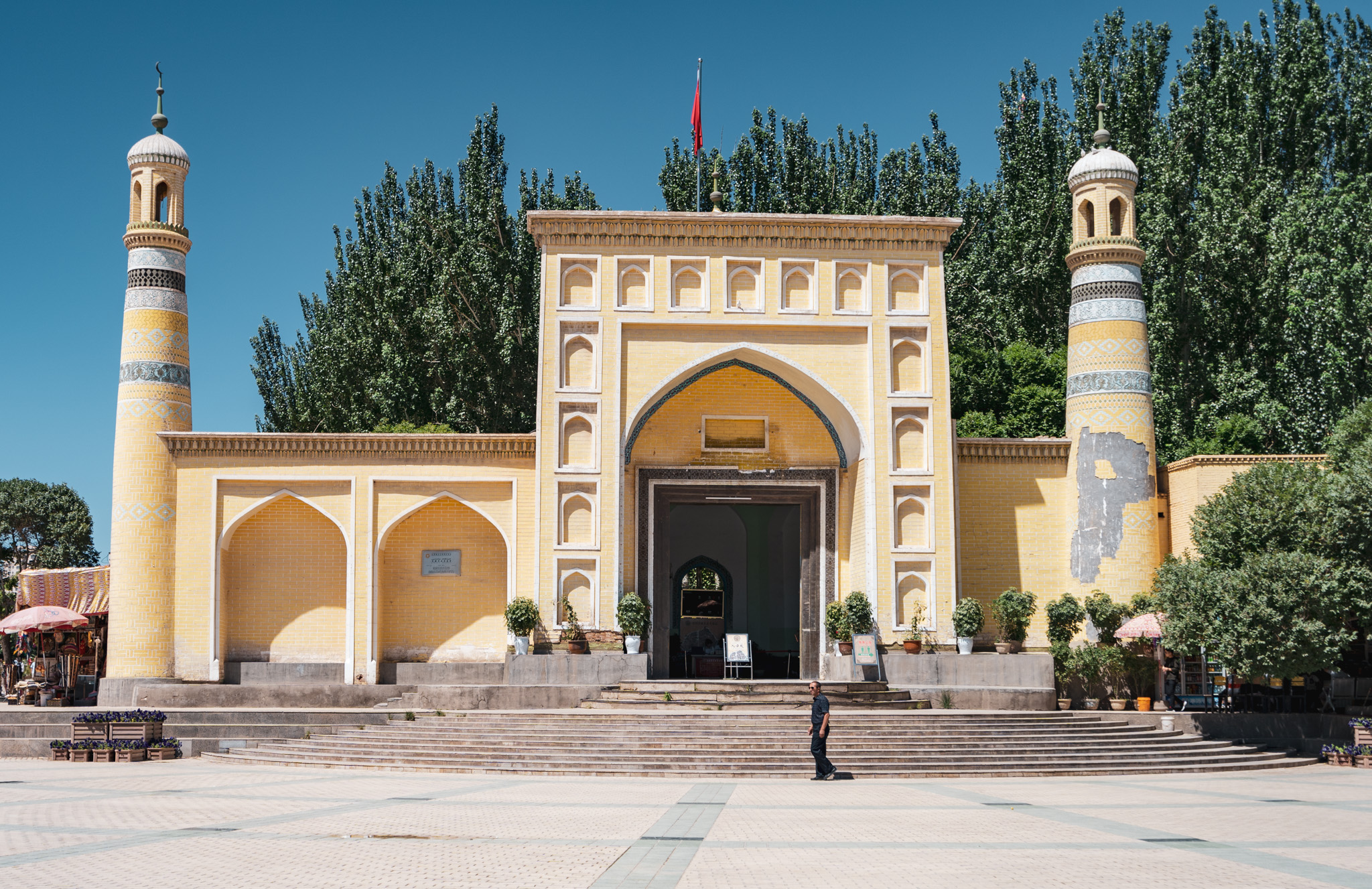 21 – The Central Asia Loop itinerary: If you want to focus on the heart of Central Asia, you need to visit Kazakhstan, Kyrgyzstan, Tajikistan, and Uzbekistan.
I'd recommend flying into Almaty, then heading down to Bishkek for some time exploring Kyrgyzstan (Karakol and Osh are must-sees). After that, head south to Dushanbe, Tajikistan via the Pamir Highway and Wakhan Valley (and hop into Afghanistan's Wakhan Corridor if you're up for it!).
After Dushanbe, visit Tajikistan's Fann Mountains (if you're not yet tired of mountains) before crossing the border into Uzbekistan. While in Uzbekistan, check out Khiva, Bukhara, Samarkand, and Tashkent before taking an overnight train back to Almaty.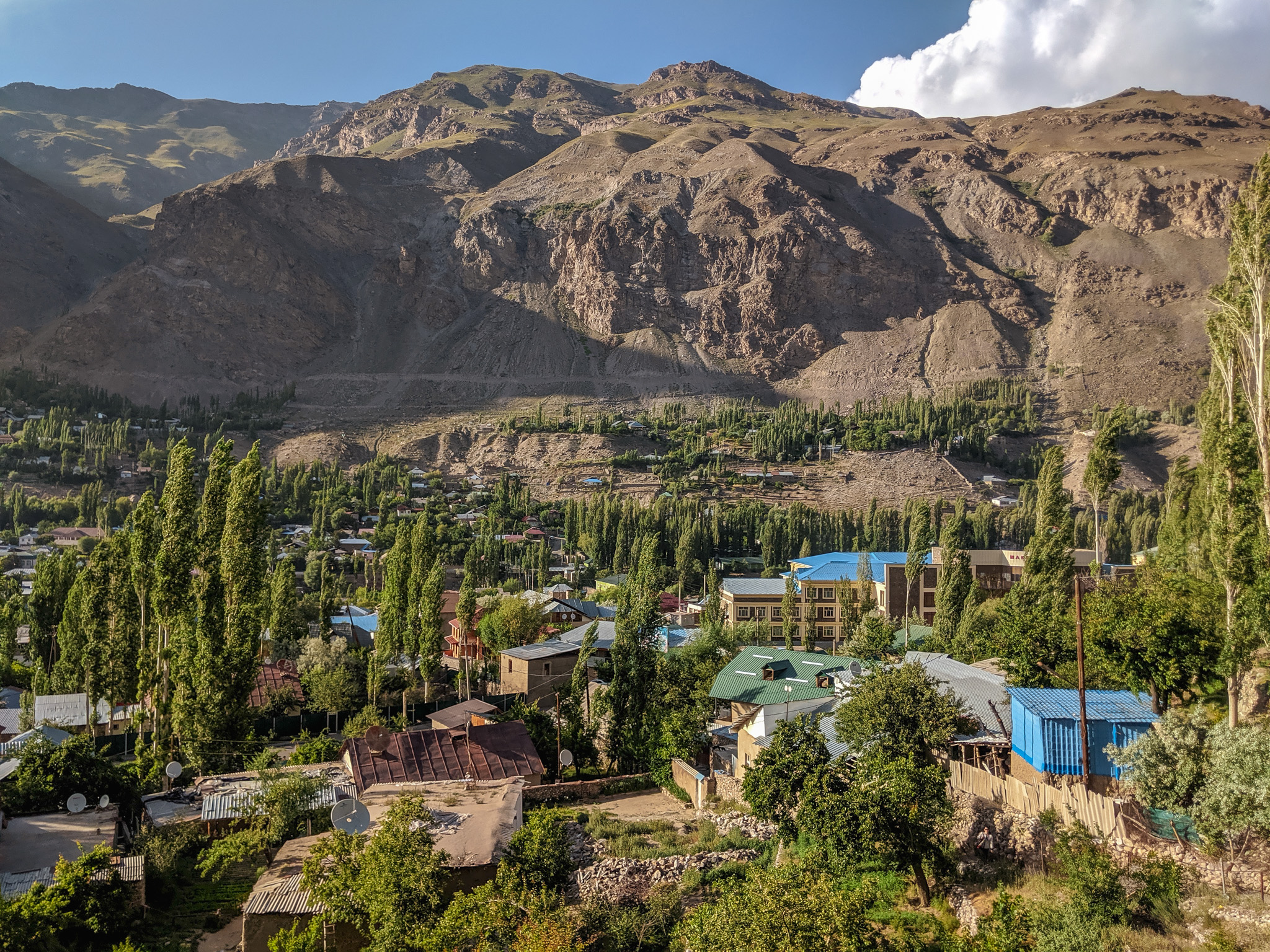 Food along the Silk Road
22 – Food along the Silk Road is very diverse: Plov, Lagman, Shashlik, Samsas and Beshbarmark are just some of the unique foods that you'll encounter while travelling around this part of the world. Central Asian food tends to be meat and dairy heavy, whereas Chinese food focuses much more on spices to add flavour.
23 – Plov and Lagman are the most common dishes: In all of the Central Asian countries, you'll be able to find plov and lagman. Plov is a rice dish with meat and veggies (usually beef and carrots). Lagman is a noodle dish that originates from Uyghur parts of Central Asia. It's typically made with pulled noodles, meat and vegetables. Spice levels with lagman vary, I only ever found it spicy enough in Xinjiang (China).
24 – Kumis is an alcoholic dairy drink: Made from fermented horse milk, you'll often find kumis in rural areas of Kazakhstan and Kyrgyzstan. It's got a slight alcohol percentage and a sour taste that takes some getting used to!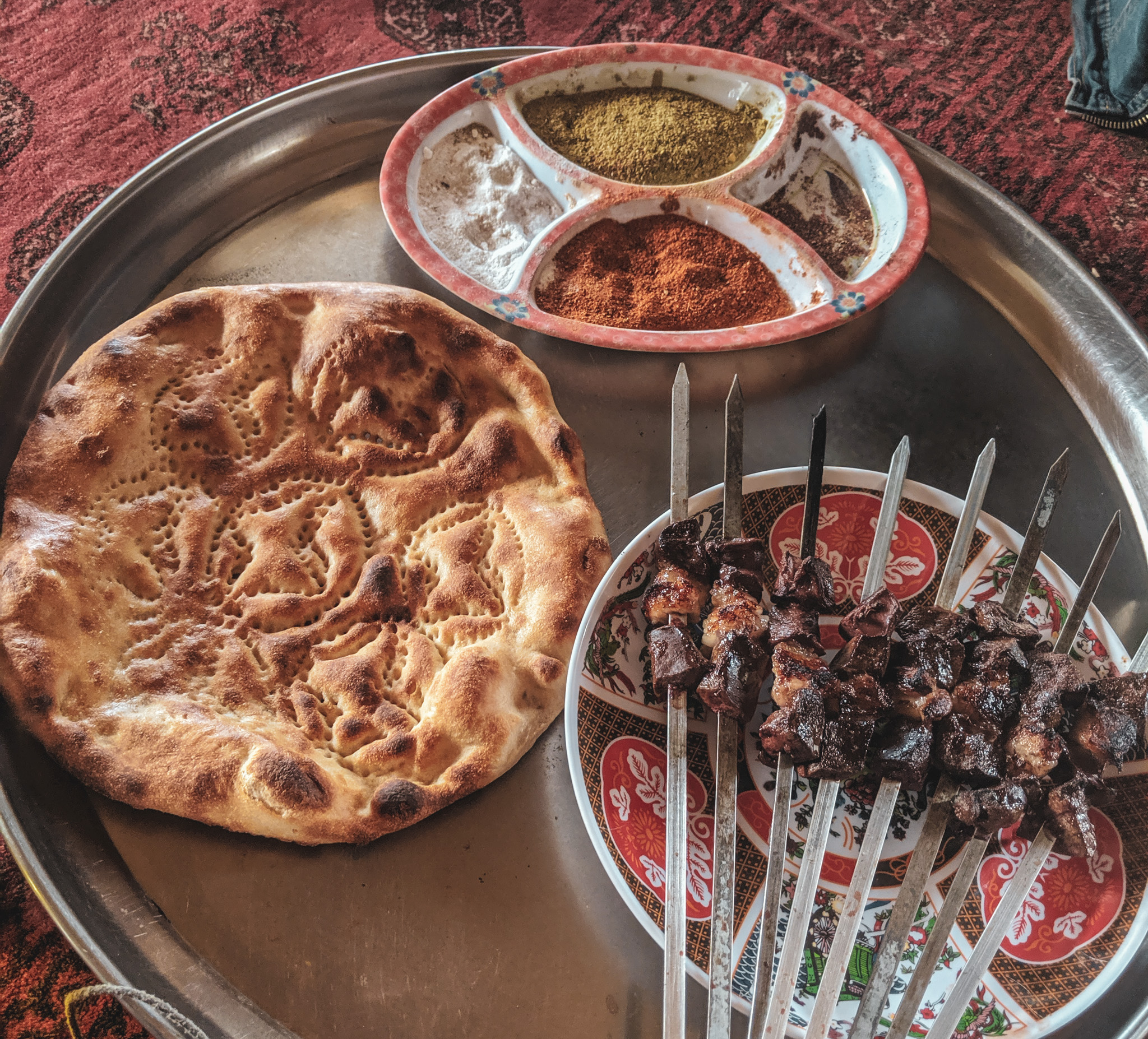 People & Culture of the Silk Road
25 – The Silk Road is incredibly diverse: There are so many different ethnic groups in Central Asia, it'd be impossible to list them all. The most common ones that you'll encounter are Uyghurs, Kazakhs, Kyrgyz, Uzbeks, Tajiks, and Dungans. As a result of the Soviet Union and China, there are also plenty of Han Chinese, Russians, and Koreans scattered around Central Asia.
26 – Islam is the most common religion: All Central Asian 'stans are Muslim, and much of the Xinjiang region of China is as well (at least.. for now). Kyrgyzstan and Kazakhstan are the most liberal areas, with plenty of people drinking alcohol and not fasting during Ramadan.
Uzbekistan and Tajikistan are more conservative, especially the southern regions of both countries. However, they are still much more liberal than places like Pakistan or Saudi Arabia.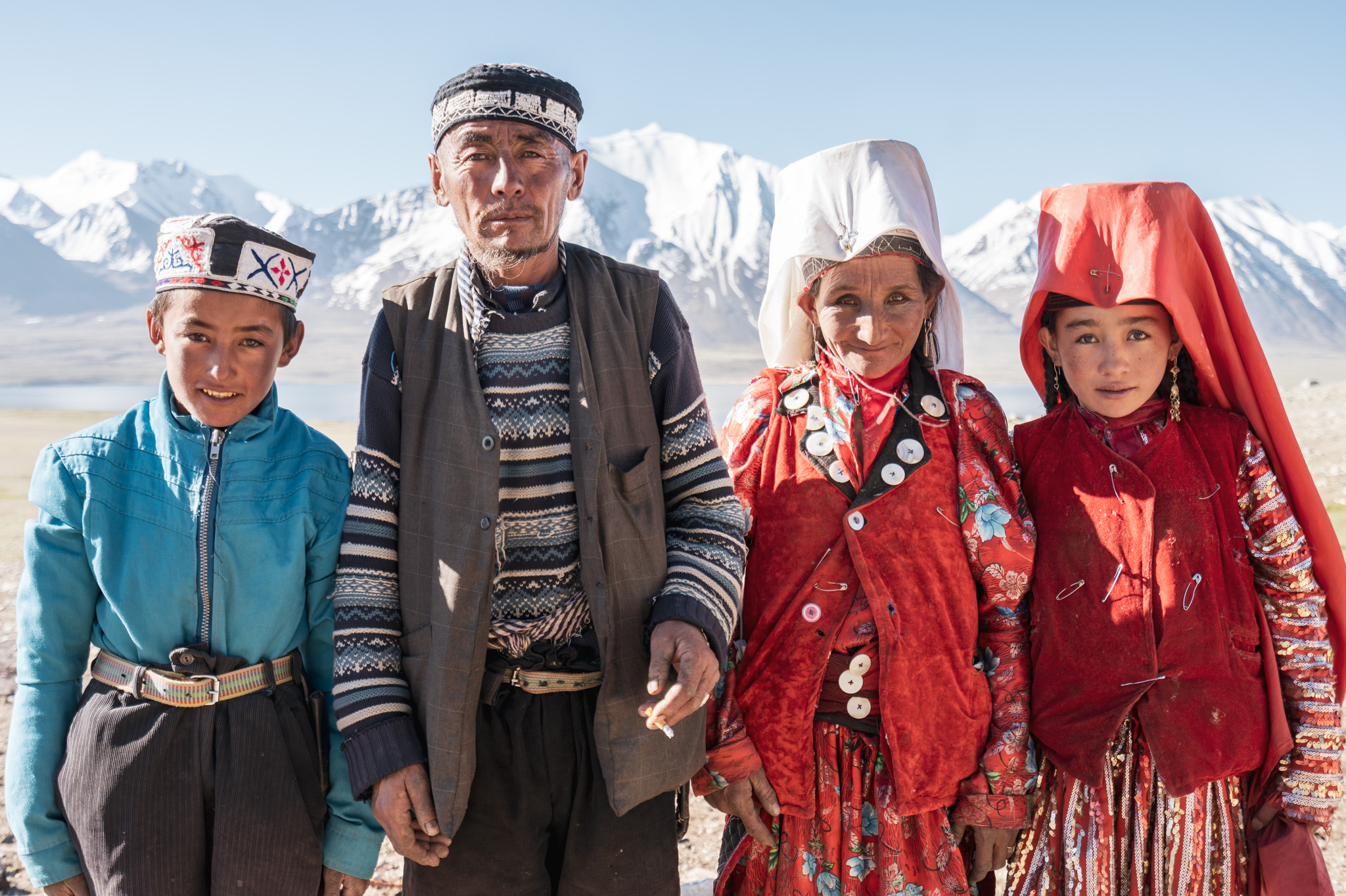 27 – People are extremely hospitable: One thing that all of the people living in Central Asia have in common is their hospitality. No matter where I went, I was always welcomed with open arms and a cup of chai. People don't see very many tourists around here and want to treat their guests as well as they can. You don't have to worry about people being unfriendly here – just keep a smile on your face and you'll have a wonderful time.
28 – Dress code varies from country to country: In liberal Almaty, girls can wear whatever they want and nobody will bat an eye. Try to do that in southern Tajikistan and you'll get a different reaction.
In more religious areas, you should dress modestly. For the dudes, pants and a t-shirt is fine everywhere in Central Asia. For females, nothing revealing and you'll be ok.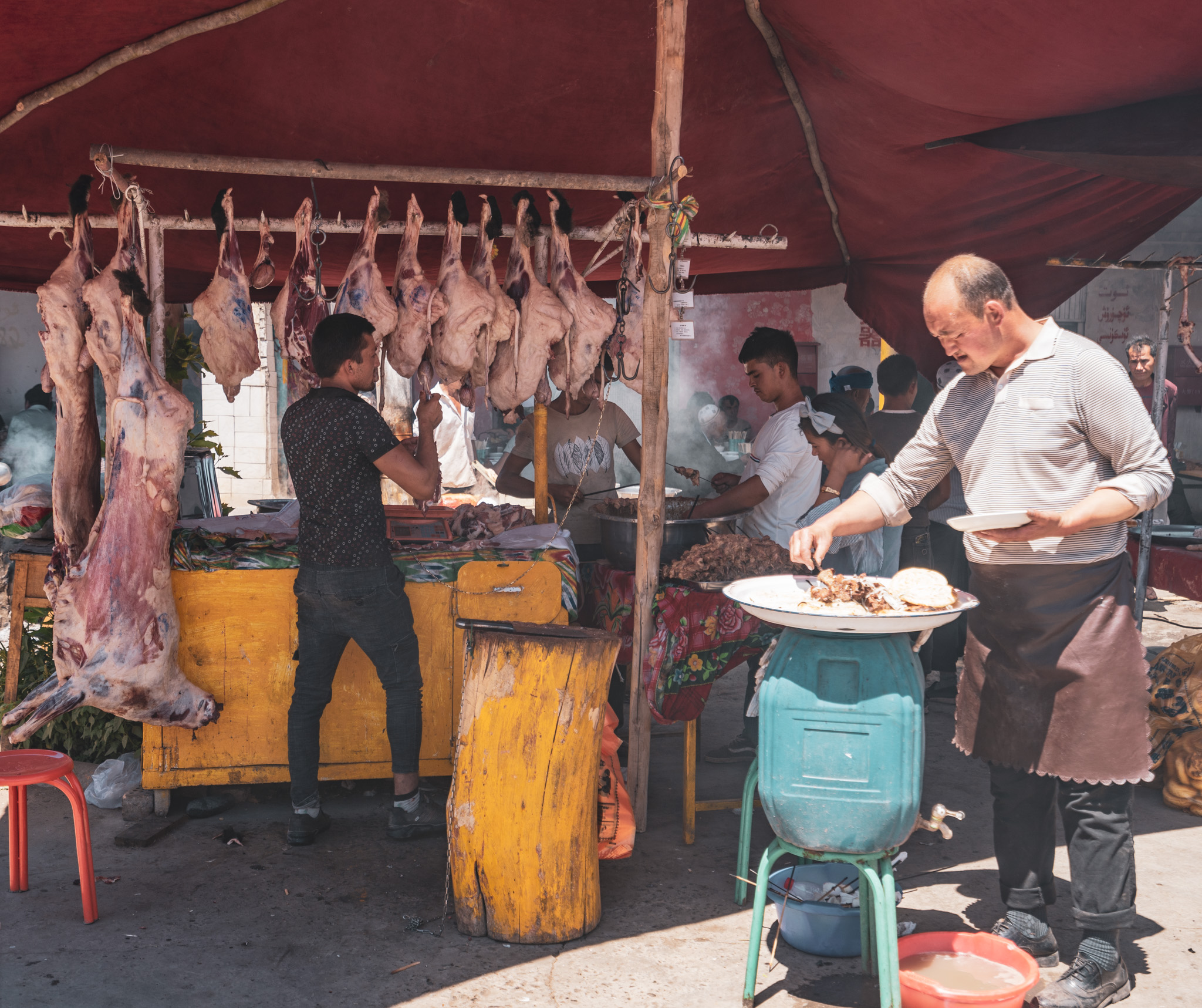 Visas for travelling the Silk Road
29 – Visas issues in Central Asia are disappearing: Central Asia used to be one of the most difficult regions to travel around. Travellers would need a visa for every country, and they wouldn't be easy to get.
Nowadays, things are a lot easier. Uzbekistan and Kazakhstan offer 30-day visa-free access for a number of nationalities. Kyrgyzstan gives 60-days for most people. Tajikistan still requires an e-visa, but it is easy to apply for online and can be gotten within a week or so and is valid for 45-days.
China still requires a visa, but it should be fairly straightforward to apply for before you leave home.
Turkmenistan is still locked down. You can't get a tourist visa without a guided tour, although travellers are sometimes able to visit independently on a short 5-day transit visa.
30 – Border crossings aren't too bad: Unless you fly everywhere, you'll end up having to cross some borders while travelling the Silk Road.
Most border crossings in Central Asia are fairly straightforward now, and you don't need to worry about a strict bag inspection or anything.
Exceptions are borders into and out of China. Expect a full bag inspection, as well as a search of all the photos on your electronic devices.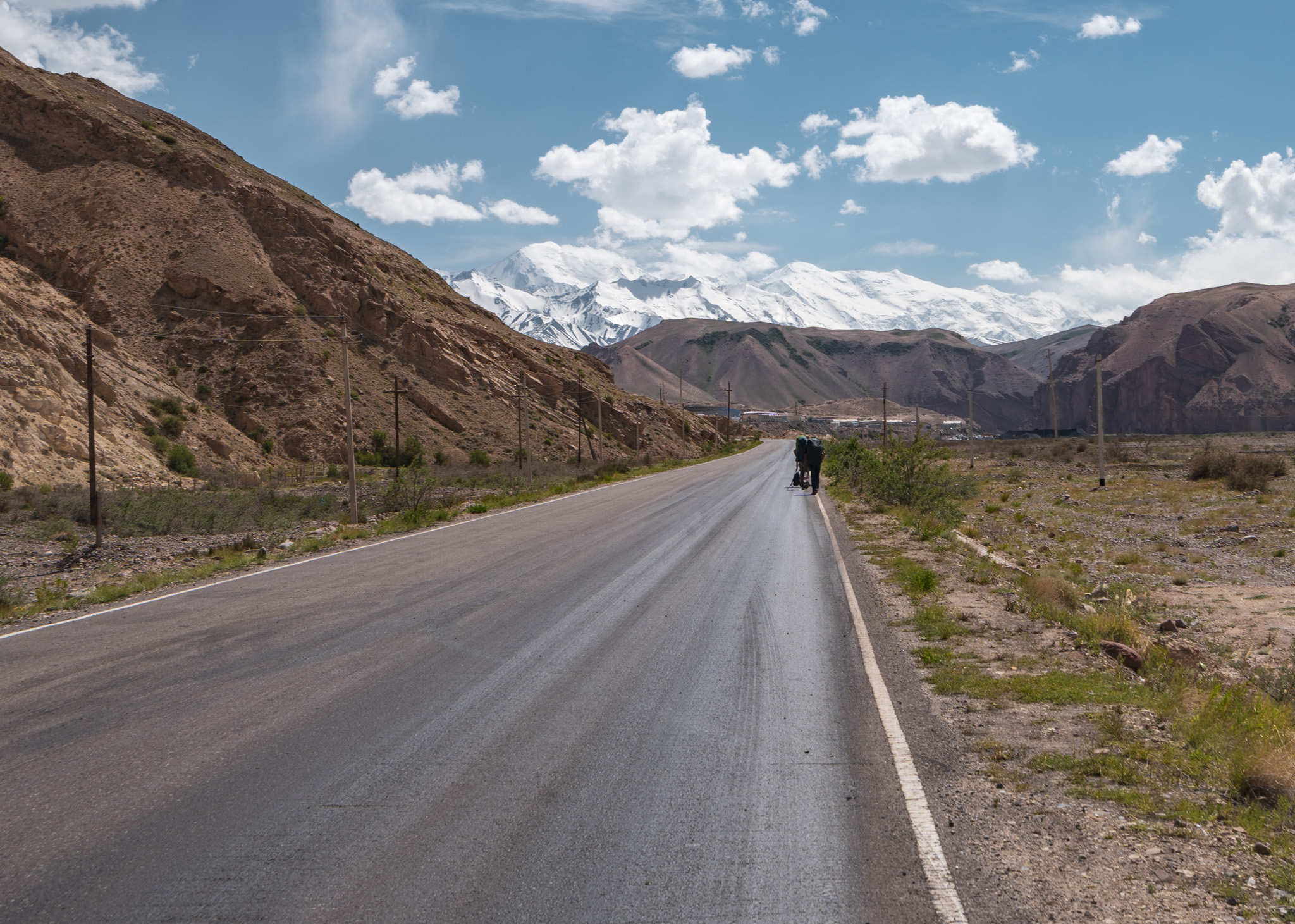 Safety along the Silk Road
31 – Central Asia is reasonably safe: I've spent a long time in Central Asia, and never once had any safety issues. While this is simply anecdotal, governments usually just advise travellers to proceed with caution while in Central Asia.
There are areas that are more dangerous than others. Parts of the Uzbek/Kyrgyz border infrequently have small violent clashes (you wouldn't visit here anyway), and southern Tajikistan sometimes has issues.
The areas that tourists usually visit are very safe, in my opinion.
32 – Be careful with nature: I'd guess that most issues that arise when travelling in Central Asia are due to altitude sickness and twisted ankles. If you're planning a trip along the Pamir Highway, you need to be sure to properly acclimatize or you could get altitude sickness. When hiking, always be careful and go with a guide if you're unsure of your abilities.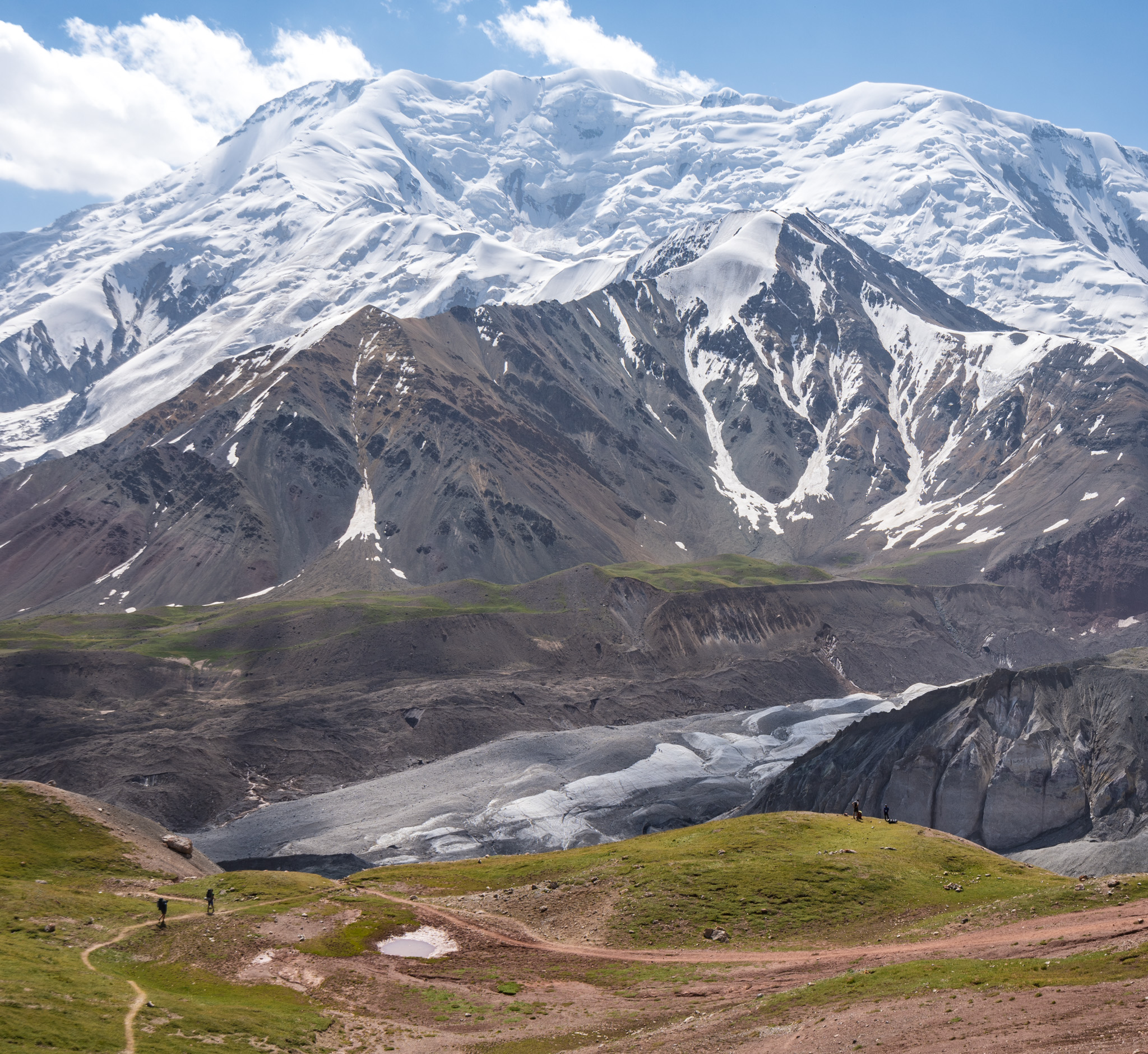 33 – Driving can be dangerous: Like everywhere in the world, Central Asia has some crazy drivers. Combine this with windy mountain roads, and you're asking for disaster.
All you can do here is get out of a vehicle if you feel unsafe. If the driver smells like alcohol, that's a bad sign.
In many places, you can take a train rather than drive, but driving is required to travel around Kyrgyzstan and Tajikistan.
34 – Don't forget your travel insurance: No matter where you go, you should always have travel insurance – Central Asia is no exception. Even though Central Asia is safe, accidents can still happen.
I personally use and recommend World Nomads. It's designed for adventurous travellers with cover for overseas medical, evacuation, baggage and a range of adventure sports and activities (important if you plan on doing any hiking or other outdoor activities while in Central Asia).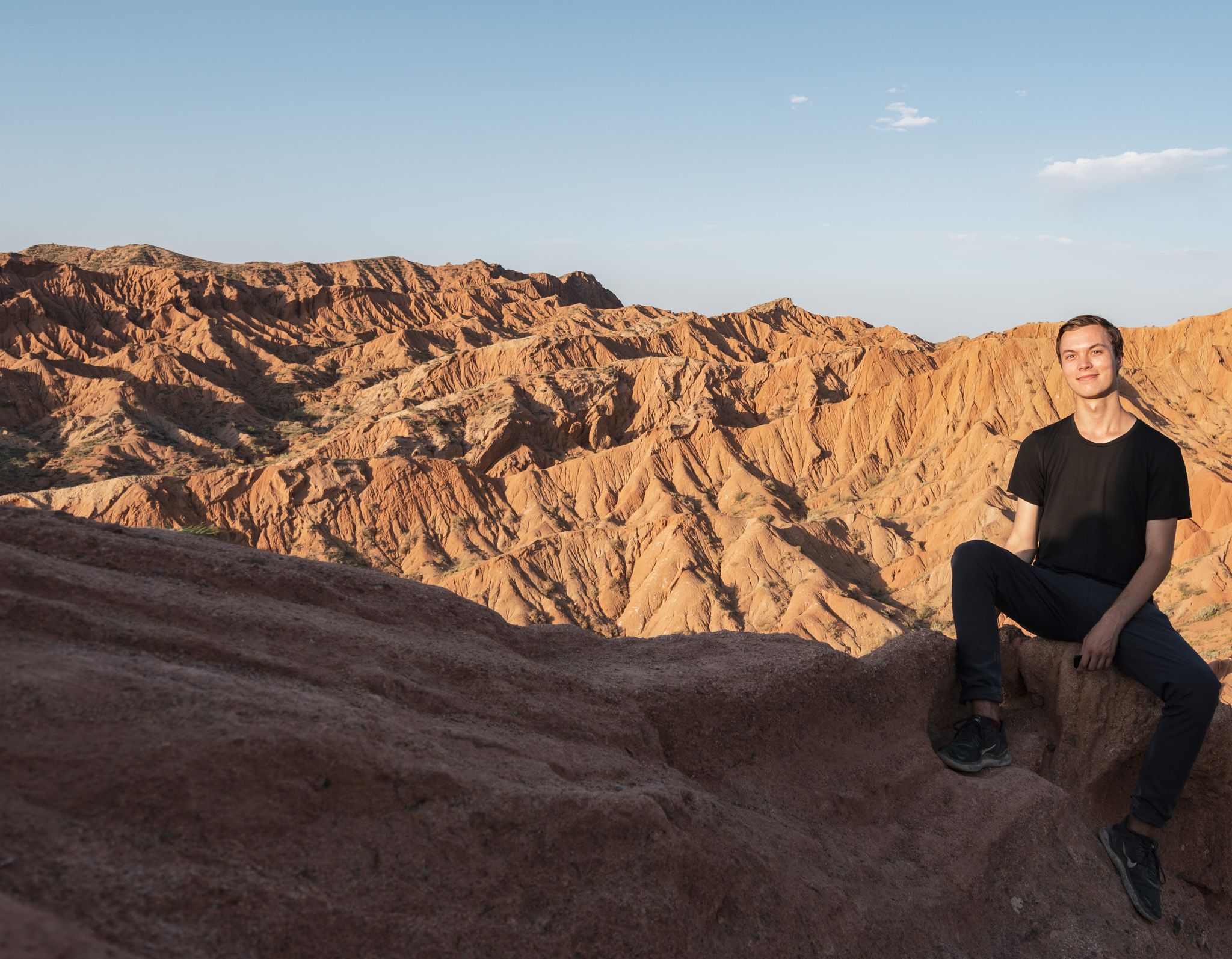 Transportation while travelling the Silk Road
35 – Travelling the Silk Road involves long journey times: Distances are massive along the Silk Road, and the roads and railways are usually not the most modern.
For example, a train from Xi'an to Kashgar takes a solid 40 hours, and a minivan from Bishkek to Osh takes about 14 hours.
Patience is key here, but at least you'll be able to look out the window and enjoy views of the epic scenery of Central Asia.
36 – When you can, take the train: Trains aren't always an option, but in China, Kazakhstan, and Uzbekistan they have pretty good networks. Trains are much more comfortable for long distances than buses, and they often run overnight so you can just sleep in a bed the entire journey.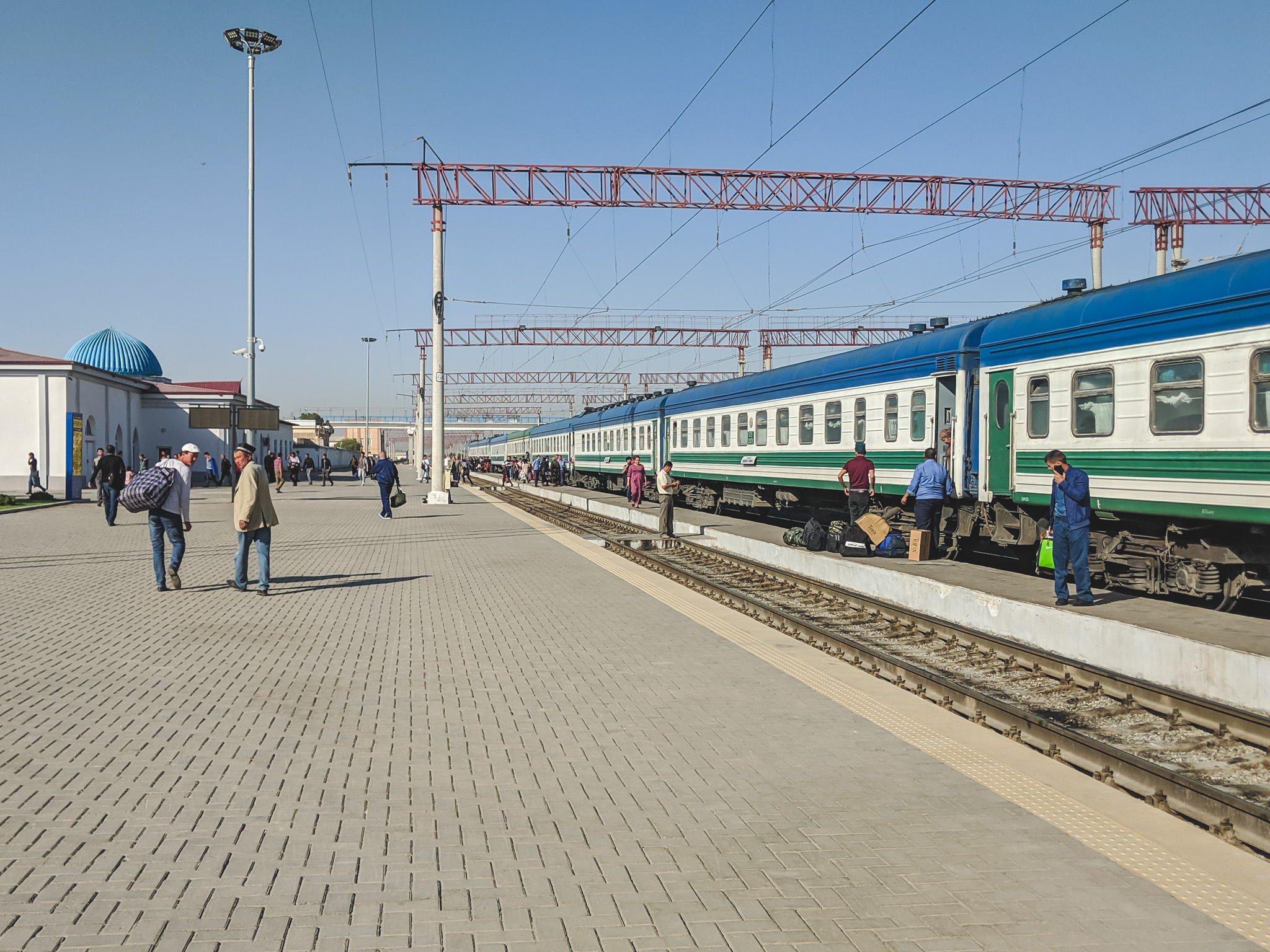 37 – Get ready for a lot of marshrutka rides: Marshrutkas (minivans) are the backbone of Central Asia. They run throughout all of the former Soviet Union countries and are pretty affordable.
Try to avoid sitting in the very back – it's uncomfortable and you can't see anything. Bring plenty of water, as these things don't usually have air conditioning and the Central Asian summer gets bloody hot.
38 – Consider flying if you're short on time: While I prefer overland travel, I understand that not everybody has 6 months to spend screwing around in Central Asia.
If you need to get from Osh to Bishkek (and you've already seen that epic drive at least once), then just take the $30 flight and skip the 14-hour long drive.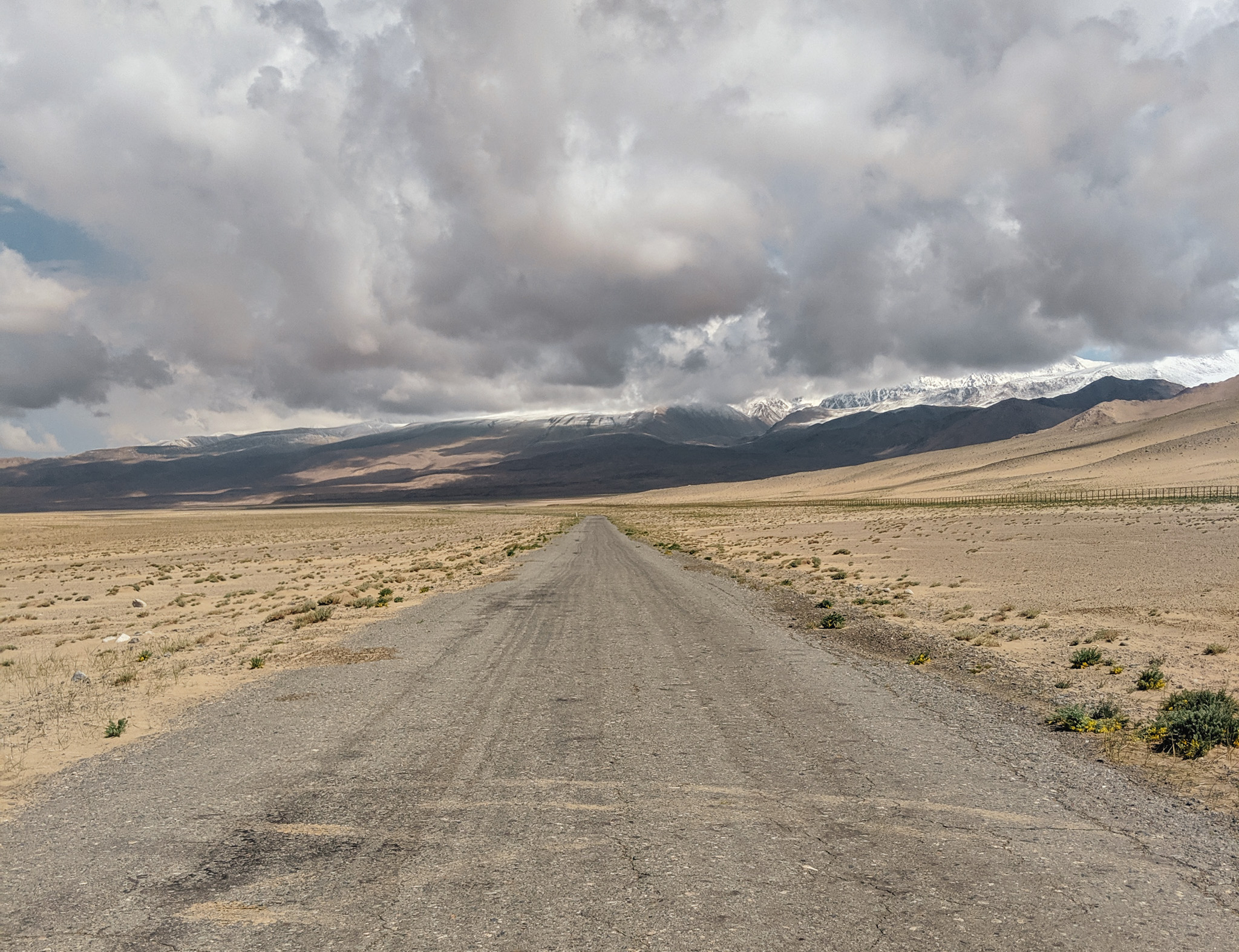 Accommodation while travelling the Silk Road
39 – Most forms of accommodation are available: In most places that you'll visit while travelling the Silk Road, there are both budget and mid-range accommodation types available.
Hostels are common in Central Asia and are very affordable. Hotels are also found in all cities and large towns.
In rural areas, I recommend staying at a homestay to experience true Central Asian hospitality.
40 – When you're in Kyrgyzstan, you need to sleep in a yurt: The yurt is the traditional home of nomadic Kyrgyz, Kazakh, and Mongolian people. A yurt is a round, single-room building that is usually white on the outside. They're warm and comfortable even when high in the mountains.
Tourist yurts are common in Kyrgyzstan, and the perfect place to spent a night while trekking.
41 – Research your Xinjiang accommodation in advance: The far west Chinese province of Xinjiang has a lot of restrictions on which hotels foreigners are allowed to stay at. The list is always changing, so you need to do a bit of research to find where you'll be allowed to stay during your trip.
If you're travelling with a tour, this would be arranged for you.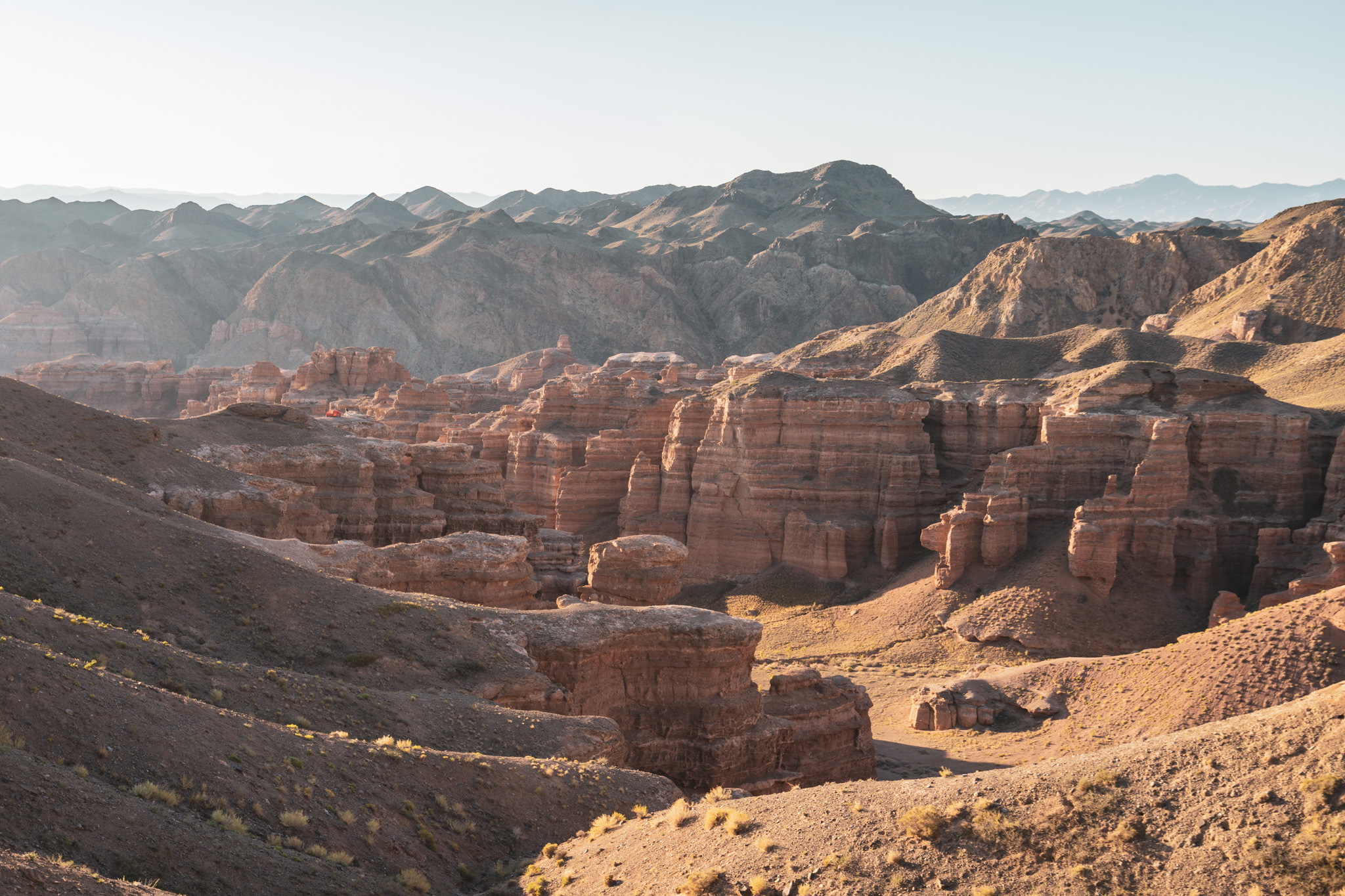 Silk Road Travel Costs
42 – Central Asia is a pretty cheap place: While not as cheap as India or Vietnam, travelling in Central Asia is still very affordable. If you stick to hostels, local food, and public transport, you can easily keep your budget around $35 per day.
If you want a bit more luxury, push that budget to $50 and you'll be able to have amazing meals and stay in pretty nice places.
43 – China can be a bit more pricey: With China's economic boom, prices have been increasing. While travelling in China is affordable for the most part, certain things like entrance fees and train tickets can add up over time.
44 – Money-saving tips: To save some money while travelling in Central Asia, I'd recommend using Couchsurfing and hitchhiking when possible.
Couchsurfing is a great way to meet locals, and you'll save a bit of cash. Hitchhiking in Central Asia is fairly easy, although you sometimes have to pay a small amount (even locals do this).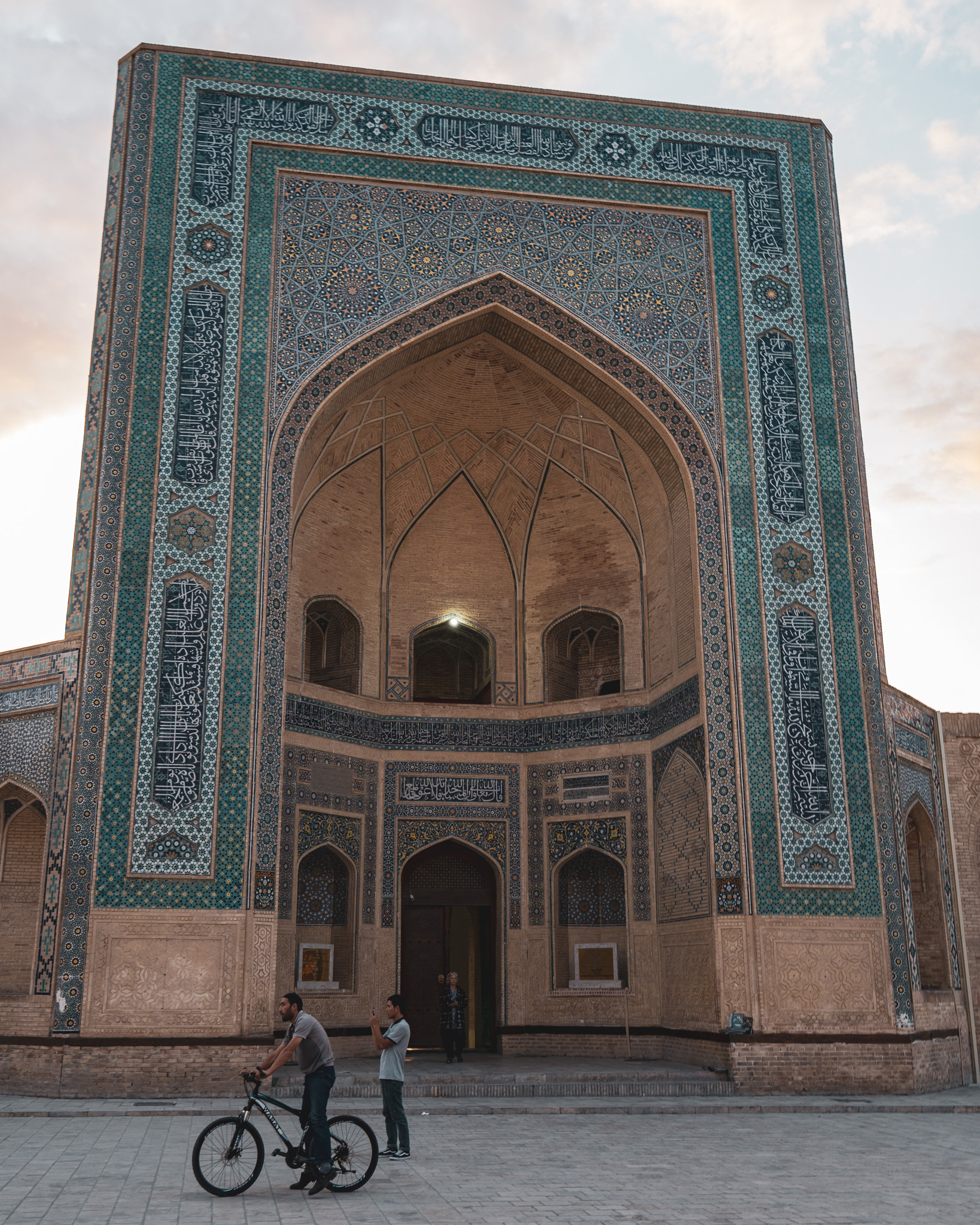 When to travel the Silk Road
45 – Summers are super hot: The Central Asian summer is extremely hot. Summer temperatures can reach 50°C in Uzbekistan and Turkmenistan, and cities like Tashkent and Dushanbe get pretty unbearable. Central Asia is quite dry, so you don't need to worry about humidity, at least.
However, summer is the perfect time if you want to get into the mountains of Kyrgyzstan or Tajikistan. The trekking season is short here, usually running from June to mid-September. If you're at all interested in outdoor adventures, summer is a great time. You'll just need to bear the city heat while you pass through them.
46 – Spring and Autumn are perfect: For the most comfortable experience, travel the Silk Road during spring or autumn. These seasons bring comfortable temperatures, especially in places like Uzbekistan. In the mountains of Tajikistan and Kyrgyzstan, things will be a bit chilly but it's still possible to do some short hikes.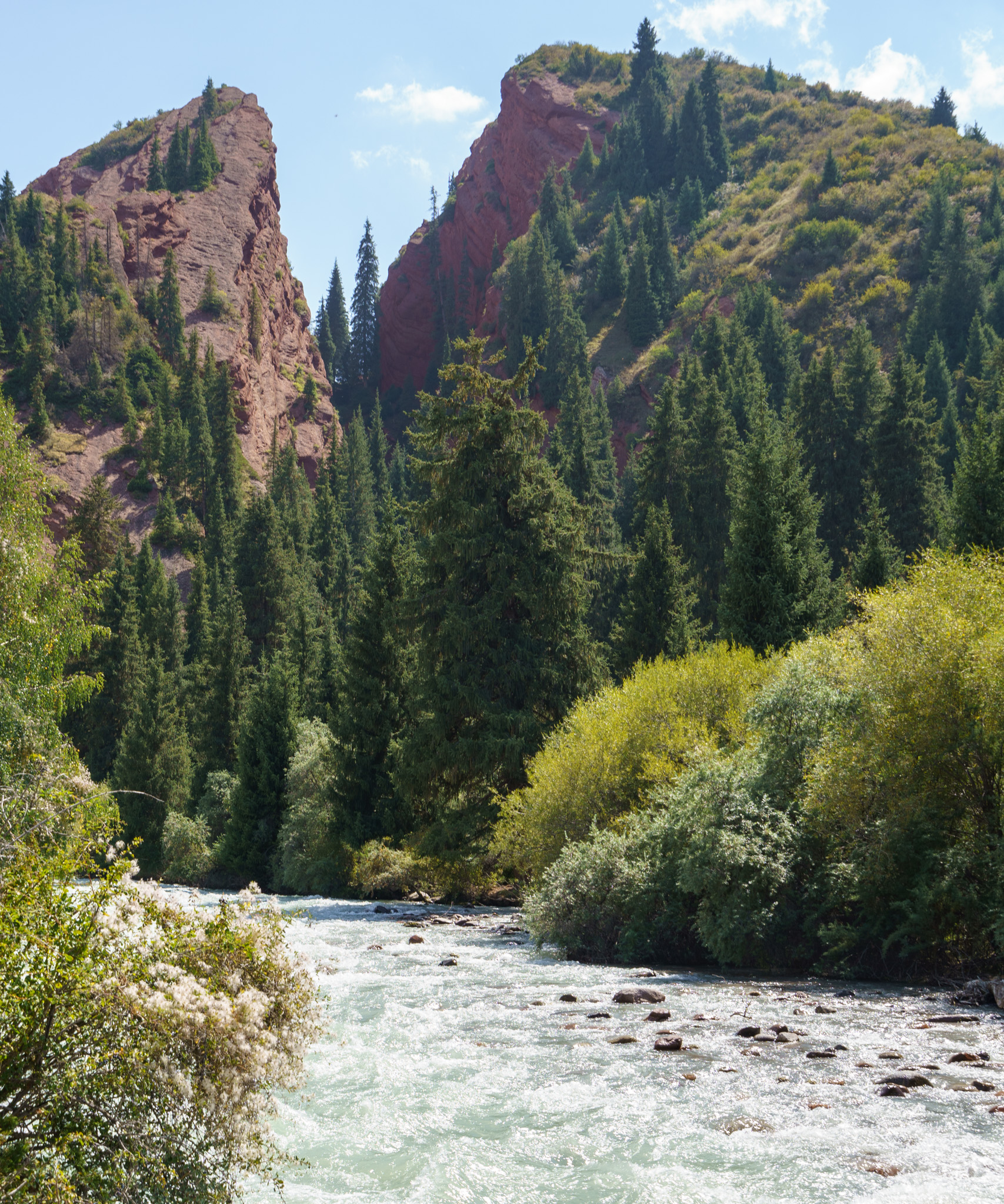 47 – Winters are harsh: Central Asia is a land of extremes. Winter brings freezing temperatures to much of the region. While travel is doable at this time of year, bring warm clothes and understand that certain summer activities just won't be possible.
Snow-covered landscapes are beautiful, and the Silk Road landscapes look unique while covered in a blanket of fresh white snow.
If you're a skier, you'll be happy to know that Almaty, Bishkek, and Karakol have some great hills! Rental prices are pretty reasonable.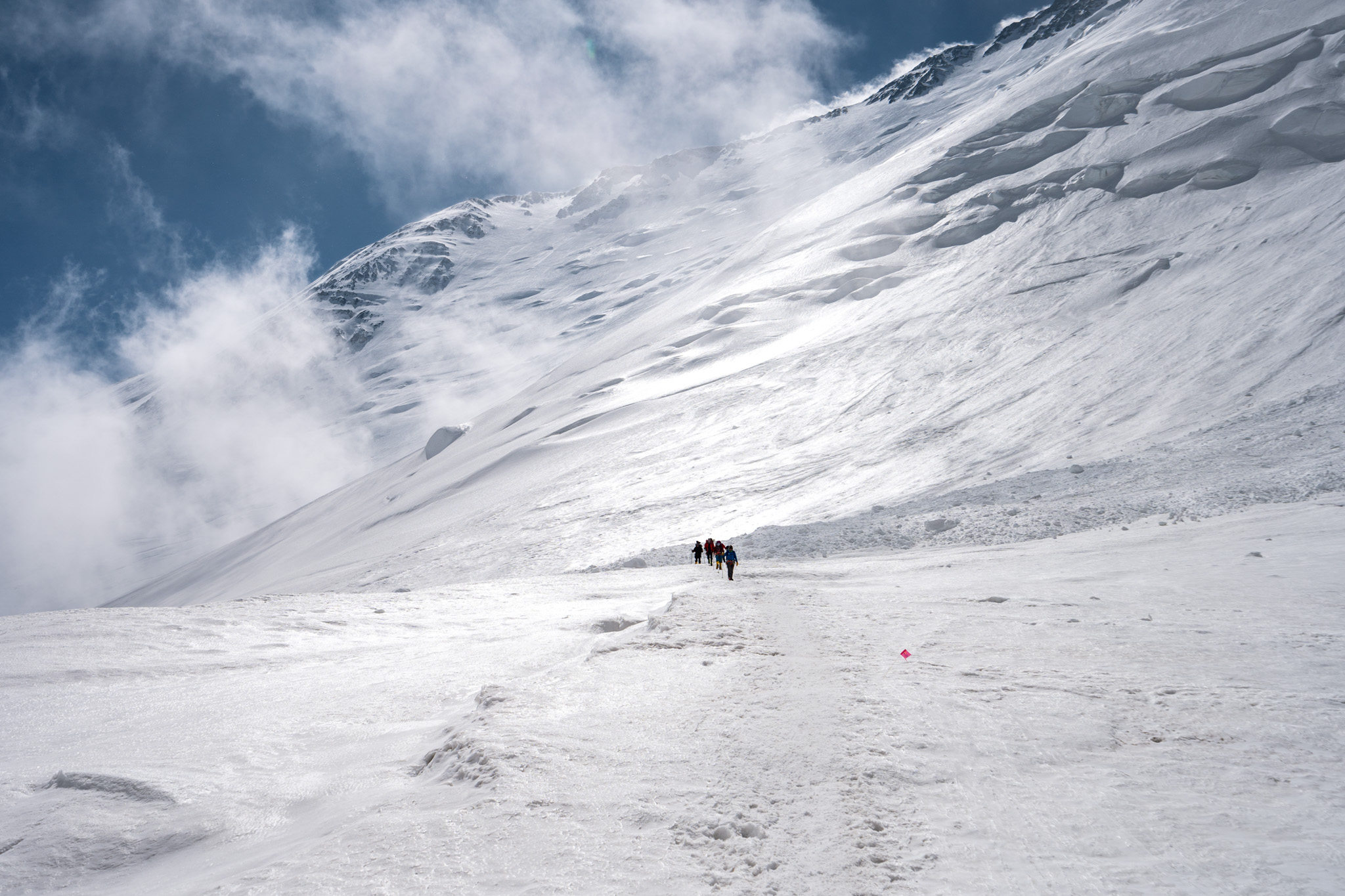 Communication along the Silk Road
48 – Russian is the most useful language: The five Central Asian 'stans spent quite a while in the Soviet Union, and the Russian language spread throughout them during this time.
In Kyrgyzstan and Kazakhstan, almost everybody knows Russian, especially in the cities. It's much more common to hear Russian being spoken in Bishkek than Kyrgyz.
Uzbekistan still has quite a lot of Russian speakers as well, especially in Tashkent. In Tajikistan and Turkmenistan, Russin is less common but it's still possible to find some speakers of it.
While you obviously don't need to learn Russian to travel in Central Asia, it sure does help to learn the Cyrillic alphabet and some basic phrases.
I recommend picking up a Russian phrasebook before leaving home.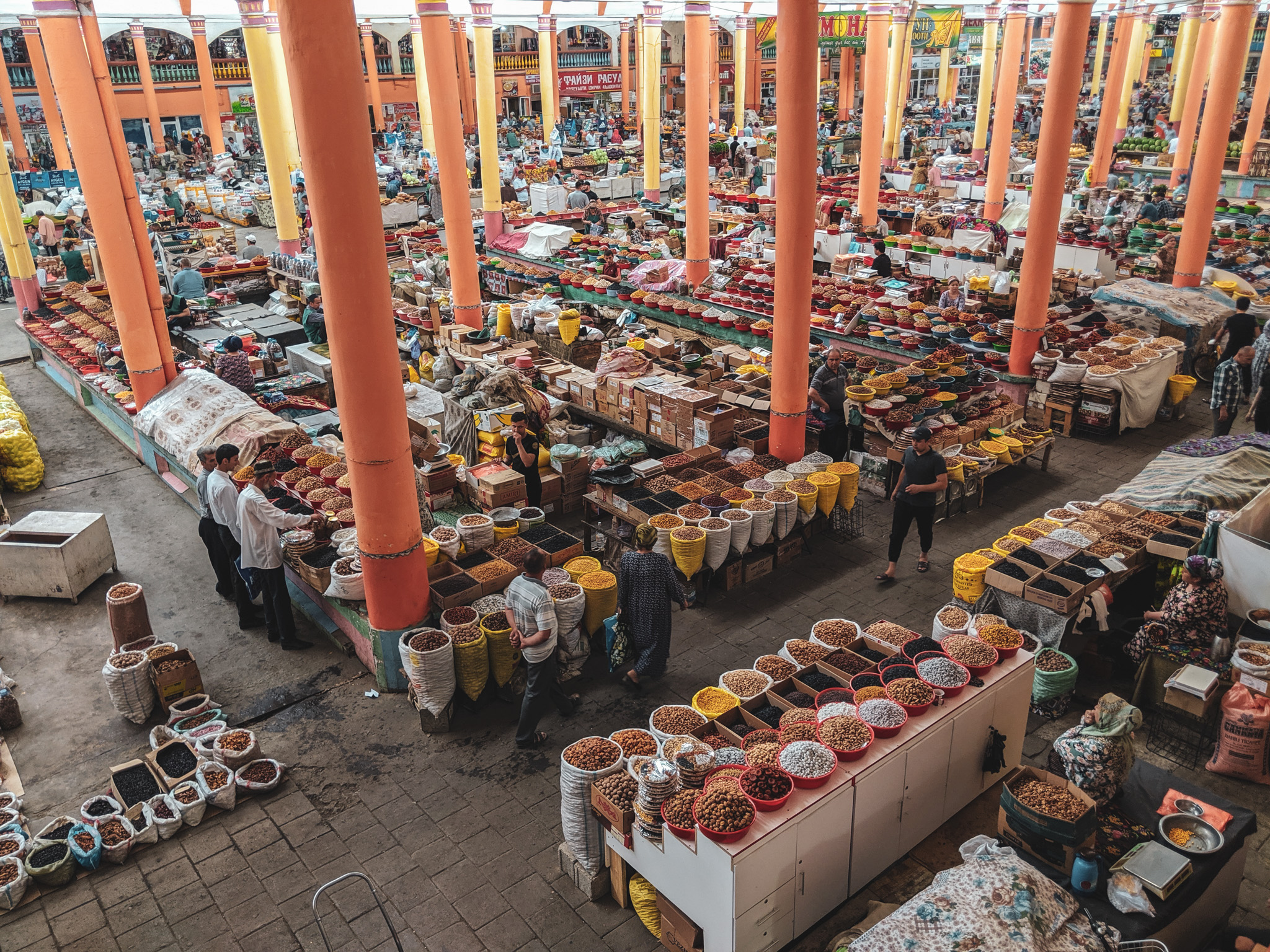 49 – People love if you learn a word or two in their local language: Just learning how to say "thank you" in Kyrgyz (rahmat)  makes Kyrgyz people super happy. I always try to do this when travelling, and in Central Asia, it's a really great thing to do.
50 – Plenty of people know English: With tourism increasing along the Silk Road, more and more people are learning some English to work in the tourism industry. At hotels and hostels, you'll usually be able to find an employee who knows English.
In cities like Bishkek and Almaty, so many young people know English and are eager to practice with foreigners. I've had people start friendly conversations with me just because they heard me speaking English.
Don't stress if you don't know any Russian or local languages. I always manage to get by with English, Google Translate, and some patience.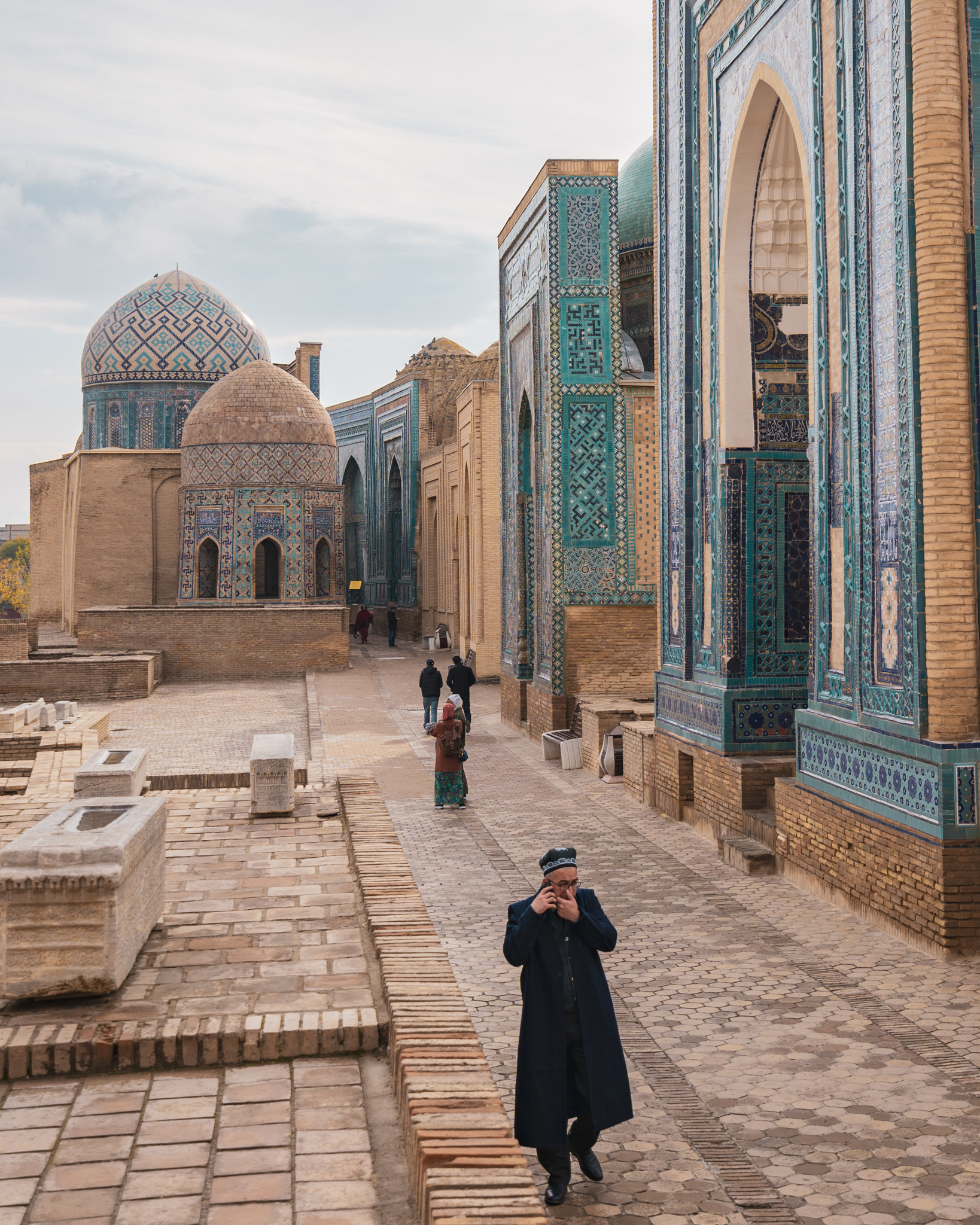 Internet & SIM Cards for the Silk Road
51 – Internet quality varies along the Silk Road: In Kyrgyzstan and Kazakhstan, there is cheap and fast internet almost everywhere. I was able to get 3G signal at Lenin Peak base camp at 3,600 meters in Kyrgyzstan. In Kazakhstan, I paid about $5 for 9GB of data with unlimited social media use (including YouTube and Instagram). In Kyrgyzstan, I paid $4 for 40GB of data.
On the other side of the spectrum are Uzbekistan and Tajikistan. The internet there is somewhat expensive, and coverage is pretty bad outside of the main cities. It's still worth picking up a local SIM card, but you need to be a bit mindful of your data usage. WiFi is also less common here, although decent hostels will have it.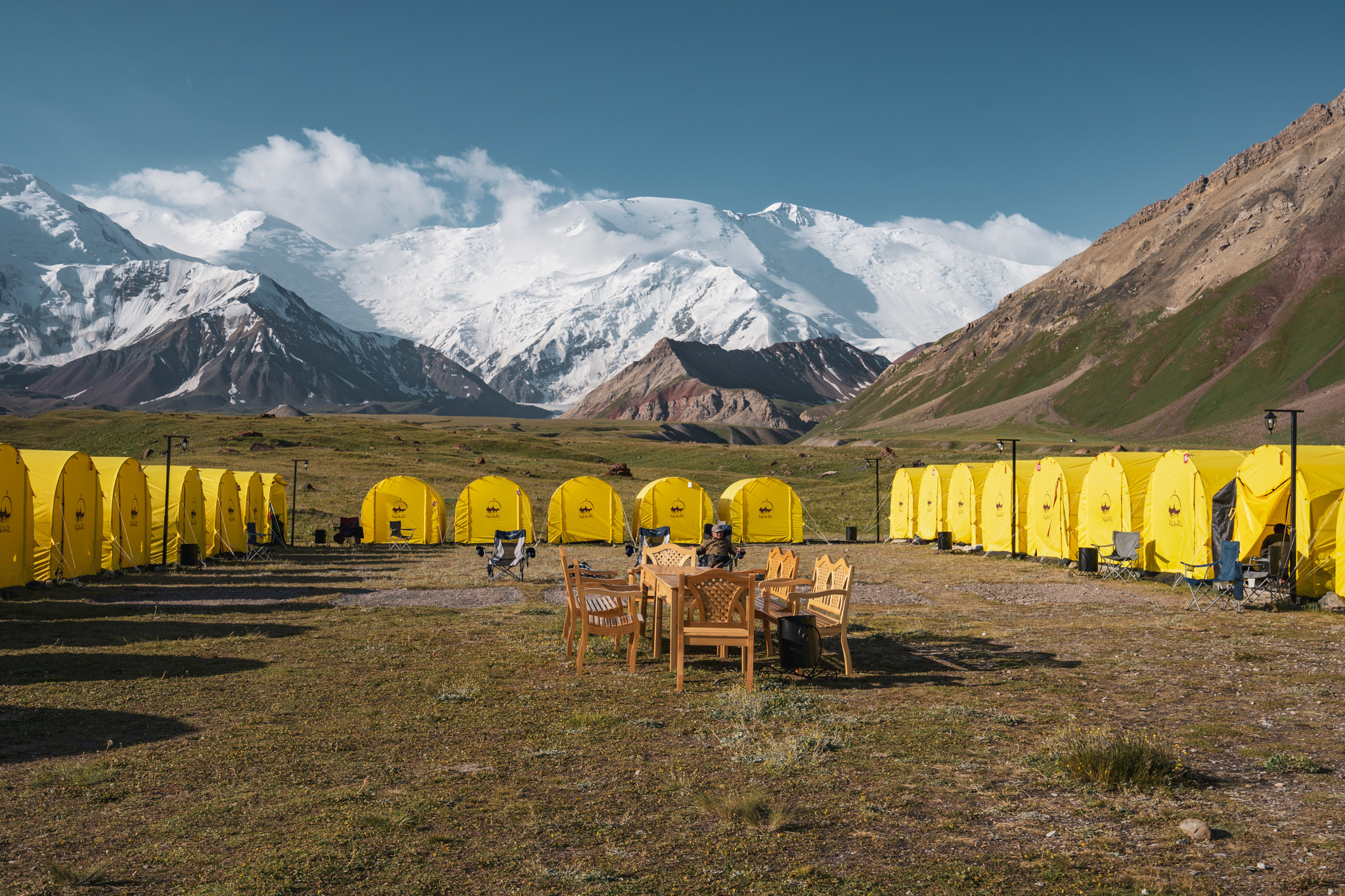 52 – You need to get around China's Great Firewall: In China, the internet is restricted and most foreign websites are blocked. All Google and Facebook services are inaccessible, as well as sites such as Reddit and Wikipedia.
To access these sites, you need to use a VPN. The best VPN for travelling in China right now is NordVPN.
I've used a bunch of different VPNs while travelling and had by far the best experience with NordVPN. They offer a 30-day money-back guarantee, 24/7 customer support, and high-speed servers that are reliable and consistent.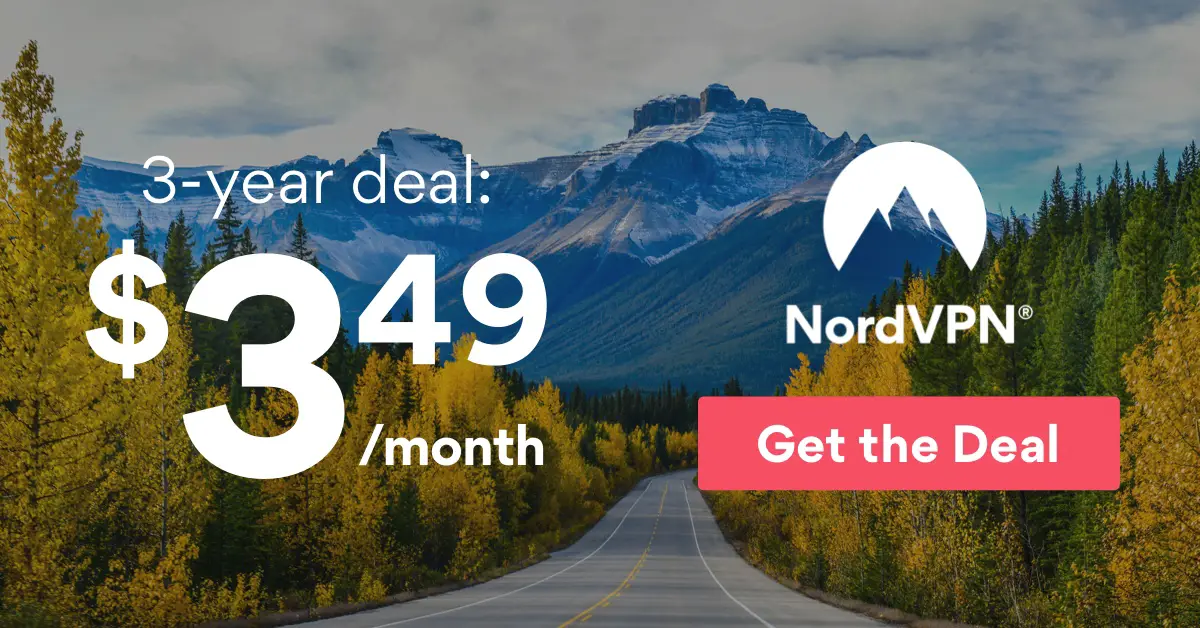 Travelling the Silk Road Wrap-up
I hope this post has helped you learn a bit more about travelling the Silk Road! I love Central Asia so much, and I'm sure you'll love it too. It's such an undiscovered and beautiful place to travel around.
If you have any questions, ask in the comments below!
Otherwise, check out some of my other epic guides: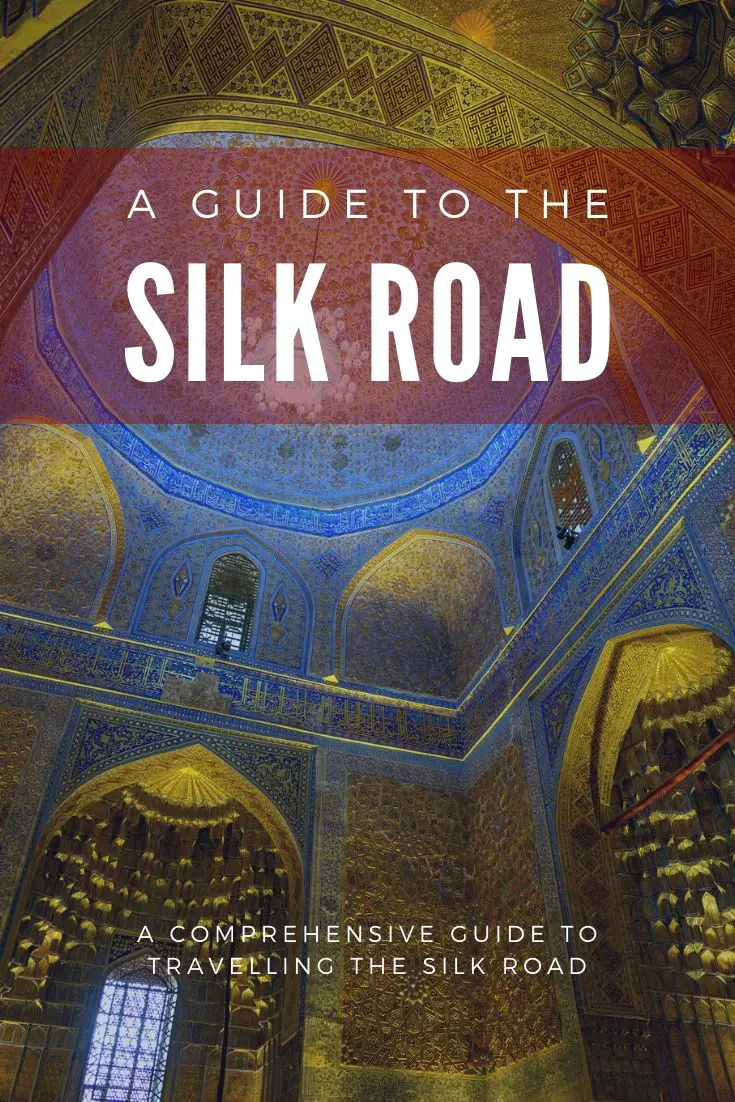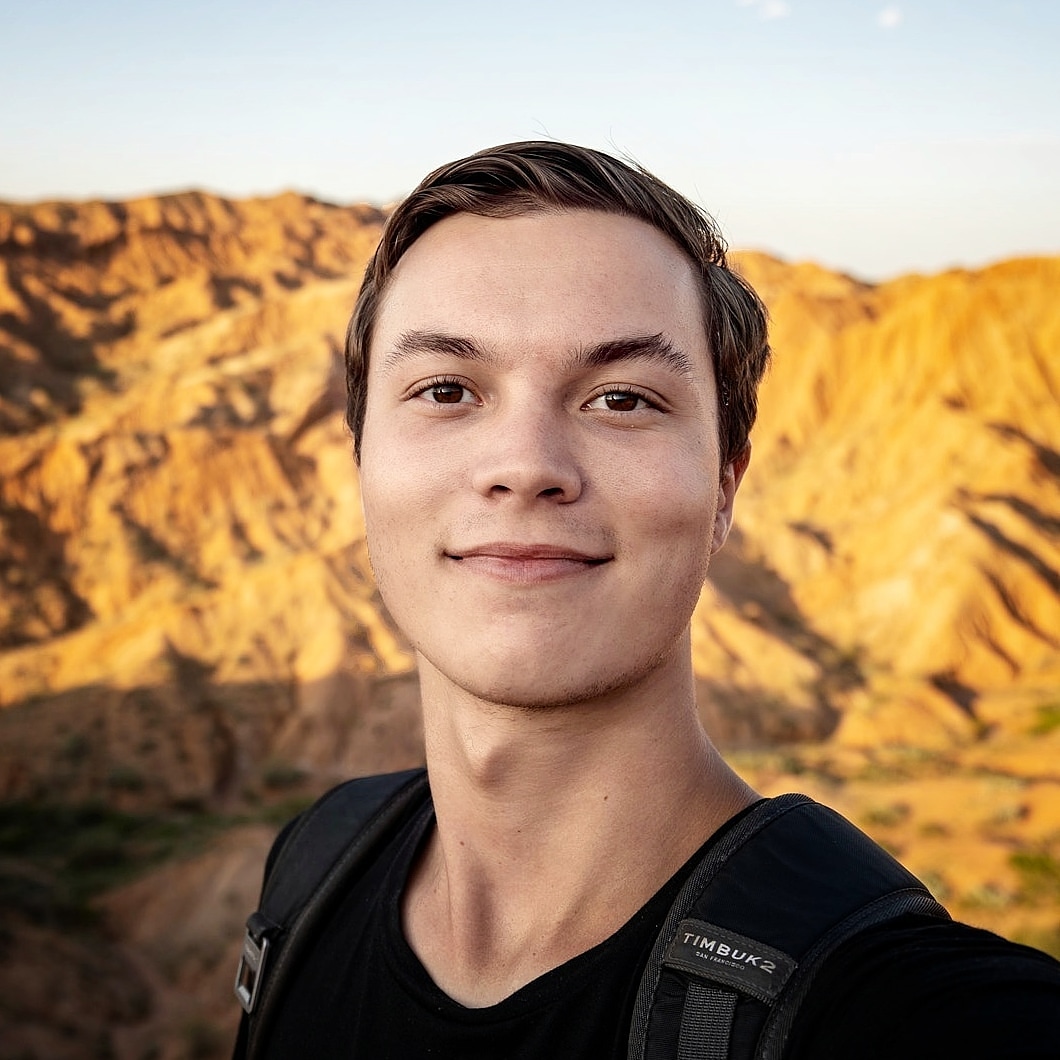 21-year old Canadian dude who loves to visit off-the-beaten-path places, climb tall mountains, and try delicious foods.