Everything you need to know about backpacking in Pakistan – safety, visas, transportation, and which places to visit. Also included are some sample itineraries to help plan your Pakistan adventure.
If you're looking for the ultimate backpacking adventure, look no further than Pakistan. It's a land of amazingly hospitable people, incredible mountains, rich history, and delicious food.
I'll say it upfront – Pakistan is not the easiest place to backpack around. However, if you're willing to rough it a bit, then Pakistan is truly one of the most breathtaking places one can visit.
I spent 31 days backpacking around Pakistan and already can't wait to get back for another trip. I started my journey in Islamabad and exited to China via the Khunjerab Pass (world's highest border crossing).
Before you visit Pakistan
Why visit Pakistan?
This is probably the most common question that people ask me when I tell them I've spent a month backpacking in Pakistan.
Immediately, I pull up my Instagram and show them a few photos of Pakistan's insane mountains, hospitable people, and it's cultural diversity. Just a few photos of Pakistan's beauty helps people understand why someone would visit Pakistan pretty quickly.
If you're still on the edge about visiting Pakistan, keep reading through this post, and hopefully I can convince you 🙂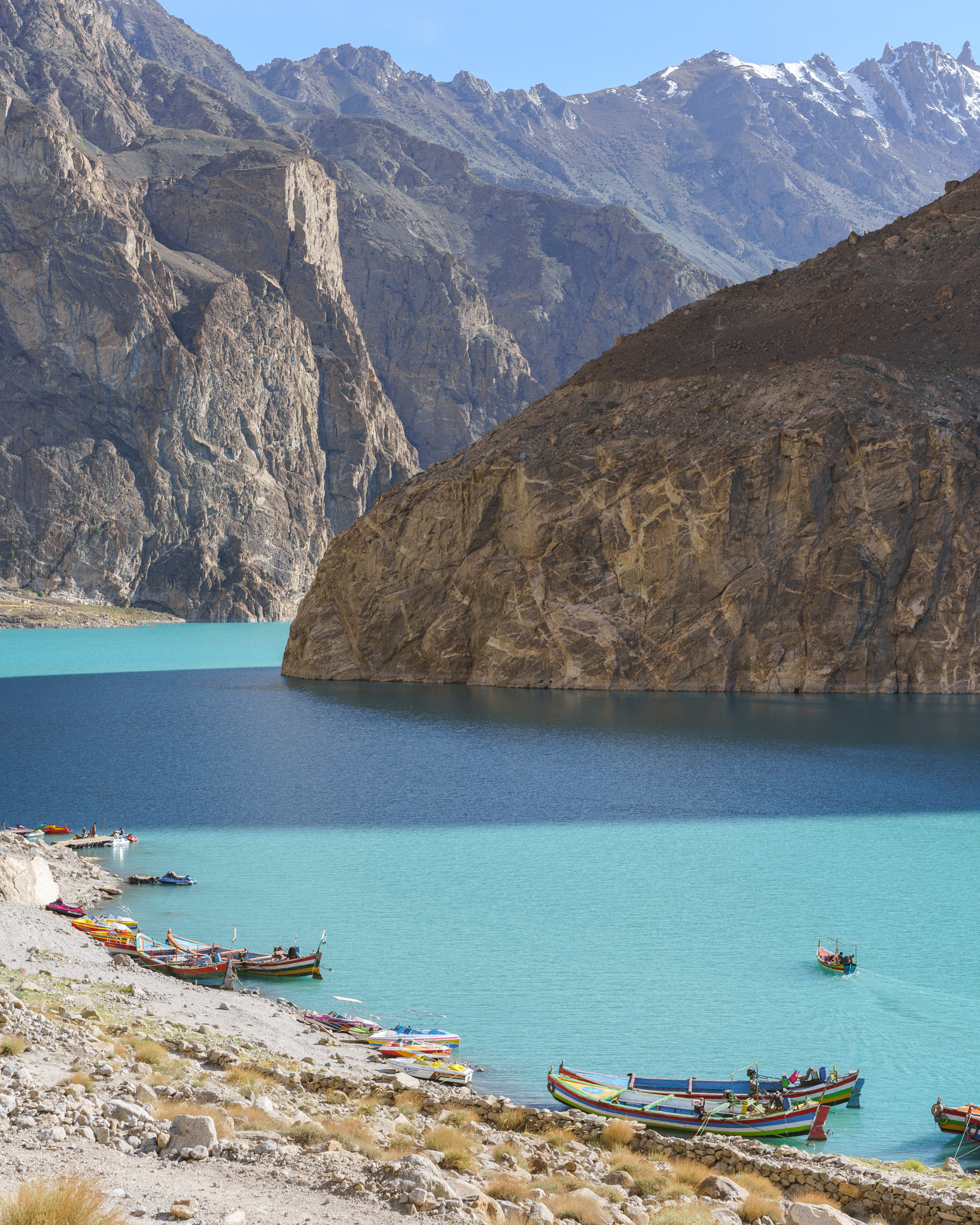 Is Pakistan Safe?
Pakistan is a large country, and most places of interest for backpackers are relatively safe. However, my risk tolerance is quite high (I've climbed solo on a 7000-meter mountain and trekked alone in Afghanistan).
I can't give precise safety advice, as situations constantly change. What I can say, is take government travel advisories with a grain of salt. For example, the Canadian government advises that one avoid ALL travel to Gilgit-Baltistan. In reality is Gilgit-Baltistan is one of the safest places in the entire country, and anyone who's actually been to Pakistan can tell you this.
If you visit the more popular destinations such as Lahore, Islamabad, and Gilgit-Baltistan, you really have nothing to worry about. Respect local culture and you'll be blown away by the hospitality of the Pakistani people.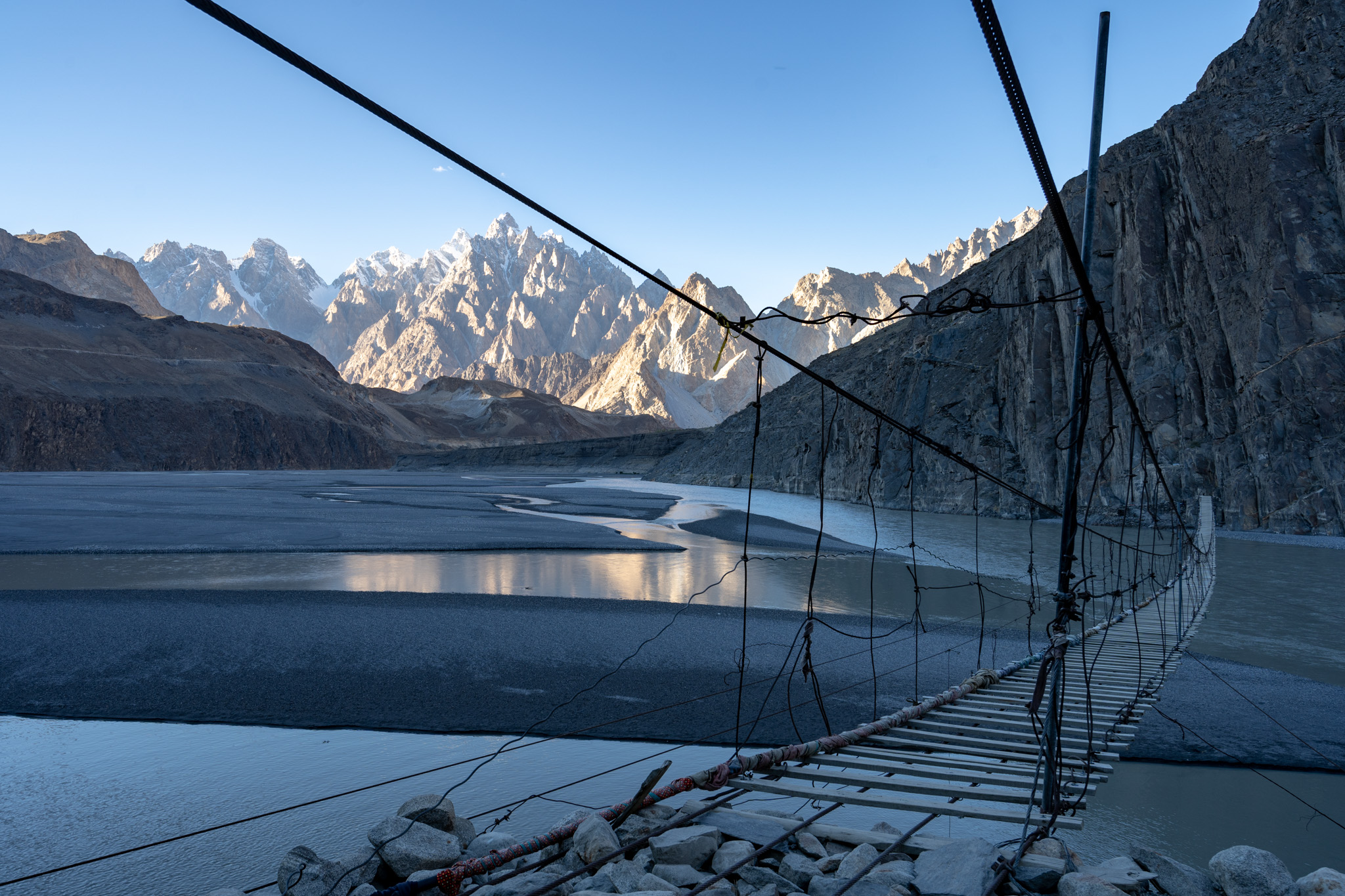 Certain regions of Pakistan are still unsafe. This includes Balochistan and parts of Khyber Pakhtunkhwa (the former tribal area regions).
Do your own research and decide if you're up for it. Everybody is different, and the question "is it safe?" is far too broad to answer here.
I wouldn't choose Pakistan for my first overseas trip, but if you've got some previous travel experience, you'll be fine.
Travel Insurance for Backpacking Pakistan
No matter where you go, you should always have travel insurance – Pakistan is no exception. In the past, it was a bit difficult to find travel insurance that would cover Pakistan.
Luckily for us now, tourism in Pakistan is increasing and insurance providers are beginning to cover it.
I personally use and recommend World Nomads. It's designed for adventurous travellers with cover for overseas medical, evacuation, baggage and a range of adventure sports and activities (important if you plan any high altitude trekking in Pakistan!).
Religion in Pakistan
Pakistan's state religion is Islam, and it's practiced by over 96% of the population. The remaining 4% of the population practices Hinduism, Christianity, Sikhism, and many other religions.
Pakistan is still a very conservative country – it's best to avoid talking about things such as politics, sexuality, and women's rights. And of course, be respectful to the local religion.
When visiting a mosque, be sure to remove your shoes before entering. Men must be wearing pants and have their arms covered. Women need to cover their heads.
Languages of Pakistan
Linguistically, Pakistan is extremely diverse. It's home to five different languages that have over 10 million speakers, and dozens of other regional languages.
The national language and lingua franca of Pakistan is Urdu, although it is mainly spoken in urban areas. In most areas, people will converse in the local regional language such as Punjab, Sindhi, Pashto, or Balochi.
English is also an official language of Pakistan, and it's spoken by quite a few in urban areas, and basics are often understood even in rural areas.
Out of the places I've been, I found Pakistan one of the easier countries to communicate with locals, because of the prevalence of English.
Everyone is very eager to talk with you, and if you know a few words in Urdu (or even better, the regional language), you'll impress everybody.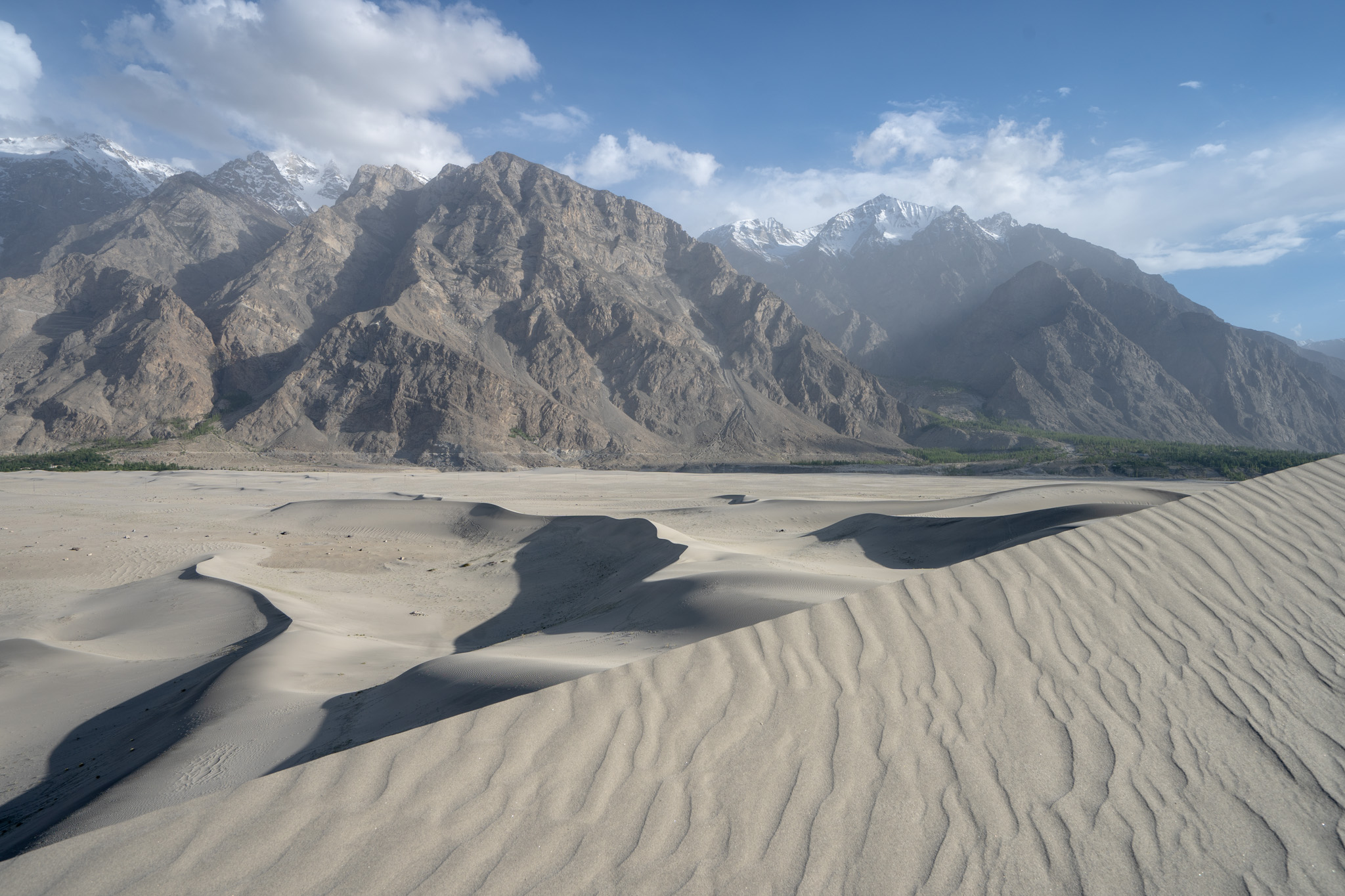 Currency of Pakistan
Pakistan uses the Pakistani Rupee (PKR). As of September 2019, the exchange rate is $1 = Rs. 157. For the current exchange rate, check XE.com. In this guide, I'll denote prices using the "Rs." prefix.
In large cities, there are are plenty of ATMs that will accept foreign cards. In more rural areas (especially in the north), these can be hard to come by. Always carry some backup cash, because it could be a while before you come across an ATM.
Getting to Pakistan
Before you go backpacking Pakistan, you'll need to sort out your visa and figure out how you'll actually get there! Will it be part of an overland trip from Europe to India? Or will you fly in and spend your whole trip inside of Pakistan? So many options!
Visa requirements for Pakistan
Pakistan was once notorious having a tourist visa that was very difficult to acquire. As of 2019, the government has introduced a new e-visa system, making it much easier to get a Pakistan tourist visa. Citizens of 175 different countries are eligible for the e-visa.
Check out the official e-visa website for more information and to apply.
Here's some basic info about the e-visa process:
Visa cost: depends on several factors including nationality, number of entries, and type of visa.
Processing time: Officially, 7-10 days. But anything can happen, so I'd highly recommend applying for your visa at least a few weeks in advance.
Visa validity: People have gotten visas valid for 1 month, 3 months, and even 6 months. It seems to depend on the details of your application and what you ask for.
Visa duration: Duration is how long you can stay in Pakistan after you enter. I've seen most people getting 30 days, but some have been lucky and been able to get 60 days.
Letter of invitation: The e-visa system supposedly allows hotel bookings in place of the old letter of invitation system. Some have successfully used hotel bookings, and some still opt to get a letter of invitation.
Port of entry: You can enter via sea, land, or air with the e-visa. The most common overland borders of Wagah, Sost, and Taftan are all allowed. See down below for more info on flying and over-landing into Pakistan.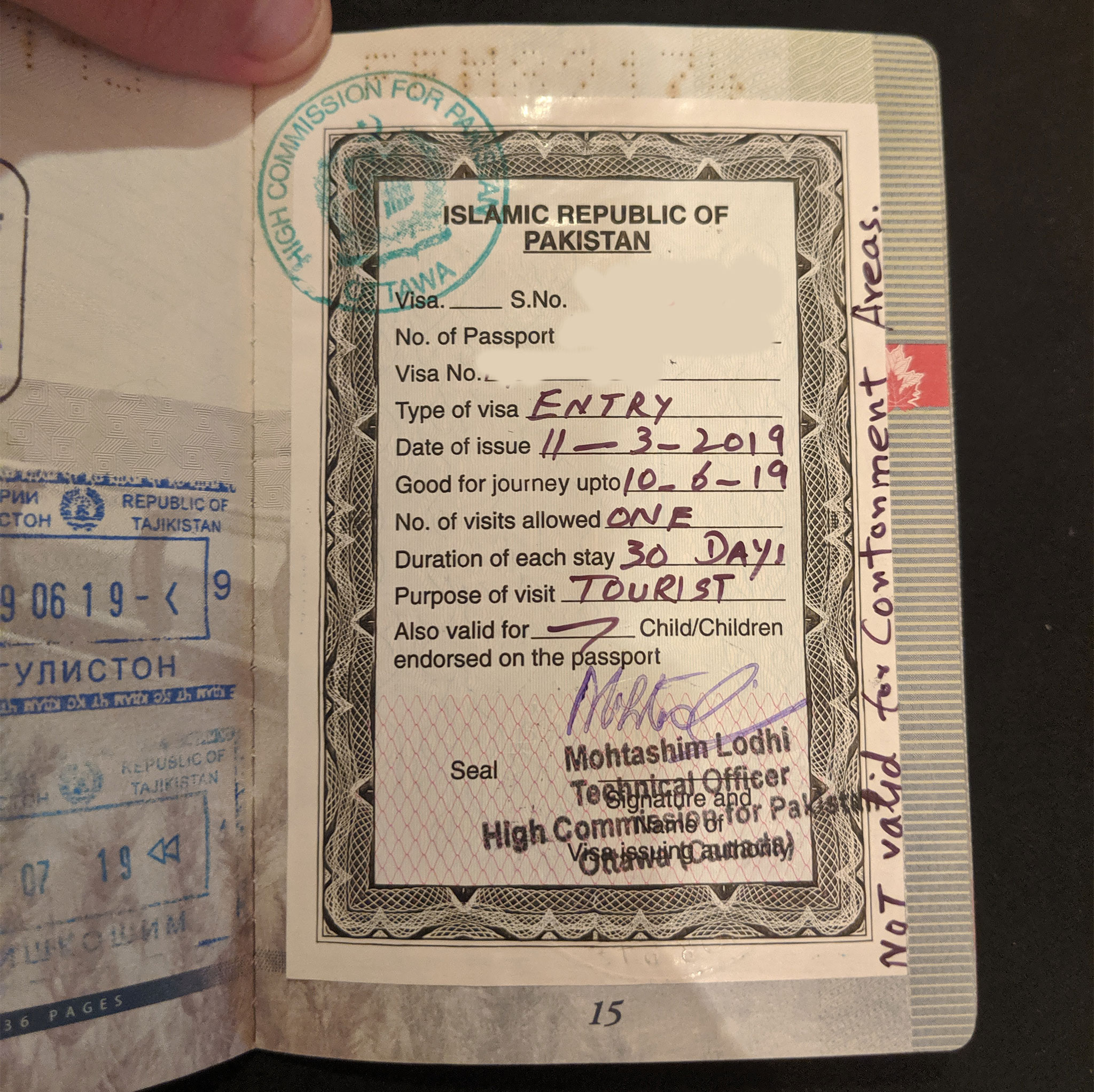 Flying into Pakistan
If you're flying into Pakistan, you'll likely fly into either Karachi, Lahore, or Islamabad. All of those cities have plenty of flights to Europe, North America, and other parts of Asia.
Pakistan International Airlines (PIA) is Pakistan's national carrier, but many other airlines fly to Pakistan, including Thai Airways, Air China, Turkish Airlines, Etihad Airways, and more.
One thing to note is that sometimes, certain parts of Pakistani airspace is closed to civilian aircraft. My flight from Bangkok to Lahore with Thai Airways was cancelled due to ongoing conflict in the Kashmir region, so I was re-routed by the airline to an alternate route.
Just keep an eye on the current situation, and if your flight is cancelled, ask the airline for an alternate routing. It's unlikely to be an issue, but I mention it just in case.
Overland into Pakistan
If you want to travel overland from Iran to India, or Central Asia to India, you'll need to go through Pakistan too!
Pakistan shares land borders with Afghanistan, China, India, and Iran. These border crossings vary in difficulty – from India and China it's pretty straightforward, from Iran it's a bit more complicated, and from Afghanistan, it's nearly impossible (and not recommended, either).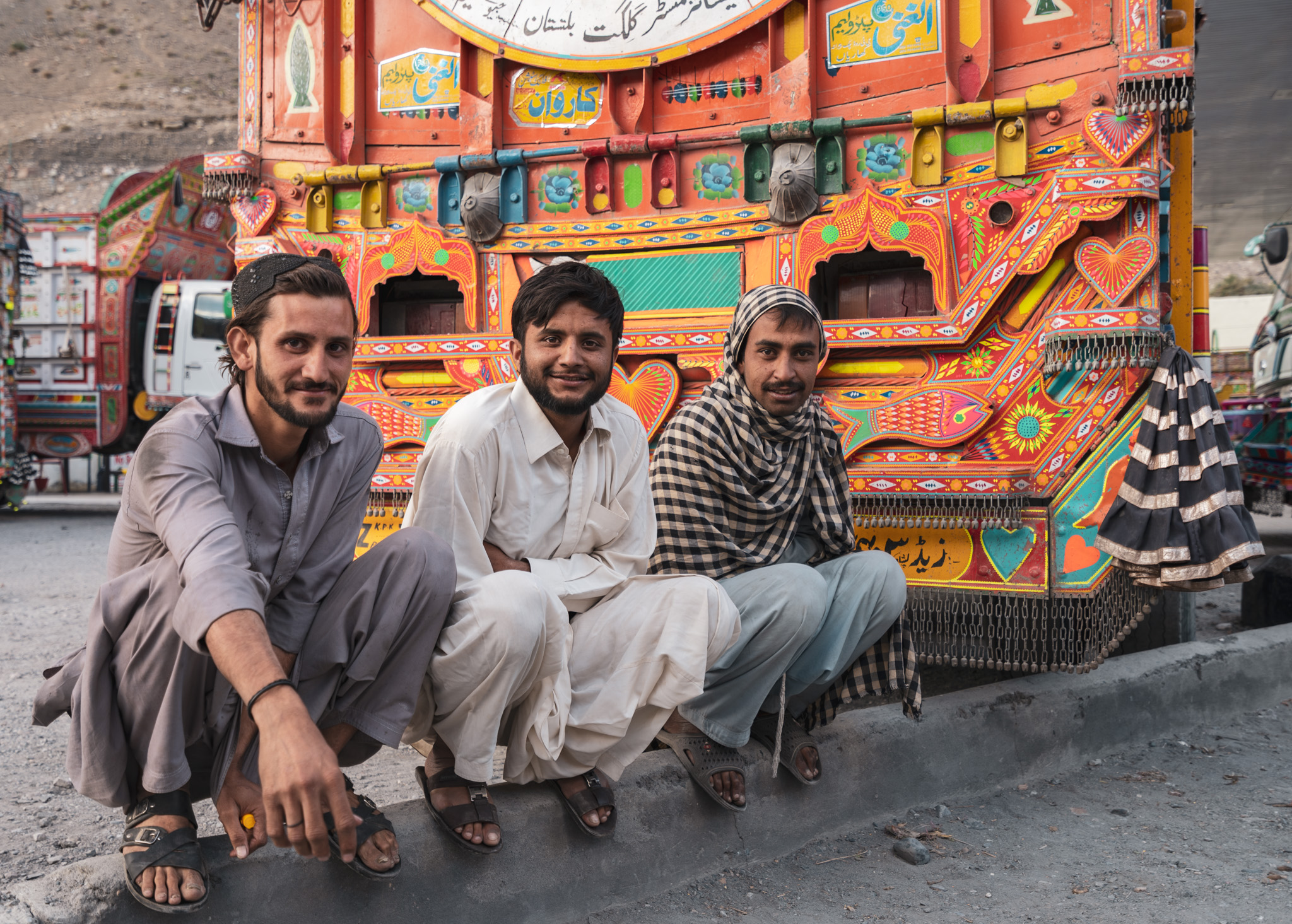 China – Pakistan Border
The border with China is the world's highest border crossing. You'll cross the Khunjerab Pass at 4,693 meters above sea level. I wrote a guide to the Khunjerab Pass border crossing, so check it out for details.
India – Pakistan Border
This crossing is known as the Wagah border crossing. On the Pakistan side, it's near the city of Lahore, and on the Indian side, it's near the city of Amritsar. Check out Alex's guide to this border crossing – I haven't done it myself (yet…).
Iran – Pakistan Border
An extremely long and sketchy border crossing. Upon entering Pakistan, you'll be given a police escort until you exit Balochistan. Check out Caravanistan's guide to the crossing.
Afghanistan – Pakistan Border
Not recommended, and likely not possible. The most famous crossing is at the Khyber Pass, between Jalalabad (Afghanistan) and Peshawar (Pakistan).
There have been a few reports of foreigners successfully crossing in the Afghanistan -> Pakistan direction, but it puts the Pakistani police in an uncomfortable situation where they have to escort you to Peshawar from the border.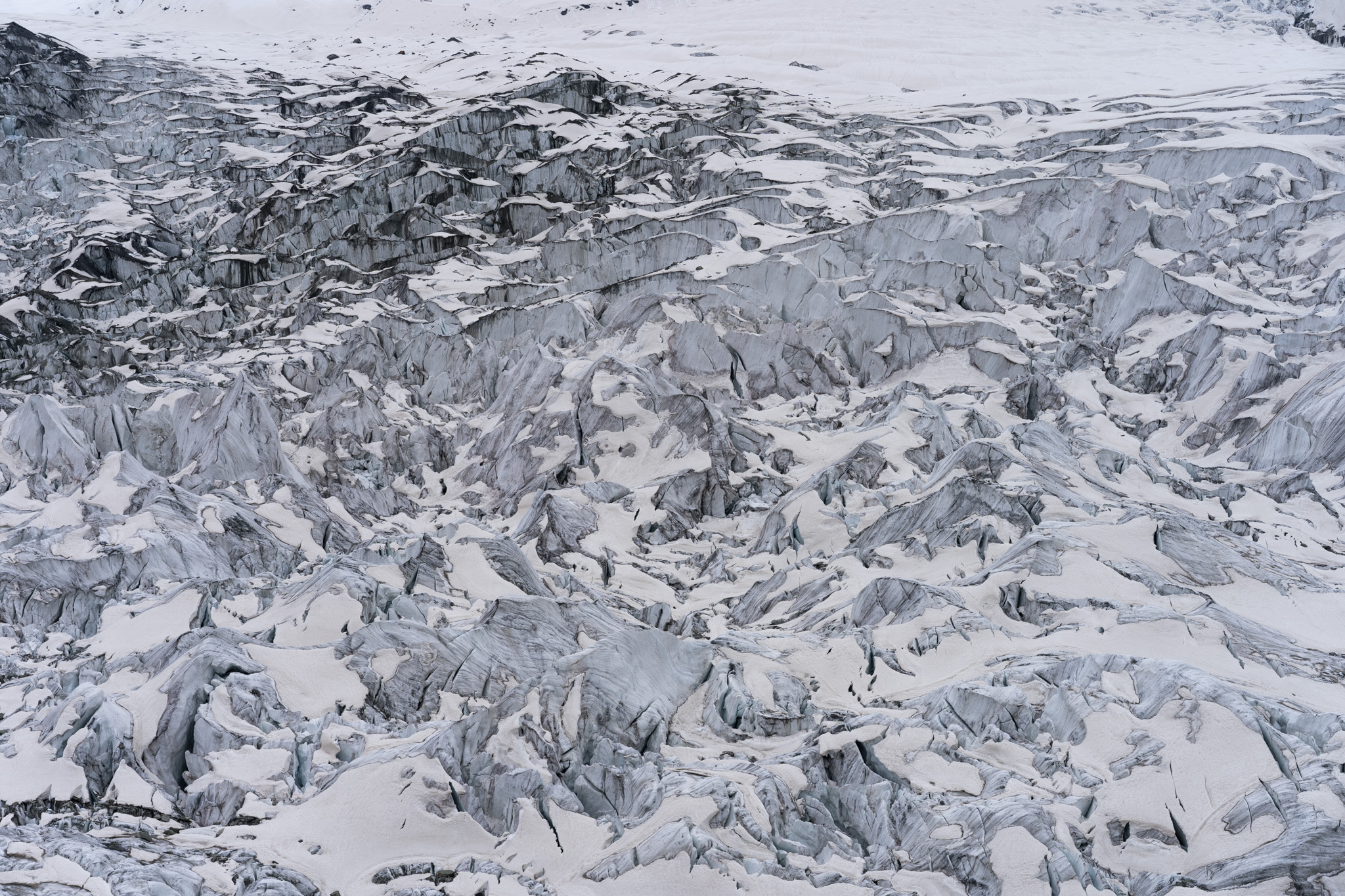 Where to visit in Pakistan
When I was planning my backpacking trip around Pakistan, I was quite lost on which places would be best to visit. I spent hours and hours researching which areas I should check out. In this section, I'll give you that information in condensed form.
Pakistan is such a large and diverse country, so I'm going to separate the main destinations into their respective provinces to make things a bit easier to understand.
If you're into mountains,  you'll be in heaven in Gilgit-Baltistan and Khyber Pakhtunkhwa. If you're more of a history and culture person, you'll love Punjab and Sindh.
Backpacking Gilgit-Baltistan
Gilgit-Baltistan is Pakistan's crown jewel. It's home to the mighty Karakoram Highway and multiple 8,000-meter peaks (K2, Nanga Parbat, etc..). If you like nature, you'll fall in love with this place.
Here are some of the places you should visit in Gilgit-Baltistan: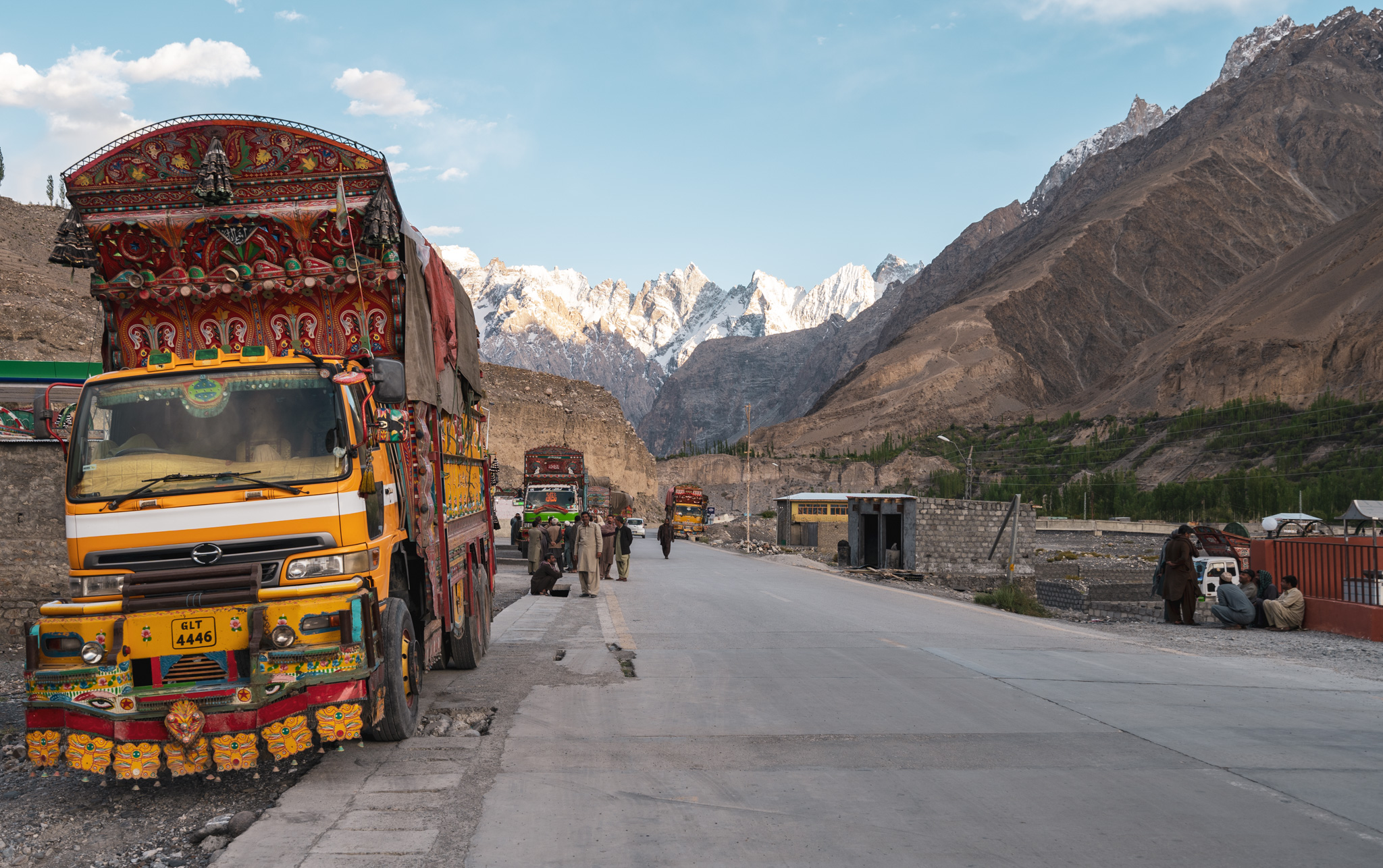 Karimabad (Lower Hunza)
You definitely shouldn't miss Hunza. It's located right on the Karakoram Highway, about two hours drive from the city of Gilgit.
Most visitors to Hunza will stay in Karimabad. From Karimabad, you'll have incredible views of the entire valley with Rakaposhi (7,788 m) and Diran (7,266 m) towering above.
Where to stay in Karimabad
As the most touristy area in Northern Pakistan, Karimabad is full of places to stay.
I recommend Old Hunza Inn – it's a 'popular' place for foreign backpackers. Rs. 1500 for a double room.
Getting to Karimabad
To get to Karimabad, you first need to get to Aliabad. Aliabad is a larger town located a short 10-minute drive from Karimabad.
From Gilgit, there are minivans to Karimabad for around Rs. 200 – the drive should take two hours. You can also easily hitchhike from Gilgit to Aliabad, and you'll probably meet some interesting people along the way!
From Aliabad to Karimabad, frequent minivans make the trip for just Rs. 20.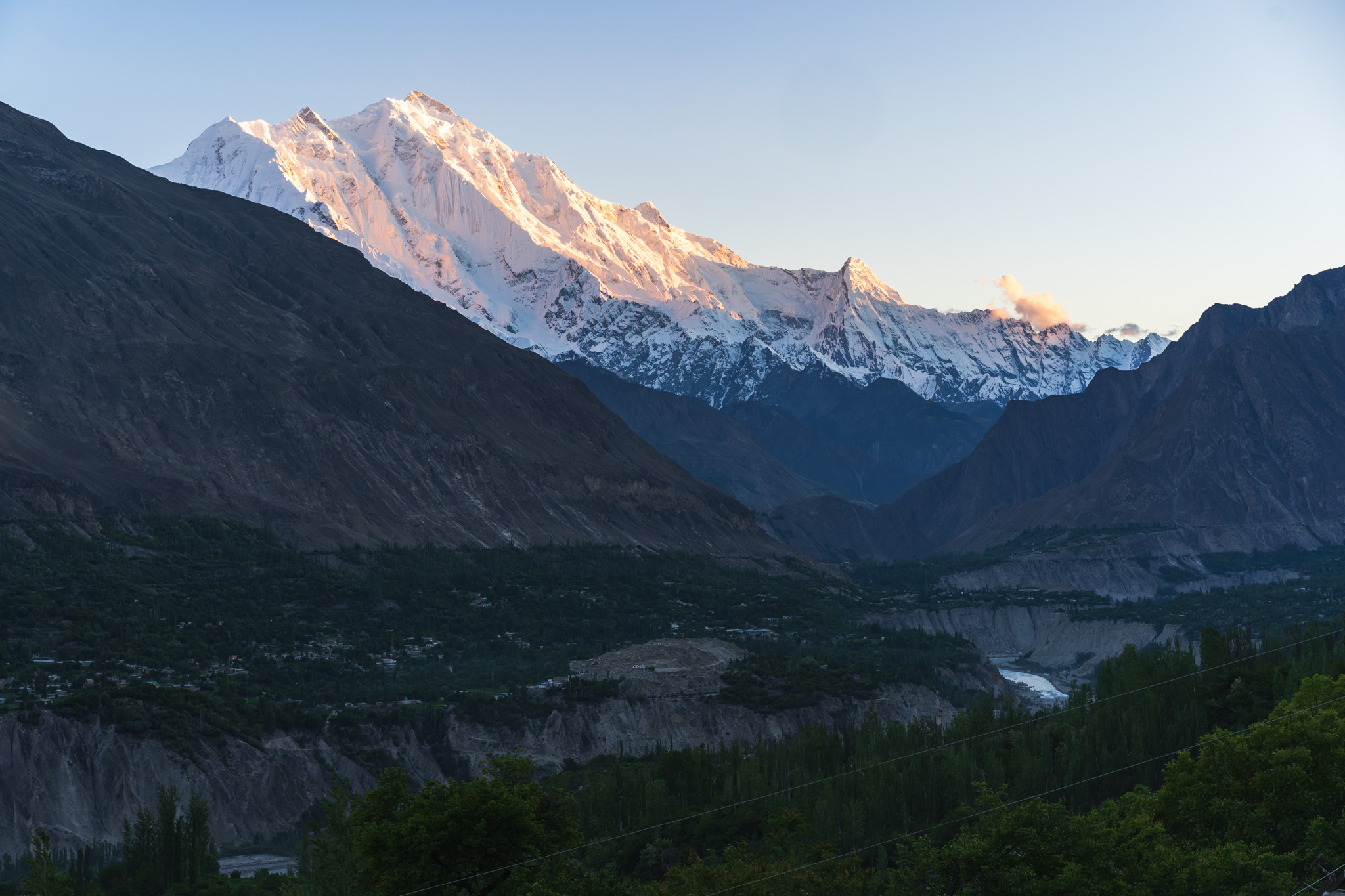 Passu (Upper Hunza)
Passu has gotta be one of the most amazing places I've ever been to. It's a very small town on the Karakoram Highway that's surrounded by incredible peaks. When you first arrive in Passu and see the Cathedral Range, you'll be in awe.
There are a ton of things you can do around Passu. You can visit the Passu and Hussaini bridges (or even do a three-hour hike between them). You can hike to the Passu Glacier, and marvel at its gorgeous white colour. And if you're looking for a slightly more challenging hike, you can walk between the Passu to Batura glaciers in a single day.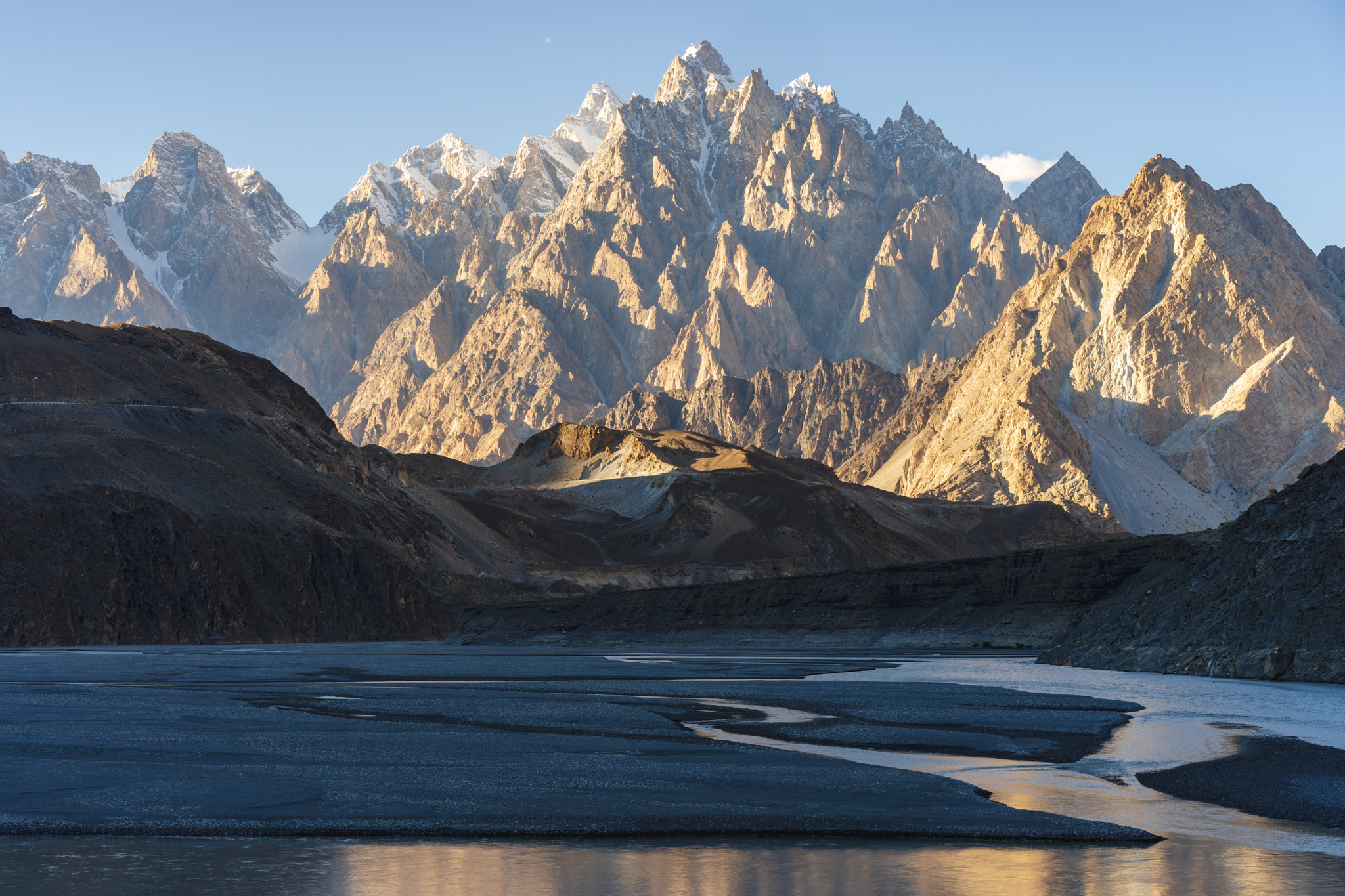 Where to stay in Passu
In Passu, you can stay at the Passu Inn located right on the KKH. It's a bit pricey for Pakistan standards at Rs. 2000 for a double, but it does have functional WiFi and a restaurant.
Getting to Passu
Passu is a 1.5-hour drive from Aliabad. You can take a minivan for less than Rs. 200, or consider hitchhiking. It's super easy to do on the KKH. If coming from China, the drive from Sost (first Pakistan town you'll arrive in) to Passu only takes about an hour.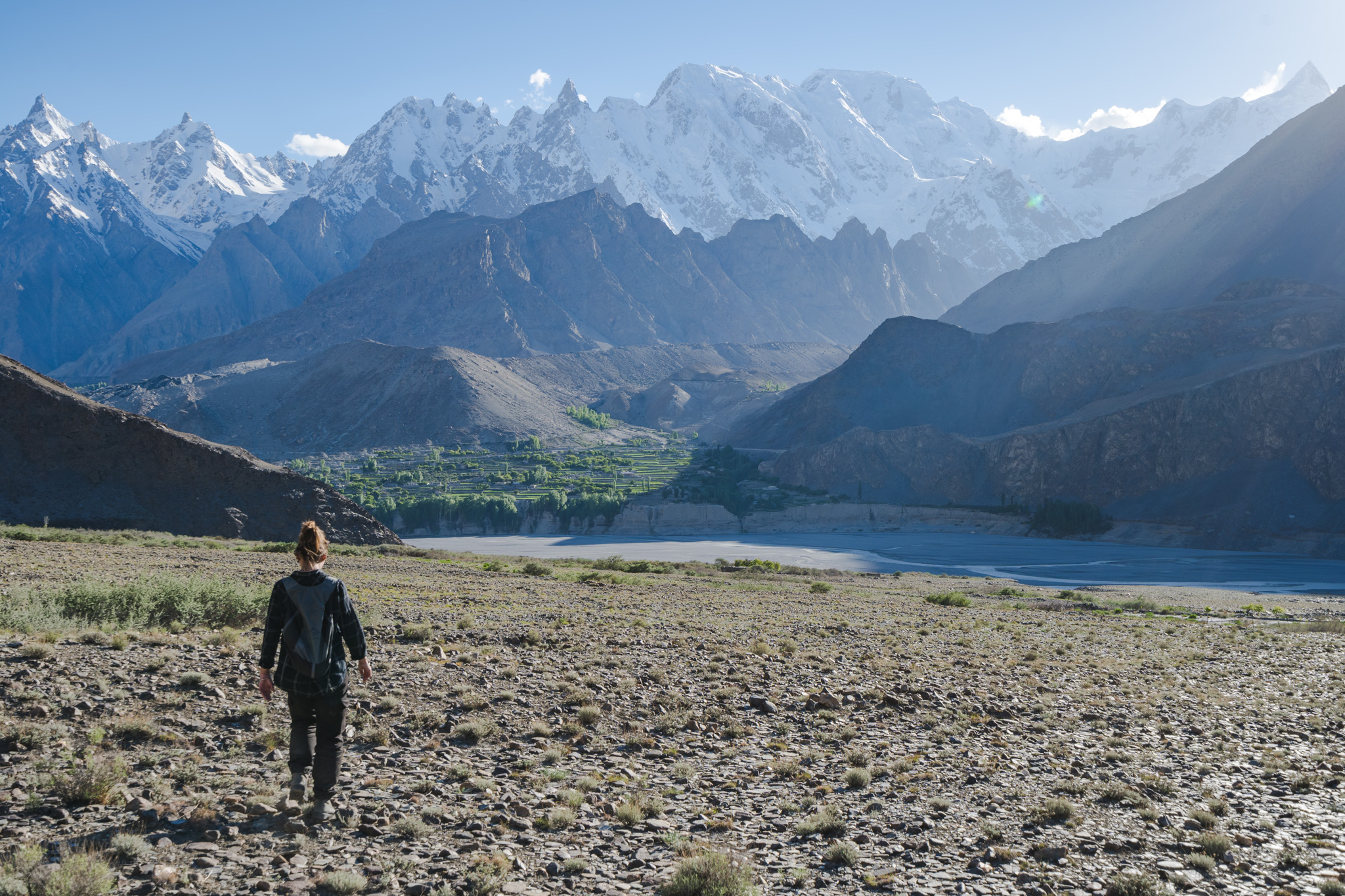 Skardu Area
Skardu is the heart of Baltistan and a world-famous hub for mountaineering and trekking.
From Skardu, one can embark on a trek to K2 Base Camp, visit the high altitude Deosai Plains, or just soak up the sun in Skardu's Cold Desert.
I spent a few days hanging out in the city of Skardu, visiting nearby sites such as Satpara Lake, the Cold Desert, and Kachura Lake. If you want to go on any longer treks into the Karakoram, you'll need to arrange that with a tour company (independent trekking is not allowed yet).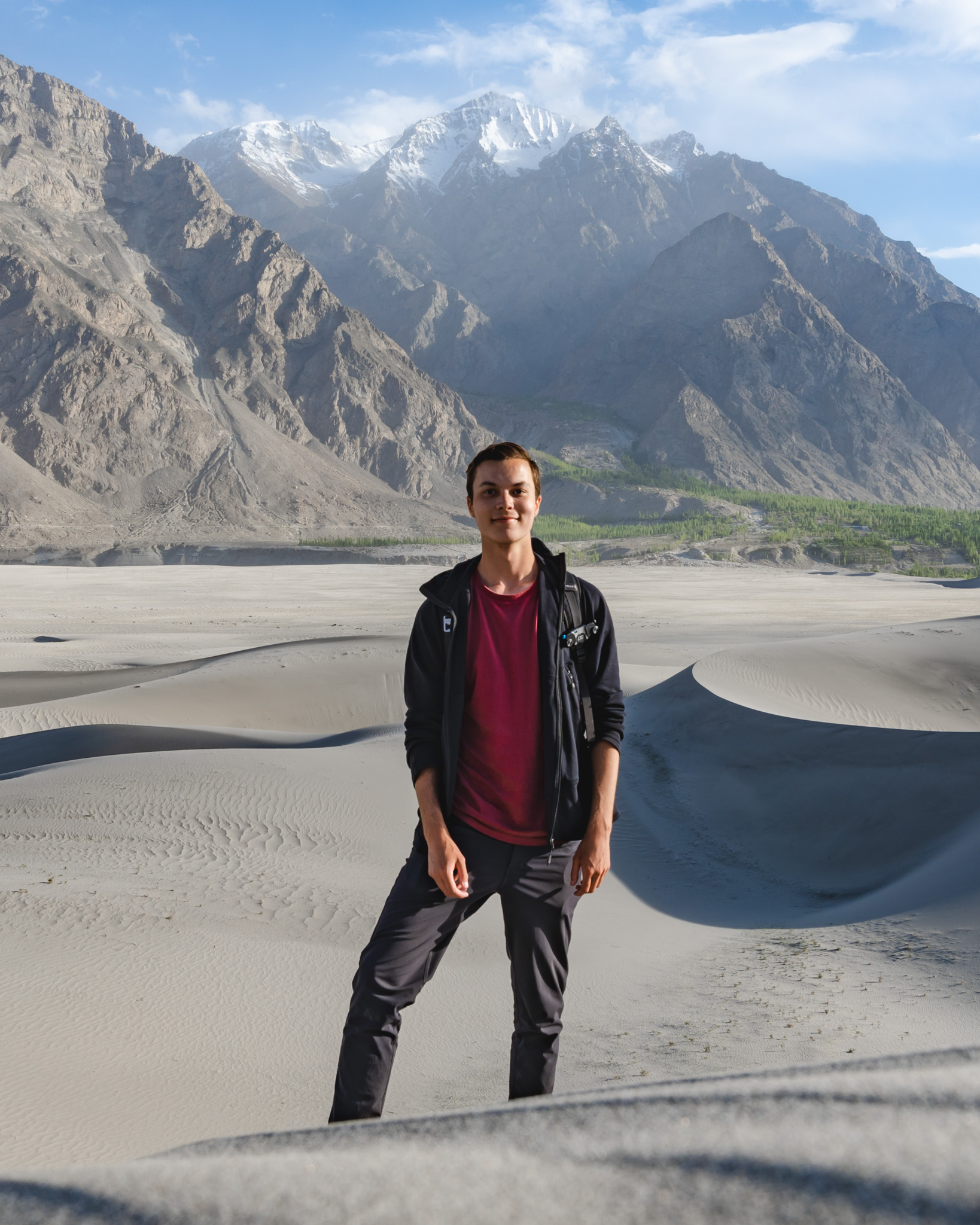 Where to stay in Skardu
In Skardu, I recommend staying at the Dewan-e-Khas Hotel. It has working WiFi and a delicious restaurant that offers Pakistani and Chinese food. Expect to pay between Rs. 1700 and Rs. 2500 depending on the season. Prices online seem to be much higher than what I paid, so just negotiate when you arrive.
Getting to Skardu
At the moment, getting to Skardu overland is a pain in the ass. The entire road from Gilgit to Skardu is under construction until at least 2021, and the roadworks can cause significant delays.
If you travel on a Friday, the construction workers won't be working, so the drive will take about 7 hours. Otherwise, expect it to take 9+ hours. The trip from Gilgit in a minivan costs Rs. 800.
If you don't mind spending some cash, you can fly from Islamabad to Skardu. As far as I know, there aren't direct flights from Gilgit to Skardu anymore (let me know if there are!).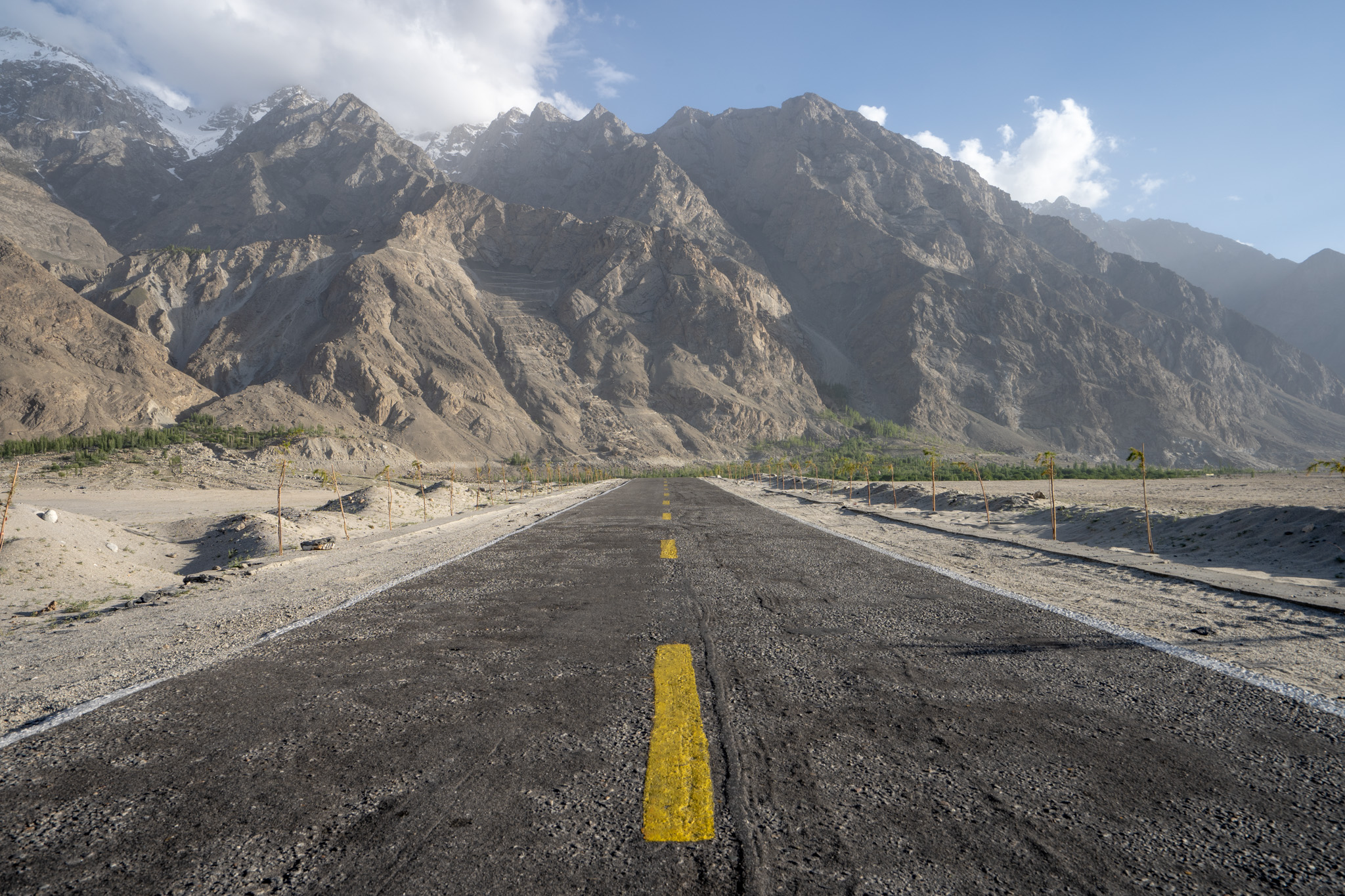 Ghizer Valley
Probably the most underrated place in Gilgit-Baltistan. Few tourists seem to visit here, and those that do are often just passing through.
I spent some time visiting the gorgeous little village of Phander. I highly recommend it.
From Ghizer Valley, you can also travel to the remote Yasin Valley. I haven't been, but it's on my list for my next trip.
Where to stay in Phander
I stayed at the Sada Bahar Hotel when I was in Phander, and it was a decent budget option with an attached restaurant. There are quite a few nice cheap hotels here, so don't hesitate to check out some of the other options.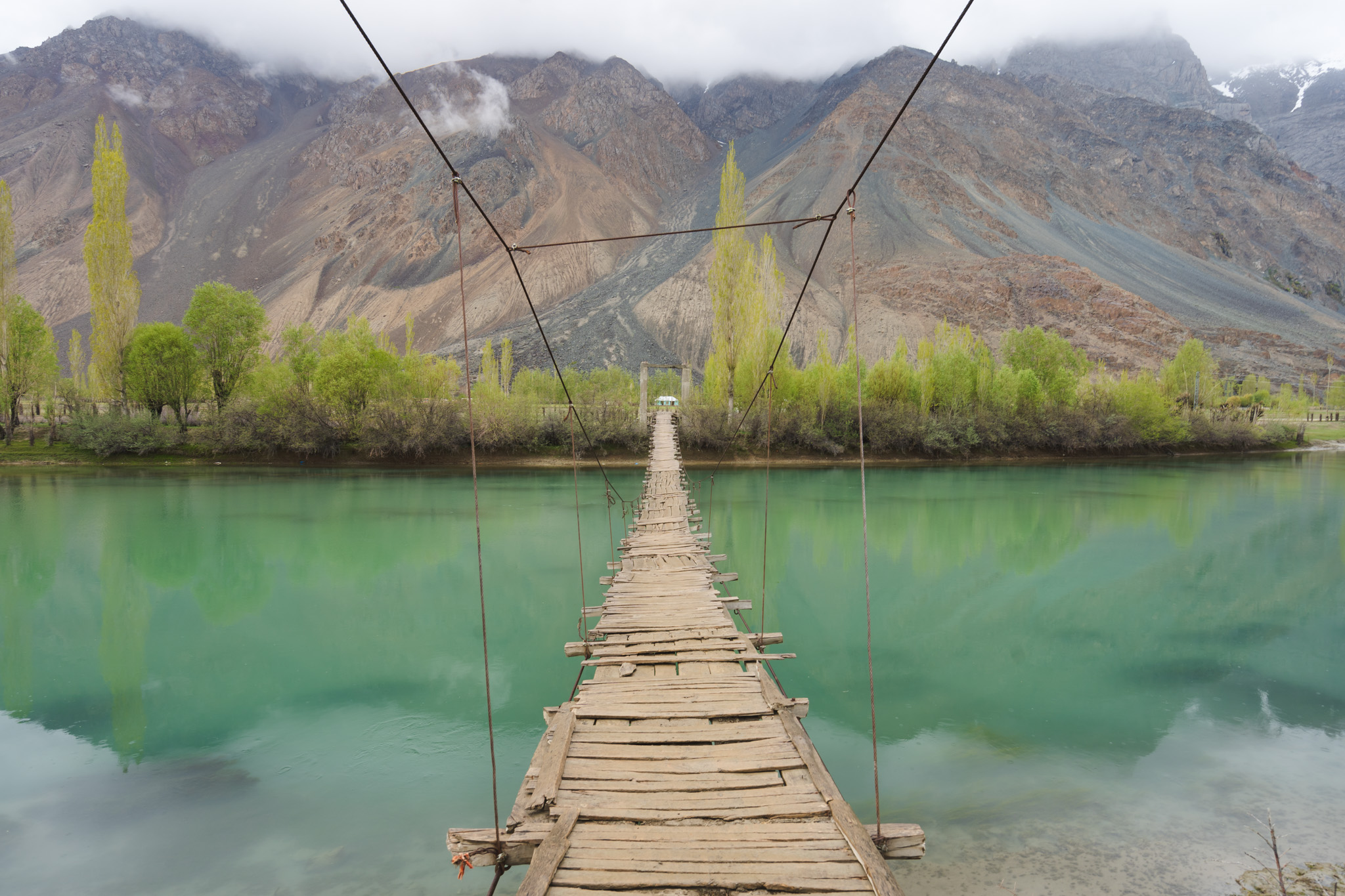 How to get to Phander
From Gilgit, getting to Phander isn't too difficult. There's a NATCO bus to Mastuj departing at 6:00 am. Let the driver know you want to get off at Phander. A ticket is Rs. 400 and the drive should take about 6 hours.
From Mastuj, you can also take the NATCO bus that heads towards Gilgit, but get off in Phander. It leaves from Mastuj at 5:00 am, but only runs from mid-May to October each year (Shandur Pass is snow-covered in the winter).
Hitchhiking in this part of Pakistan is actually a bit challenging – my friend and I waited 6 hours for a ride from Phander to Gilgit. There are just very few cars in this area.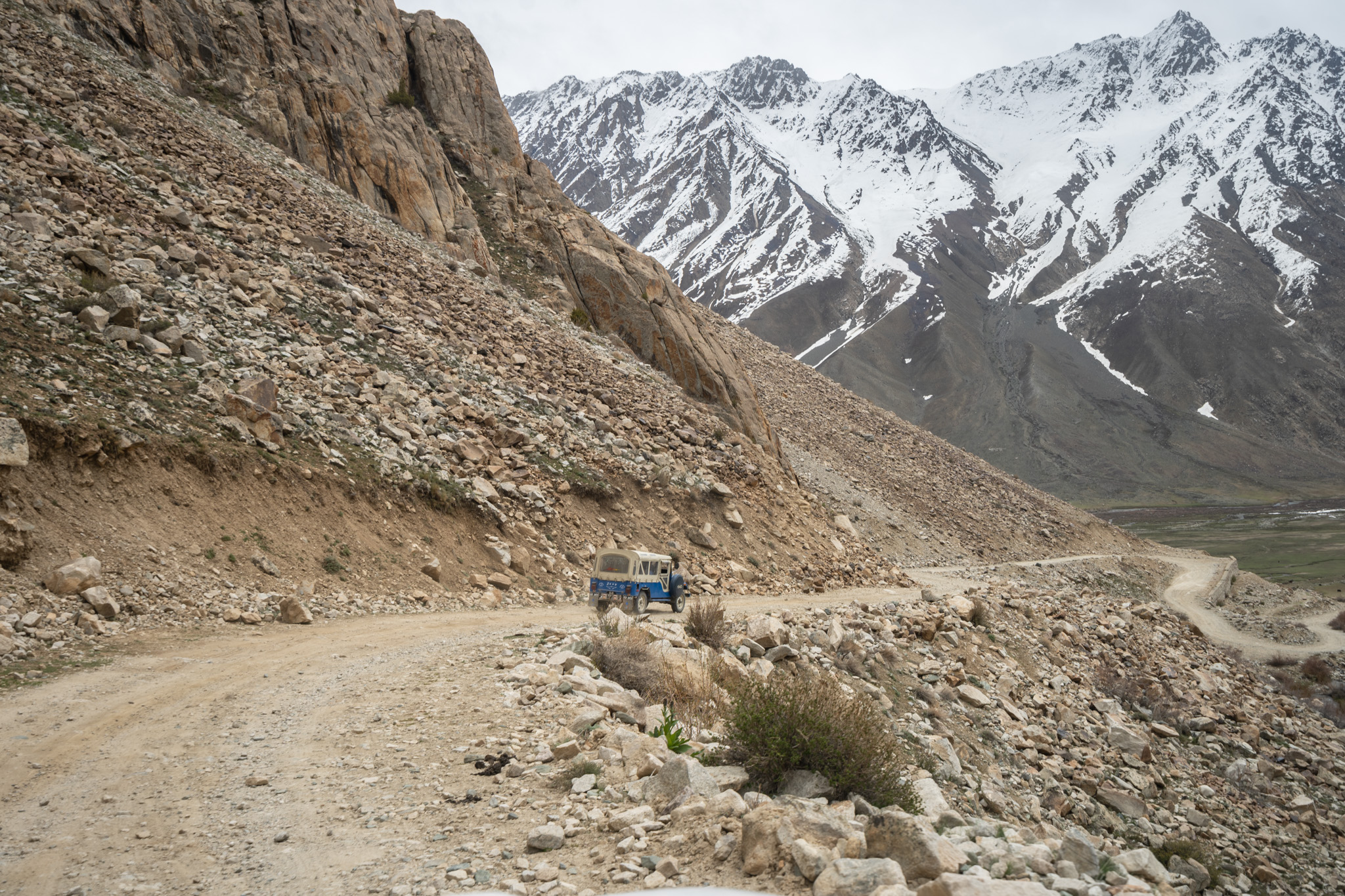 Fairy Meadows
Fairy Meadows is one of Gilgit-Baltistan's highlights. It's a gorgeous alpine meadow at the foot of Nanga Parbat (8,126 meters).
I actually didn't have time to visit on my trip in Pakistan, as my visa was about to run out. But it's at the top of my list for when I return.
At Fairy Meadows, you can go on numerous hikes to different viewpoints or even all the way to Nanga Parbat base camp.
Where to stay at Fairy Meadows
I've heard good things about Fairy Meadows Greenland Resorts. They have proper cottages and also an area that you can pitch tents.
How to get to Fairy Meadows
Getting to Fairy Meadows is quite expensive by Pakistani standards. There is a turnoff to Fairy Meadows at the Raikot Bridge on the Karakoram Highway. To get to Raikot bridge, take any minivan that is driving between Gilgit and Chillas and ask to stop at Raikot.
From Raikot bridge to Fairy Meadows, local jeep drivers have a monopoly. You're forced to pay for one of these jeeps, you are not allowed to take your own vehicle. It costs around Rs. 8000 for a full jeep round-trip. Try to split with other travellers to reduce the cost.
At the end of the jeep track, it's a 3-hour hike to the actual Fairy Meadows, so don't bring too much stuff with you!
Minapin (Nagar Valley)
Minapin is a quaint little town located at the start of the hike to Rakaposhi Base Camp. The town offers great views of the massive peak, and you should definitely try visiting base camp if you're able.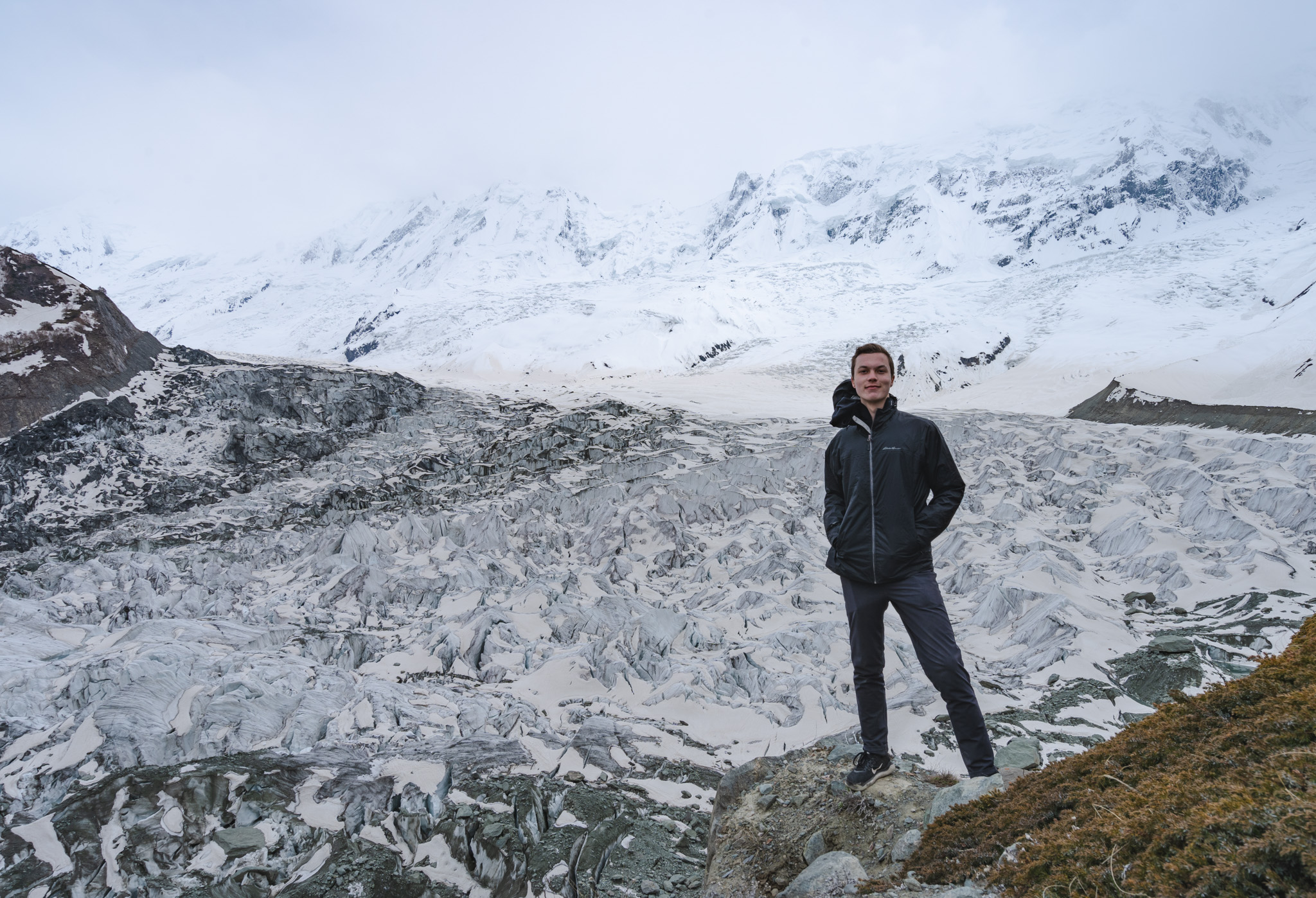 Where to stay in Minapin
I highly recommend you stay at the Osho Thang Hotel. It's run by some lovely people and can help you organize a guide for the Rakaposhi BC trek if you're interested.
For Rs. 2000 per night, you'll get a room and delicious dinner and breakfast (veggies right from their garden!).
How to get to Minapin
From Gilgit, some minivans go to Minapin (about 1.5 hours). I'll be honest though – I highly recommend just hitchhiking. Public transport in Pakistan is crowded and only leaves when full, so hitchhiking is often a much faster and more comfortable way of getting around.
If you're hitchhiking, take any car to the turnoff from the Karakoram Highway towards Pissan and Minapin. From the turnoff, you can walk 3.7 kilometres to Minapin, or try hitchhiking with another vehicle.
Check out my detailed Rakaposhi Base Camp hiking guide for more info on the incredible hike.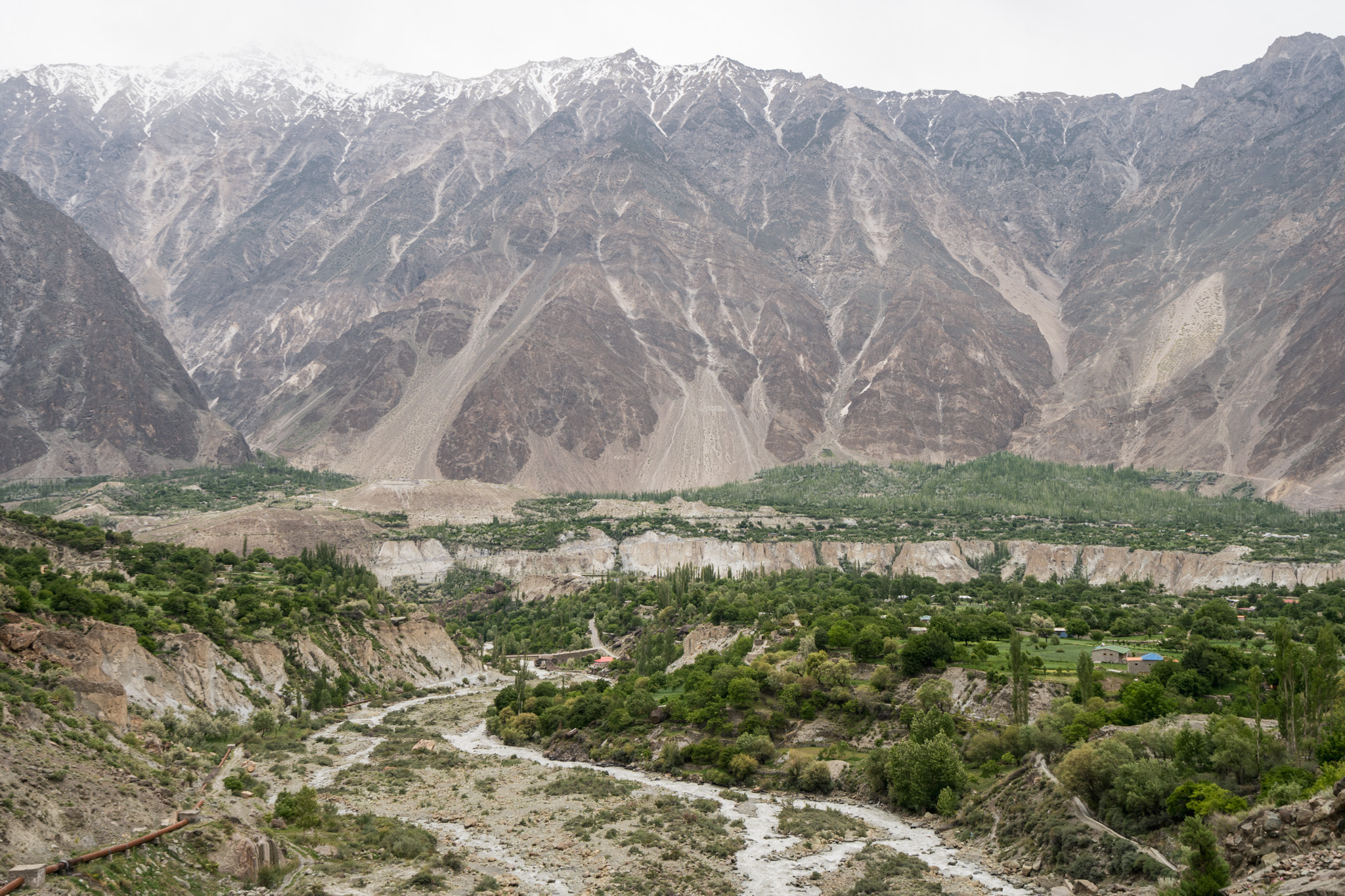 Gilgit
If you visit Gilgit-Baltistan, you'll definitely pass through the city of Gilgit. It's a decent place to spend a couple nights after being in the mountains but is quite hot in the summer (it's only at 1,500 meters).
I wouldn't recommend spending too much time here unless you have a specific reason, it's more of a transport hub for all of Gilgit-Baltistan.
Where to stay in Gilgit
The most popular backpacker place in Gilgit is the Medina 2 Hotel. It costs Rs. 1500 for a double, and has a cheap restaurant attached to it. Very friendly and helpful staff.
How to get to Gilgit
Most people will be coming to Gilgit from Islamabad. From Islamabad, you can take an overnight NATCO bus for Rs. 2500. The drive should take around 18 hours but is prone to delays due to landslides.
Gilgit also has an airport, with daily flights from Islamabad. Tickets are around $100, but flights are often delayed/cancelled.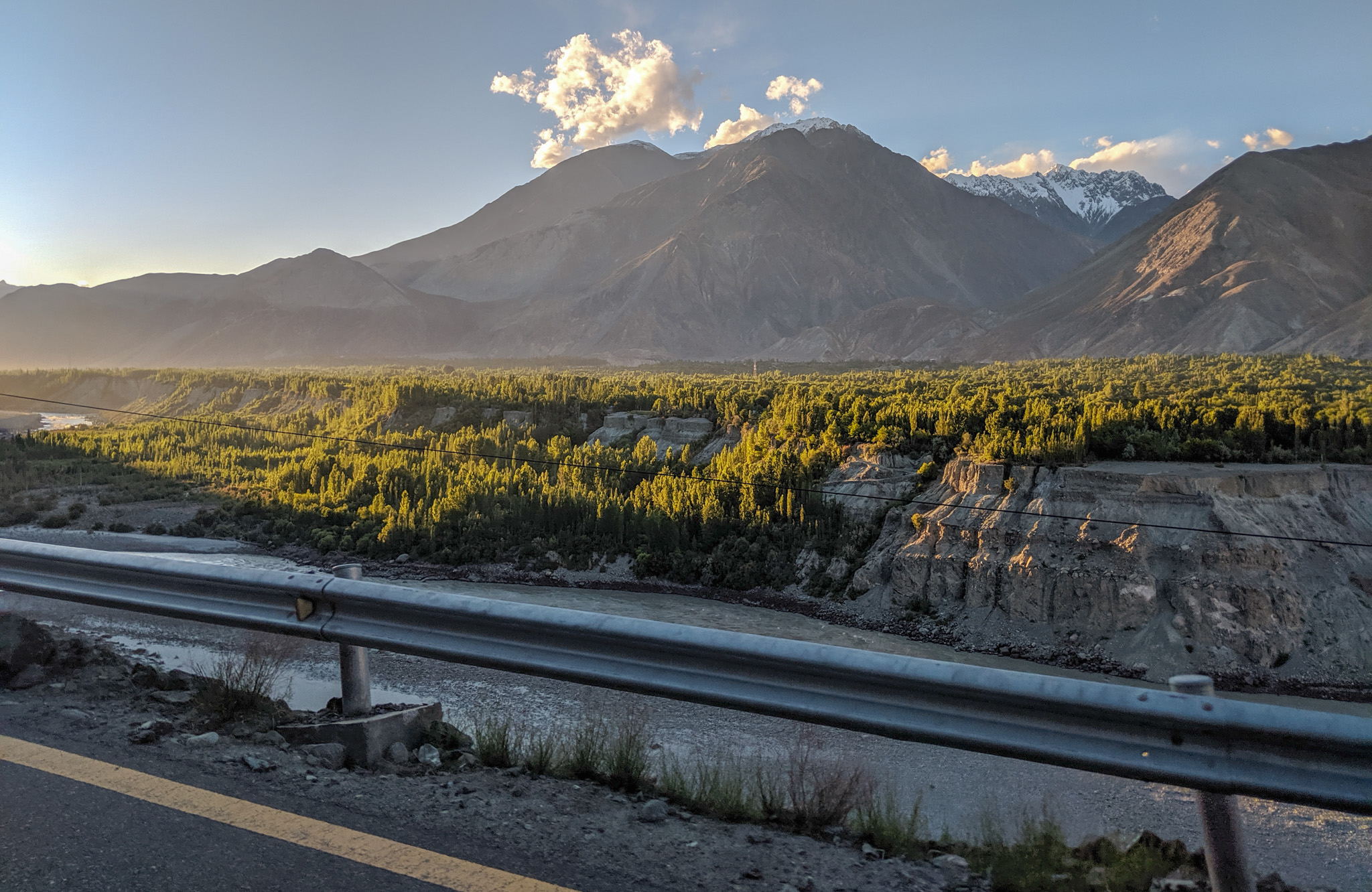 Astore Valley
I haven't visited the Astore Valley, but I've heard that it's also an incredible area where you could spend days just visiting villages and going on hikes. I don't have much info to share here, so go check out Joan's guide to the Astore Valley.
Backpacking Khyber Pakhtunkhwa (KPK)
Khyber Pakhtunkhwa is an incredibly diverse and beautiful province. It's home to the gorgeous mountains of the Swat and Chitral Valleys, incredible history in the city of Peshawar, and the amazing Kalash people in the Kalash Valleys. The province is more conservative than neighbouring Gilgit-Baltistan, so dress appropriately and be culturally sensitive.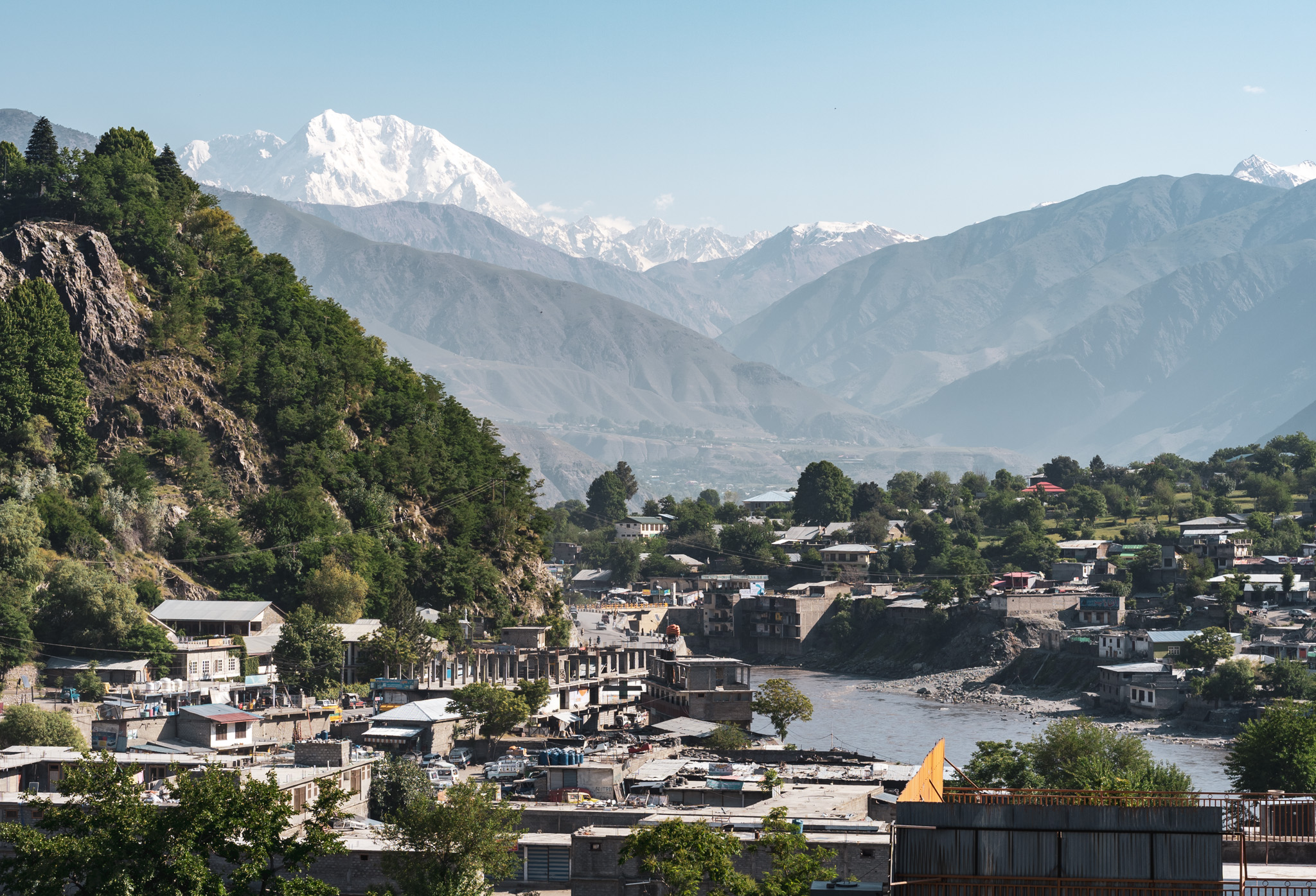 Swat Valley
Swat Valley is stunning, and a great off-the-beaten-path destination for hiking in Pakistan. Queen Elizabeth II visited here in the 1960s and called it the "Switzerland of the East".
The valley has a troubled recent history – it was under Taliban control from 2007 to 2009. I'm happy to say that the situation is now quite stable in Swat, there are a number of checkpoints keeping track of who enters/exits the valley.
Swat is popular with domestic tourists in the summer months, but very few foreigners visit the valley. People here are extremely hospitable, but it is a more conservative part of Pakistan so remember to act/dress respectfully.
The largest city in Swat is Mingora, and you'll have to pass through here on your way to the gorgeous mountain town of Kalam. In Kalam, there are some great day hiking opportunities. More on those in a subsequent post.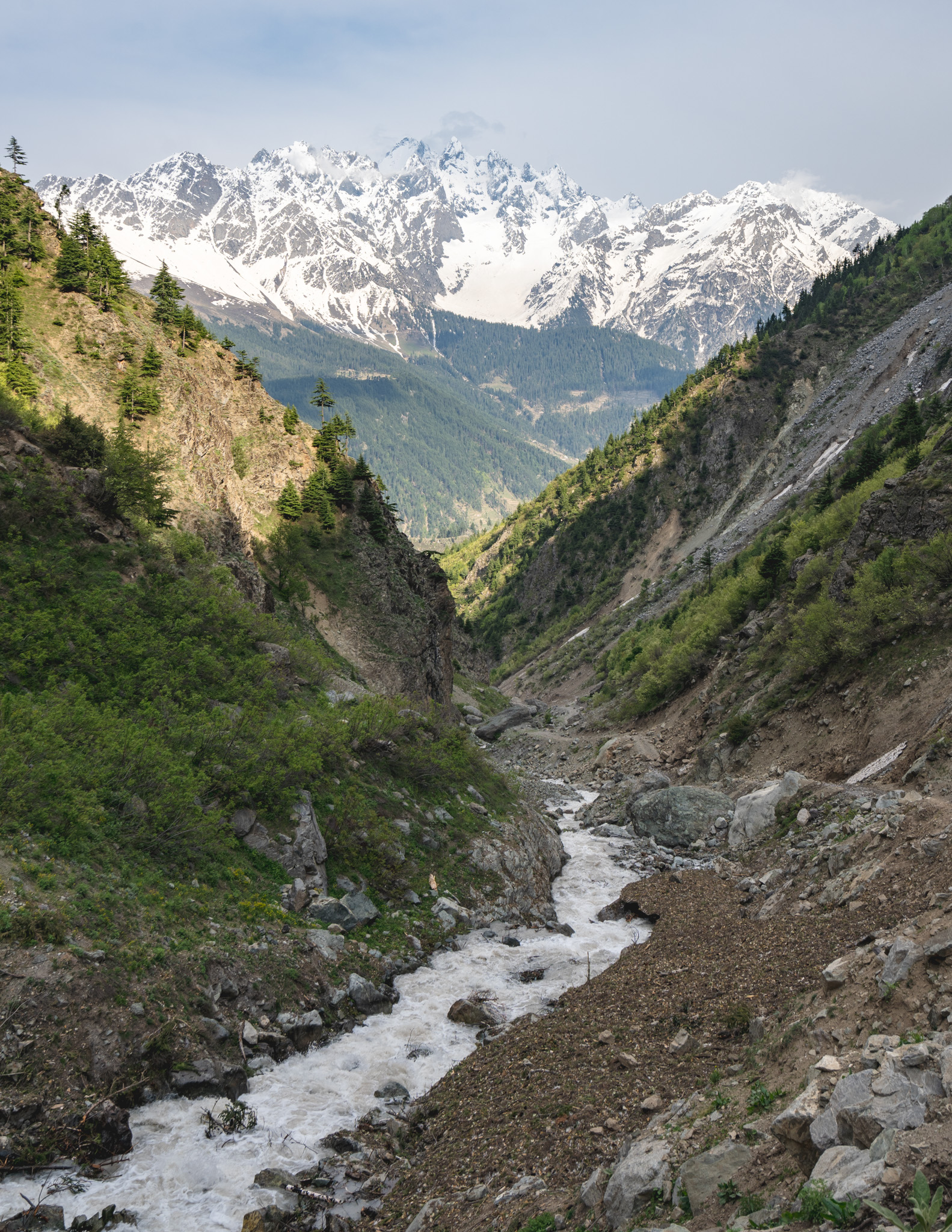 Where to stay in Swat Valley
In Mingora, I recommend the Green Tower Hotel –  it costs Rs. 1000 for a basic double room.
Kalam has many different accommodation options available. I stayed at the Mehboob Hotel, located just north of the main bazaar. I was there during Ramadan, and it cost Rs. 1000. The owner told me that accommodation prices in Kalam can soar in the summer months and that my same room would go for Rs. 5000.
If you're looking for a fancy place to stay in Kalam, look no further than the Walnut Heights Resort. I got to see this place when I was hiking to Desan Meadows, and it looks incredible! Sadly, it's a bit out of my budget.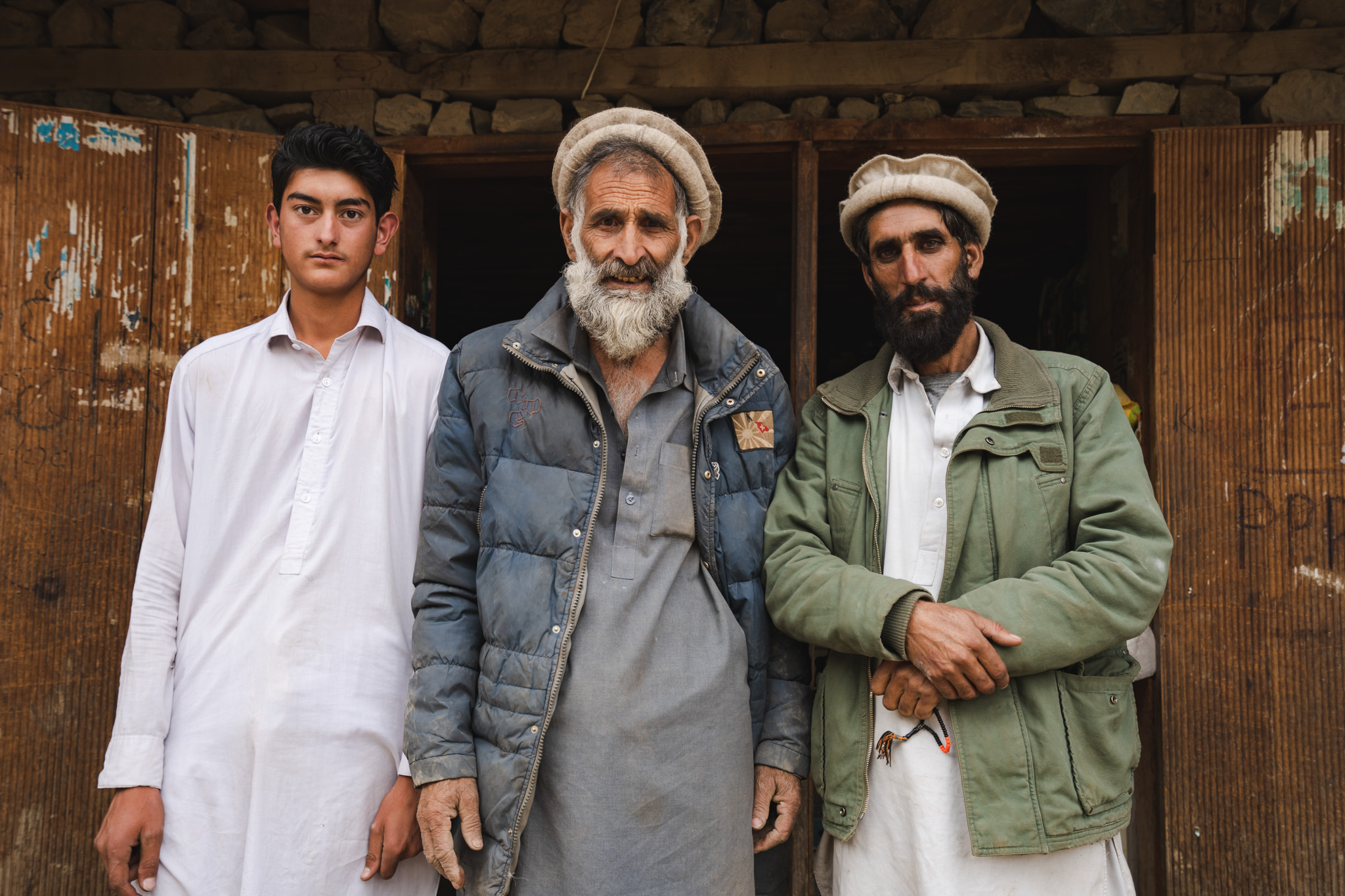 How to get to Swat Valley
You first need to get to Mingora, which is easy from Islamabad, Peshawar or Lahore. The Daewoo bus company operates direct buses to Mingora from the cities. Check the Daewoo website for pricing & times. It should take 4 to 5 hours driving from Islamabad or Peshawar, and 8 to 9 hours from Lahore.
From Mingora to Kalam, the road gets quite rough. The journey will take between 4 and 6 hours depending on the road that day, and it's a pretty wild ride. Sit on the right side from Mingora to Kalam if you're not afraid of heights 😉
You can get a minibus from Mingora to Kalam from the main bus station in Mingora.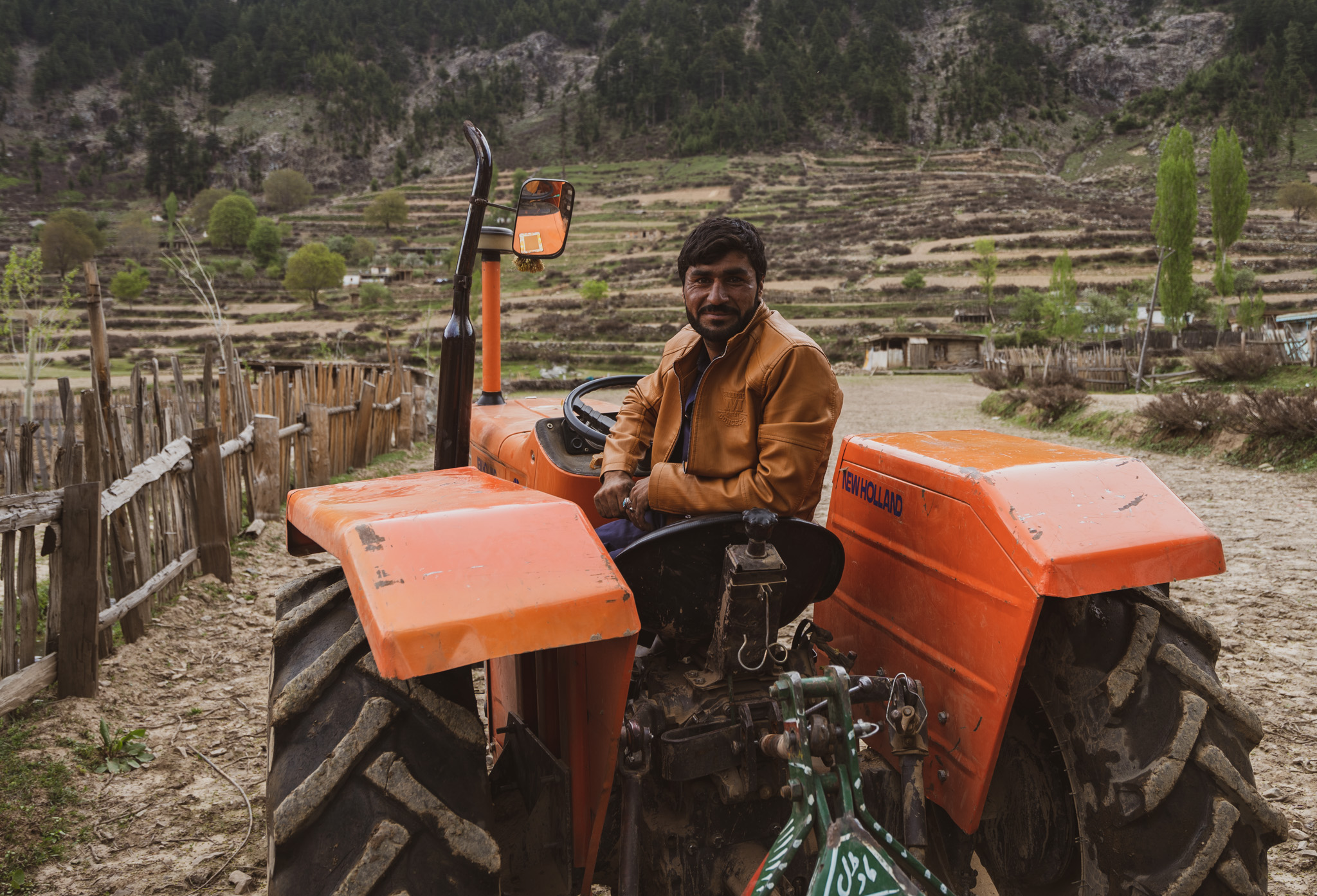 Peshawar
Peshawar is the capital of Khyber Pakhtunkhwa and is known for its culture and history. As recently as a year or two ago, foreign travellers needed a special NOC permit to visit Peshawar. Fortunately, the NOC system has been abolished and foreigners can now visit Peshawar without any hassle!
When you're in Peshawar, you should spend some time walking around the old city and trying delicious street food.
From Peshawar, I got lucky and was able to arrange a visit to Darra Adam Khel, the world's largest gun bazaar. It's normally difficult for foreigners to visit here, but try asking around and see what happens! I also tried to visit the Khyber Pass but didn't have the same luck.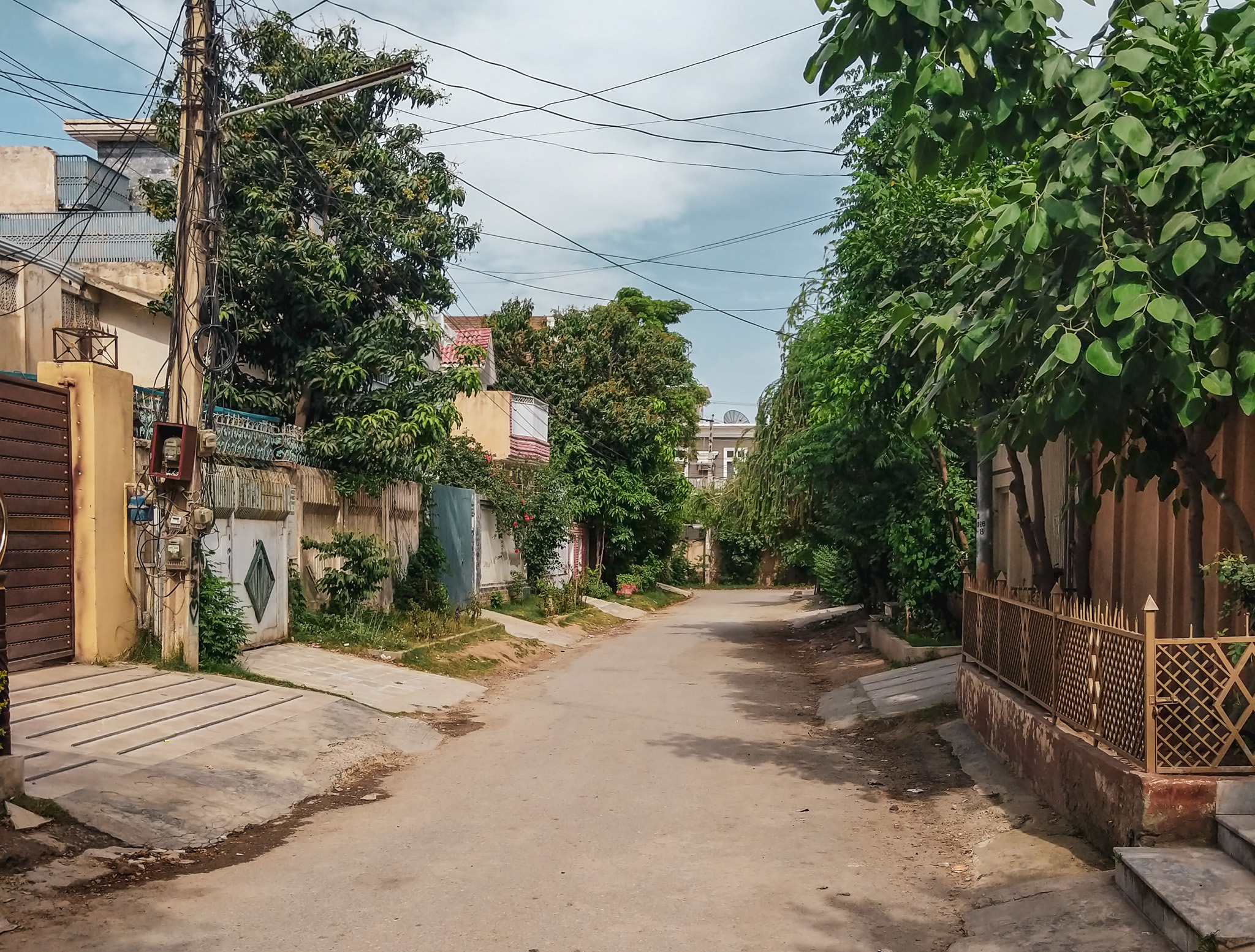 Where to stay in Peshawar
Peshawar is a great city for Couchsurfing, as there aren't many budget hotel options available for foreigners. I've seen The Rose Hotel recommend in a few places, so consider it if you can't find a host.
How to get to Peshawar
You can get to Peshawar by road, rail, and plane. Most backpackers will likely be coming from nearby Islamabad/Rawalpindi, so let me explain that.
There are frequent Daewoo buses from the Rawalpindi Daewoo station to Peshawar. Current ticket prices are Rs. 540, and the journey should take 2 hours.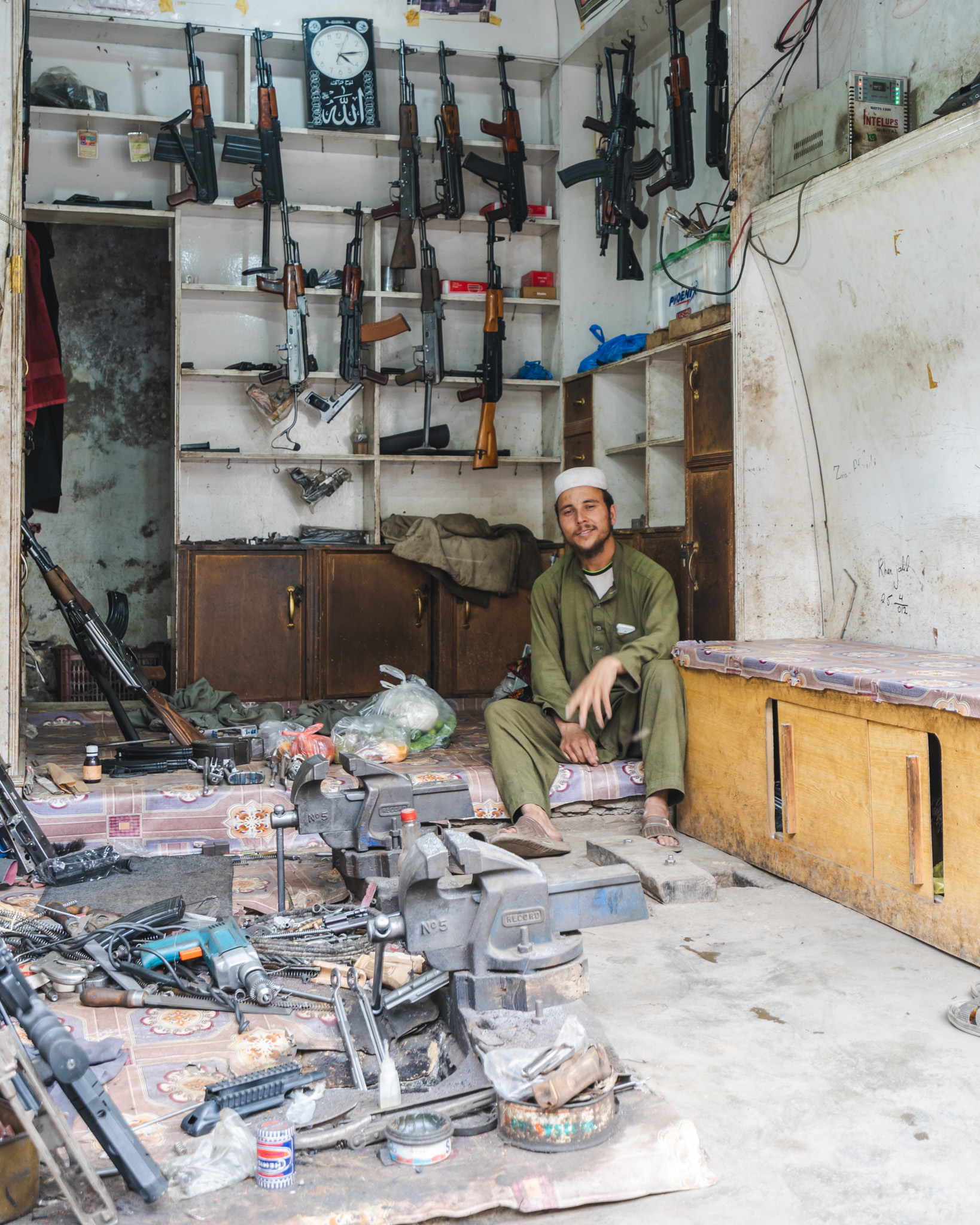 Chitral Valley
Chitral was actually a separate state up until 1947. The valley can only be reached from the south via the 3,118-meter Lowari Pass (now slightly easier due to a new tunnel), or via the north-east by crossing the 3,700-meter Shandur Pass. Nowadays it also has a small airport, if you wanna cheat 😉
Chitral town is a nice place to spend a day or two, soaking in some views of the mighty Tirich Mir (7,708 m). The main reason people go to Chitral Valley is to access the Kalash Valleys, which I'll go over next.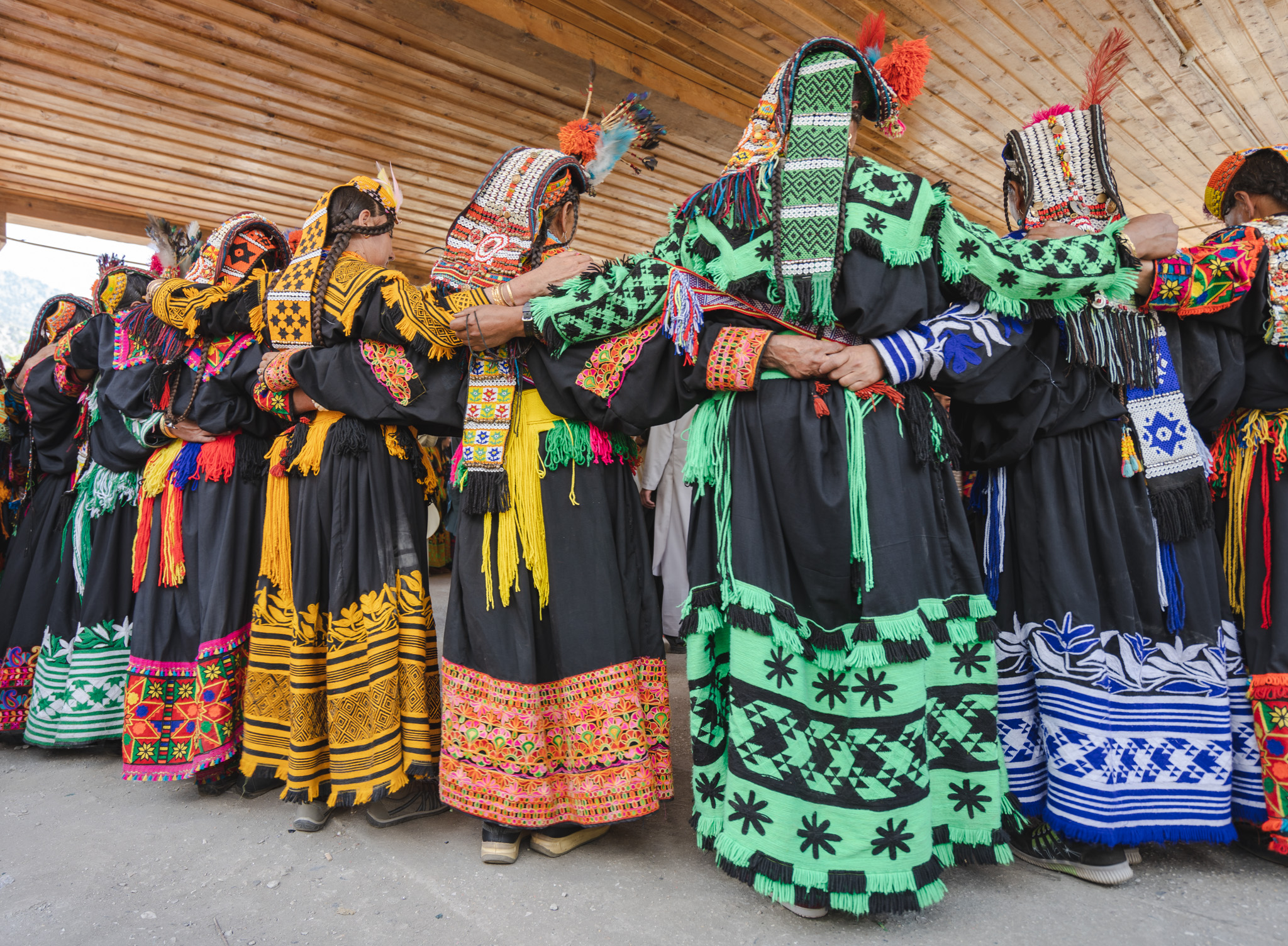 Where to stay in Chitral
In Chitral town, I recommend the Al-Farooq Hotel. It's quite nice, has a central location, and costs Rs. 600/1200 for a single/double room.
How to get to Chitral
Getting to Chitral overland takes a while. Consider flying if you're short on time. From Islamabad or Peshawar, the journey is about 10 hours by bus.
Kalash Valleys
The Kalash Valleys are typically the main reason people venture all the way out to Chitral. The Kalash people are an indigenous group who inhabit three valleys near the Afghanistan border. They have their own unique religion that's considered to be a form of animism or ancient Hinduism.
There are three festivals each year that tend to attract the largest number of tourists. These are the Chilam Joshi in mid-May, the Uchau in autumn, and the Caumus in mid-winter. I visited during the Chilam Joshi festival, and it was an incredible experience.
Check out my full guide to visiting the Kalash Valleys and Chilam Joshi festival (Coming soon).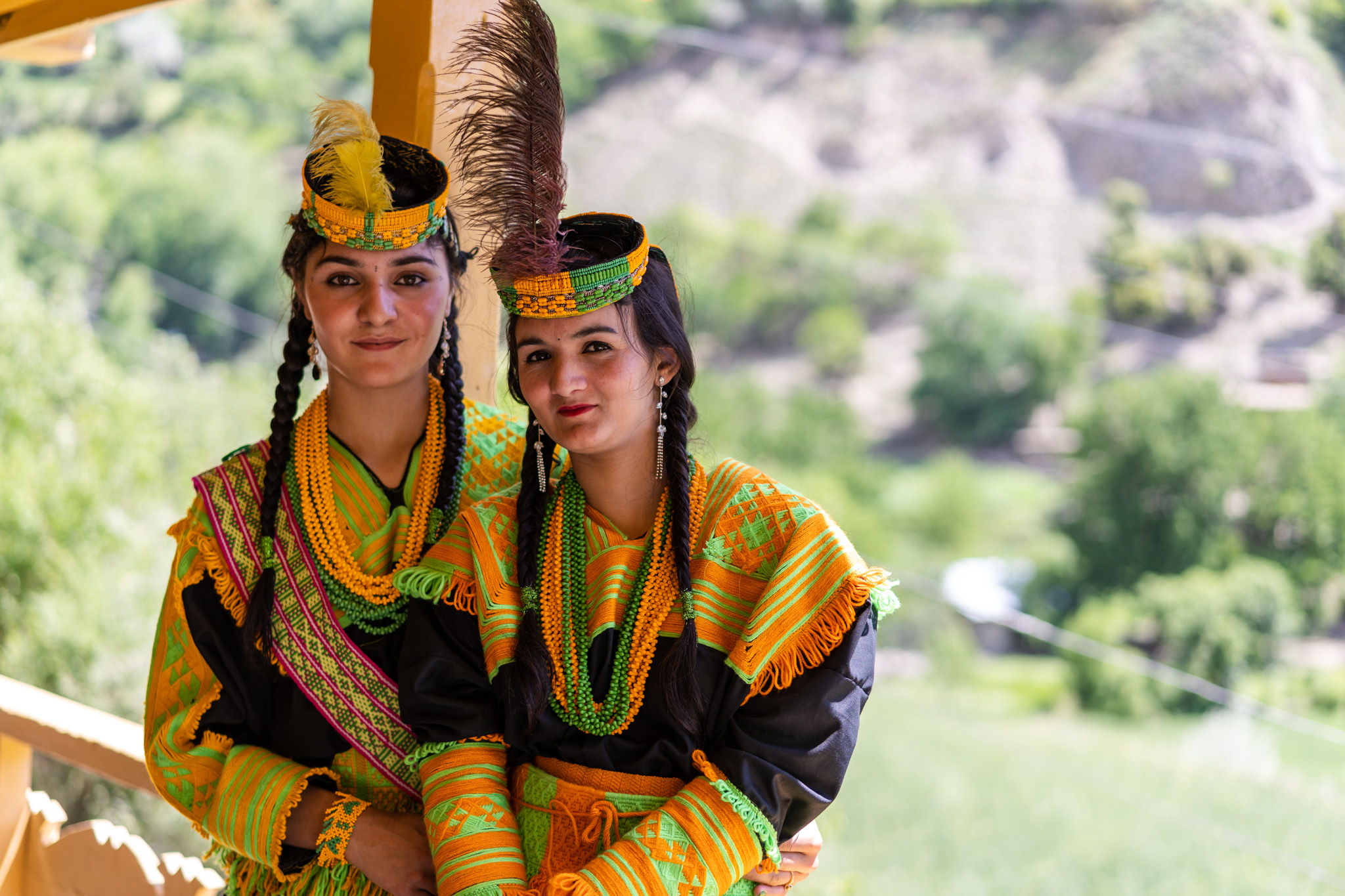 Backpacking Punjab
Islamabad
The nation's capital, and a common place for people backpacking Pakistan to start their journey. Islamabad is a pre-planned city, it has a bunch of different districts that go by short names such as E-11. I found it to be a very unwalkable city, but getting around is easy with the Careem taxi app.
There's not really that much to do in Islamabad, but it's worth checking out the Faisal Mosque and possibly spending a day visiting the Murree hill station.
Where to stay in Islamabad
Islamabad is home to one of the few backpacker style hostels in Pakistan. It's called Islamabad Backpackers Hostel and Guesthouse and is run by Haris, a very friendly dude who knows a lot about travel in Pakistan.
This was the first place I stayed in Pakistan, and I had a great time.
How to get to Islamabad
If you're not flying into Islamabad, you're likely coming from Lahore. From Lahore, you can take a quick 4-5 hour long bus ride. These buses depart frequently, but you can check the Daewoo website for the exact schedule.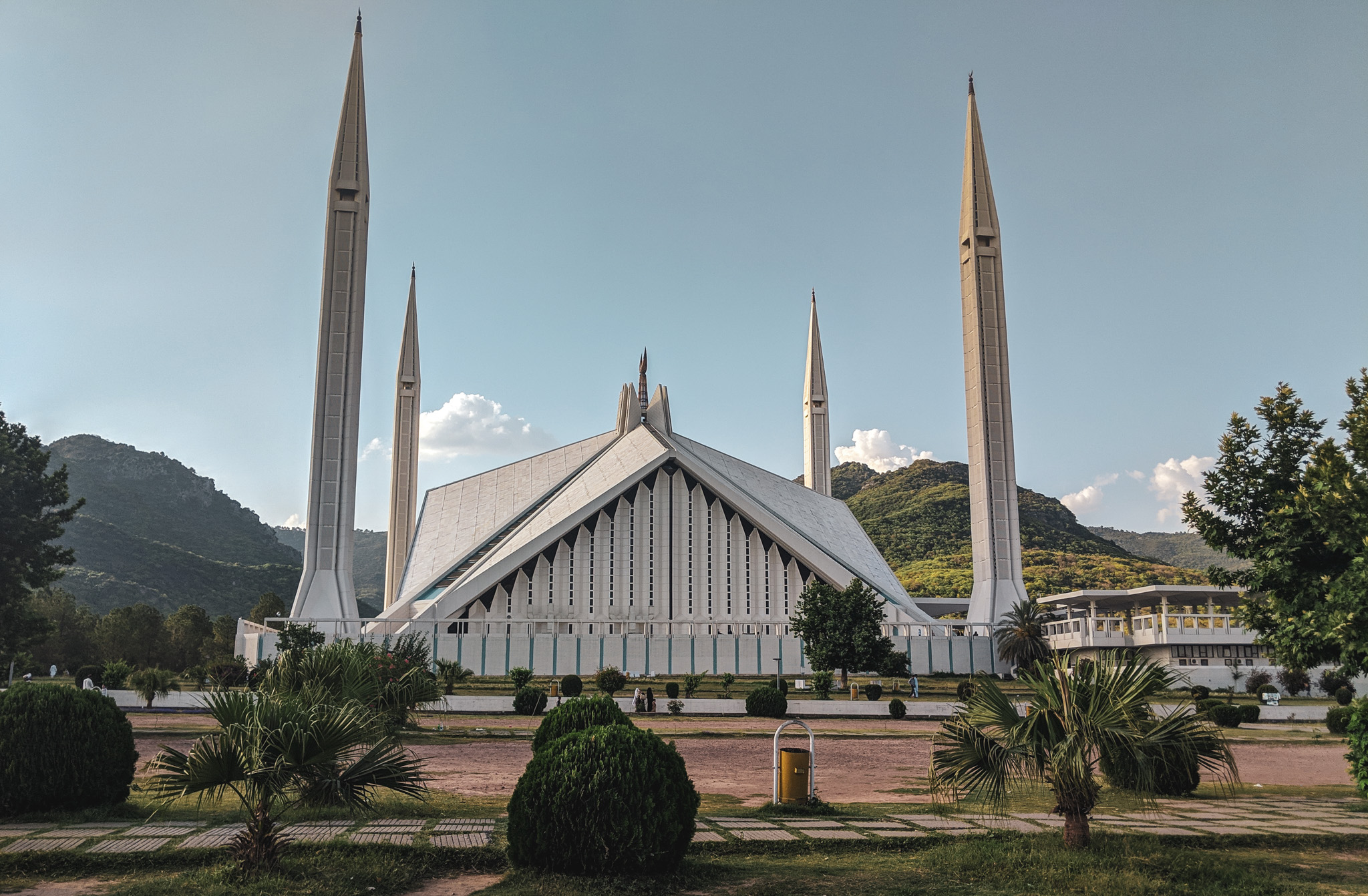 Lahore
Lahore is considered the cultural capital of Pakistan. I didn't go to Lahore on my trip, as it was 45+ degrees the entire time. I'm planning to visit on a future trip when the temperatures aren't so hot.
As I haven't been, I can't give very detailed advice on what to do in Lahore. Instead, I'll point you towards this great list of the best places to visit in Lahore.
Where to stay in Lahore
Lahore is also home to a backpacker-style hostel called Lahore Backpackers. A great place to meet the few other foreign backpackers that will be in the city 🙂
How to get to Lahore
From Islamabad, Lahore is a 4-5 hour bus ride away. Check out the Daewoo website for the most recent schedule and prices. If you're coming from Karachi, consider taking an overnight train to save some time. The journey from Karachi to Lahore by train should take between 18 and 20 hours.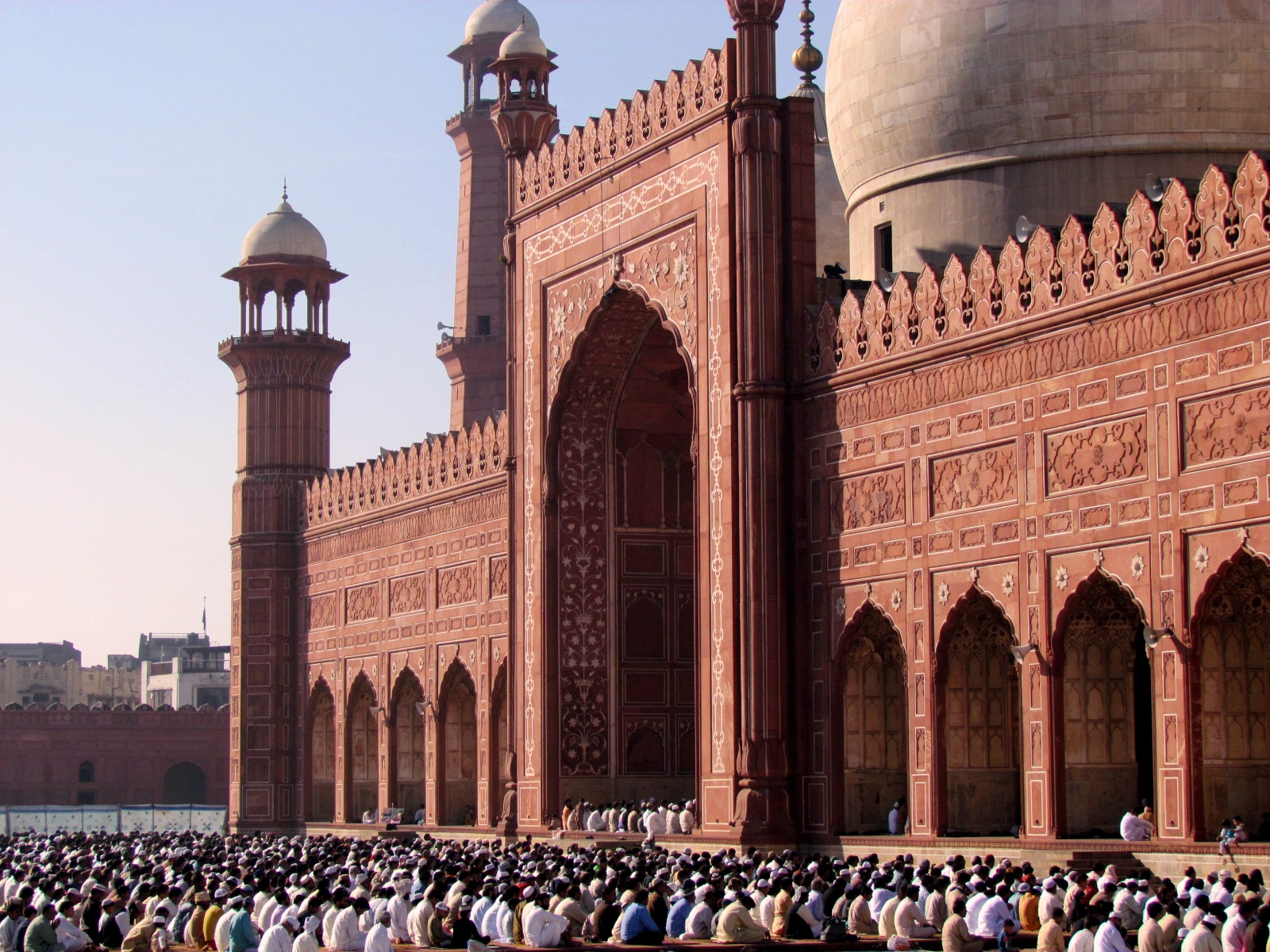 Multan
Another city I haven't been due to the temperatures at the time I was visiting, but Multan is another historical city full of shrines and delicious food.
I've read multiple reports from travellers (and heard from friends) that the police in Multan can be a bit more 'strict' than elsewhere in Pakistan. Some backpackers have been told to leave town right away for their own safety, while others have had to have a police officer accompany them around town.
From what I understand, Multan isn't particularly unsafe, police officers here just seem to be very concerned when they see independent backpackers.
Where to stay in Multan
I can't give any specific recommendations for Multan, but I do see a few reasonably priced options on booking.com. I'd also recommend checking Couchsurfing for a place to stay and local friend in Multan.
How to get to Multan
Getting to Multan is easy – from Islamabad (8 hours), Lahore (5 hours), and Karachi (14 hours), there are frequent Daewoo buses.
If coming from Karachi, it makes more sense to take an overnight train in my opinion. The ride will take between 13 and 15 hours. Multan also has an airport with flights from Islamabad and Karachi (if you're short on time).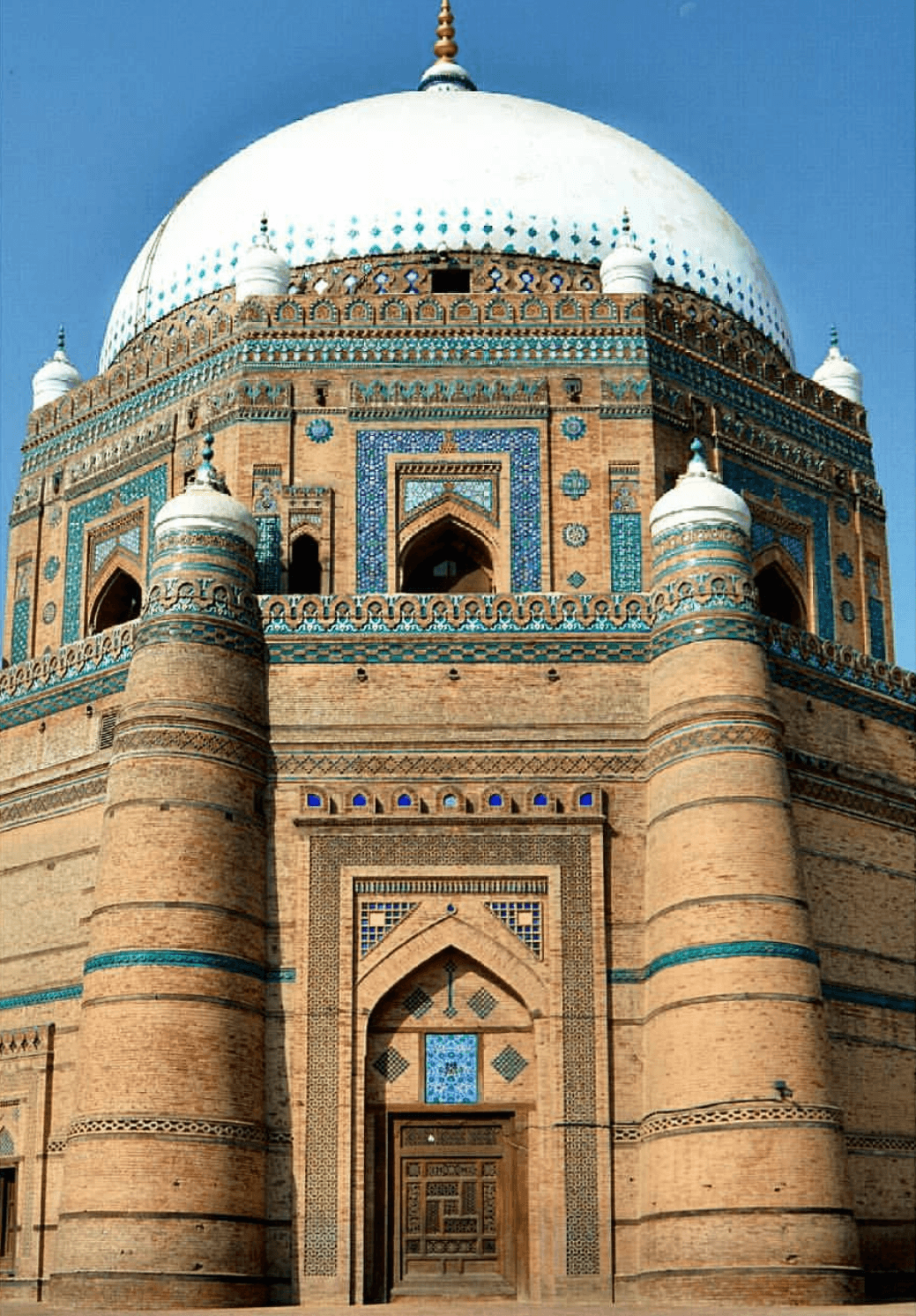 Backpacking Sindh
Karachi
Karachi is Pakistan's largest city and financial capital. It's the capital of Sindh and is located on the coast of the Arabian Sea.
With a population of over 15 million people, there's plenty to see in Karachi. I recommend checking out the Karachi page on WikiVoyage for a list of everything to do in the city.
Where to stay in Karachi
I can't recommend any specific places in Karachi, but there's a decent number of budget options on Booking.com.
How to get to Karachi
Many people begin their Pakistan travels in Karachi due to its large international airport. If you're already in Pakistan, it's also very easy to get to Karachi. From Islamabad and Lahore, there are long-distance Daewoo buses, overnight trains, and flight connections. Take your pick!
Rest of Sindh
Sindh is an incredible place. I haven't yet had the opportunity to travel around it, but Alex over at Lost With Purpose has. Check out her great Sindh travel guide.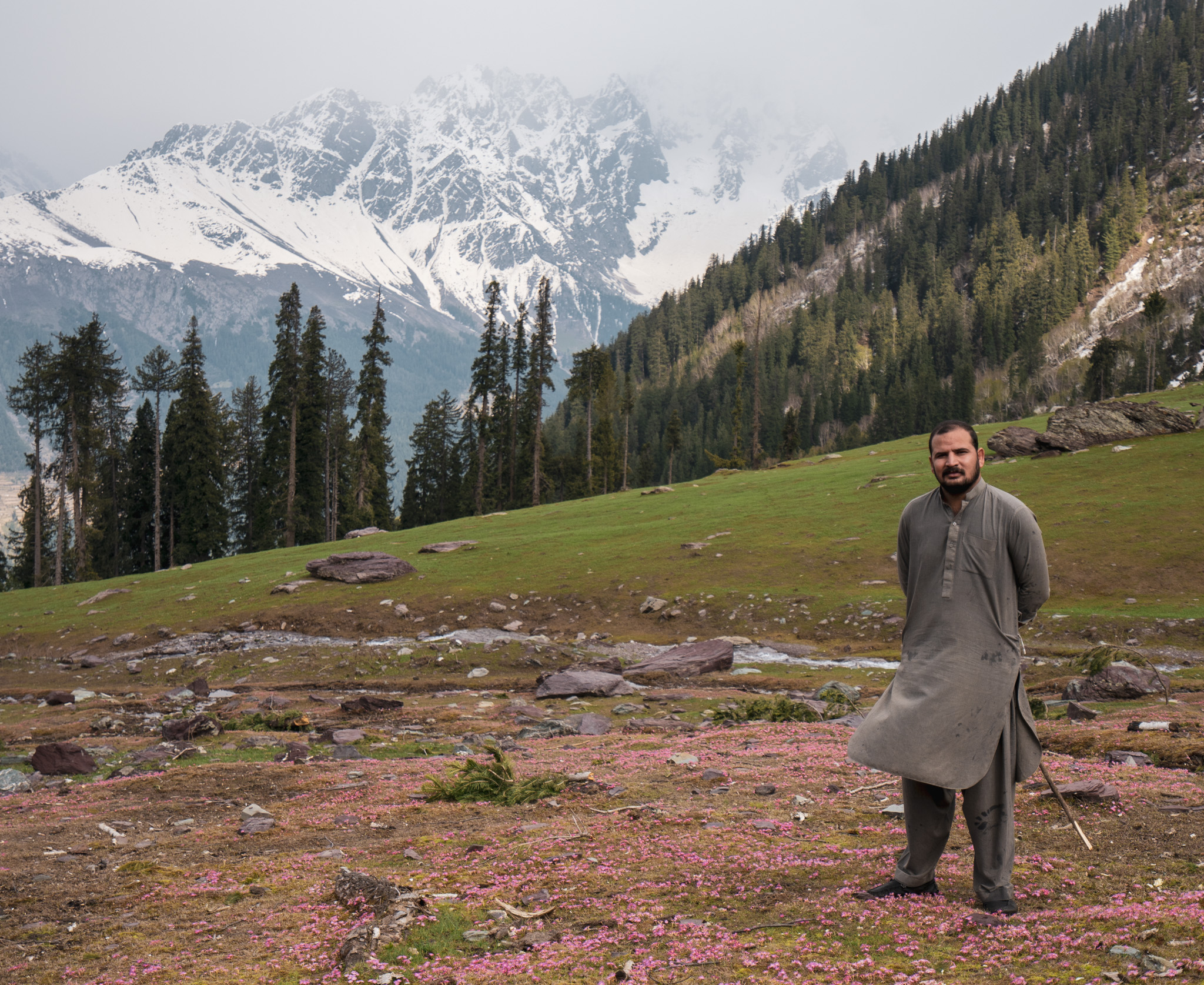 Backpacking Balochistan
At the moment, Balochistan isn't ready for backpackers. The only people who tend to pass through here are overland backpackers going to or coming from Iran. Even then, those overlanders are provided with a police escort until they reach the Iranian border.
Hopefully the situation changes in the future, but for now, I'd recommend that you stick to the other beautiful parts of Pakistan.
Backpacking Azad Jammu and Kashmir
As of writing this, it's still quite difficult for foreigners to backpack in Azad Jammu and Kashmir. I've heard of some people making it to Muzaffarabad but they were then stopped from going any further.
I've seen some photos of the gorgeous mountains around Kel, so I'd really like to visit at some point. But for now, it looks like it's gonna have to wait.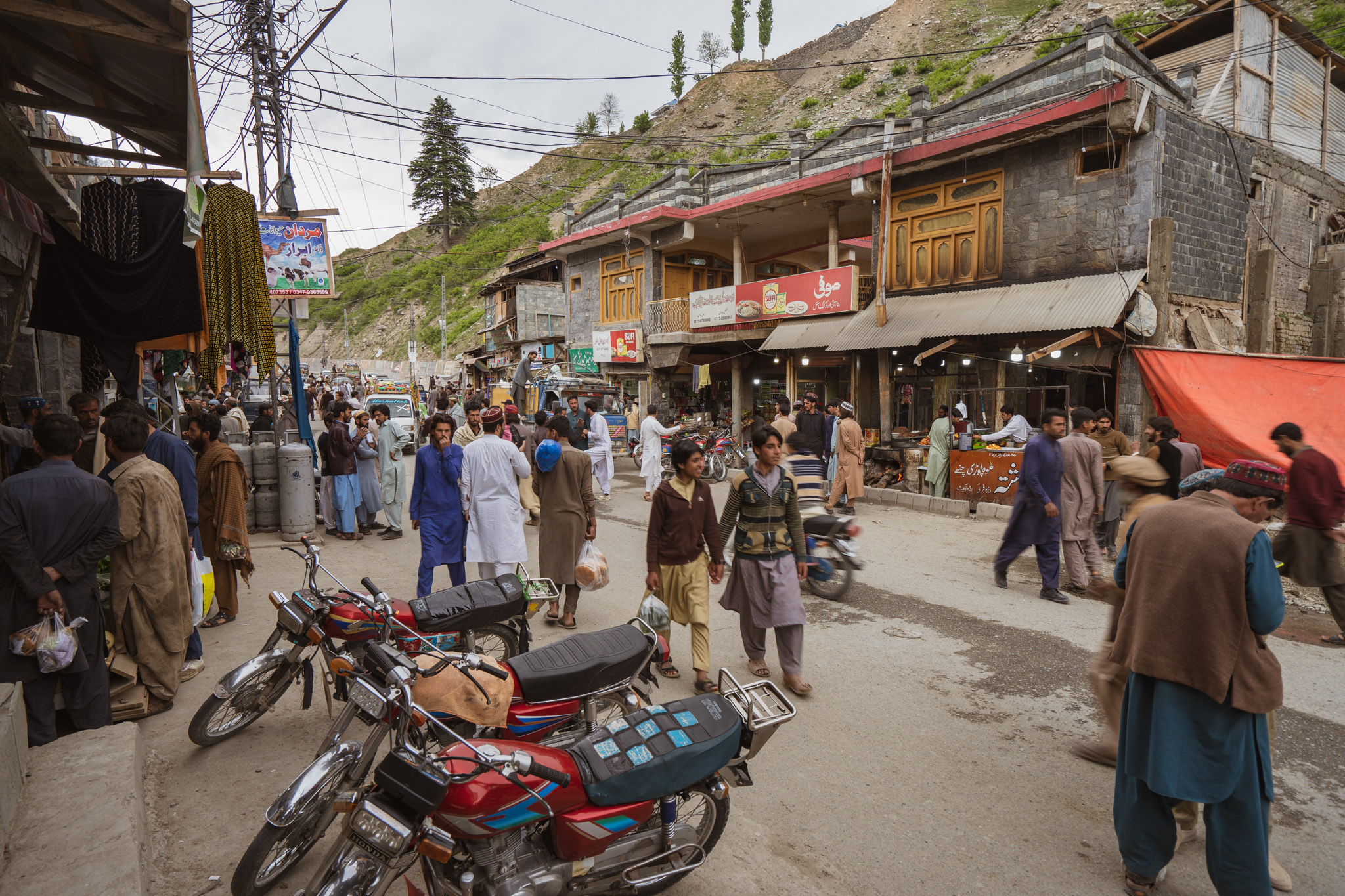 Getting around Pakistan
Getting between large cities in Pakistan is pretty straightforward – there are lots of different modes of public transportation on those routes. Things become a bit more difficult in remote areas of the north, but with some patience, you'll be able to get wherever you need to go.
In this section, I'll outline the main different modes of transport you'll likely use while backpacking in Pakistan.
Trains in Pakistan
Trains are my favourite mode of transport for covering long distances – I've even ridden the train across Siberia. In Pakistan, trains are a great way to travel between the large cities of the south.
Popular routes are Karachi-Lahore, Karachi-Islamabad, and Lahore-Peshawar.
Here's a map of the Pakistan Railways network:

To see up-to-date train schedules and fares, check out the official Pakistan Railways website.
One thing to note – I recommend getting a seat/berth in an air-conditioned carriage if you're travelling in Spring/Summer/Fall. In parts of Pakistan, it can be up to 50 degrees during those seasons, and I can imagine a 20-hour train ride being extremely uncomfortable in that kind of heat.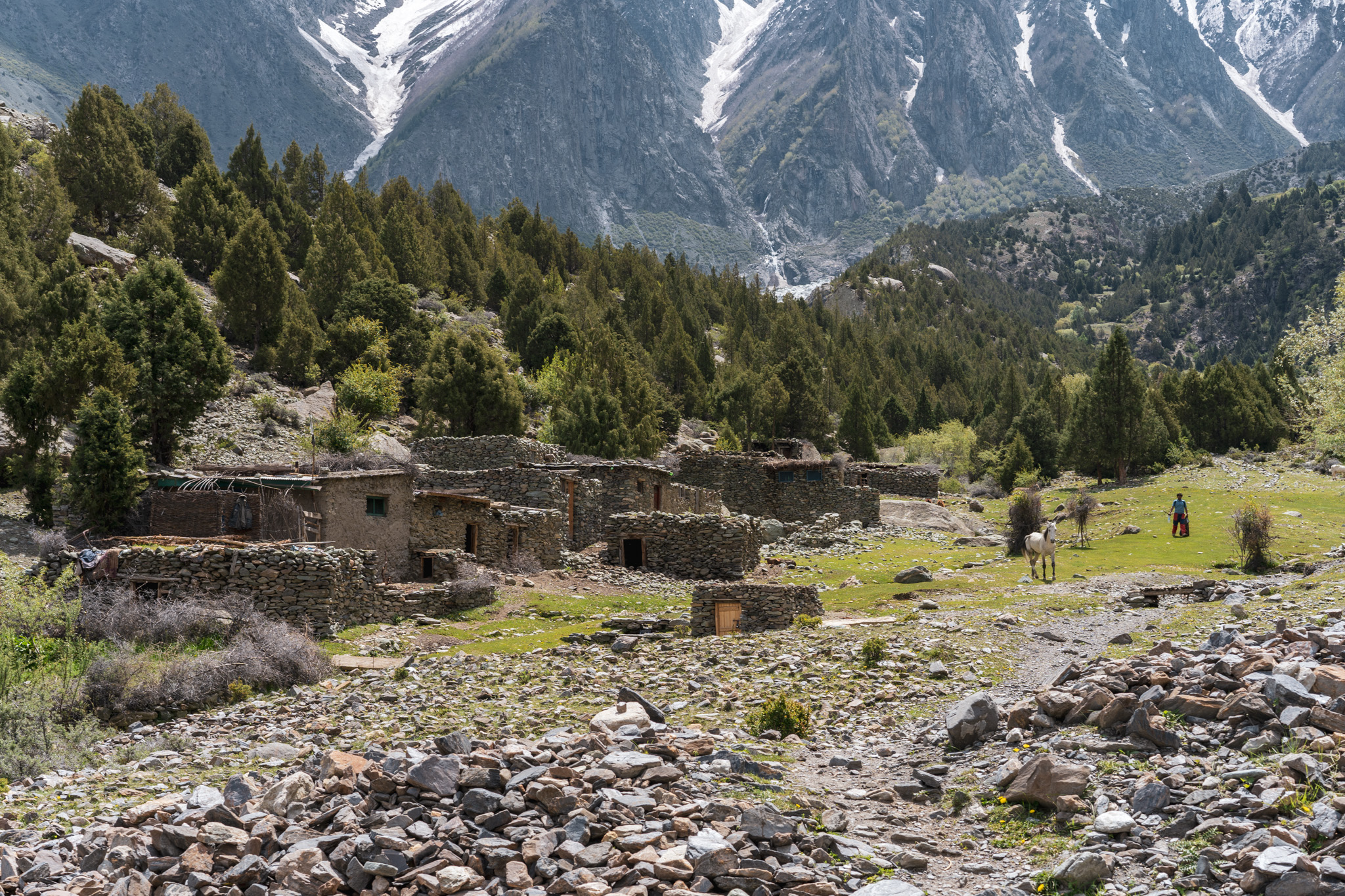 Buses in Pakistan
There are some fairly comfortable and reliable long-distance bus companies operating in Pakistan. The most popular ones are Daewoo and NATCO.
Daewoo is great for getting around southern Pakistan, as it only operates as far north as Swat Valley. Buses are comfortable and affordable. Check out the Daewoo website linked above for complete route and schedule details.
NATCO (or Northern Areas Transport Corporation), is the go-to for travelling between Islamabad/Rawalpindi and Gilgit-Baltistan. NATCO operates routes such as Islamabad-Gilgit, Islamabad-Hunza, and even Islamabad-Skardu. You can view their route schedule and fares here, and even book a seat online.
Minibuses in Pakistan
For travel between smaller cities (and especially in the north), minibuses are often the only option. They're often very cramped inside – especially if you're over 6 feet / 182 centimetres. When I took minibuses, I would often be bending my neck the entire time to avoid having my head slammed on the ceiling when we hit a bump.
There are far too many possible minibus routes to cover here, but typically if it's not covered by a large bus company, it's still possible to get there via minibus.
Drivers will usually wait until the minibus is full of passengers before departing, which can sometimes take a while. I often found it faster to just hitchhike rather than waiting for a minibus to fill up.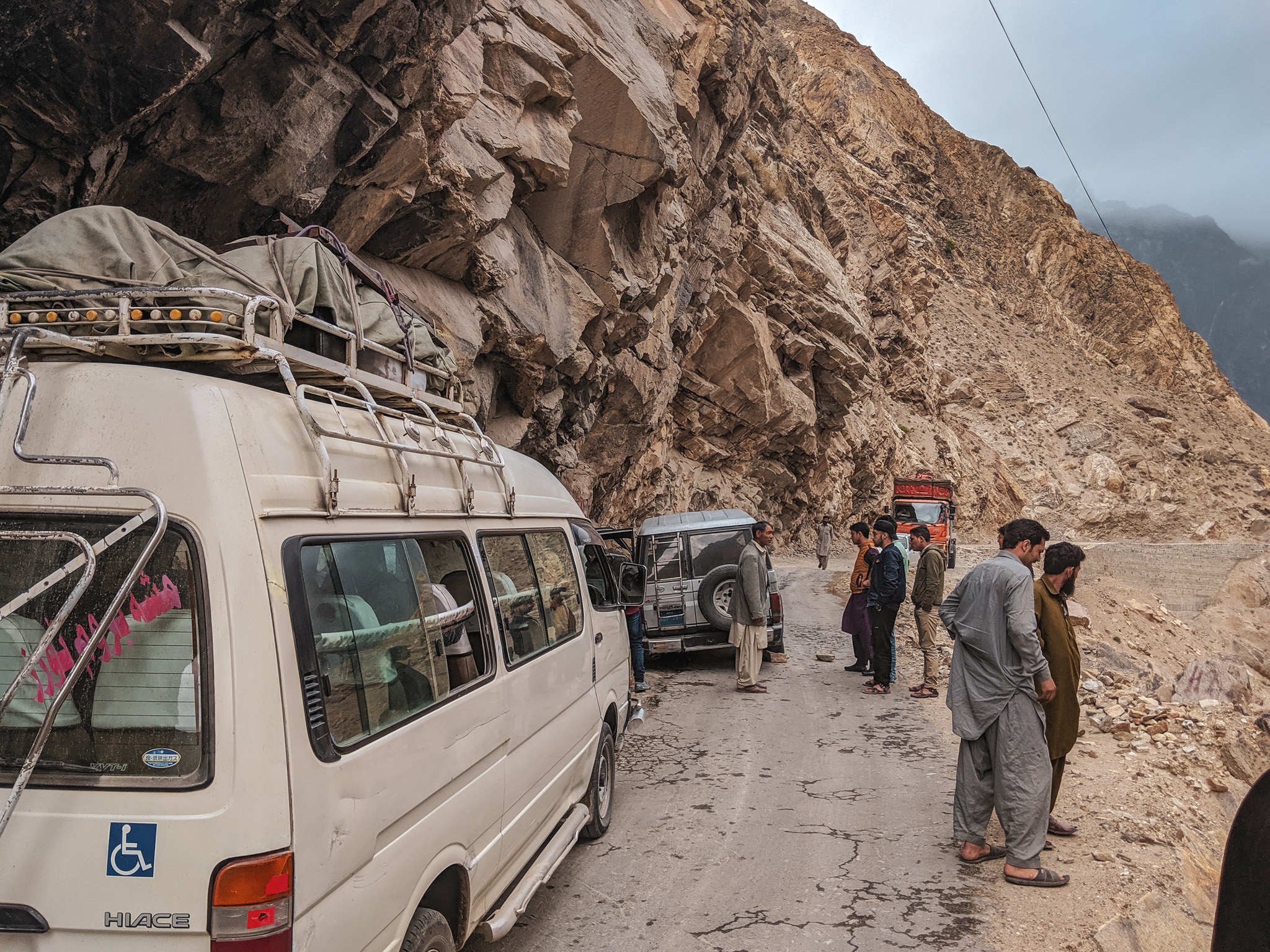 Hitchhiking in Pakistan
Pakistan was the first country I  tried hitchhiking (thanks to my friend Noémie for showing me the ropes).
I'm happy to report that hitchhiking in Pakistan is extremely easy, especially in the Northern Areas. Locals very kind, and almost every car that had space would stop for me. I highly recommend hitchhiking as a way to get around the Karakoram Highway.
Here are a few types of vehicles I managed to hitchhike on in Pakistan – the roof of a jeep, inside of a tractor's trailer, and with government officials in a bulletproof SUV.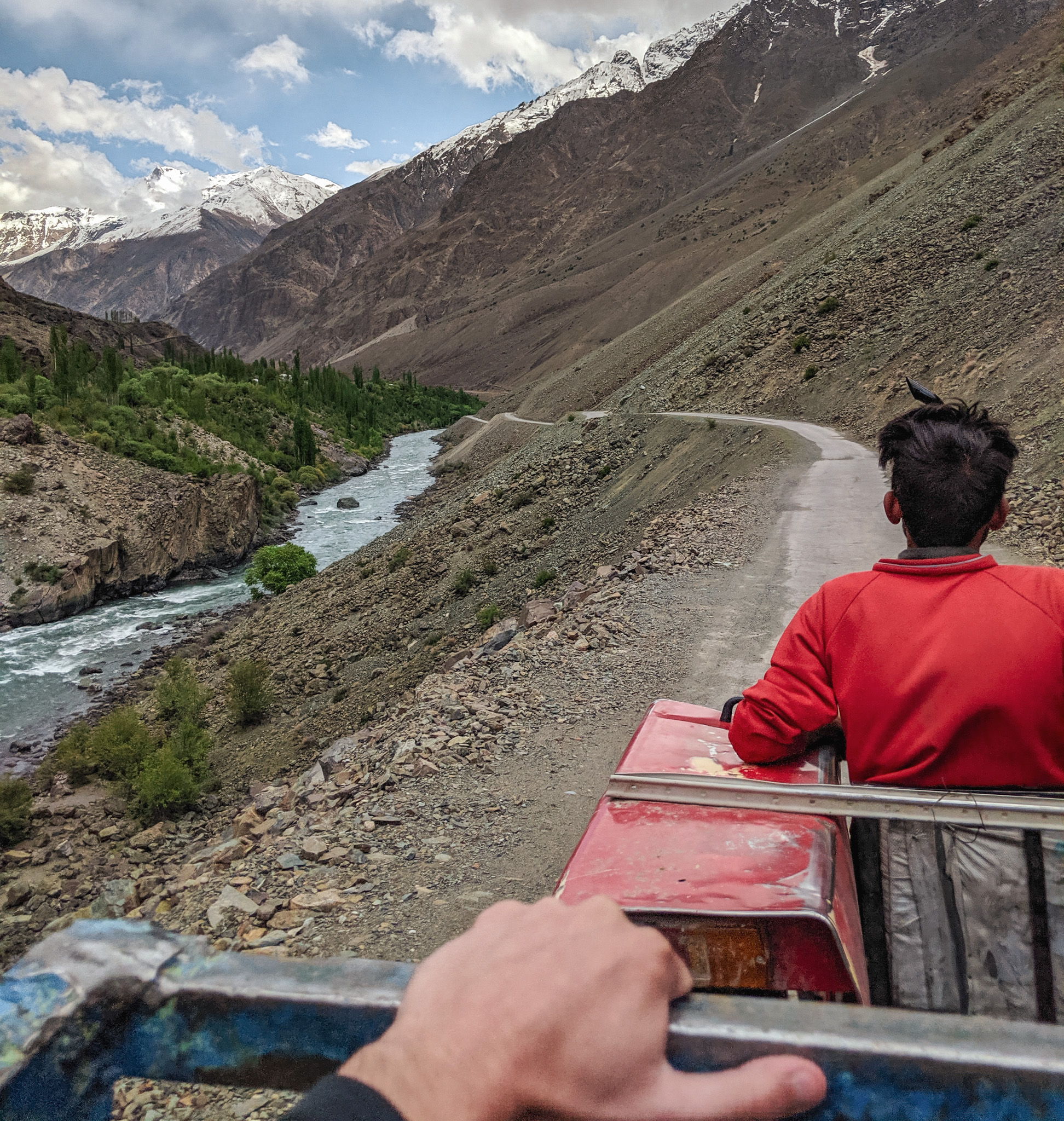 Flying in Pakistan
Flying certain routes in Pakistan can save you a ton of time if you're on a tight schedule. Popular routes for tourists are Islamabad-Gilgit, Islamabad-Skardu, and Islamabad-Chitral. All of those routes can take at least a day to travel overland, so flying is a great way to save time.
The main issue with flights to destinations in Northern Pakistan is that they're very susceptible to delays due to weather. It's not unheard of for flights to be cancelled for multiple days in a row, so do consider this when planning your trip.
There are also frequent flights between other cities in Pakistan – useful ones for tourists are likely Karachi-Lahore and Karachi-Islamabad.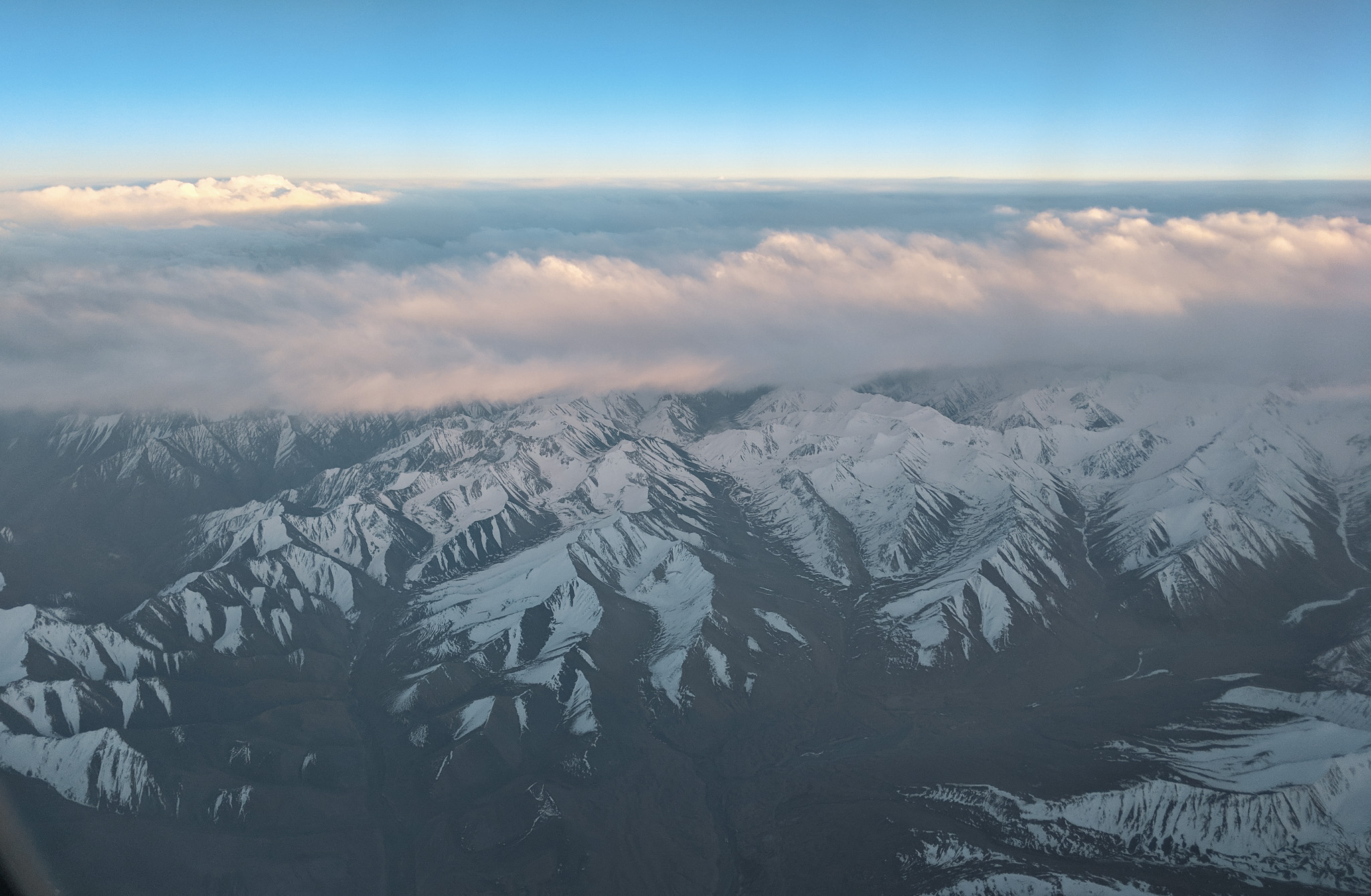 Travel within cities
Getting around major cities in Pakistan isn't too difficult. If you're on a tight budget, you can take public transport. Lahore and Karachi both have decent metro systems, and a few other cities have bus rapid transit networks.
However, I personally recommend using a ride-sharing app to get around. The most popular one in Pakistan is called Careem (Android or iOS). With Careem, you can call motorbikes, rickshaws, and cars. Prices are very reasonable, and it saves you from having to negotiate taxi/rickshaw prices with the driver. When I was in Islamabad, I could get almost anywhere in the city for less than Rs. 100.
Pakistan Backpacking Itineraries 
If you're planning a trip to Pakistan, you should give yourself at least two weeks. I spent over a month backpacking all over Pakistan, and I think anywhere from 2 to 4 weeks is a great amount of time for your first visit.
2-Week Pakistan Backpacking Itinerary
With two weeks to backpack in Pakistan, you'll have enough time for a gorgeous road trip along the Karakoram Highway, all the way to the Chinese border at Khunjerab Pass.
Fly into Islamabad and spend a couple of days exploring Islamabad and nearby Rawalpindi. Next, hop on a NATCO bus headed to Gilgit, but get off at Raikot Bridge and spend a few days hiking at Fairy Meadows. From there, you can head to Gilgit (one night max), and then onto Minapin to complete the day hike to Rakaposhi Base Camp.
After that, spend a few days relaxing in Karimabad and enjoying some good coffee at Cafe de Hunza. When you're ready, go to Passu to view the Cathedral Range at sunset, and then take a day trip up to Khunjerab Pass the next day.
To wrap things up, either take a bus all the way to Islamabad to catch your flight home or shorten the journey by flying directly to Islamabad from Gilgit. If you want to travel the full Karakoram Highway, you can cross the Khunjerab Pass into China and end your trip in the ancient city of Kashgar.
For more details, I've written up a detailed 2-Week Karakoram Highway Itinerary and Guide. Be sure to check it out!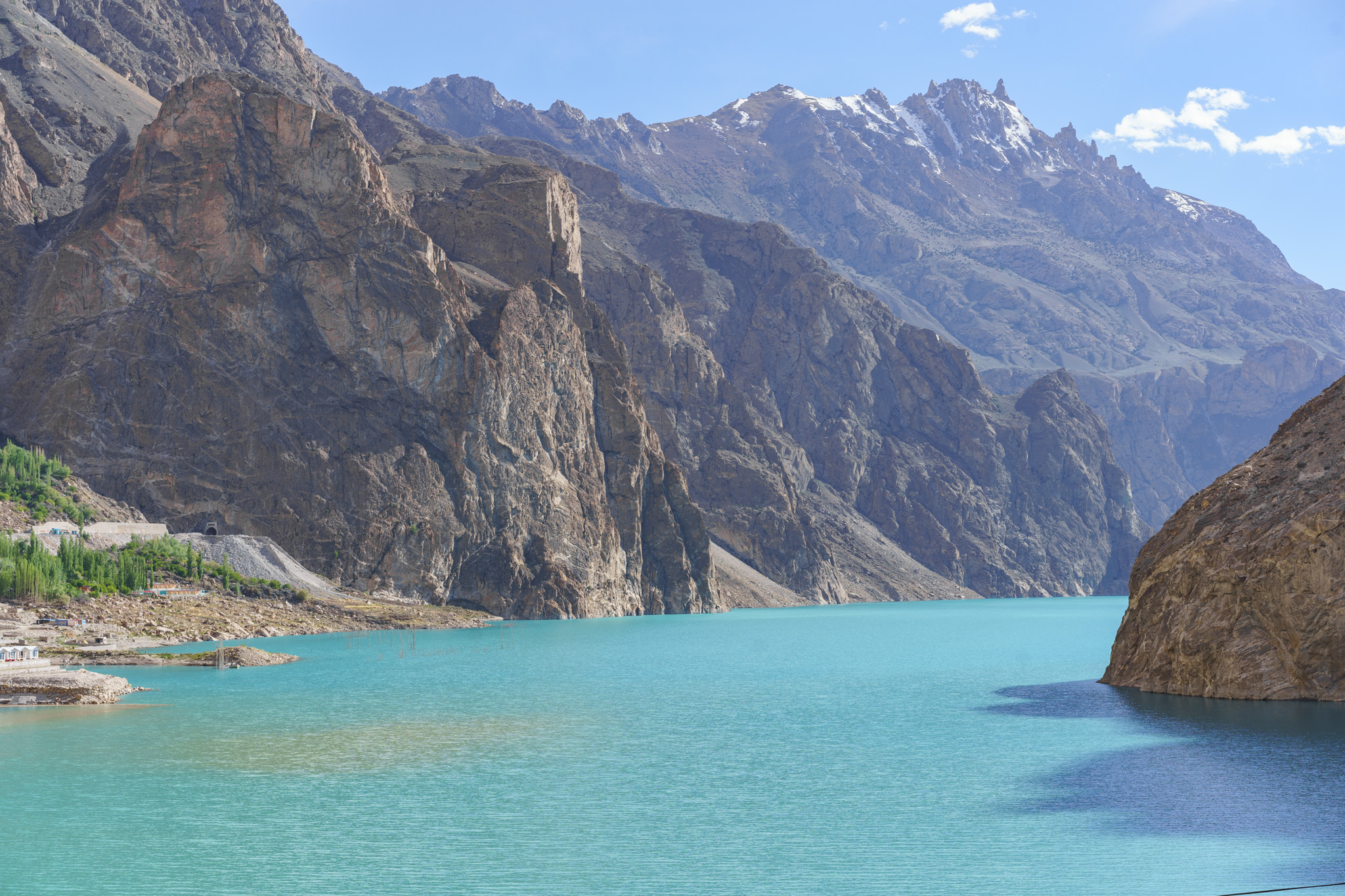 3-Week Pakistan Backpacking Itinerary
Three weeks in Pakistan gives you enough time to add on another destination or two to the above Karakoram Highway itinerary.
I'd recommend adding Lahore (begin/end your trip from here), and then adding also adding a trip to Skardu or the Ghizer Valley while you're up in Gilgit-Baltistan. Both Skardu and Ghizer Valley (you should go to the town of Phander) are easily accessed from Gilgit City.
1-Month Pakistan Backpacking Itinerary
With a month in Pakistan, you can see a lot. This itinerary here focuses more on mountains, so if you're more interested in history and culture, consider visiting some more cities in the south such as Karachi and Multan.
You should definitely add Peshawar and Swat Valley to your itinerary if you have this much time in Pakistan. I'd also recommend a visit to the Chitral Valley to spend some time with the unique Kalash people.
I'll be expanding on these itineraries in the future by creating separate posts, as this one is already pretty long! Keep an eye out 🙂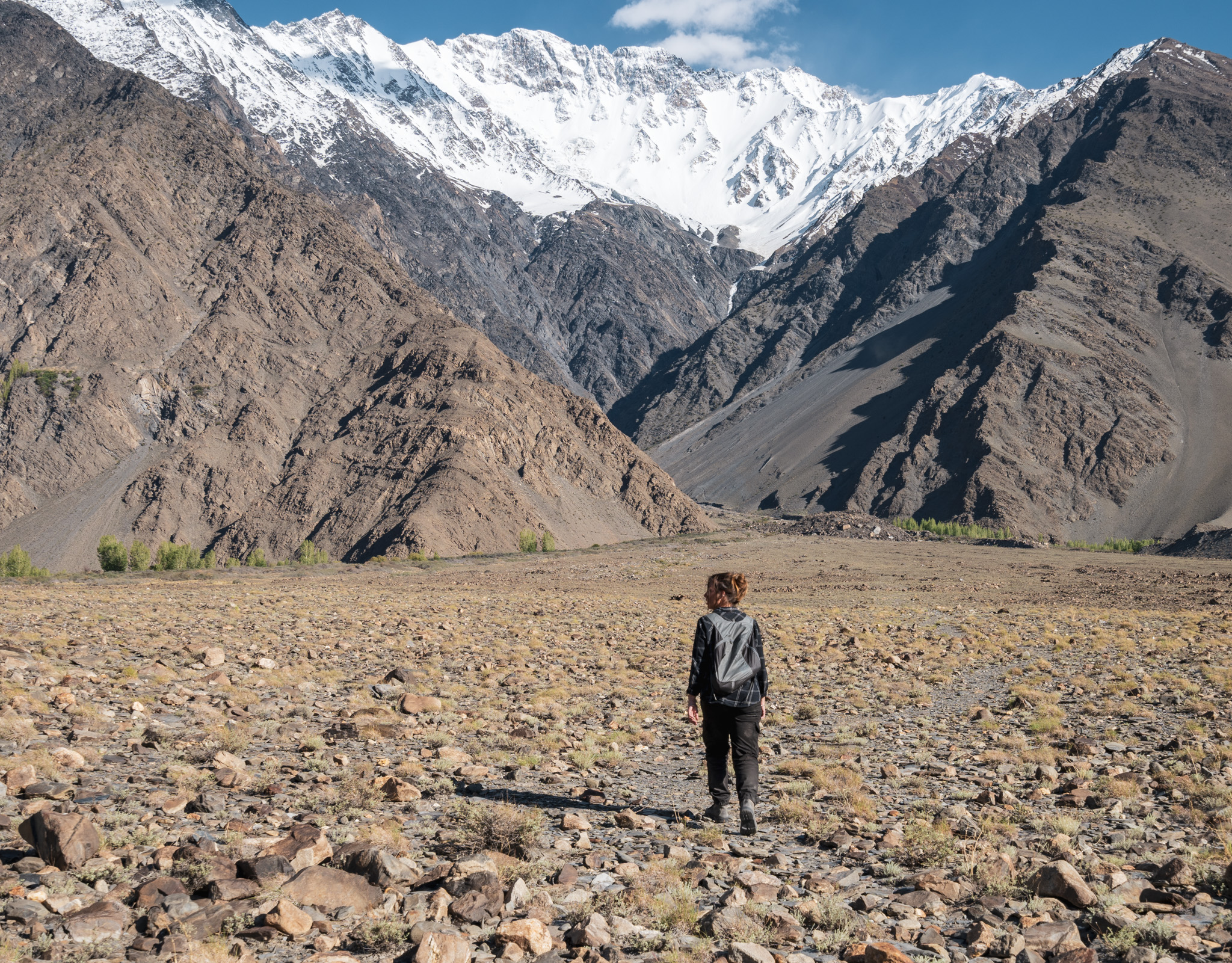 When to visit Pakistan
Pakistan is a big country, and its climate varies drastically from north to south. The mountains of Gilgit-Baltistan are obviously much colder than the Balochi desert.
Spring and Autumn
In my opinion, spring and autumn (April-May and September-October) are the best times to visit Pakistan. The cities of Sindh and Punjab will still be hella hot, but the northern areas will be at the perfect temperature. If you visit in Autumn, you'll also get to see some gorgeous colours.
I spent the month of May in Pakistan, and it was perfect in the north. However, even at this time of year, it's already 45+ degrees in most of Punjab and Sindh.
Note that in early Spring, some high altitude passes might still be closed. Shandur Pass typically opens in mid-April and Khunjerab Pass on April 1st.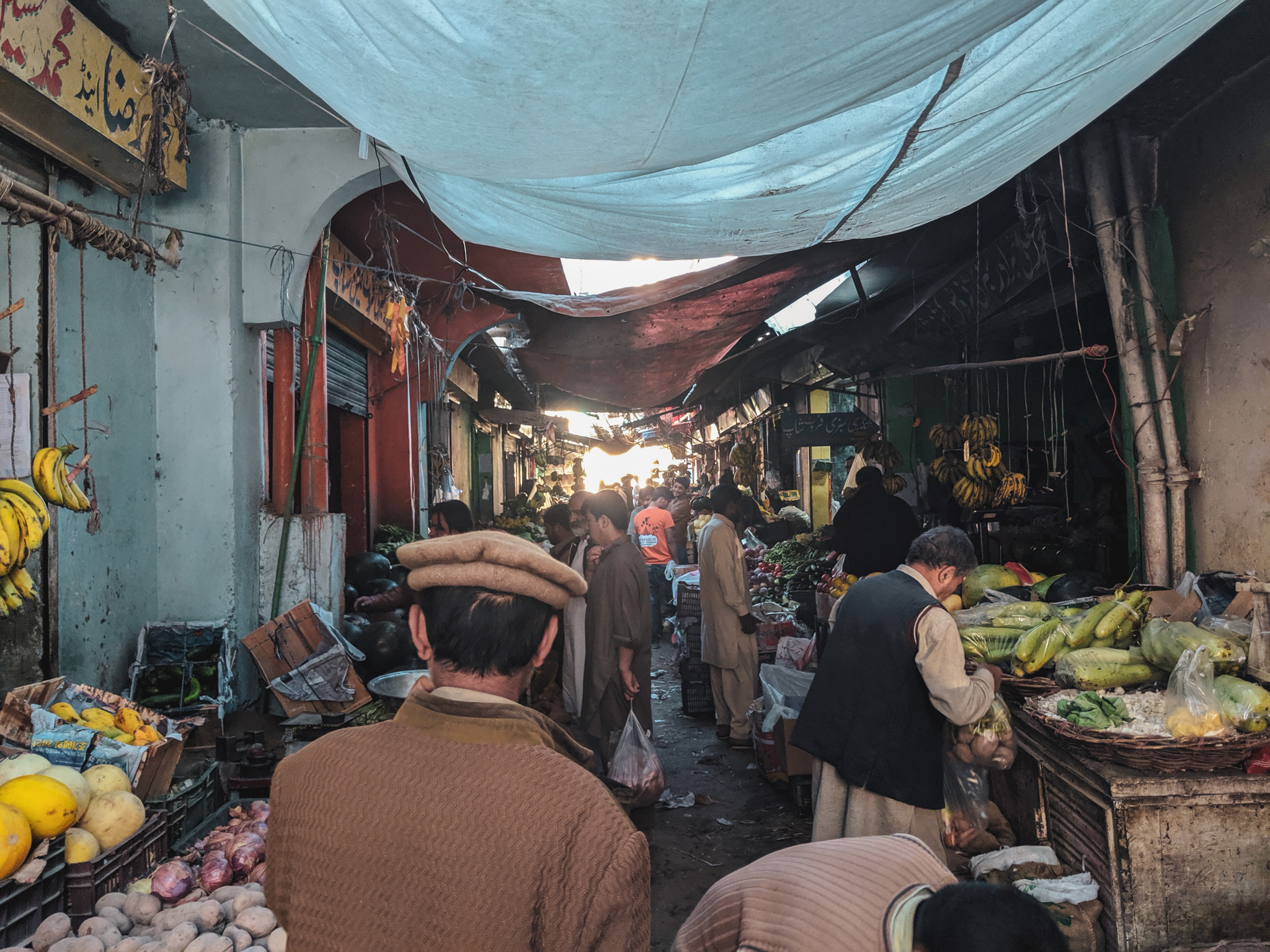 Summer
Warning: It's gonna be bloody hot
Summer is the ideal time of year for any sort of mountaineering or high-altitude trekking in Pakistan. Outside of those activities, it's not the best time of year to backpack in Pakistan.
Walking around Lahore will feel like you're inside of an oven – so I'd advise heading to the mountains ASAP if you travel to Pakistan in the summer.
At this time of year, there will be many domestic tourists escaping the heat by visiting the mountains. This means that accommodation prices can be quite a bit higher than at other times of the year.
Winter
Winter is the best time of year if you plan to explore lots of Punjab and Sindh. Temperatures will be comfortable in the south, but quite cold in the north.
Certain high-altitude passes will be closed at this time of year (Shandur and Khunjerab), so you'll need to take that into consideration when planning your route if you decide to go north in the winter.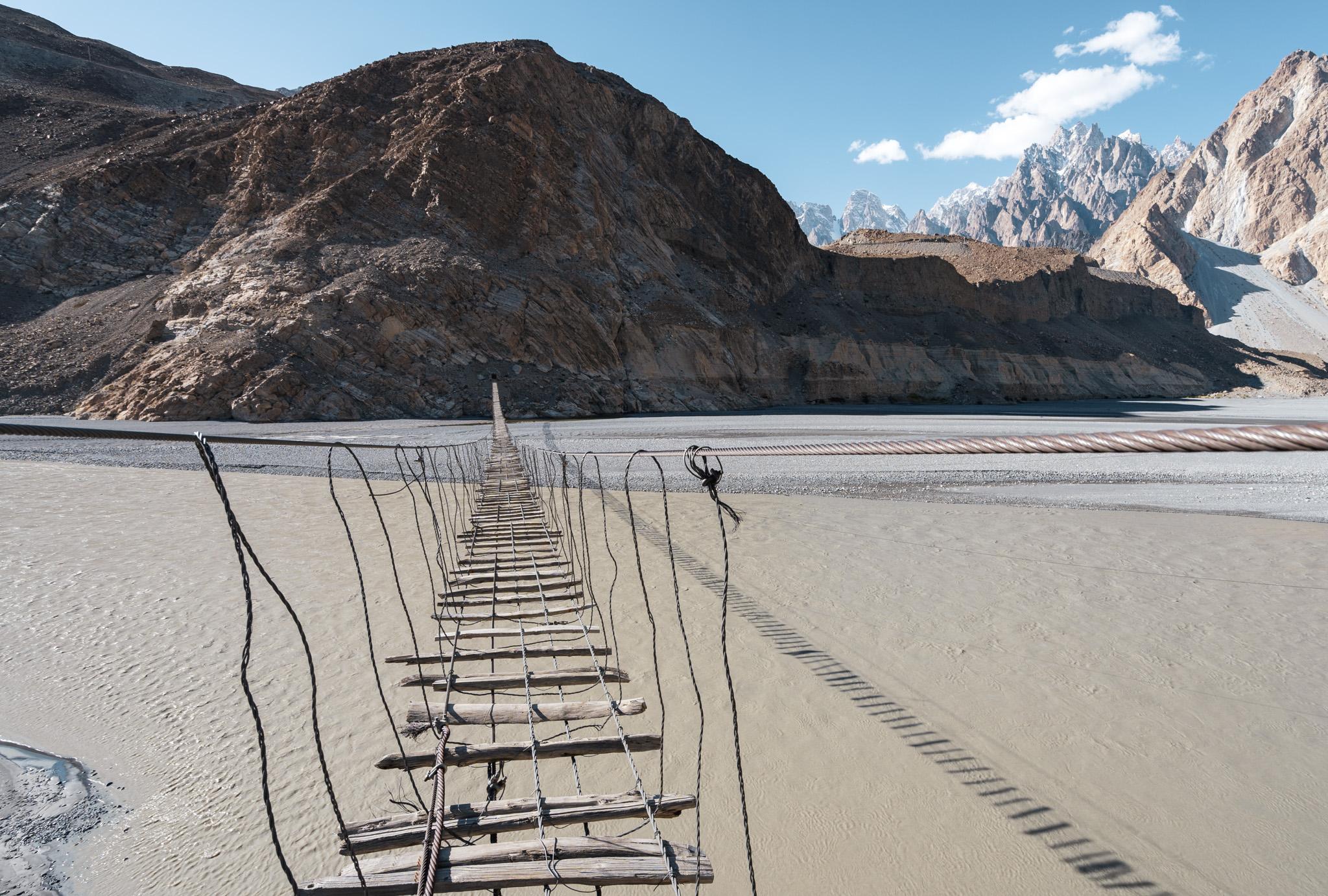 Internet in Pakistan
In some parts of Pakistan, it can be very hard to find any sort of reliable internet. In the large cities of the south, 4G is everywhere and it's decent enough for most people.
Different regions of the country (especially the north), are covered by different telecoms. For example, I had a Jazz SIM card that worked great in Islamabad and Peshawar but had zero connection in Swat Valley, Chitral, and most of Gilgit-Baltistan.
In the end, I picked up three different SIM cards to stay connected. Here's what I found worked in the areas of Pakistan I visited:
Southern Pakistan – In the big cities of the south, I recommend either getting either a Jazz or Zong SIM card. You'll have 4G in the cities, and it works quite well.
Gilgit-Baltistan – In Gilgit-Baltistan, you'll want to get an SCOM SIM card if you want to have any decent connection. You can pick one up in the official shops in Gilgit, Aliabad, or Skardu. When I was in Karimabad, Skardu, and Gilgit, I had 4G signal. In other places, expect 2G or 3G at the most.
Swat Valley – Swat Valley was only covered by Zong when I was there. You can't buy a Zong SIM in Mingora as a foreigner (at least, they wouldn't let me). So try to get one before heading there.
Chitral Valley – In Chitral, Telenor has the best coverage – although don't expect any signal in the Kalash Valleys.
To purchase a SIM card in Pakistan, you need to visit one of the main branches of the telecom company. Small shops won't be able to give you a SIM. You'll also need to bring your passport for them to register you.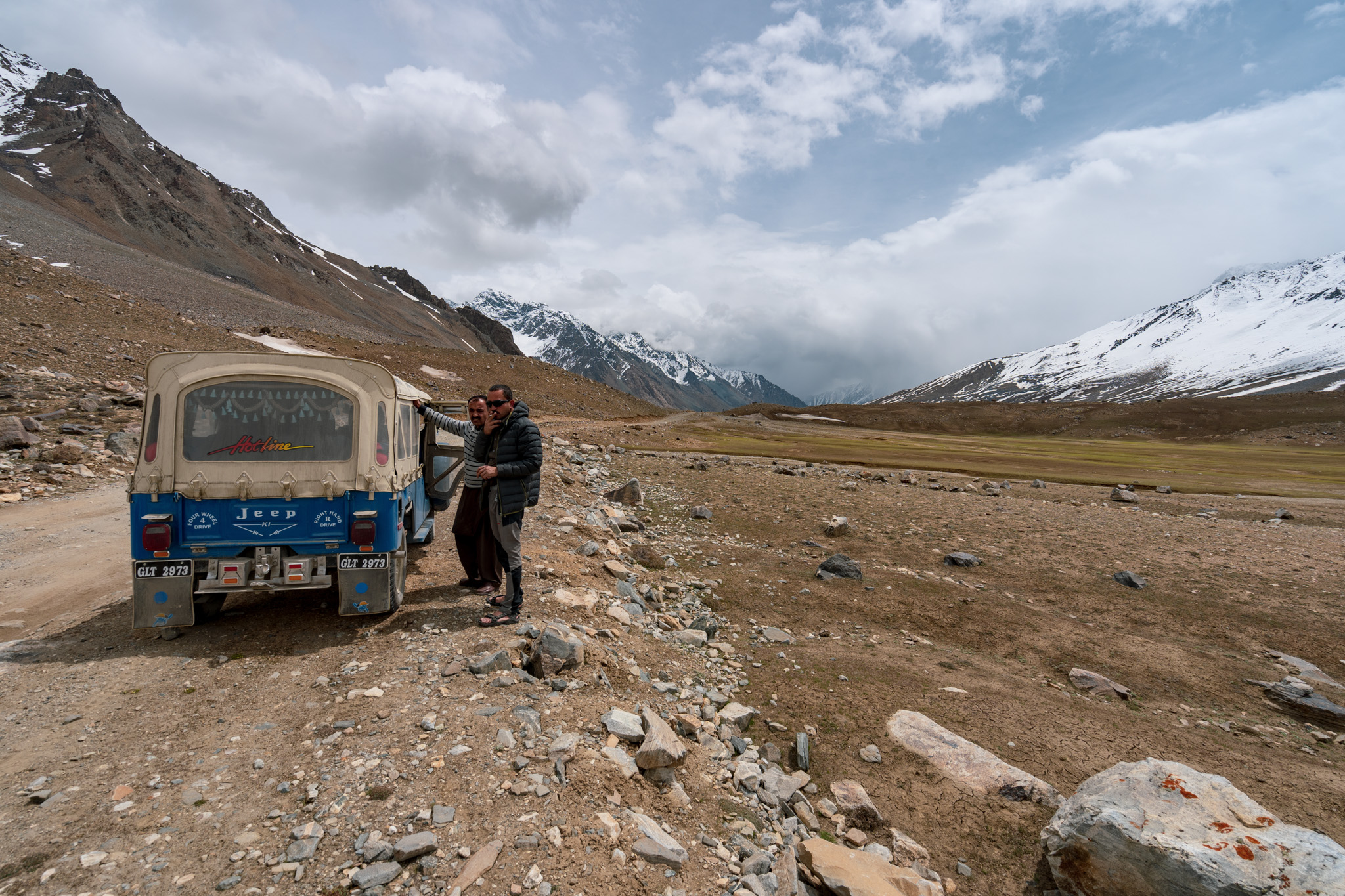 Female Travel in Pakistan
I'm a dude, so I can't comment personally on this topic. I can say that female travel (and even solo female travel) is definitely possible in Pakistan, but it's not for everybody.
For the gals out there, check out these awesome female travellers who have spent a lot more time in Pakistan than I have:
Marsha Jean – Marsha's spent like 6 months backpacking all over Pakistan. She's trekked to K2 Basecamp, cycled the Karakoram Highway, and has even managed to visit Balochistan.
Alex from Lost With Purpose – Alex has been to Pakistan several times now and knows a ton about travel in Pakistan. She helped me out a bunch when I was planning my trip!
Eva zu Beck – Eva lived in Pakistan for a while, and has produced some amazing content on places all over the country.
They're all super friendly and helpful, so check out their stuff for some perspective on female travel in Pakistan! Alex also wrote a great article on the topic of safety for female backpackers in Pakistan.
Solo Travel in Pakistan
Solo travel in Pakistan is great! I was solo for most of my time in Pakistan (I did spend a week travelling with my friend Noémie from France, but we only met each other in Pakistan!).
There's one disadvantage to solo travel in Pakistan – most hotels only offer double rooms. This means you're kinda stuck paying the same price that two people would, but you might be able to negotiate this depending on the season.
Other than that, Pakistanis are extremely friendly (I think I've mentioned that like 100 times so far in this guide haha). You'll always have local people who want to hang out and show you around. You'll be overwhelmed with invitations for chai and meals, so don't worry about being lonely.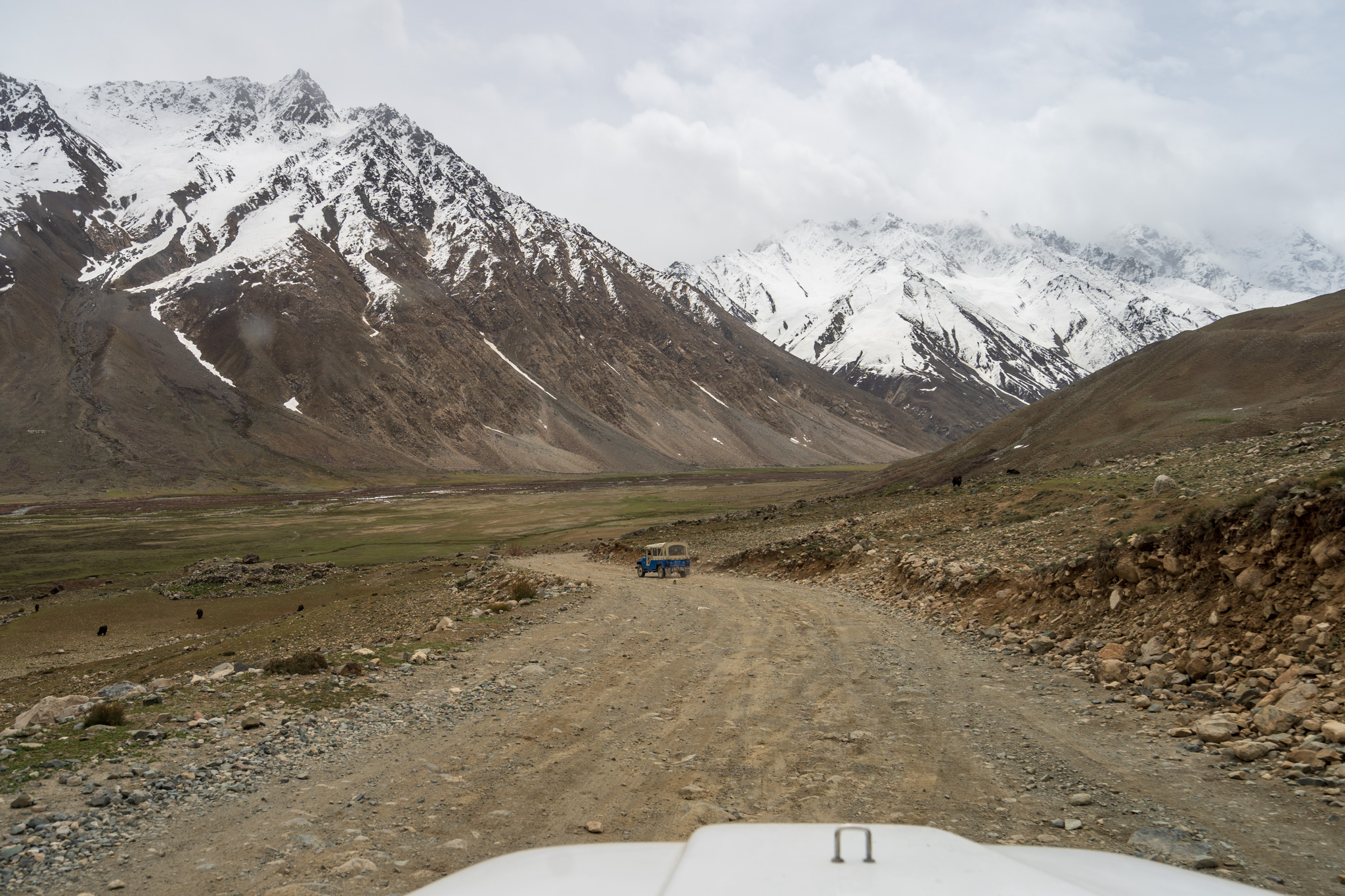 Budget for Backpacking Pakistan
Pakistan is the cheapest country that I've been to so far. In my 31 days in the country, I spent less than 600 USD (or about $20 per day). As there aren't many hostels in Pakistan yet, I was usually staying in private hotel rooms.
Here are a few examples of what things typically cost in Pakistan:
Accommodation – Rs. 500 to 2000 per night. The expensive end is usually double rooms, so can be split if two people.
Food – Rs. 400 to 700 per day. Depends on the type of restaurants you frequent.
Taxis within cities – Rs. 100 to 200. With the Careem app, this is all you should need to pay to get anywhere within larger cities.
Minivans – Rs. 100 per hour of driving. For example, Gilgit to Skardu takes about 8 hours and costs Rs. 800.
As you can see, Pakistan is pretty friendly on the budget. It's fairly comparable to countries such as India and Vietnam.
Couchsurfing in Pakistan
Couchsurfing in Pakistan is great! There's a ton of friendly hosts who are super keen to show off their country to foreign backpackers.
Most hosts are in the major cities (I mean, this is where most people live). I personally used Couchsurfing in Peshawar, but it's also very easy to do in Islamabad, Lahore, and Karachi.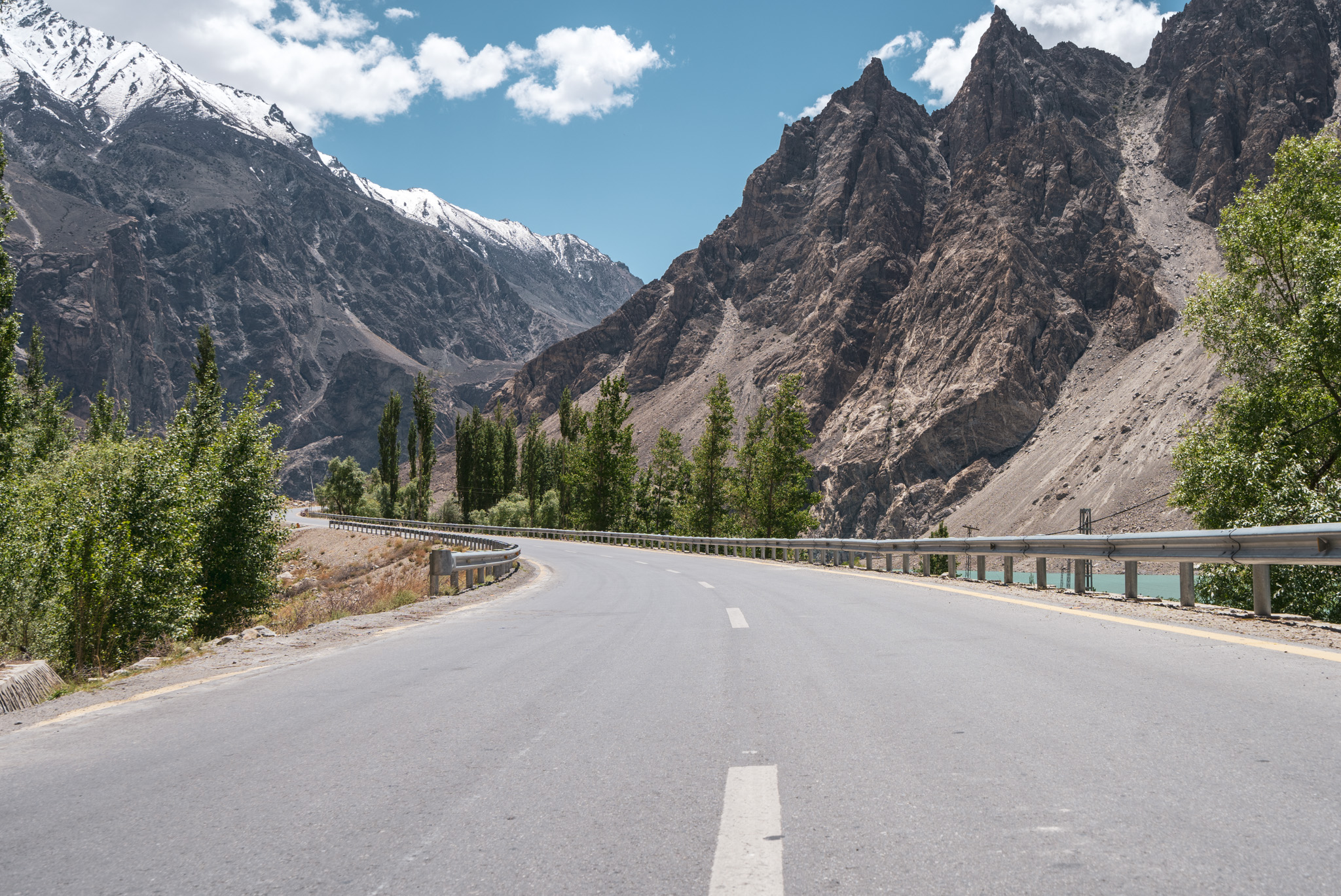 Visiting Pakistan During Ramadan
This was a major concern of mine before my backpacking trip to Pakistan – my entire month in the country was going to be during the holy month of Ramadan.
During Ramadan, Muslims fast during the daytime. As almost everybody in Pakistan is Muslim, this changes how a lot of things work. In the daytime, restaurants and many businesses are closed. It's hard to find a place to eat if you're not fasting. I often had to resort to eating biscuits and fruit during the daytime.
There's no harm in eating or drinking water during the day, but you should avoid doing it in public out of respect for those who are fasting. Some friendly locals will still offer to make you some food even though there's nobody else eating, as they understand that most foreign visitors aren't fasting.
In Gilgit-Baltistan, fasting is pretty liberal. Many people will say that they fast, but behind closed doors, they don't. It's not difficult to find food during the daytime in this liberal part of Pakistan.
In more conservative areas such as KPK, everything shuts down during the daytime. Most people spend their days sleeping and wake up at night. I found it challenging to travel in these parts of Pakistan during Ramadan, although not impossible.
No matter where you are, iftar (breaking of the fast) is incredible. You'll get to share some incredible home-cooked meals with people, and it will be one of the most memorable parts of your trip.
I don't regret visiting Pakistan during Ramadan. It's not as easy as it would normally be, but it makes for a very unique cultural experience.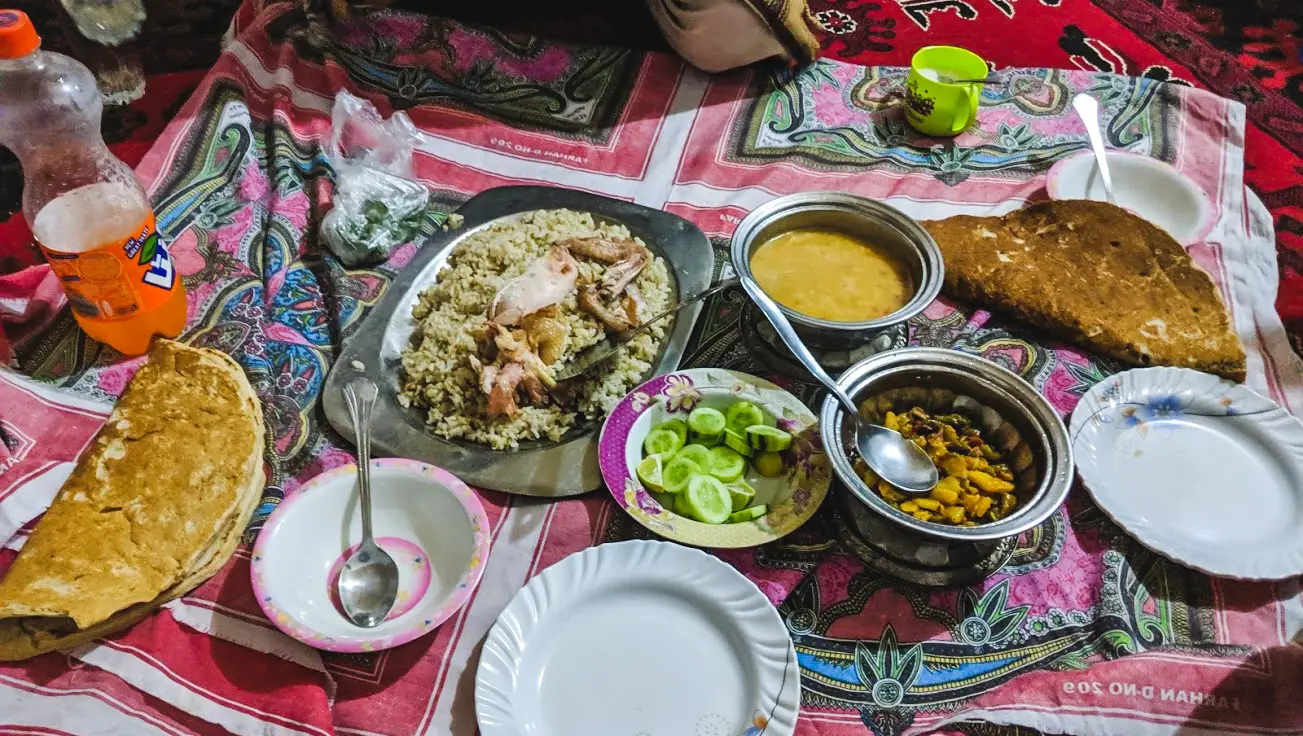 Resources for Backpacking Pakistan
I did a lot of reading before backpacking Pakistan, and want to share a few of the resources that helped me plan my trip.
Backpacking Pakistan Wrap-Up
There we go! I hope this post has helped you plan your Pakistan backpacking adventure. It was a long one (8,000 words, woah!), so consider bookmarking it to refer to later on 🙂
To learn more about backpacking in Pakistan, check out some of my other posts: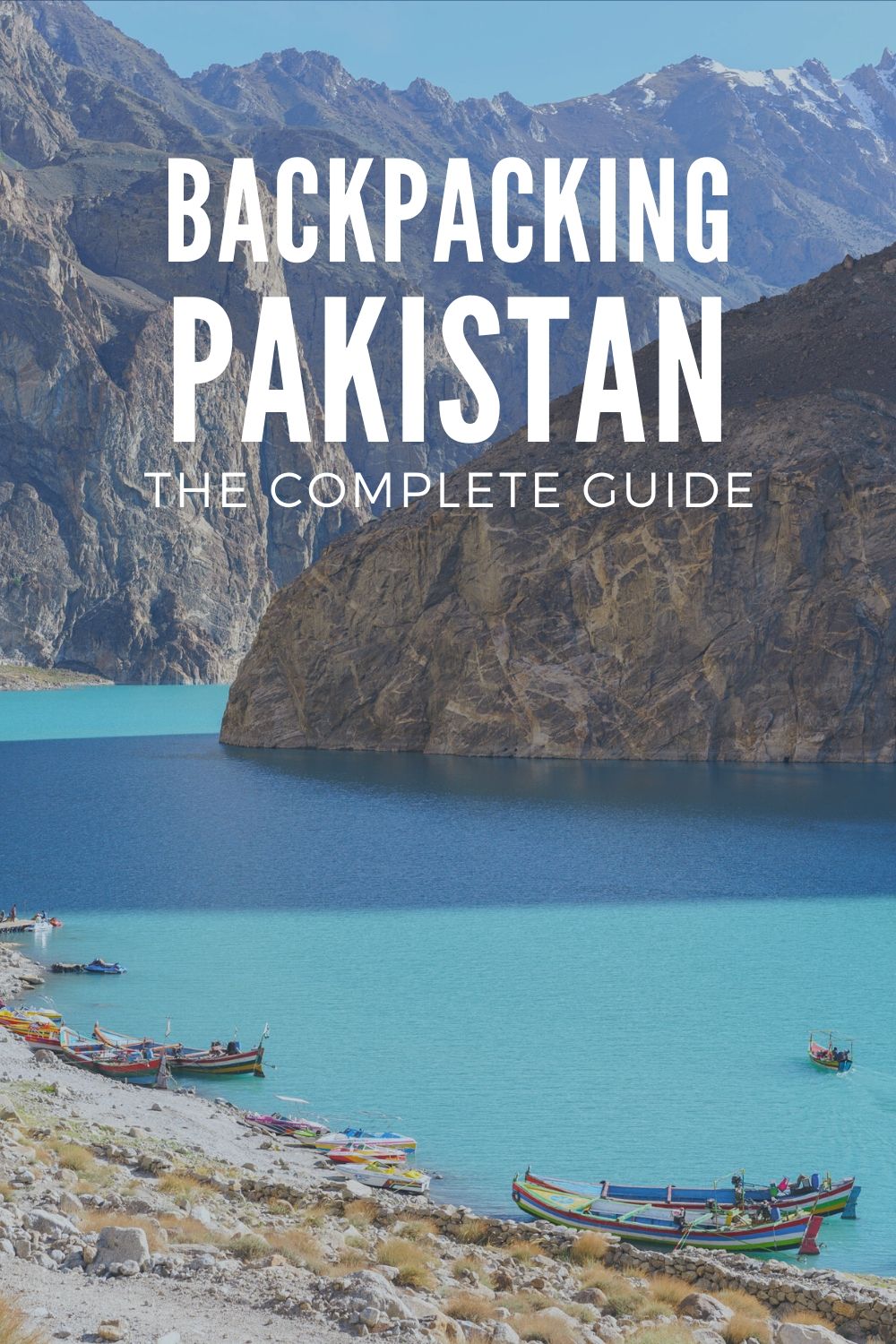 Yay transparency! There are affiliate links in this guide. If you book or buy something using my links, I'll make a bit of money at no extra cost to you.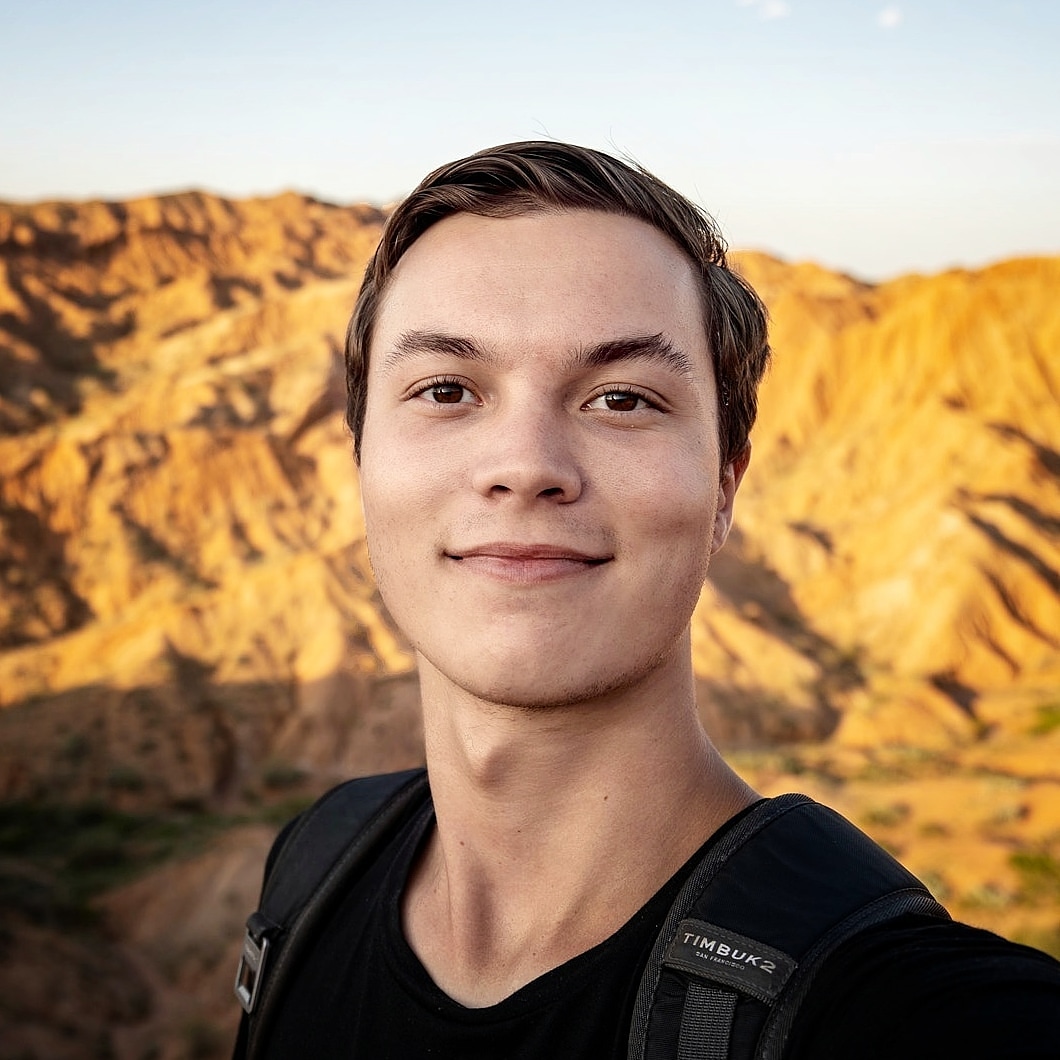 21-year old Canadian dude who loves to visit off-the-beaten-path places, climb tall mountains, and try delicious foods.